South African winery Graham Beck has released two new sparkling wines that can only be bought as a pair, in a gift box. Yin and Yang, the latest addition to Beck's top-tier Artisan Collection, are "mirror images" of each other and showcase the winemakers' attention to detail and dedication to the art of blending Cap Classiques.
The story of this pair of wines begins in early May 2016, when cellarmaster Pieter Ferreira (
below, right
) and winemaker Pierre Klerk (
left
) embarked on their final classification tasting of the year's base wines. "This followed after many selection tastings, in the build-up to establishing the purest ultimate expression of the vintage – the one finally singled out for our prestigious Cap Classique," Pieter explains.
Pierre created a final blend of 60% Pinot Noir and 40% Chardonnay with a delicate blush colour. Both Pieter and Pierre were excited by this wine. Then Pieter suggested looking at a mirror image of the blend by using the same components, but with Chardonnay in the lead role. They sampled the two blends in black glasses before giving both wines their seal of approval and bottling 2,000 sets.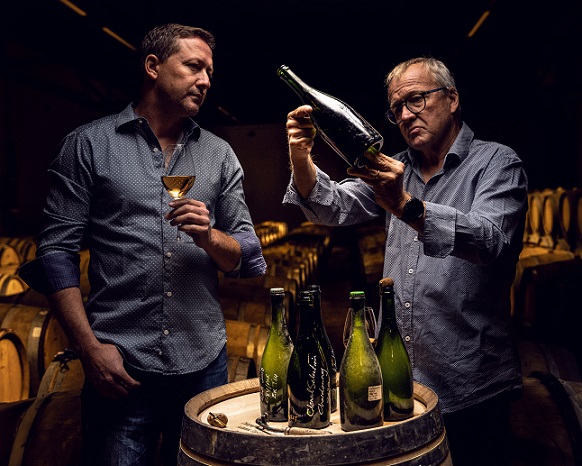 Yin
is the 60% Pinot Noir, 40% Chardonnay blend. But it's a little more complicated than that. The Chardonnay comprises two components:
Chardonnay from Robertson (clone 277, planted 2004) fermented in stainless steel;
Chardonnay from Stellenbosch (clone 95, planted 2006) fermented in old Champenoise barrels.
There's 20% of each in the final blend.
The Pinot Noir (clone 115 from Durbanville, planted 2010) and the two Chardonnays were hand-picked at 19.4-19.8 Brix, whole-bunch pressed and vinified separately. Only the cuvée fraction (first 400L per ton) was used for this blend.
After primary fermentation, the individual components were left to age on their gross lees for four months before blending and tirage bottling at the end of July 2016. The salmon-pink wine was then aged on lees in the bottle for five years, being disgorged on August 20, 2021.
YIN 2016 IN NUMBERSResidual sugar:
2.5g/l
Alcohol:
12.5%
Total acid:
7.1g/l
pH:
3.18
Yin's counterpart is
Yang
, a blend of 60% Chardonnay (30% from Robertson's limestone soils and 30% from Stellenbosch's alluvial soils) and 40% Pinot Noir. The vinification and cellar treatment are the same as Yin's. The numbers are also very similar:
Residual sugar:
2.4g/l
Alcohol:
12.5%
Total acid:
7.1g/l
pH:
3.18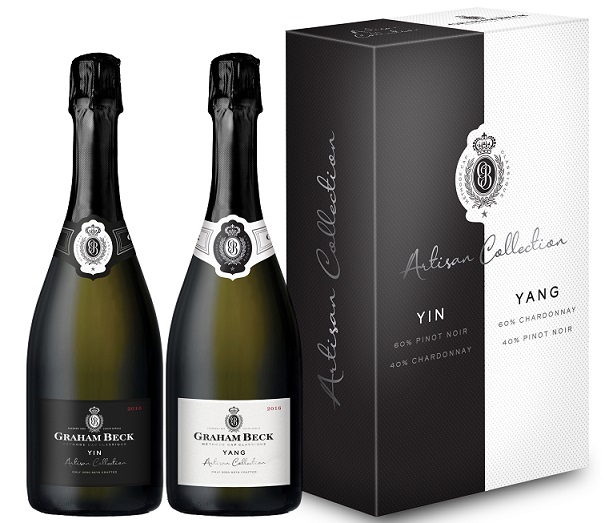 Graham Beck says the two wines "celebrate life's compelling and captivating contrasts – proving that opposites can co-exist and complement each other perfectly. Both blends highlight these two cultivars' unique and subtle interplay, and the magic they bring to the sum of the parts".
It certainly provides an interesting story and concept but I was suspicious of the neat, round numbers – so I asked winemaker Pierre de Klerk if he was sure that 59% Pinot Noir and 41% Chardonnay, and 58% Chardonnay (with 26% coming from Robertson and 32% from Stellenbosch) and 42% Pinot Noir wouldn't have produced a better pair of wines?
He was emphatic: "Yes, we are quite sure. We spend months tasting all our components separately during our classification process, tasting at least once per week. No decision is taken lightly or in haste. Once we have the final components for specific wines/blends, we spend at least another week on each blend, investigating multiple options with regards to final percentages of the components. Indeed, we also considered whether only two of the three components would be better, but in the end these were the blends and percentages we felt showed the highest quality and potential. The mere fact that we decided to bottle two blends in opposite percentage compositions – after tasting the final blends out of black glasses so as not to be influenced by appearance – should attest to the fact that we never leave any stone unturned."
Canopy: What do the different Chardonnay components add?
Pierre:
"The Stellenbosch Chardonnay gave bright citrus, floral and white pear notes, with a racy acidity, honed and polished by the time spent in neutral French oak. The Robertson Chardonnay gave lush, ripe and rich yellow stone fruit and ripe lemon aromas, with a full-bodied mid-palate and chalky backbone.
"Both these components' original volumes were split to have both wooded and stainless-steel options, but in the end the wooded Stellenbosch Chardonnay and unwooded Robertson Chardonnay were the best fit for these blends."
What yeasts were used for each fermentation?
Pierre:
"Selected neutral killer yeast strains."
Is it normal for you to blend the wines after four months?
Pierre:
"We generally blend our base wines four to six months post primary fermentation, when each particular vessel has made a positive contribution without overpowering the original aromatic profiles. We also believe longer time on lees in bottle is more advantageous than extended time on primary fermentation lees."
Tell me about the tirage mixture, especially the wine component.
Pierre:
"Our tirage mixture is made by using the same wine which is being bottled, with sugar and yeast."
Is any dosage added?
Pierre:
"A unique dosage was made for each blend by using bottles of the same wine decanted, with minimal amounts of sugar and sulphur added. This way each blend remains in its truest form, with no final influence from another wine."
Yin and Yang will be released in November; the packaged pair retailing at £80 in the UK.