It's surprising to hear the winemaker behind some of the best wines in South Africa admit she's no longer trying to make every wine the best it can be.
But then Izele van Blerk, who's in charge of KWV's acclaimed premium line, The Mentors, clarifies: "Every single wine can't be the best wine in the world – you need to build components, especially because we're very focused at KWV on blending different components. Because you'll get Shiraz from Swartland that gives you cranberries and plums, whereas a cooler climate Shiraz will give you the spice, white pepper, and you need to use those components in different blends. I may only need 5% of that specific component to complete the wine."
She adds: "When I started making wine at KWV 11 years ago, I was trying to make every wine the best I could, then suddenly you realise that this specific block gives you structure but it doesn't have the fruit purity. But where do I get my fruit purity? From a different block. So, I'll pick it a bit earlier than the rest and I'll blend those two components…"
Izele, who studied viticulture and oenology after a budding career in tennis was cut short by a knee injury, has one of the best jobs in the winemaking world. She gets the pick of grapes from 54 farms all over the Western Cape – some of the most interesting sites South Africa has to offer, the best blocks and even the best rows of vines within those blocks – and she gets to play with them without fear of failure.
She also gets to play with different barrels, winemaking techniques, yeasts, and a wide range of cultivars.
"I do a lot of experiments," she states, but it's for the greater good of the company, not just The Mentors range. "I will take a block from Swartland and I'll do all these different Shiraz experiments and then I'll go back to the bigger winery and I'll say, listen, on this specific site you need to use 30% of whole bunches, do natural ferment and you'll get these flavours. On the Cabernet from this region, Rutenberg, we need to keep it on the skins for two weeks longer after fermentation.
'If I don't make mistakes in the winery, I'm not doing my job'
"So, yes, in this cellar we try to produce the best wines we can produce, but also we are doing a lot of experiments and trials for all the other cellars to lift the quality of the whole KWV brand."
Not all the experiments work, she admits. "If I don't make mistakes in the winery, I'm not doing my job," she says, before confessing: "I do make a lot of mistakes."
Izele also gets to play with "a lot of niche varietals. I've got a Mourvèdre, Tannat, Carmenère, Carignan, Sangiovese, Nebbiolo, Grenache Blanc, Verdejo, Cinsault, Tempranillo. There're so many different varietals that we also bring into the winery for education and that's what we also try to do with the limited-edition wines – producing 1,000 bottles each and every year of a niche varietal that you don't often see as a single bottling to educate the consumer and get them to understand how Cabernet Franc should taste, or Petit Verdot."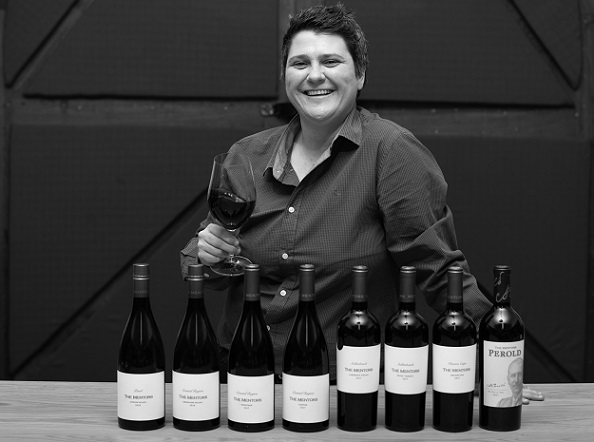 Launched in 2006, The Mentors range is all about small-batch vinification of top quality fruit and finding the best way to express the terroir of the region. There are eight permanent wines in the portfolio – a Chenin Blanc, Sauvignon Blanc, Grenache Blanc, Grenache Noir, Petit Verdot, Pinotage, plus the red blends Orchestra and Canvas. So, every vintage, Izele gets to make some superb red blends as well as white and red varietals.
Since last year, the range has also included a limited-edition niche varietal that shone for some reason that vintage. This year's release is a Petit Sirah; last year it was a Carmenère, which came from a 1.15ha block in Stellenbosch.
The range is crafted in a tiny space within KWV's massive production facility in Paarl, which turns out up to 16m bottles a year. It's between the producer's red and white areas.
Initially a space for KWV interns to push the boundaries of winemaking knowledge with help from experienced winemakers (The Mentors), it's now where the magic happens under Izele's watch.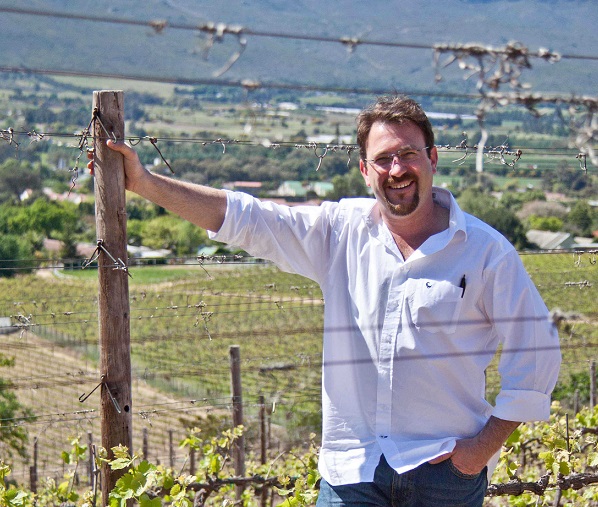 "What we do with The Mentors is we go out – we have a very good viticulture team led by Marco Ventrella (
above
) – and they select all these special blocks, just for Mentors. What I then do is, I go out with them to the vineyards, we taste the grapes, understand when to pick, understand when to prune, everything. Then, when we decide to pick, we will go into it and say, 'this one block we will divide into five to six different pickings'. So, we'll do morning-sun side, afternoon-sun side, first 13 rows, looking at different soil types, understanding what's the difference in a specific block..."
The handpicked grapes go into 500kg bins and are cooled down before sorting. No sulphur is used at this stage, to protect the sorting team from exposure.
During crushing, Izele says she sits "on my knees to catch the first grapes that come through the crusher to see if the berries break exactly how we want them to (split halfway through). Then every single portion that comes into the cellar is kept separate. Each and every single block, each and every single picking in The Mentors cellar goes to different tanks. So, for instance, if we pick morning-sun side on top of the Old Mountain Shiraz block, then I will divide it into four to five different tanks, then I'll do 30% whole bunches, 50% whole bunches, 20% whole berries, natural ferment, commercial yeast, pumpovers versus punchdowns. At the end, we do six pickings in that block and then I've got five, six, seven trials on one picking. After harvest you've got 36 different wines off one block and we do it with each and every single block. So, it's quite intense.
"There's no recipe in the cellar. We taste, taste, taste. In the morning at 6am in harvest time I'll go to the winery, taste all the wines, make decisions, make pumpover decisions, for every single tank – even if it's the same block – to understand what we need to do."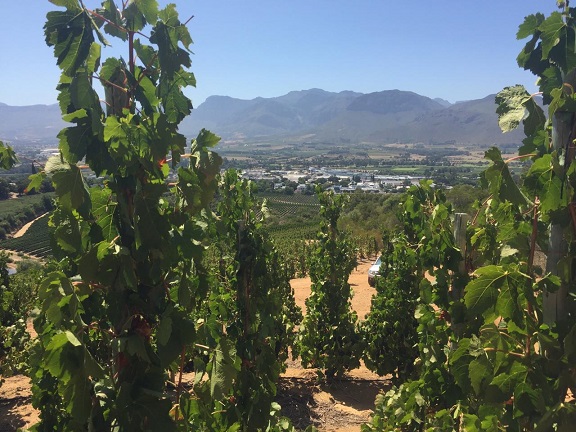 Izele says she often gets asked if she wants to make the best wine or if origin specific is more important. She answers: "Everything is about the quality that we put in the bottle. If I have two wines, but the two wines together make a better wine at the end, I will put that in the bottle.
"This brand is not sales driven. We do quality check, we taste the wines, we taste the barrels. Each and every barrel we taste we do a selection on it and then when we do the blind tasting I'll make pilot blends, do the tasting and make the blend for 2,000, 5,000, 10,000, 20,000, 30,000, and 50,000L. All the winemakers will come and taste, we'll rate it and then if the 1,000L is the best wine, we'll only put the 1,000L in the bottle. But if the 20,000L is the best wine, we'll put the 20,000L in the bottle. So, everyone's always hoping that the bigger blends win, and 90% of the time they do. Sometimes that concentrated small batch is too much – it lacks a bit of finesse and elegance. The bigger blends sometimes just get all the components right."
After alcoholic fermentation, they draw off "all the good juice" into one tank and load the press.
'It's a power tool that we use'
One of the most important things for Izele is "tasting that final wine that drips out of the skins... because that basically is the heart of the wine."
Sometimes she leaves the skins in the press overnight "and I let it drip for the whole night and then the next morning you've got 500L of this magic juice that you can add to all the different blends because it's so concentrated. It's a power tool that we use."
Since the 2016 vintage, the reds have switched from screwcap closures to high-quality cork.
"It was more a marketing team decision than a winemaking decision, but I agree with them," she says. "All the wines were very reductive and we used to decant them for an hour or two before you could actually drink a glass. I'm a firm believer in screwcaps but if you're paying £50 for a bottle of red wine, you want to open it with a corkscrew."
For her, the three most important things are:
Understanding your vineyards and blocks, so you can choose the right picking date for optimum ripeness;
Managing the pH by adding tartaric acid immediately the grapes arrive in the cellar to get the pH as low as possible, so you don't need a lot of sulphur and you improve your ageing potential by 10-15 years. For whites, she says, the ideal pH is 3.2, for reds it's 3.3-3.5;
Barrel selection – 95% French oak of 300L and 500L capacity plus 5% new American oak to bring "that sweet sensation" to the Pinotage and Shiraz. "I don't want to taste the oak, it needs to treasure all the fruit and varietal expression." She says she spends as much time tasting with coopers as she spends in the winery and vineyard.
Recent experiments
At university Izele was told not to do whole bunch or natural ferments with Pinotage because it's got high volatile acidity, so for the past two years she's been making it 'traditional style'. This vintage, she also made it "Pinot Noir style without too many punchdowns or pumpovers" and also a 'wild child' version – "50% whole bunch, natural ferment and I work it really hard – and it's so amazing, you get lovely sour cherry flavours and the volatility was lower than both of the other tanks. But it's just too powerful to put it 100% in a bottle, so I just add like 5% of that to the blends."
To add colour to a light red varietal, she will toss three or four bucketloads of pressed Malbec skins into the ferment and mix during a pumpover.
She adds 5% Viognier into a Shiraz fermentation to give it a "bit of lift".
In another Shiraz tank after fermentation, she topped it up, closed it with no sulphur for three months. When she opened it up, the skins had practically disintegrated "and you had this pitch-black wine coming out and it was amazing how the mouthfeel is so concentrated".
For Sauvignon Blanc, she mixes the fine lees slowly for two or three days to get the methoxypyrazines or thiols higher.
She took "the fluff off the Sauvignon Blanc" and added it to the Chenin Blanc "to help with the mouthfeel".
To ensure it is native yeasts at work, they crush some grapes in the vineyard, put them in a plastic bag and hang the bag on a post for a truck driver to collect with the harvested grapes. They add the contents to the tanks "if the driver hasn't drunk the juice".
With the latest release of Chenin Blanc, 40% underwent natural fermentation and 60% was inoculated. But it wasn't all classic inoculation – she didn't rehydrate the yeast for some batches; she simply tipped the packets into the barrels to help finish the fermentation. "It brings something different to the wine."
Which does she prefer, native or commercial yeasts?
"I like what both bring to varietals but on Shiraz I love natural ferments. Shiraz is more forgiving. On varietals like Merlot and Cabernet I'd rather play it safe. On white wines, definitely natural ferments but we usually split it in half, so we get the fruit purity of commercial yeasts and to make sure it finishes the fermentation. But the natural yeasts bring the sour cherries, the funky, a different element to the wine and I love it."
What's next?
At the moment she's playing with amphorae for whites and experimenting with whole bunches but, she says, "I want to do a bit of Grenache Noir or Pinot Noir in amphoras – as a component of a specific blend – and if it works really well we will launch it as an amphora Chenin or an amphora Pinot Noir as a limited edition."