There are 23 autonomous robots like this working the soil and weeding in French vineyards. Manufacturer Naio Technologies, which recently unveiled an updated version of weeding robot Ted, told Canopy it has gone into "mass production" and they are also talking to wine producers in Italy, USA and Germany.

The electric-powered robot has a target price of €175,000 when it's fully developed in 2023 – but a 30% reduction is proposed for the commercial launch of this latest version next year.
The new model was fine-tuned during the summer at vineyards belonging to Cognac producer Hennessy and Bordeaux's Bernard Magrez, both early customers who have been helping to test and improve Ted's reliability, autonomy, and safety.
The robot, originally launched three years ago, is equipped with a central platform that spans the vine rows with modular arches allowing it to adapt to a variety of vines (narrow, high, etc). Weeding tools, blades, disks, and ploughs can be attached to the new central toolholder, which has a parallelogram lift. Two tools can be combined at the same time.
The power of the lightweight machine has been increased so it can reach speeds of 5km/h and tackle slopes. Ted is guided by RTK GPS technology on plots that have been previously mapped either manually, during planting, or by drone.
New safety features include slowing down before an obstacle, halting immediately if touched, and a remote monitoring system.
"The improvements made to this new version ensure more reliability, and mean this vineyard robot can be used as a truly autonomous tool," COO Marie-Luce Fournié said.
The new Ted is being introduced this month during a series of roadshows in France, and will be available for sale in 2021.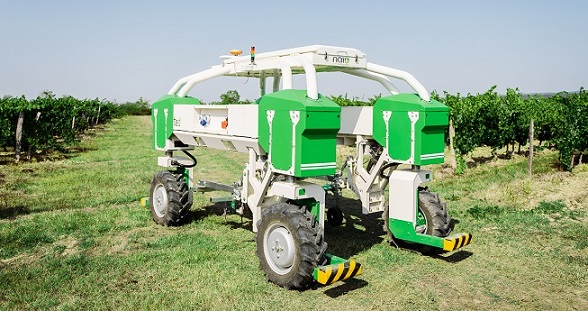 With shortages of manual labour, tightening restrictions on migrants and herbicides, and increasing awareness of the disadvantages of using heavy tractors in vineyards (compaction and emissions), Naïo Technologies has seen an increase in interest in all their agricultural robots.
Founded by robotics engineers Gaëtan Séverac and Aymeric Barthes in 2011, the Toulouse-based company has about 150 robots in circulation worldwide, including Oz, which is designed for market gardeners, Dino for weeding mound-grown vegetables, and Ted for vines.
Since July, the updated Ted has been on trial at Château Frombrauge, Bernard Magrez's Grand Cru Classé in Saint-Emilion.
"The Bernard Magrez Estate is convinced that robotization will play a fundamental role in the mechanical maintenance of the land over the next few decades," commented Arnaud Delaherche, research and development manager of the Bernard Magrez Estate, which owns four Grands Crus Classés among the most prestigious appellations of the Bordeaux region (Graves, Haut-Médoc, Saint-Emilion and Sauternes) and 42 vineyards in nine different countries.
"Electrical power, the absence of greenhouse gas emissions and noise pollution are the main focus of our commitment to the environment," Arnaud added. "In this, we have developed a four-year partnership with Naïo Technologies to perfect a robot capable of carrying out the majority of the soil maintenance work among the vines."
Mathilde Boisseau, the Hennessy vine and wine manager who has also been testing the new version, stated: "Within the context of its commitments on sustainable winegrowing and to support its partner wine producers, the Hennessy company is testing many different solutions in its vineyards to promote more virtuous winegrowing. The R&D partnership project with Naïo Technologies is fully compatible with this approach. The development of the Ted robot is therefore an innovative alternative to the use of weedkillers. Its light weight and adaptability, as well as its electrical operation, are assets in view of the development of sustainable winegrowing in the Charente region (in western France)."
See Ted in action
'We are counting on Ted'
Another of Ted's conquests is Domaine de Lavauguyot, a 52ha organic estate located in Haut Poitou, in the southeast of the Loire. In the middle of the estate stands a mansion built in the 14th century above an 11th-century cellar, but the owner, Frédéric Brochet, has his eye on the future and the nearby theme park where the emphasis is on technology.
"The proximity of Futuroscope (10km away) is perhaps not for nothing in this vision!" he said.
His vision encompasses "the viticulture of tomorrow" – with Ted part of the solution.
"We are working on technical, varietal and social dimensions at the same time," Frédéric confirmed.
Domaine de Lavauguyot is also experimenting with:
Disease-resistant varieties;
Electric vehicles and photovoltaic systems to limit noise and eliminate carbon pollution.
Switching to all-electric is a priority for Frédéric: "In eight years, we hope to be fully electric on the estate and we are counting on Ted."
The vineyard – mainly Sauvignon Blanc and Pinot Noir – has been organic since 2004 and has been cultivated biodynamically for two years.
Frédéric is very pleased with Ted's contribution so far. "I often had trouble finding staff to drive the wine tractor. Ted was a ready-made solution," he said. "Three people take turns taking care of the robot.
"As it works on many hectares, we have greatly contributed to its development. We have therefore tested new software versions or new tools first. We have also worked a lot on the batteries with our intensive use of the machine, the work has always been done in collaboration with Naïo Technologies to improve the robot and adapt it to our needs."
He confirms there's no going back now. "When we touch Ted, we don't want to get on a tractor anymore," he said.
"Ted will be one of the important elements of the ultra-modern vineyard in the future."
Other vineyard robots
TREKTOR, from French manufacturer SITIA, is a hybrid autonomous tractor designed to perform repetitive tasks such as soil cultivation, spraying and hoeing. It can change its width (wheelbase) or his height (adjustable ground clearance) for different crops. Trektor's three-point linkage makes it compatible with many existing implements. Power comes from a 25hp diesel engine and 8kW hydraulic and electrical motor. Price is over €200,000.
RoamIO, from Canadian startup Korechi Innovations, is a small, agile "autonomous farming platform" which can be programmed to perform a range of different tasks in vineyards, orchards, farms and golf courses (for which it seems particularly suited). The robot is relatively lightweight at 120kg, but it can carry as much as 450kg, and tow as much as 2,200kg. Current uses include seeding cover crops, grass cutting, monitoring vine health and gathering data. Price is around $40,000 per unit.
VineScout, an autonomous robot from Spain that collects local temperatures, humidity, biomass (NDVI) and other data for high-resolution maps, recently showed its third prototype. VS-3 has new features and components, such as an improved steering system, time-of-flight sensor (for depth-mapping), and better batteries. It's being tested at Symington Family Estates' Quinta de Ataíde vineyards in Portugal. It can map 3.5ha per day. Target customers include cooperating winegrowers and contractors.
VitiBot's Bakus, from Champagne-based grapegrower Cedric Bache, is an autonomous, fully electric vine-straddling tractor. It's capable of mechanical weeding, vine monitoring and spraying. With its 75kWh lithium-ion batteries, the 2.5-ton Bakus can work for up to 10 hours. Price is likely to be similar to that of a conventional tractor, but the manufacturer claims it only requires about €1 worth of electricity per hour of operation. Chablis producer Domaine Louis Moreau uses a Bakus for its groundwork (see the video above).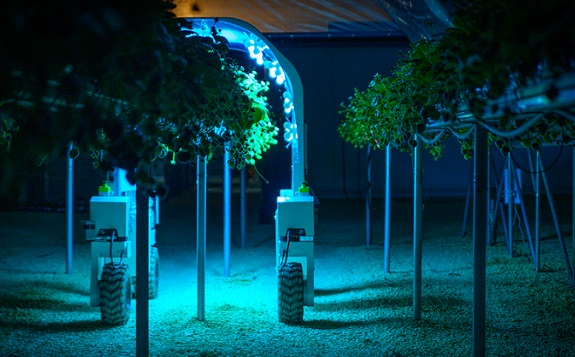 Thorvald, an autonomous robot from Norway- and UK-based Saga Robotics, is being developed to treat vines (and strawberries, above) with UV rays. "Our goal is for Thorvald to play a key role in the transition to more sustainable and efficient farming practices, and we see enormous market opportunities for growth internationally in all the segments we operate in," said Pål Johan From, CEO of Saga Robotics.
From Canopy's archive
The Robots are Coming…
But what can they do and are they worth buying yet? Christophe Gaviglio, an expert on vineyard mechanisation at the French Vine and Wine Institute, investigates the current state of vine bots.
Read the full article here.