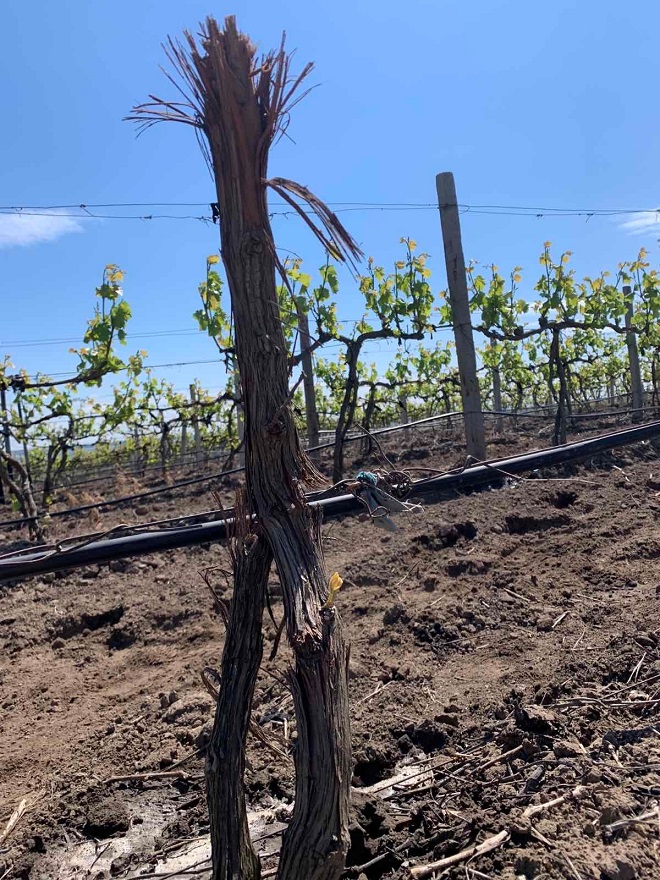 A sign of life. A sign of hope. Amid the destruction rained on Ukraine by Putin's abhorrent army, a vine severely damaged by a Russian rocket displays a single green shoot.
It's the most moving vineyard image of 2022.
The 10-year-old vineyard – now pockmarked by banned cluster munitions – is on the slopes of the Southern Buh River in the Mykolayiv region. When we
last reported
on Pavel Magalyas (
below
), who poured his life savings into buying the 20ha site and establishing the Olvio Nuvo winery, he was clearing the casings and fragments and regrafting table grapes with wine grapes, for a better return. Now the volunteer sapper is on the frontline in the east, in an area where some of the fiercest fighting is taking place. Last year, he told
Canopy
: "For sure I believe in our victory and that my winery, my business will survive."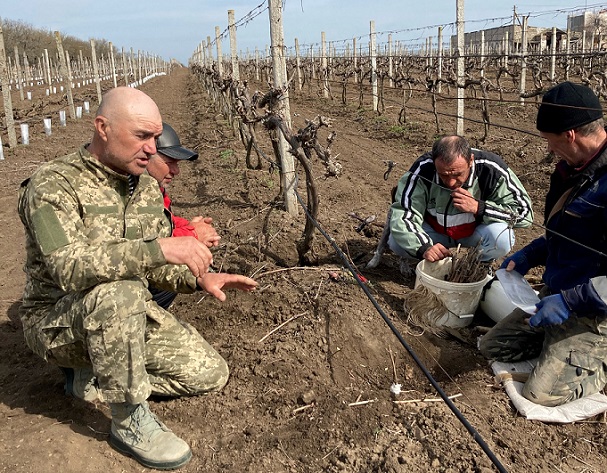 One year on from the start of the war, hope is one of the few luxuries that Ukrainian winemakers have. But they appear to have it in abundance.
The main photo shows Ukraine's leading sparkling wine producer's winery in the besieged town of Bakhmut, where Russia's ongoing offensive is being met with fierce resistance. Artwinery's historic production facility – once known as the Artyomovsk Champagne Winery – had a capacity of 25m bottles of wine a year.
The 500 staff, equipment and nine million bottles of wine were moved west – to the safer south of the Odesa region – at the start of the war (although some workers chose to stay and fight for their homeland). Production continues but at a lower level and with a reduced range. However, marketing director Alexandra Cherednichenko says the company hopes to return to Bakhmut and its 72-metre-deep cellar (formerly a gypsum mine) after the war and is stockpiling enough fizz to celebrate Ukraine's victory.
For the 2022 vintage they were able to source grapes from the Mykolaiv, Kherson and Odesa regions.
'People started to prefer strong alcohol'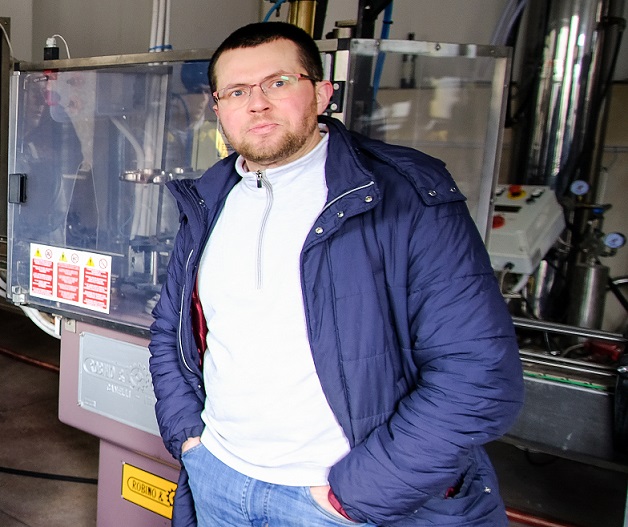 On the first anniversary of Russia's invasion of Ukraine, I contacted the Ukrainian winemakers we've come to know here at
Canopy
.
Kostiantyn Tintulov
(
above
), co-owner of Vinkhol Oksamytne in Odesa's Bolgrad district (near the Romanian and Moldovan borders), summed up the current situation for me: "We started cutting the vines but there is a great question if we can keep on doing all the necessary works near the grapes because many men were mobilised for the war and many women have left Ukraine. We look forward that this year the harvest will be even lower than the previous year and hope just to save the vines and keep the winery alive. For the last few years there is very low chance that we can get any profit.
"But we have to fight for our future, support the Ukrainian military forces and keep the hope for a better future for our children!"
He says the rockets "did not fly towards us", but the bulk wine producer has been hit by a dramatic fall in wine consumption as "people started to prefer strong alcohol". The business has also been hit by bad debts as companies "use the war to not fulfil their responsibilities". However, the winery did manage to harvest 1,000 tonnes of grapes last year and to get free listings in Ukrainian supermarkets, "which cost a lot before the war, but now many importers have left our country".
To keep production going during regular power cuts, Kostiantyn says: "We have bought a diesel generator to be able to keep on working with bottling and fermentation processes."
'It's going to be a very powerful vintage'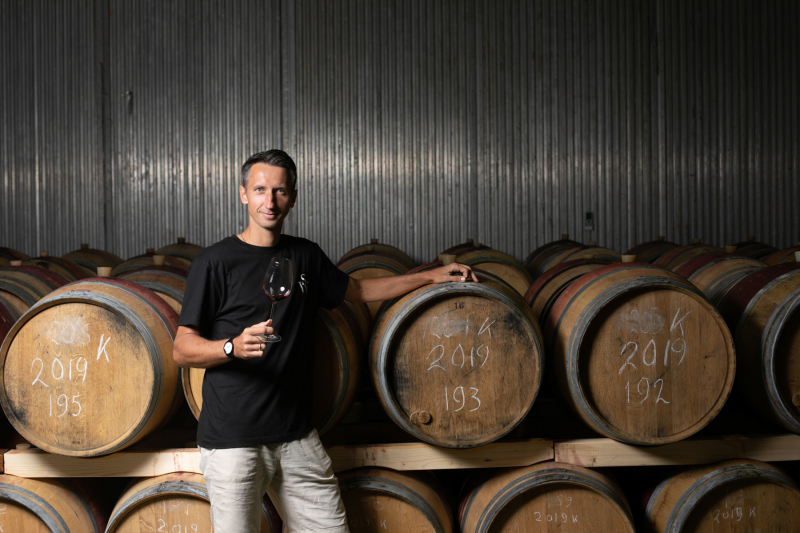 Sergiy Stakhovsky
(
above
), a former tennis pro who once defeated Roger Federer at Wimbledon before taking up arms, was training in Kyiv when I contacted him.
He told me: "In a couple weeks I'm rotating back to the frontline. We had a great 2022 in terms of harvest; the quality of the grapes, I would say, was close to the best we have had so far. It's going to be a very powerful vintage.
"The situation is still very critical as the full-scale war is taking its physical and economic toll. We are trying to push through this time and hope for the best. Because of the war, a lot of wine plantations didn't harvest their 2022 vintage, which created a shortage of wine material in Ukraine. The biggest plantations are in the Mykolayiv and Odesa regions.
"For me, personally, it was a tough month as we decided not to bottle our 2020 vintage of reds. 2020 was a hard year – we had our hopes but, unfortunately, we didn't manage.
"For 2023, we have a lot of plans. We have a collaboration with our distributor in Ukraine, Wine Bureau, to plant Pinot Noir from Burgundy. We also plan to start construction of a new winery, but due to the loss of 2020 we will have to recalibrate our calculations."
Sergiy runs the winery in Ukraine's western region of Zakarpattia, which neighbours Slovakia, Hungary and Romania, with his family. His brother Leo and co-owner of the winery Alena Stakhovska (wife of his elder brother Oleksandr) will be representing Stakhovsky Wines at ProWein (March 19-21, Düsseldorf, Germany).
Stakhovsky Wines is among a group of 10 exhibitors on the Wines of Ukraine stand at the massive wine fair. They will be in Hall 12, on stand A3, along with Beykush Winery (Mykolayiv), Father's Wine VB (Ternopil), Chateau Chizay (Transcarpathian), Biologist Craft Winery (Kyiv), Kolonist Winery (Odesa/Southern Bessarabia), Villa Tinta (Odesa/Southern Bessarabia), My Wine by Eduard Gorodetsky (Odesa), 46 Parallel Wine Group (Odessa), and Prince Trubetskoi Winery (Kherson).
Ukraine's flagship winemaking company, SHABO Family Winery, and Artwinery, have their owns stands in the Messe.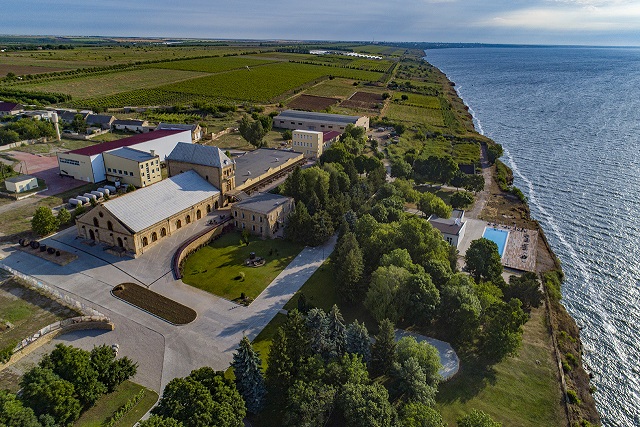 It's great to see that the
Prince Trubetskoy Winery
(
above
) will be at ProWein. This historic chateau, in the Kherson region, is believed to have survived the Russian occupation. But, even after the de-occupation, it is not clear what happened to the production facilities, ancient wine cellars, the restaurant or hotel complex. It is still impossible to get there because the chateau is located in the territory suffering from daily shelling and missile attacks. And some of the vineyards have not yet been de-mined. However, the winery says it has maintained its staff and is looking forward to showing its wines to prospective buyers in Germany.
Georgiy Molchanov
, co-owner of the SliVino winery near Mykolaiv and head of the Ukrainian Association of Craft Winemakers in the Black Sea Region, tells me: "Everything is fine with us. After Kherson was de-occupied, it became much quieter in our region. The Ochakiv and Kherson regions, where there are many vineyards and wineries, are still heavily shelled."
He sent me a photo of their new label…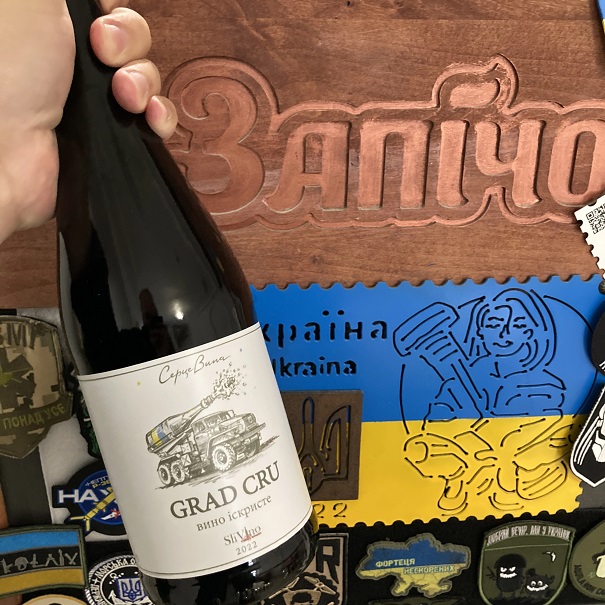 Specially labelled for a newspaper auction, 'Grad' refers to the Russian rockets that now litter the vineyards.
As for the 2022 vintage, Georgiy says: "The season was good; we made wines (3,000 bottles of Riesling and Pinot Gris), we sell some wines at auctions – all the money from which goes to the army."
Dr Nina Muljukina
, deputy director for research at the Vasily Egorovich Tairov Institute of Viticulture and Winemaking in Odesa, agrees that "the harvest of 2022 was not bad, even despite the war and drought".
Yields were down, especially in war-torn regions like Kherson, and consumption is down – which is why producers are seeking access to international markets at wine fairs like ProWein.
But she, too, wants to focus on the positive: Ukraine's re-admission to the OIV, making it the 49th member country – with Nina and three of her colleagues from the Tairov Institute becoming the OIV experts from Ukraine.
Mines to Vines
Another sign of hope is the plan by Roots of Peace, a humanitarian non-profit organisation, to plant vines in fields in the Mykolayiv region that are currently planted to landmines and unexploded ordinances.
Its Mines to Vines programme has already seen minefields in Croatia turned into vineyards and now it wants to do the same in Ukraine.
Roots of Peace says it has facilitated the removal of more than 100,000 landmines/UXO and planted over seven million fruit and nut trees and vines in Afghanistan, Croatia, Cambodia, Vietnam, Guatemala, Azerbaijan, and Israel.
"Since February 24, 2022, over 30% of Ukraine's agricultural lands have been mined. We must put a stop to this," said Heidi Kuhn, founder and CEO of Roots of Peace, at the programme announcement in California.
Dmytro Kushnerek, the San Francisco Consul General of Ukraine, added: "This demining project is essential for Ukraine because landmines are one of the big problems we face in the middle of the war. Those explosives are affecting our communities, especially children and civilians not involved in the fighting. Huge land parcels have seen substantial growth of explosive devices planted by Russian occupation in fields, villages, and towns.
"It is our strong belief that with Roots for Peace's support, the demining process in Ukraine will be performed quickly and effectively, bringing back normal life to our people."