Why the big smiles? The tractor solution for sustainable vineyards is on its way, rolling over objections to the carbon footprint generated by mechanical weeding in organic vineyards.
Two compact, smart, electric tractors are scheduled to roll quietly into the Wente Vineyards in Livermore, California, next week (May 14).
Made in California by Monarch Tractor, the machines will be used "for as many operations as possible once we officially receive them both", according to Niki Wente, fifth-generation winegrower and viticulture manager at Wente Vineyards.
Although these e-tractors are 'driver-optional' – and Monarch has its test field for autonomous operations on a fallow plot at Wente Vineyards – the Alameda County estate will not use them without an employee behind the steering wheel.
Niki told
Canopy
: "Currently, the autonomous function is not allowed in California based on Cal/OSHA (the Division of Occupational Safety and Health of California)."
She added: "We do hope to run the equipment autonomously in the future when it has proven to be safe."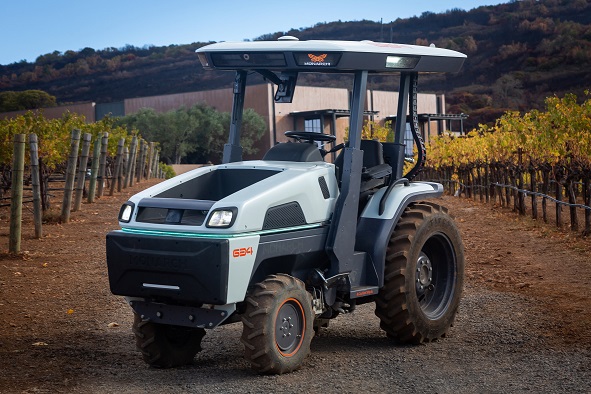 The two e-tractors taking up vineyard duties at the oldest, continuously operated family winery in the United States are the first of 15 pilot deployments ahead of Monarch steaming ahead with full production later this year.
The price of the production models will be about $50,000 – about half of the anticipated price of many of the other vineyard robots on trial around the world.
"Our tractor has undergone strenuous real-world testing and is now ready to get to work and deliver on the promise of a more sustainable and efficient farming operation," Praveen Penmetsa, chief executive officer of Monarch Tractor, said in a statement.
He founded the company with Carlo Mondavi (chief farming officer) and Zachary Omohundro (chief technology officer), a robotics expert from the mining industry. After spending five years in development at Praveen's Motivo Engineering, the concept has now been field-tested for two years in northern California.
Monarch Tractor and Wente have been partners throughout the tractor's software development phase.
"We've seen first-hand the benefits of the Monarch Tractor in our vineyards," Niki said. "Monarch Tractor represents the future of tractors and to be the first customer deployment is especially exciting as we kick off this new era of sustainable farming."
The cost of the new tractors was met by a grant from the California Air Resources Board FARMER program, with Wente applying for zero-emission farm equipment to enhance its sustainability goals.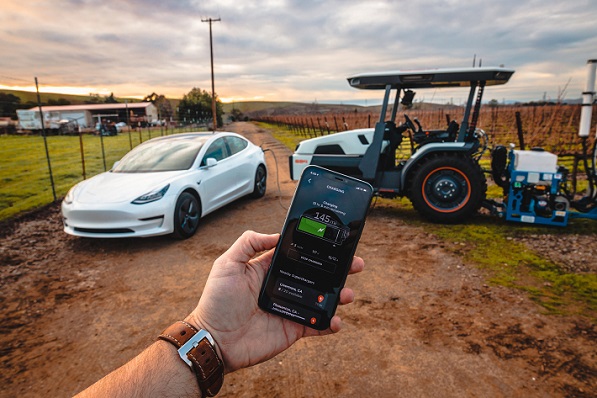 The Monarch machine is powerful for a compact tractor, with an electric drivetrain that can produce 40hp (30kW) of continuous power and short duration peak power up to 70hp (55kW). It is also cheaper and quieter to run than a diesel-powered tractor.
As well as operating as a vineyard workhorse, it can also operate as an ATV or as a powerful generator in the field.
Other advantages cited for this machine are its compatibility with existing implements (it's equipped with a single universal, three-point hitch) and its ability "to learn". While being driven around the vineyard, it remembers exactly where it's been and what it's done – and its 360° cameras and full sensor suite can distinguish between an object and people.
Scheid Family Wines in Monterey
, California, is also getting an e-tractor, which will be charged by a wind turbine. Greg Gonzalez, director of vineyard operations, hopes the machine will be able to work two implements simultaneously so they can get "two vineyard tasks done in one pass". But he sees one of the key benefits as "creating higher value" for vineyard workers. He said: "By transitioning workers from direct management of the vines to managing precision agriculture systems, we're upskilling and redefining our labour force."
See the e-tractor in action
Wente Vineyards supports Kiss the Ground
Wente Vineyards has teamed up with Kiss the Ground, which runs educational programmes about regenerative agriculture and supports farmers transitioning farmland to regenerative practices.
Until August 2021, $0.25 of all bottles sold of Wente Vineyards wines will be donated to Kiss the Ground. That could mean a donation of up to $30,000!
Both organisations will be promoting the partnership through social media and email communications. Additionally, Wente Vineyards will be highlighting the collaboration on its printed 100% recycled in-store materials.
Niki said: "The carbon sequestration and regeneration farming principles align with many of our practices at Wente Vineyards. We spend an inordinate amount of time caring about our soil and vineyards so that it can continue to produce high-quality wines for generations to come."