With digitalisation expected to bring major benefits to wine businesses over the coming years, the OIV (International Organisation of Vine and Wine) rounded up experts from academia, governments, international organisations and the private sector to identify the main digital trends in our industry.
Its report,
available here
, identified the trends summarised below.
The OIV also surveyed experts from 18 member states, confirming that digitalisation in the sector is at an early stage of adoption, but they expect "a strong push towards digitalisation in the short and medium term".
68% of respondents said digitalisation will have a major impact on the sector in the next 5-10 years, and only 4% believe that it will have little or no impact.
89% of respondents believe digitalisation will be beneficial in terms of improved data collection (data on quality, weight, grape acidity, etc), while 85% think it will enhance traceability.
In wineries, we can expect to see increased use of artificial intelligence and the collection of data from sensors in tanks, barrels and around the winery, providing real-time control over the wine. In the vineyard, we can expect robotics and image processing to play an increasing role in improving vineyard productivity, health and yield. In the warehouse, we will continue to see digitalisation increasing efficiency and reducing costs through the implementation of smart storing facilities. In marketing, we can expect to see the adoption of more blockchain technology and e-labels. But what do these new terms mean? With the help of the OIV's experts, we explain the key phrases and trends…
The main digital trends in our industry

Internet of Things / Sensorisation
Sensors can be placed in the vineyard, winery and warehouse to provide useful information which can help with crucial decisions as well as improving efficiency and quality. With the Internet of Things (IoT), these sensors can be connected to devices such as laptops and smartphones to record, monitor and adjust every interaction.
When combined with images from satellites or drones, they provide useful information on vine quality, vigour, yield and harvesting dates.
In the winery, sensors in tanks and barrels enable monitoring of the winemaking and ageing processes in real time, eliminating the need to send samples to labs. Small modifications can be made to improve wine quality and reduce costs.
In the distribution phase, connectivity can boost efficiency and reduce costs. Examples include transport management systems to control and optimise all the company's logistics, from the arrival of raw materials to the transportation of the finished product.
Daniel Seseña, who works for a leading global technology and consulting company, says: "In smaller companies focused on the value of the product, the adoption of digital technologies will focus on those that favour traceability (guarantee of origin of their product) or quality (prediction of harvests, time of harvest, etc). For their part, larger companies will combine the above with technologies that make the production process (maturation and bottling) of their wines more efficient."
Artificial Intelligence (AI)
AI is still at an early stage of development and adoption in many sectors, including the wine industry. But if it is properly merged with other technologies such as sensorisation, it can bring many benefits. It can gather, interpret and learn from collected data, helping grapegrowers to make decisions based on facts and predictions.
In the winery, AI can be used to collect data from sensors and use it to improve production. Thanks to the information received about barrel conditions, for example, AI is able to determine or predict wine quality based on the distribution of its components, track the maturation process in the barrels and perform a sensory analysis of fermentation products (such as acids). This can directly affect the productivity of the winery by saving time and money.
In the last stage of the value chain, wine marketers can use AI to find new ways to reach the end customer. One interesting use mentioned in the report is virtual reality wine tastings, in which the participants, by wearing virtual reality headsets, can be immersed in the vineyard or winery while tasting different wines in the comfort of their own homes. Another example of potentially interesting AI technology is the "virtual sommelier", which makes recommendations according to individual consumer preferences.
Robotics
This technology is at an early stage in the vine and wine sector because there have been several challenges in applying this technology. These include the high costs, the lack of technological culture in the sector and a lack of professionals trained in the technology. Another issue is the high-energy consumption of the robots, which means they do not have a long autonomy of use. Also, the practicality of use and maintenance may favour the use of autonomous electric tractors, which may gradually automate more and more to become more like robots.
The latest vineyard robot, due to hit the market next year, is Yanmar's YV01 autonomous sprayer (below).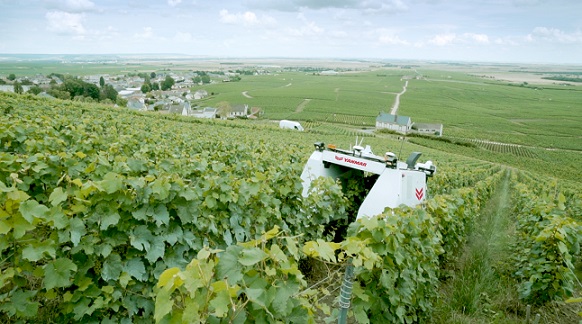 Technical dataType:
YV01
Performance:
Autonomous operation
Weight:
One ton
Fuel:
Gasoline
Engine:
Honda IGX 800, air cooled
Power:
27 horsepower
Cylinders:
4
Fuel tank:
19L
Speed:
4km per hour
Tank for spraying:
200L
Slope:
Up to 45%
Lateral slope:
Up to 19%
Other robots have been developed for planting vines, fertilising the vineyard, and monitoring factors such as grape yield, vegetative growth and grape composition in vineyards. Robots capable of harvesting grapes and pruning vines are also being developed.
Here's one example.
Albert Strever, a senior lecturer in viticulture at the Department of Viticulture and Oenology, Stellenbosch University, comments: "With the latest advancements in this technology and improved energy efficiency as well as lowered cost in recent years, it is believed that in the next three to five years these systems will become more viable and will have a far greater impact on the vine and wine sector."
Satellite Imagery
Satellite imagery is an established technology that has significantly evolved and improved over the last few years, greatly increasing its applications and accuracy. Its progress now makes it possible to see what lies beneath the canopy layer, even the ripeness of the fruit under the leaves.
When combined with artificial intelligence and the Internet of Things, this technology can create predictive models, which growers can use to predict annual harvests, anticipate severe weather, quickly and accurately detect diseases or pests or water stress, and learn from the history of previous years to increase or improve harvests.
Julian Chambouleyron, president of Gisworking SA and owner of Amandes SAS, says: "We are no longer talking about precision agriculture, we now discuss digital agriculture. We believed we could cope with digital by the extensive use of satellite imagery at beginning and drones nowadays... Now we are adding robotics and even IoT. Still not enough. My interpretation is that we are missing something crucial on adding all those technologies together."
LIDAR (Laser Imaging Detection And Ranging)
LIDAR is a remote sensing method that can be used to map a terrain, recording data about the height, density and other characteristics of vegetation in a region. Initially used in aircraft, it can now be installed on drones, tractors and autonomous vehicles. When attached to any of these 'vehicles', it can be used to map the vineyard in three dimensions, from the topography of the land to the fruit of each vine.
Some of the different uses for vineyards include:

Harvesting yield assessment – as the technology moves through the vineyard, it analyses the areas where there is more fruit and identifies where there is not so much so that other tools, such as fertilisers, can be used to stimulate growth. This way fertilisers and water are used more efficiently.
Site-specific spraying – to know precisely which areas have the highest leaf and fruit density. This information can be used to improve precision in the use of pesticides and reduce pollution and costs for producers.
Reduce accidents in the vineyard – by having a detailed 3D map of the terrain, the safety of tractors and autonomous vehicles can be improved as the terrain is perfectly mapped with slopes, holes and other kinds of hazards.
Alexandre Bastard, head of research, development and innovation at EtOH, adds: "Thanks to its precision, this technology allows robots to better locate themselves and interact with any environment such as vineyards, vines or grapes."
Blockchain
This technology records each stage of the process (grape harvesting, production, distribution, etc), verifying the authenticity of the previous steps each time.
The experts say it can make this industry one of the safest and most transparent in the world. Other benefits include the elimination of paperwork for compliance purposes as well as for the import and export of wine by allowing government inspectors at ports and borders to easily access the data they require for the movement of goods.
Olivier Oram, founder of Chainvine, says: "I see we are at the tip of the iceberg and that in the next five years significant scaling of this technology in the wine industry will take place.
"With the help of blockchain, I would like every producer to know where their bottles are at every moment. The technology is applicable to all kind of wines (no matter its price), and it is just as accessible as all will need access to compliance data."
E-Labels
Over the past few years, more countries, regulatory bodies and local authorities have asked manufacturers to display an increasing amount of information on the labels of products.
Electronic labelling (e-labels) is an alternative and voluntary way for manufacturers to provide a greater amount of information. And the OIV, in its report, says it is "set to become a mainstream technology in the future".
For manufacturers and regulators, e-labelling offers a powerful alternative to the traditional methods of displaying compliance information. They can be updated easily and require less space, aiding design innovation and reducing the waste created in the process of producing and updating physical labels.
QR codes 
like this
 are also ideal for consumers to access all the product information that is available, as well as links to videos on experiences related to that specific bottle and grape.
Fabián Torres, principal consultant at SICPA, says: "Thanks to the implementation of e-label our customers can include more information in their bottles, including media content and this has helped to increase transparency."
The QR codes can also allow the product to be traced from its origin, verifying the product that is being purchased by using a specific type of ink and holograms to prevent counterfeiting.