When I first visited Évora, the capital of Portugal's south-central Alentejo region, I remember looking up from the hotel swimming pool to the impressive granite arches of the Agua de Prata Aqueduct. Completed in 1537, the 18km-long aqueduct brought clean water to the city for more than four centuries.
Ten years later, water is still a big issue here. This region is Portugal's garden, with huge cork plantations, wheat fields, and vineyards. Yet, due to climate change, it is suffering from decreasing annual precipitation levels, more frequent and intense droughts, substantial increases to annual maximum temperatures (up 6°C in summer), increased number of days with temperatures above 35°C, and increased heatwave frequency and intensity.
There is a plan to use the Agua de Prata (
below
) once more to bring water from the Graça do Divor wells and springs to the city; this time to keep around 50% of the town's green areas alive during the hot, dry summer – when shading is needed – and reduce the threat of water shortages for other uses.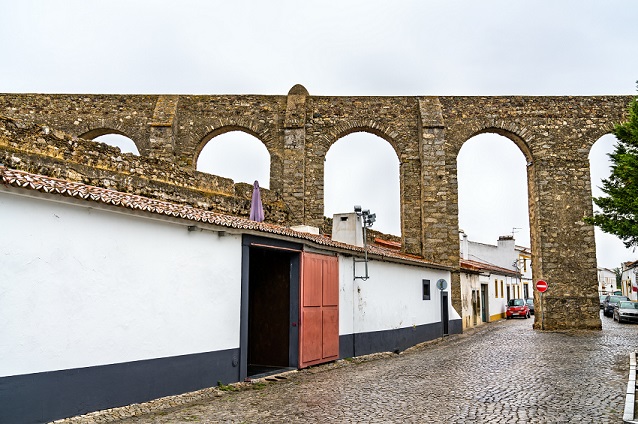 While drinking some beautiful reds and whites from the region in London recently, I was reminded of the problem with water and that Alentejo is one of the wine regions most vulnerable to climate change.
Perhaps this is the reason it's one of the most sustainability-conscious regions. The Comissão Vitivinicola Regional Alentejana (CVRA), aka Wines of Alentejo, has a very rigorous sustainability certification programme. Qualifying wineries must comply with 86% or more of 171 demanding Wines of Alentejo Sustainability Program (WASP) criteria to allow them to put the certification seal (
below
) on their wines. Areas covered are viticulture, vinification, and social responsibility, including employee well-being and benefits for the local community. Independent verification is handled by one of four certifying agencies: Bureau Veritas, Certis, Kiwa Sativa, and SGS.
I asked some of the WASP members about their key sustainability measures…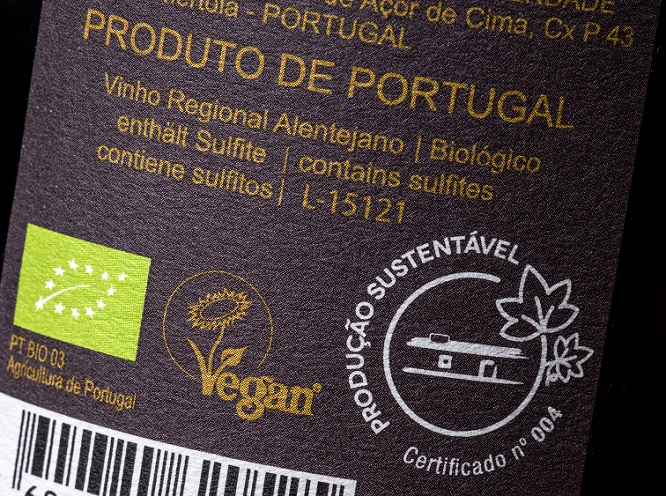 Herdade dos Grous
Herdade dos Grous was the first to qualify for the sustainability certification programme. They told me their sustainabilty strategy includes:

Maintaining and increasing biodiversity in their 1,000ha, mainly focusing on creating a crop mosaic with 133ha of vineyards, 140ha of olive groves, a dam with total area of 85ha, 15ha of pine trees, 7ha of fruit trees and vegetable garden, 240ha of pastures (including 120ha of oak forest and 120ha of natural pastures), 275ha of forage for the cattle, with the rest of the land used to create hedgerows and habitat banks for pollinators of wild plants, and habitats that attract animal species that benefit the vineyards and farm.
Reforesting the montado (Mediterranean oak forest) by introducing protectors for the young trees and keeping cattle away.
Reorientating new vineyards. They are now planted with an east-west exposure.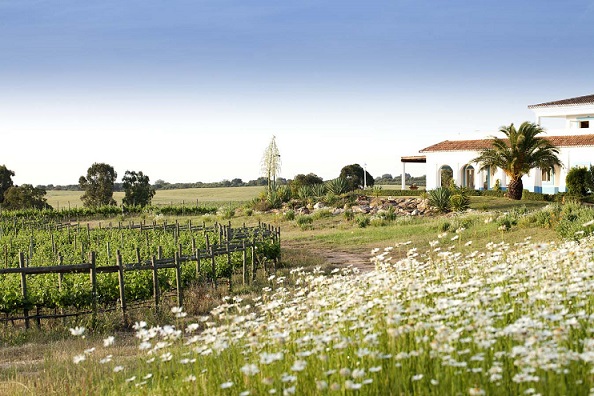 Planting mainly Portuguese grape varieties, which are more resilient to drought and heatwaves. The total vineyard area has 74% of such grapes, including the reds Aragonez, Alicante Bouschet, and Touriga Nacional and the whites Antão Vaz, Arinto and Gouveio.
Seeding inter-row cover crops that will naturally enrich the soils and eliminate the need for herbicides.
Introducing natural organic matter from the estate's farming activities.
Saving electricity and water in the winery. In the cellar they have replaced all the lightbulbs with LED lamps. They have also installed three solar panel parks which supply power to all the buildings at the estate. For water saving they use water pressure pistols in all the hoses and reuse water from washing the vats. They also make sure all workers are aware of the low water resources and the need for saving it.
Using sustainable materials in the packaging. This includes reducing the weight of their bottles and using FSC (Forest Stewardship Council) certified corks, wood and carton packaging.
Herdade do Rocim
Herdade do Rocim's sustainable measures include:

Rigorous monitoring of water usage in the vineyard and the winery. This includes hoses with pistols, weekly water use bulletins to increase the awareness among workers, and awareness posters for water saving by every tap.
Using a weather station, pressure chamber, and humidity sensors in the soil so the 70ha of vineyards only get watered when necessary.
Using superficial tilling and spontaneous plant cover to reduce evapotranspiration and therefore reduce the need for watering.
Good canopy management to improve the microclimate and reduce the use of phytopharmaceuticals.
Encouraging indigenous flora to grow in the outer-rows of the vineyard.
Saving energy by installing LED lamps, motion sensors and timers.
Installing photovoltaic panels.
Herdade da Malhadinha Nova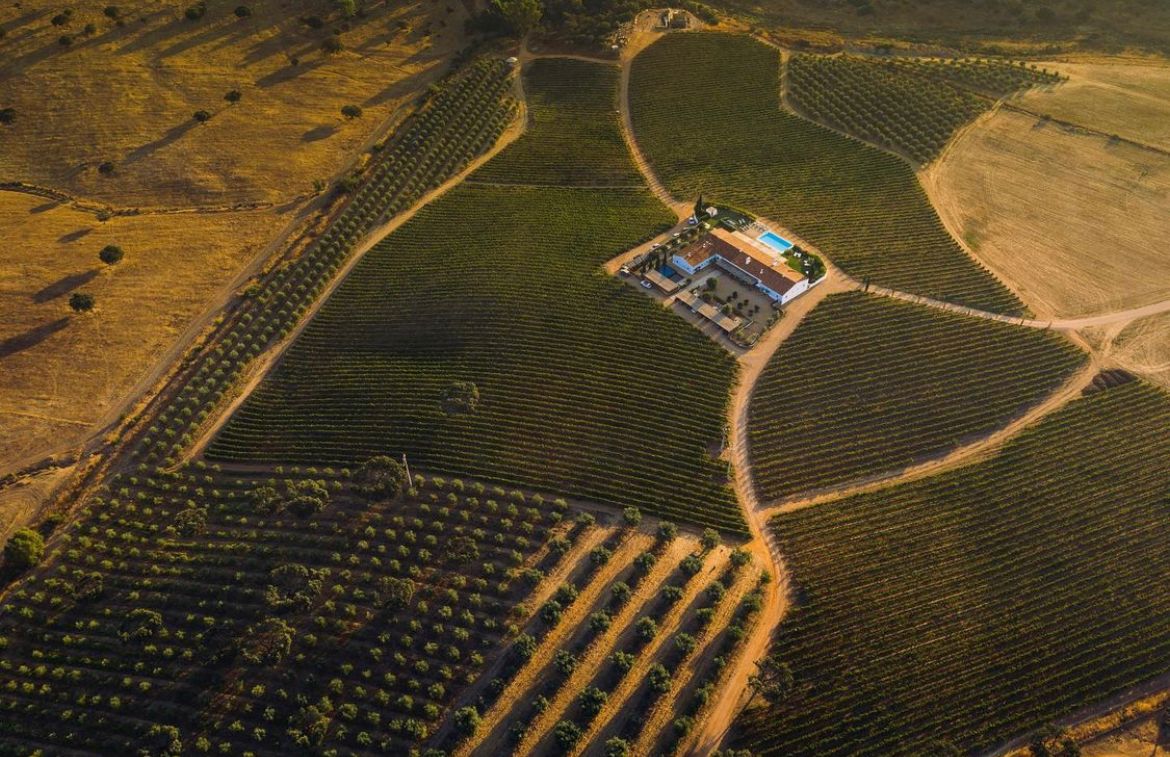 Fully organic since 2017, the 455ha Malhadinha Nova farm uses the produce from its vineyards, olive groves, pastures, vegetable gardens and orchards to supply its restaurant. The farm also rears native sheep, pigs, and cows.
Malhadinha Nova's sustainability strategy includes:
Using the manure produced on the property to fertilise the vineyards.
Using sheep for weed control before the grapes begin to grow.
Planting broad beans, lupine, and clover in the vineyards to supply nitrogen to the land and to create a suitable habitat for species that eat pests.
Planting barley, oats, rye, and wattle to produce flour. The bread is served on the farm.
Using solar energy in all accommodation units and using the prunings from the property's oak trees in the wood-fired heating boilers. Currently, 40% of the energy used at Malhadinha Nova is generated on the farm.
Using electric vehicles for internal trips by employees and guests.
Herdade dos Lagos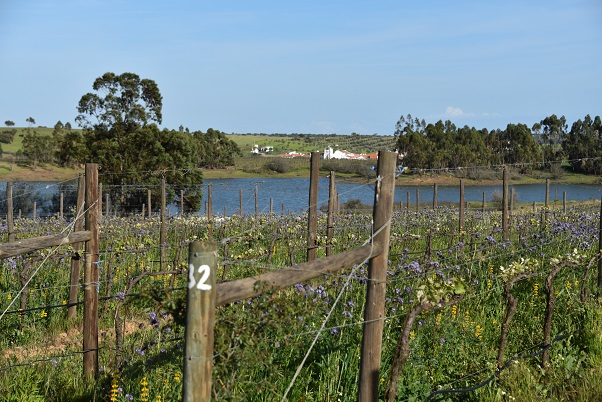 Having vines, olives, carobs, forest, pastureland and a sheep breeding programme is not just good for biodiversity, it also allows Herdade dos Lagos a degree of economic comfort when market prices fluctuate.
Herdade dos Lagos' other sustainabilty measures include:
Creating biotopes for fauna and indigenous flora.
Creating ecological corridors.
Sowing cover crops to improve soil health.
Planting Portuguese grape varieties.
Installing four solar parks to power the winery and other buildings.
Casa Clara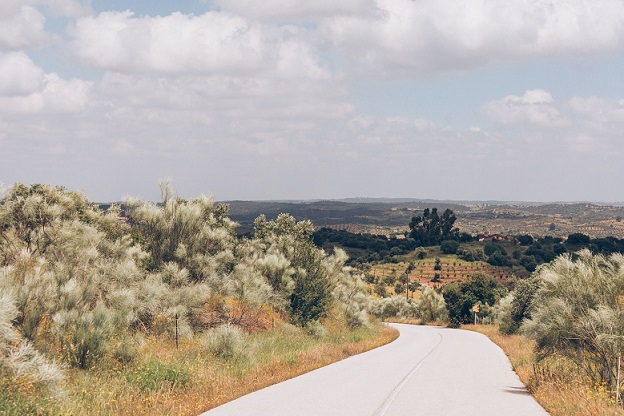 Casa Clara, the first member of WASP, obtained its certificate in January 2022.Since joining the scheme, the business has:

Reduced tractor intervention and increased cover crops/vegetation to boost soil health and biodiversity.
Started using calibrated and certificated sprayers to ensure that the volume of spray liquid mixed in the tank is correct for the area to be treated, leaving no waste.
Analysed all products to ensure that those with less environmental impact are used.
Introduced periodic leaf and soil/plot analysis as an advisory tool.
Increased biodiversity with ecological corridors around the vineyard, installing a bird of prey and bat boxes, planting flowers for bees, and maintenance and creation of riparian zones.
"Every day we try to reduce costs and increase economic viability. Our mission is to grow in a solid and responsible way," says Mariana Roque do Vale, who runs Casa Clara with her parents, Carlos and Clara.
She adds: "The sector can produce wines of excellent quality without jeopardising natural resources, their economic viability and influence the change in habits of the employees and their families."
Adega Mayor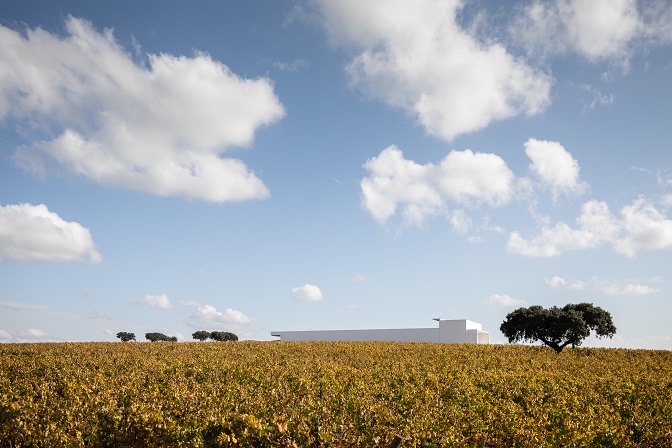 After joining WASP at the beginning, in 2015, Adega Mayor saw a 25% reduction in water consumption from 2016 to 2019. This was due to the team changing habits to reduce unnecessary water consumption and buying specific washing machines for wooden barrels and plastic crates.
"Since we started six years ago, we have reduced our water consumption from 9L per bottle of wine produced to 3.98L," CEO Rita Nabeiro told
Canopy
.
Adega Mayor has also found a good use for its wine waste. It has teamed up with a Portuguese cosmetics start-up to use the seeds and stalks in a new cosmetic brand – OR – starting with a body cream and a hand cream.
Other sustainable measures at Adega Mayor include:
Regenerative agriculture in the vineyards – and a target of being 100% certified as organic by 2026.
Using sustainable packaging. Currently, 80% of the packaging is FSC certified, however the ambition is to reach 100% "soon".
Creating a safe space at work where employees feel that they are comfortable and respected. The company also gives staff members a day off on their birthday, and celebrates new-borns with a special present. "When our employees realise we care for their well-being and happiness they are much more willing to work with enthusiasm and you end up creating good teams, a healthy culture within the company and individuals that are motivated. This builds trust, long-term relations and strong commitment," Rita says.