Example 1: Albino Armani Winery, northern Italy
Respect for the land and local community are important pillars at the Albino Armani Winery, which now spans more than 220ha in the regions of Trentino Alto Adige, Veneto, and Friuli-Venezia Giulia in northern Italy.
Named Great Wine Capitals' 2021 Global Best of Wine Tourism Winner in the category of Sustainable Wine Tourism Practices, the Albino Armani Winery aims to tie these pillars to high-quality wine production.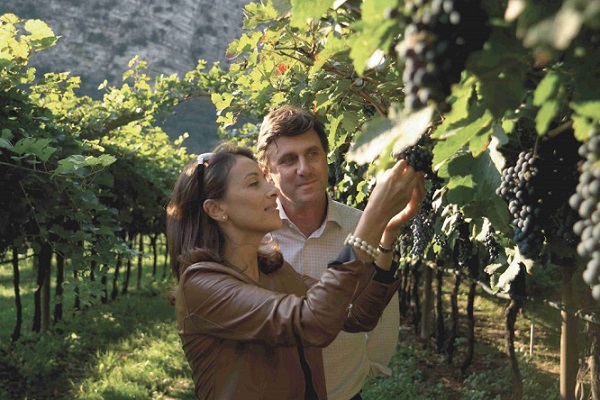 Although best-known for his Pinot Grigios, Proseccos and Amarone, Albino Armani and wife Egle (
above
) are keen to save ancient grapevines and forgotten wine flavours, and have been researching and investing in ancient and endangered Italian grape varieties since the 1980s.
Albino, whose family's winemaking legacy goes back to 1607, established the Conservatoria, a small-scale experimental vineyard at Dolcè in 2003 and, along with the Istituto di San Michele all'Adige, is credited with rescuing from extinction 25 native varieties of Trentino and putting 10 back on the National Registry of native varieties of Italy.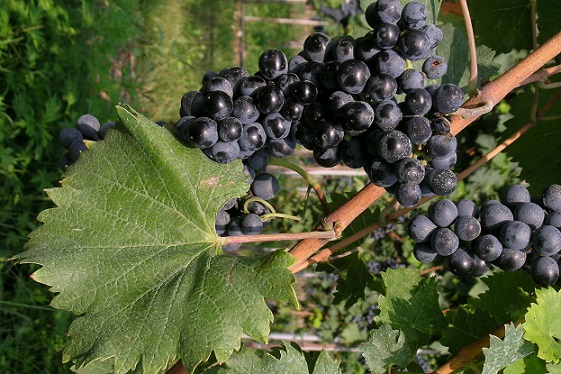 The red grape Casetta (known in the Adige Valley as Foja Tonda,
 pictured above
) is the main success so far. After rediscovering it in the 1980s, Albino collected more than 200 different clones and biotypes and financed a 30-year-long genetic and viticultural research programme to isolate the best, most disease resistant and purest clones. After he petitioned the Italian Government to re-establish this variety for cultivation in 2002, Albino was able to expand the few vines he once had to 12ha of vineyards.
Since then, the Casetta DOC has been established in the Terrradeiforti region, where the Armani family owns 90% of the vines planted.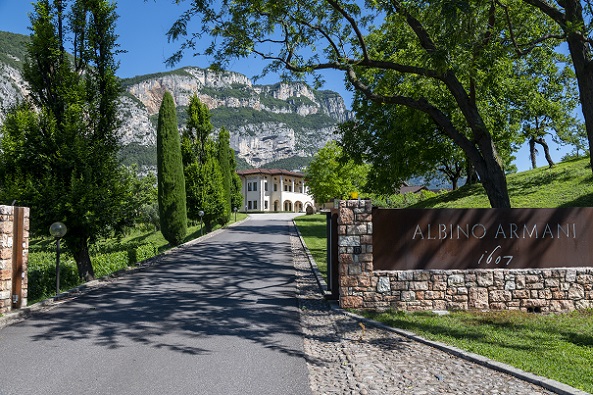 Albino Armani Winery has also been researching its native yeasts. The company says it has discovered 80 colonies of different yeasts thanks to the biodiversity at the vineyards. From these 80, they have now selected the best four to trigger fermentations.
Other sustainable practices include:

Using cow manure, purchased from local farmers, to improve the soil.
Sowing legumes in alternating rows, year by year, and burying the essences after flowering to improve the permeability of the soil and stimulate the proliferation of useful insects.
Using self-produced solar energy as well as wind power from turbines in the Adige Valley for power.
Covering walls with vegetation, such as jasmine, to improve insulation.
The roof of the the Albino Armani winery in Marano di Valpolicella is covered with 80cm of earth on which a flowery meadow grows, while the south-facing walls are covered with wild rosemary and ivy for extra insulation.
Example 2: Pernod Ricard Winemakers Spain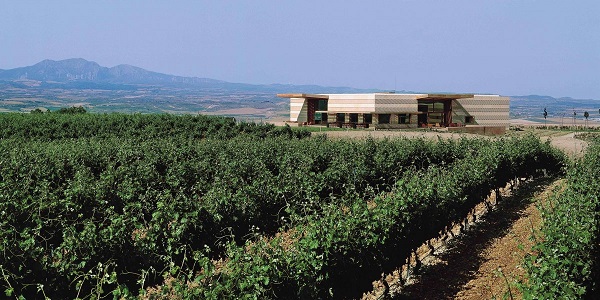 Pernod Ricard Winemakers Spain plans to reduce its greenhouse gas emissions by a further 30% by 2030, having already reduced them by 30% in the decade to 2020.
The company has drawn up a roadmap for its three wineries in Rioja – Bodegas Campo Viejo (
above
), Bodegas AGE and Bodegas Ysios – covering sustainability and corporate social responsibility.
The roadmap for 2030 includes:
Nurturing terroir – reducing CO2 from agriculture and water waste usage and improving the quality of the topsoil and the biome in vineyards, responding to the challenges of climate change to ensure quality ingredients;
Valuing people – investing in and engaging with employees, suppliers and customers to create shared value;
Circular making – minimising waste at every step and a commitment to optimise and help preserve natural resources;
Responsible hosting – as a drinks business, the commitment to prevent and reduce the inappropriate and harmful use of alcohol.
PRW Spain was the first Spanish winery group to implement the ISO 50001 standard for energy management. In addition, in 2011 the company was the first food and drinks company in the world to be certified in IQNet SR10, an international management system that brings together corporate social responsibility and sustainability in the company's strategy and business management. This certificate was recently renewed.
PRW Spain is monitored by the ISO 14064 standard that "provides governments, businesses, regions and other organisations with a complimentary set of tools for programs to quantify, monitor, report and verify greenhouse gas emissions" as well as the program created by the Spanish Ministry for Ecological Transition and Demographic Challenge (MITECO) "Calculo, Reduzco y Compenso" (I calculate, I reduce and I compensate).
Calculating the carbon footprint is the first step and in PRW Spain's case, the audit is carried out by SGS, a major world player in process verification and certification. PRW Spain's reduction and compensation phases are analysed and carried out in all aspects of winemaking and production and certified by ISO standards.
Bodegas Campo Viejo, PRW Spain's flagship, was designed to minimise its impact on the landscape. The production facilities are underground and only the offices and visitor reception centre are visible from the outside. These use ochre-coloured materials to blend in with the surrounding hilltop on the outskirts of Logroño.
Because making and packaging wine is a multi-layered process, reduction of Campo Viejo's carbon footprint begins in the vineyard. The rows between the vines are not tilled but rather planted to cover crops, leguminous plants that add nitrogen to the soil while releasing O2 into the atmosphere. Pest control emphasises natural practices such as pheromone traps to combat the vineyard moth. Perches and nesting areas are provided for birds. Water use is managed using weather stations to determine if drip irrigation is needed and to monitor its optimum use. Energy to drive irrigation pumps in some vineyards comes from solar panels.
Inside the winery, wine is moved from fermentation tanks to storage tanks and to cask ageing by gravity to reduce the need for pumps. Energy comes from renewable sources. Conscious of the fact that shipping weight is a major contributor to greenhouse gas emissions, PRW Spain has been working with bottle manufacturing companies for ten years to reduce the weight of bottles without compromising quality. So far, bottle weight has been reduced by 29% from 550g to 390g. Bottles are packaged in cartons without separators. All inks used on labels and cartons are water soluble. Lead capsules were eliminated years ago in favour of tin, and even this material is being eliminated.
An important project carried out by PRW Spain to compensate for GHG emissions has been replanting trees that release O2 into the atmosphere – such as holm oak, Portuguese oak and Austrian pine, in the Revilla Cabriada area in the province of Burgos.
Example 3: Ngeringa, Adelaide Hills, South Australia
The sustainable approach to farming and viticulture at biodynamic winery Ngeringa is evident as soon as you arrive at the straw-bale cellardoor. The Adelaide Hills winery sits just outside Mount Barker Springs on a 75ha farm, with a mere 5ha dedicated to vineyards.
Originally part of the Jurlique herb farm, the land has been certified biodynamic for more than 20 years – making Ngeringa one of Australia's original biodynamic winegrowing pioneers.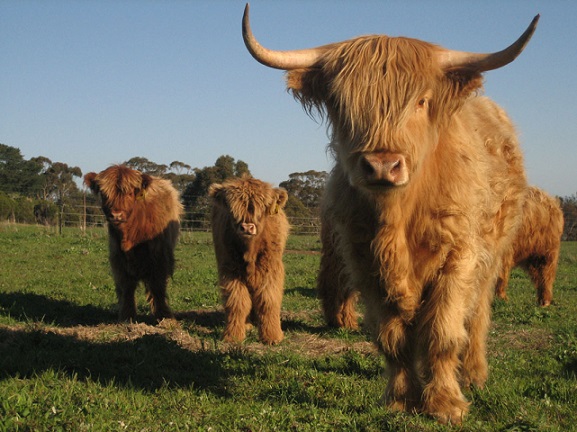 The vines are seamlessly entwined with the farm, which is home to Scottish Highland cows (
above
), sheep and chickens, a flourishing paddock overflowing with vegetables and extensive revegetation plantings.
Since moving to the family farm in 2001 and establishing the vineyard and winery, Erinn and Janet Klein have become increasingly aware of the bare ridge lines, open paddocks and lone-standing gum trees.
A property-wide revegetation program is under way to change the landscape. Plots of land have been set aside on all three Ngeringa properties for seed planting over the coming years in partnership with
Trees for Life
.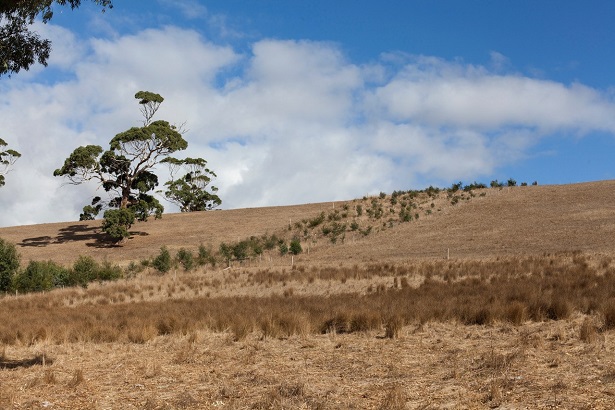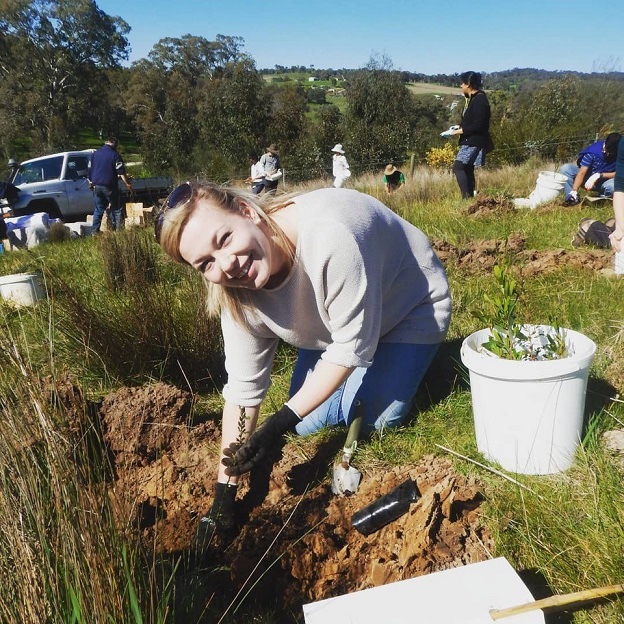 Erinn says: "We are so fortunate to produce our wines in such a beautiful place. However, we lament the historical and current loss of native habitat and biodiversity across Australia. To ensure the long-term survival of our delicate ecosystem and hence maximise sustainable farming production, we are committed to operating our farm alongside native fauna and flora.
"To us, sustainability means minimising impact and ensuring the long-term health of our natural environment, both within and beyond Ngeringa."
Every year since 2007, they have seeded hundreds of indigenous plants and have seen an increase in birdlife as a result.
Janet says: "We have undertaken bird monitoring over the last few years which has revealed we have species here now which would not have been here in a cleared farmland environment – white-plumed honeyeater, striated pardalote, mistletoebird, striated thornbill to name a few. We also have identified four species of microbat."