Before the lockdown came into force in Europe, I spent 24 hours in Istria, the strawberry-shaped peninsula in the northwest of Croatia.
The idea was to drop into three wineries to paint a picture of the life of winemakers in the region, and to discover lessons that could inspire fellow producers around the world. One Istrian producer was installing an expensive irrigation system because he believed it would give him better quality grapes and higher yields. Another was building tiered concrete seats for outside entertaining. He also had a project making wine with local chefs.
But I started with a winemaker who explained how climate change was affecting the region's two major grape varieties, Malvazija Istarska and Teran.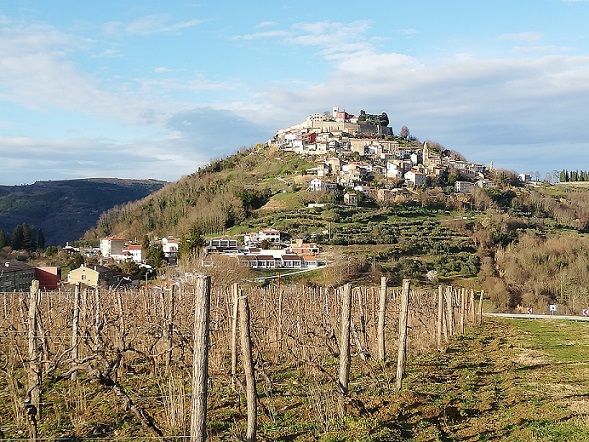 Benvenuti
I drove past the medieval village of Motovun, perched on a hill overlooking the Mirna Valley (above). This is a region where wine has long been inseparable from life and, prior to the lockdown, was establishing itself as a hotspot for foodies.
I continued past the new
Roxanich Wine & Heritage Hotel
and headed towards Kaldir. At the end of the quiet village, the Benvenuti family has its homes, winery, cellars and a villa with pool for guests.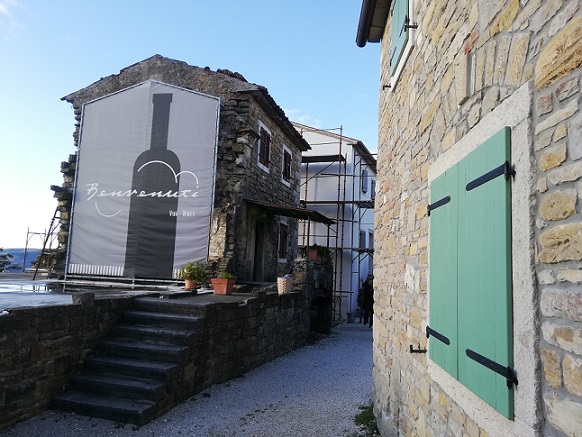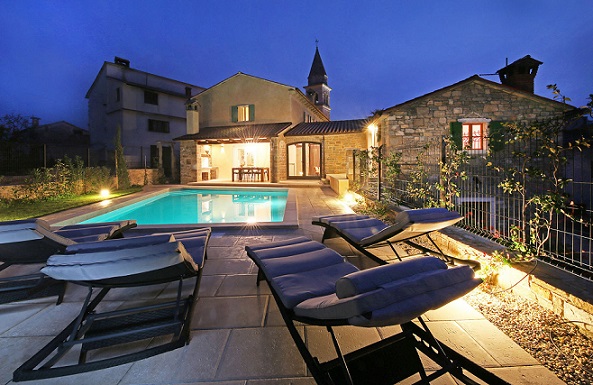 The family, which produces about 70,000 bottles a year, has outgrown its current winery and cellars (under the family homes plus rented space in Motovun) and is applying for funding to build a new one among the vines in the next couple of years.
Their story starts in 1946 when Peter Benvenuti planted his first vineyard, which is still cultivated today. But it was his son Livio and grandsons, Albert and Nikola, who expanded the business from 2000. They currently have 20ha of vineyards spread over three sites, and their focus is on producing high-quality wines from the region's three main varieties: Istrian Malvasia (65% of production), Teran and Muscat – with Merlot, Tempranillo and Nebbiolo used for blending.
They are consistently awarded silver and bronze medals in the International Wine Challenge, with the occasional gold and trophy. In IWC 2017, Benvenuti's Malvazija Anno Domini 2015 was awarded a gold medal and the Croatian White Trophy. In IWC 2016, the family's straw wine, Muškat Momjanski San Salvatore 2011, gained a gold medal and the Croatian Sweet Trophy.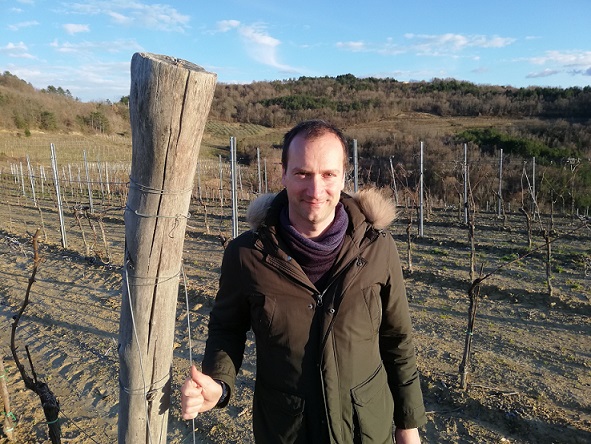 Nikola (
above
) met me outside the family home and took me up to the terraced vineyards located between 250 to 400m above sea level. Their prime site is the San Salvatore vineyard, at 400m.
The region's producers speak of four soil types – red, white, grey and black, with white and red being the most common. Benvenuti's vineyards are on the white limestone.
As we admired the views of Motovun, about 4km away, Nikola talked about the improvements in the red varietal, Teran. Lower yields and climate change are responsible, he says. They started green harvesting in 2007 – which, Nikola says, "lifted it to a much higher level" and reduced the characteristic "high acidity, green tannins".
Picking late, in the middle of October, and using old oak barrels also benefit the variety. "If you harvest too early you will never have a Teran that's wow," he says.
However, he warns, the region's main white variety, Malvazija Istarska, could become a victim of climate change. Harvest dates have moved into late August from mid-September in eight of the past ten years.
"Some locations will have a problem with low acidity in the future," he says.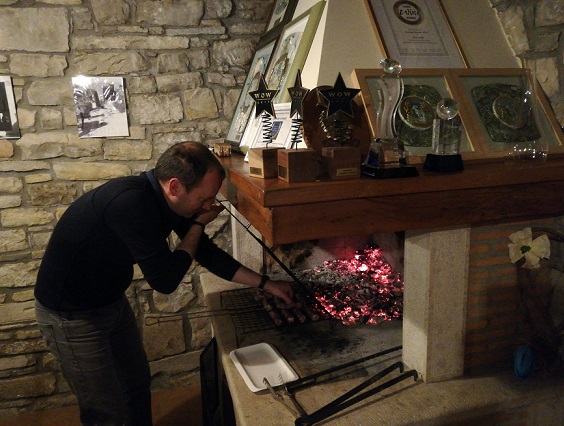 Back in the tasting room, we got to know the fresh and aged Malvazijas, and the Terans. These medium-bodied reds with their forest fruit flavours, firm tannins and pronounced acidity were pleasant enough on their own but tasted absolutely amazing when paired with homemade sausages cooked on the open fire in the tasting room. A simple but great way to make a tasting memorable and to elevate an acidic wine.
Kozlović
The following morning, after breakfast, I drove to one of the region's flagship wineries, Kozlović in Momjan.
Threequarters of the family's 200,000-250,000-bottle annual production is Malvazija Istarska, and this family winery has set the benchmark for the variety over the past two decades. Kozlović offers the grape in a wide variety of styles: fresh (blended with 20% Sauvignon Blanc), classic (the bestseller), Selekcija (launched last year, a fresh line with selected grapes), the flagship single-vineyard Santa Lucia, and a curiosity – Malvazija aged in acacia barrels.
The winemaker, Gianfranco Kozlović, says they are picking earlier and earlier to prevent grapes reaching 14% potential ABV. The problem with picking in the third week of August is that the grapes come in at 30-35°C, so they have installed an elaborate system of gravity-fed cooling tubes which chill the juice before it reaches the large stainless-steel tanks or large wooden barrels (3,000-5,000L).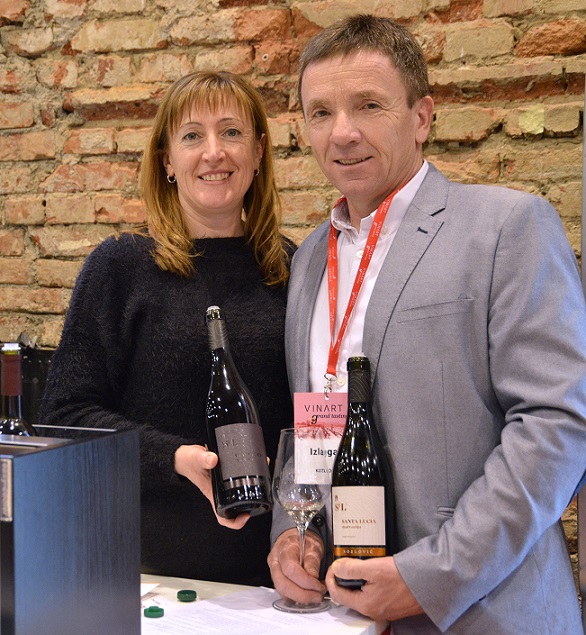 A tour of the winery takes visitors through the family history, from the original farmhouse in 1904 – when the family owned 1ha of vineyard – to the various extensions, which show how the business has grown, especially since fourth-generation Gianfranco and wife Antonella (
above
) took over in 1998.
The impressive modern part has a total surface area of 2,200sq m, a grass roof, labs, a shop and tasting room, and a terrace which overlooks the Valle valley and some of their 32ha of vineyards. It also offers a view of the ruins of Momjan castle (
below
), abandoned in 1835 but a reminder of the village's glorious past.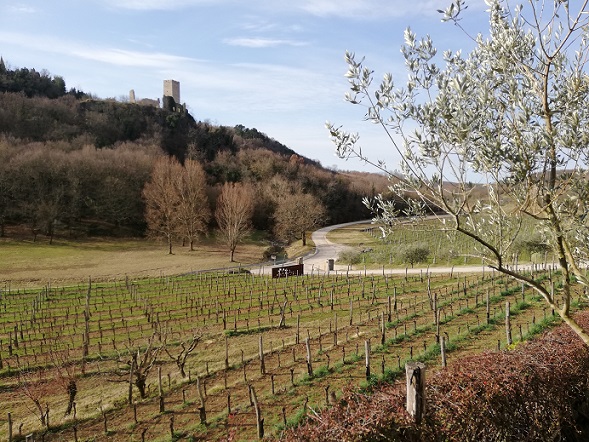 Near the main entrance, workmen were building tiered concrete seats for "theatre-style" entertainment.
At the tasting after the tour, the focus was on the ageing potential of the whites. Even the Malvazijas made for the classic/fresh line were still showing well after three, five and 18 years. Longer ageing, Gianfranco says, is a way to produce a more powerful, interesting wine "without speaking about maceration or amphora". The key, he believes, is good grapes and faultless wines.
Making more people aware of its quality and ageing potential – which he thinks are connected – is his goal over the coming years. "It's important for Istria," he says. At the moment, too many locals think of it as a table wine and do not consider it worthy of laying down.
One novel idea is the limited-edition JRE Malvazija – a co-operation between Gianfranco and 15 young chefs from the organisation Jeunes Restaurateurs Croatia (JRE). These chefs have planted a row of vines each in 1.5ha of the Santa Lucia vineyard and make 1650-2160 bottles of "gastronomic wine" a year, to be sold exclusively in their restaurants and at the winery. The stylish wraparound label tells the whole story and gives the vinification details.
Vina Matošević
Unlike the Benvenuti brothers and Gianfranco Kozlović, Ivica Matošević had no family tradition of winemaking. He studied agronomy engineering and wrote his doctoral dissertation on the eco-system of the Brijuni archipelago (the islands near Pula).
However, he stumbled into the world of wine, became a certified sommelier and then moved into winemaking, becoming one of the leaders of the new wave of Istrian winemakers (along with Gianfranco Kozlović, Moreno Degrassi and Moreno Coronica).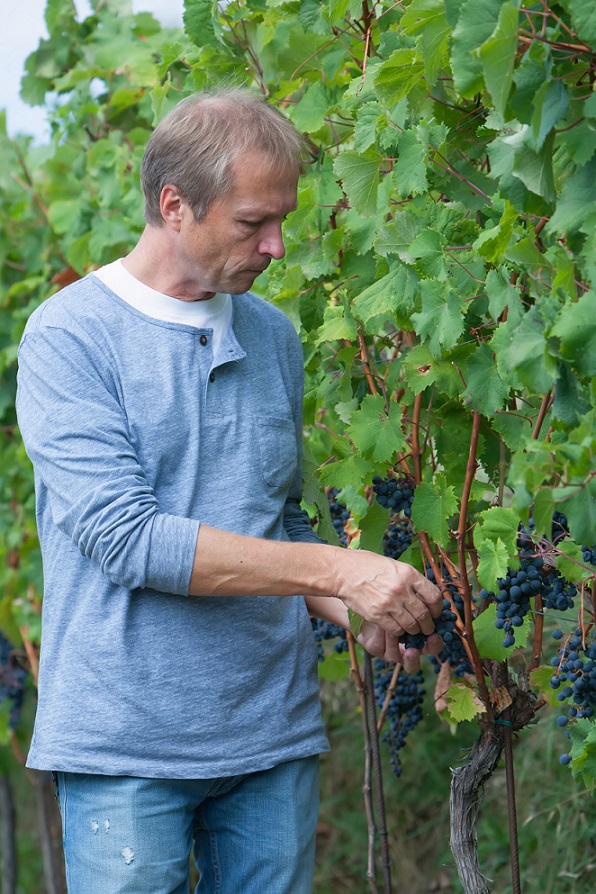 Ivica (
above
) made his name first with Beaujolais-style reds and Chardonnay before turning his attention to ageing Malvazija in barriques and acacia.
He feels it helped not having a family tradition in winemaking. He didn't have to waste time or energy persuading his father or grandfather of the merits of the changes he proposed. Instead he could put the effort into his own education and training.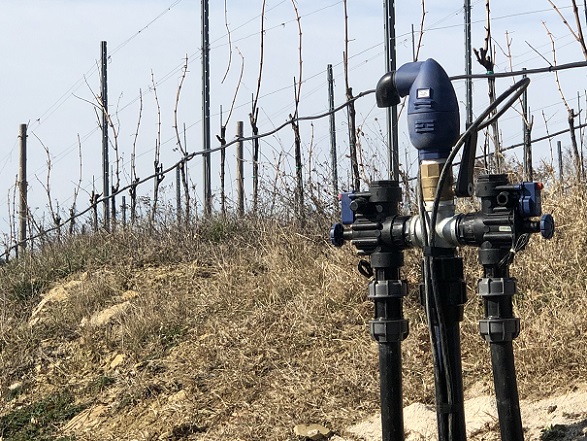 When I visited Vina Matošević in Krunčići after lunch, Ivica was busy installing an irrigation system on the 447m-high hill called Grimalda (
below
). He bought 12ha there in 2002. In the abandoned vineyards he created terraces and planted Sauvignon Blanc, Chardonnay, Merlot, Teran and Malvazija, launching his White Grimalda in 2008.
Higher temperatures and a lack of water at the right time are now affecting his crop. To help combat the effects of global warming, he is installing an "expensive" irrigation system to ensure the vines get the water when they need it. To help him make this decision, he is using a drone and aerial images to establish which vines are under water stress. "My idea is to identify the moment pre-stress and to identify how much water I am to add to simulate one rain with 25mm on a certain day and repeat two weeks later."
He says the average rainfall is 1,200mm "but the distribution is not good". In 2015, he made some "fantastic" wines when there was only 665mm of annual rainfall – "because we had 110mm in the moment when we needed it".
By intervening at the optimal time, he believes he can push yields from 0.6-1.2kg per plant to 1-1.5kg "with equal or better quality grapes".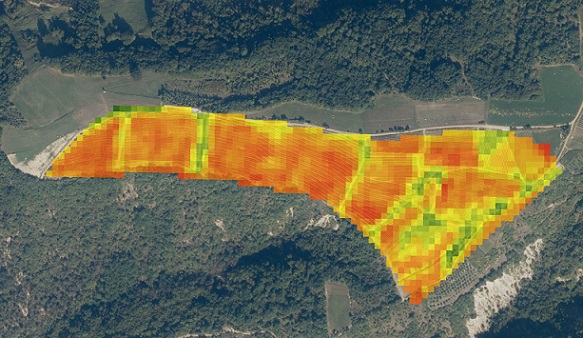 The aerial images, which are taken every 15 days during the growing season in a joint project with the University of Zagreb, also help him to target nutrients and sprays where they are needed.
Such projects excite him as he loves new challenges and is still striving to make better wines. He puts it this way: "We always want to play in the Champions League, to try our game against the big shots, to make it in the world, to learn something new."
Conclusion
One other lesson from Istria is that the producers realise they have to work together to promote the region and its wines. And they also have to work with the local tourism board, restaurants, and hotels.
Gianfranco Kozlović says there has long been good co-operation in Istria, but now 120 producers have agreed to fund an office and marketing campaign.
"They are now convinced they have to invest in their own future, in their own marketing because there is no other way," Gianfranco tells me. "Our region, our government are not on our side."