In the gardens of Castello di Spessa, one of Collio's historic wine producers, there's a path peppered with quotes from one of the castle's illustrious guests, Giacomo Casanova.
Of his host, castle owner count Luigi Torriani, Casanova says: "All the possessions of count Luigi Torriano consisted of white grapes; the wine was excellent and led to a profit of more or less one thousand zecchini, but because he wanted to spend two thousand, he was bankrupt."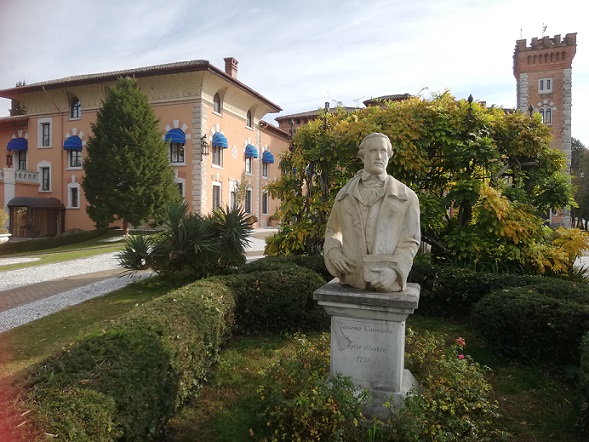 Casanova (
above
) arrived at the castle in 1773 to complete a book about Poland. While there, he had a dalliance with a maid, fell out with Torriano and escaped through the garden.
I've come here to write about Collio's wines, not Poland, and there was no time for dalliances – this is a small wine region with a lot going on.
A pretty succession of rolling hills near the Italy-Slovenia border, Collio has 1,500ha of vineyards, 289 producers (mostly family-run affairs), and an annual output of about 6.5m bottles of wine. 
As in Casanova's time, this is a region for white wines (87%). With a mix of local and international grape varieties growing on hills of marl and sandstone (known as flysch di Cormòns or ponca), Collio produces some of the finest white wines in Italy, and therefore the world. These are white wines with freshness, body, lovely aromas, and longevity. Clean, complex, elegant – and able to remain fresh while ageing. But how are they made and what are the latest trends? I set off in Casanova's footsteps…
Ramato-style Pinot Grigios are back
Ramato-style Pinot Grigios – from the word 'rame' which means 'copper' in Italian – have always been made in the historic heartland of Friuli, but they seem to be undergoing a renaissance in Collio. A common style until the 1960s, it was pushed out by new technology introduced from Germany and surging demand for the new style of light-coloured Pinot Grigio, especially in export markets.
Castello di Spessa's version, Joy, proved to be a good introduction to the style. A straw yellow colour with coppery highlights, it undergoes 10-15 hours' maceration at 6°C. The skin contact facilitates a wide and complex bouquet of aromas, including red berries, ripe pears and pomegranates. The flavours are a mix of savoury and red berries. These are retained through a cool fermentation (16-18°C) in stainless steel and maturation on fine lees until March.
Ten hours' cold maceration, vinification in stainless steel, maturation on fine lees, and regular bâtonnage until bottling in spring feature in the protocols at two other historic estates, too – Tenuta Angoris and Kurtin. The only slight difference was the élevage of 5% in tonneaux at Tenuta Angoris.
Carlo di Pradis' Collio DOC Pinot Grigio is a similar pale straw yellow colour with coppery reflections. The intense aromas and flavours feature apple and wildflowers. After a soft pressing, the must is left for 24 hours at 10°C before fermentation in stainless steel at 14-16°C. At the end of fermentation, the wine is racked to remove the heavier lees and then topped up. There is weekly bâtonnage to keep the fine lees in suspension until bottling at the end of June.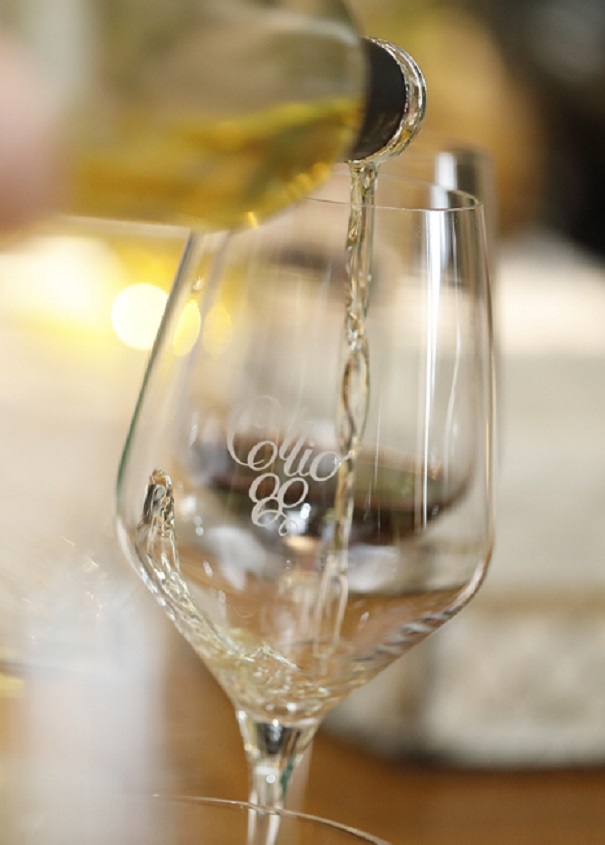 Collio Bianco is also back in fashion
Wine producers in the region are also returning to the pre-WW1 practice of blending varieties, sparking a debate about the true essence and soul of the territory. Should it be the flagship variety, Friulano, or a DOC Collio Bianco blend featuring a wide variety of grapes? This blend can be made with any of the white varieties included in the DOC Collio production regulations – such as Friulano, Chardonnay, Pinot Bianco, Pinot Grigio, Riesling Italico, Ribolla Gialla, Sauvignon, and Malvasia Istriana. The aromatic varieties Müller Thurgau and Traminer may also be added at a maximum of 15%.
The typical blend of Friulano, Malvasia Istriana and Ribolla Gialla is a relatively light but fragrant straw-coloured wine. The Ribolla Gialla brings the acidity and helps to lower the ABV. The Friulano provides the body – and is usually the structural backbone of the blend – while the Malvasia contributes aromatics. Some blends switch Malvasia for Sauvignon aromas, while others use barrique-aged Chardonnay to supply richness, texture, and complexity.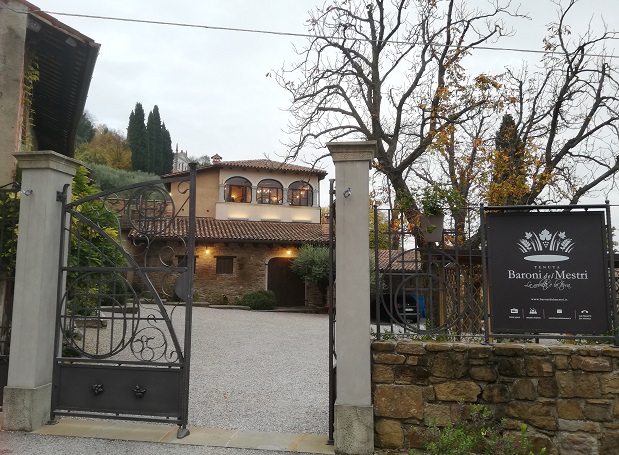 Tenuta Baroni del Mestri's Collio Bianco shows the potential of this cuvée. The blend is typically 50-60% Friulano, 25-30% Malvasia and 15% Ribolla Gialla. The grapes are co-fermented in stainless steel after about three hours' maceration in the press. The wine spends 18 months in concrete and eight months in bottle before release.
Many other producers, such as Carlo di Pradis, age the wine on lees in stainless steel for shorter periods – typically 11 months.
Co-fermentations are common among the top wines – while some producers want to go one step further and return to field blends.
Bolzicco's Collio Bianco Vigne da Mont uses only two varieties: 60% Friulano and 40% Ribolla Gialla. But the third-generation wine family aims to add Malvasia when its young vines have matured. The wines are vinified separately in stainless steel and put in used barrels after blending. Bâtonnage starts daily, then goes to weekly, then monthly. But, like most, the wine is bottled before the next harvest.
Bracco's Collio Bianco La Mont-Brach packs plenty of aromas, being a blend of 50% Friulano, 25% Malvasia and 25% Sauvignon Blanc. It is made in concrete with continuous bâtonnage.
Tenuta Angoris' Collio Bianco Langor Riserva Giulio Locatelli (named after the large estate's founder) is made in stainless steel with one year on lees and 14 months in bottle. It's a blend of 60% Friulano, 30% Sauvignon Blanc, and 10% Malvasia harvested together.
Reinvention
It has history here. Gravner and Radikon famously reinvented their styles earlier this century, and I'll be writing about the winemakers from 'orange wine heaven' Oslavia next month.
Colmello di Grotta, founded in Farra d'Isonzo in 1965, reinvented itself more recently. Since 2016, Francesca Bortolotto's small winery has completely changed its style and philosophy. It has removed barrels from the white winemaking process and replaced them with amphorae. Carlo Fossaluzza, sales manager, tells me: "We decided to introduce our modern amphorae because we were looking for a contemporary method that permitted the evolution of the wine (micro-oxygenation) and preserved the pure taste of our grapes, without adding tastes or tannins – as the wood does."
The wines in amphorae, which tend to lose a little acidity, are blended with the same variety that was put into stainless steel to retain its "minerality, freshness and acidity".
Carlo says: "Now every bottle is a blend of the same wine aged both in amphora and in stainless steel in different proportions."
Colmello di Grotta's Sauvignon, for example, features 30% amphorae wine and is aged for at least two years before bottling.
Expressive Friulanos
Friulano (formerly Tocai Friulano) is the region's flagship grape variety. Straw to golden yellow in colour, its signature aroma and slightly bitter aftertaste are reminiscent of almonds.
Castello di Spessa's Friulano varietal, Rassauer, is fermented in stainless-steel tanks at 15°C. Part of the must is kept in contact with the skins for a few days during fermentation, to extract more aromas. The wine is left in steel on fine lees until the end of March.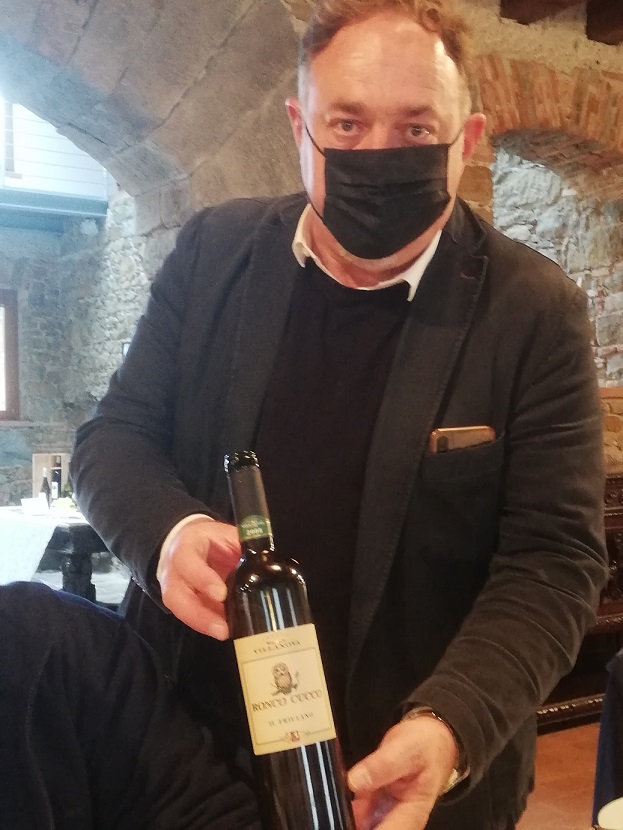 Tenuta Villanova, which was acquired by Arnaldo Bennati in 1932 and is now run by his wife, Giuseppina Grossi, has been making a Friulano varietal since 1964. After macerating overnight in the press, it's mostly vinified in stainless steel and matured for eight months in glass-lined concrete with frequent bâtonnage. About 10% goes into 500L tonneaux with weekly bâtonnage. But the director general, Giuseppe Lucido (
above
), tells me they are going to trial some 700L tonneaux this spring with the 2021 vintages of the Friulano DOC Collio and Malvasia Istriana DOC Isonzo.
"We will use it also on the 2022 wines for fermentation and ageing on lees," he adds.
Experiments with other woods
On the border with Slovenia, in one of the highest points of the Collio – Scrio di Dolegna del Collio – stands Tenuta Stella's organic vineyards and winery. Winemaker Erika Barbieri has one mulberry tonneau which she uses for a portion of the estate's Malvasia varietal. She says it enhances the wine's "body and varietal notes".
Tenuta Stella makes about 5,000 bottles of this wine every year (total production at the estate is about 38,000 bottles). The grapes are macerated in the press for three to four hours. After pressing, they are left to settle in stainless-steel tanks before the fermentation starts with native yeasts.
The fermentation at 16-18°C can last 40 to 50 days. "We love this kind of slow fermentation because it gives more complexity to the nose in our opinion," Erika tells me. "Of course, there is some danger to get stuck, but we don't bottle early in the spring, so the wine can restart to ferment the residual sugar on its own."
When the sugar level drops to about 40g/L, 40% of the wine is racked to wood – a percentage that has been creeping up in recent vintages. Most goes into French 500L tonneaux (a mix of first and second fill) for MLF and to "increase the body of the wine". But Erika also uses her one and only mulberry barrel for "roundness".
Erika and husband Alberto Faggiani, who run the estate for glass entrepreneur Sergio Stevanato, would like more. Until then, Erika rotates the wine in wood, moving it to the mulberry barrel for two months' exposure.
The wine is aged for a total of 10 months before blending, and it ages in bottles for six months before release.
Fruscalzo, which has vineyards in Ruttars (Dolegna del Collio) and Novali (Cormòns), has just bottled its Pinot Bianco 2019, which spent 12 months in a large acacia barrel (15hl).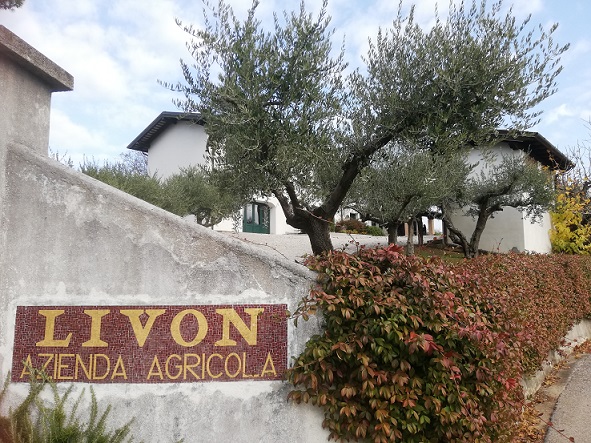 Drying on the vine to concentrate flavours
The distinguishing features behind family estate Livon's Soluna Malvasia Istriana are:
Low yields – 1.3kg per vine or less;
Slight drying of the grapes on the vine, by cutting the shoot four to five days ahead of the harvest to concentrate the flavours and "take off the watery part", according to export manager Piero Zaramella.
The rest of the winemaking is standard: one night's skin contact, selected yeasts, 80% in stainless steel, 20% in neutral oak, and eight months on lees.
Subtle Sauvignons
Collio is a land tempered by its location between the Julian Alps and Adriatic Sea. The mountain range shelters the ground from cold north winds while the sea sends in warm breezes. However, there is still a large diurnal variation which enhances the aromas found in some of the DOC's main grape varieties, such as Sauvignon, Malvasia and Friulano.
But the Sauvignons I tasted here – typically from the usually pungent R3 clone – were very subtle.
Producers such as Pascolo aim for greater complexity and elegance. The wines, as a result, were very morish, light, and refreshing, without the characteristics that put drinkers off Sauvignon Blanc.
Winemaker Alessandro Pascolo (
below
) thinks they are at their best four to five years after the harvest.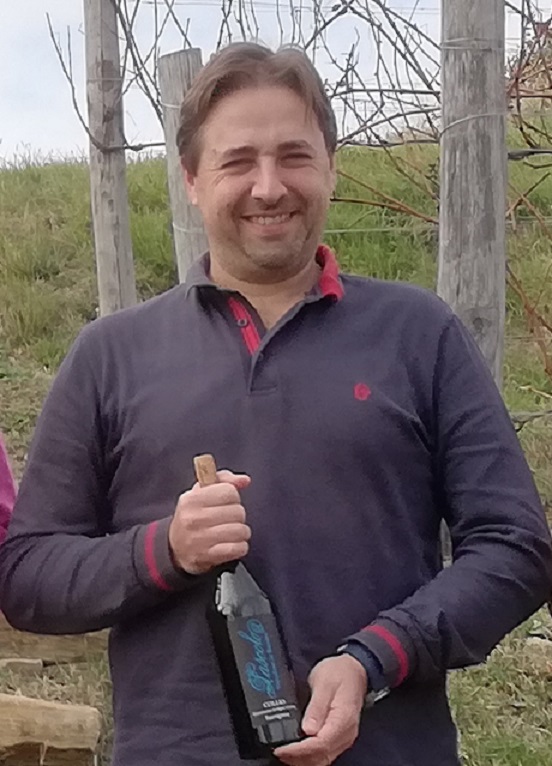 Cross-border cooperation
When the Italian army occupied the 13th-century Castello di Spessa at the start of the Second World War, they built a bunker under the cellar, 18m below ground. It's a constant 14°C and ideal for ageing the estate's small output of red wines, such as the Pinot Noir called Casanova, and the Merlot named after the lothario's host, Torriani. The Merlots spend 24 months in barriques from Nevers, Allier and Troncais, while the Pinot Nero ages here in barriques for 12 months.
During the war, the bunker was occupied by both German and American soldiers.
The two world wars have played a crucial role in shaping the borders. Collio is now where Italy meets Slovenia, but it used to be where Italy met the Austro-Hungarian Empire and it was the frontline during the First World War, with many of its bloodiest 'Battles of the Isonzo' fought in its vineyards.
The war memorial on the hilltop overlooking the village of Oslavia commemorates the Italian soldiers who fell during these battles, particularly those who died during the taking of Gorizia in 1916. The ossuary contains the remains of 57,201 Italian soldiers, 36,440 of them unknown, as well as 539 Austro-Hungarian troops. Now in this melting pot of Italian, Slovenian and Austrian heritage, there are several cross-border projects.
Gorizia and its counterpart in Slovenia, Nova Gorica, have been jointly named as the European Capital of Culture 2025 with a project called GO!Borderless, (GO being the colloquial name for Nova Gorica and Gorizia).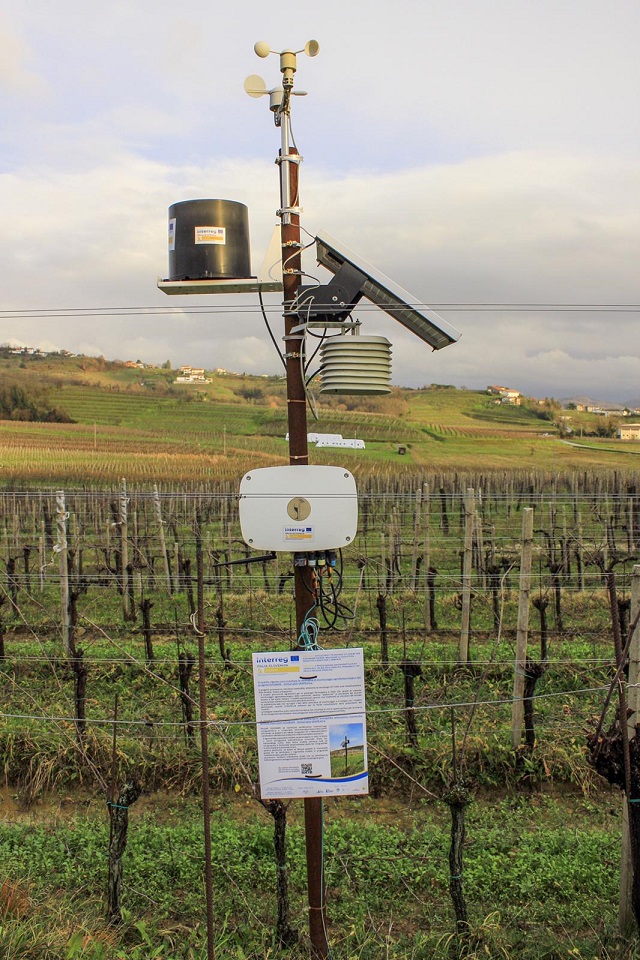 The Susgrape Project supports Italian and Slovenian grapegrowers in their fight against downy and powdery mildew. The project includes an environmental monitoring system. 42 control units have been installed in Collio and on the Slovenian part of the Adriatic coast. They provide growers with a wide range of data, allowing them to make "thoughtful decisions regarding phytosanitary defence of the vines" as these diseases do not respect borders.
Gradis'ciutta's Robert Princic (below) has teamed up with Slovenian winemaker Matjaž Četrtič of Klet Ferdinand to produce a sparkling wine, Sinefinis (Without Borders), which is made from Ribolla Gialla/Rebula grapes from both sides of the border.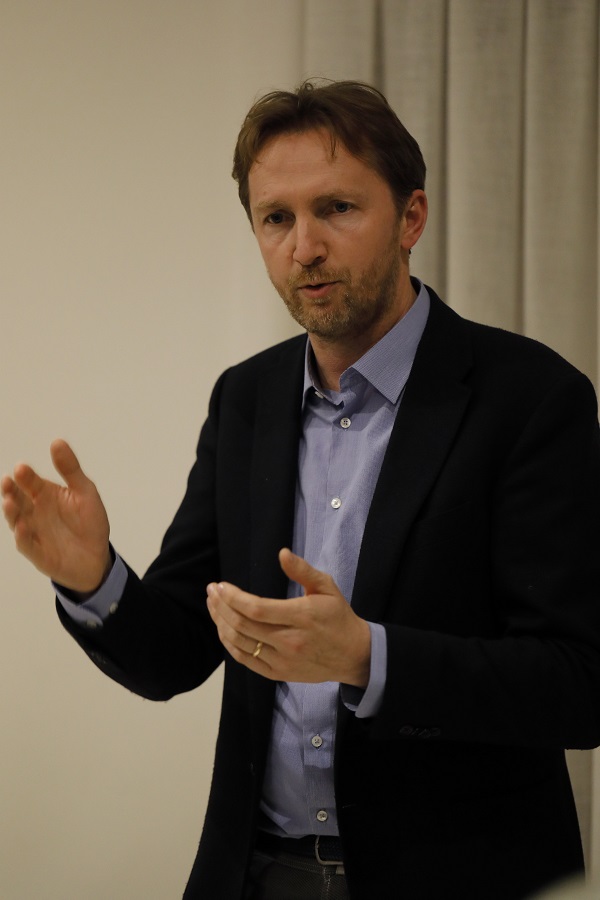 After sipping this wine and discussing Robert's refurbishment of a 15th-century palace – turning it into accommodation for guests – I reflect on some of the things Casanova wrote:
"Be the flame, not the moth."
"One who makes no mistakes makes nothing."
"There is no such thing as destiny. We ourselves shape our lives."
"The man who seeks to educate himself must first read and then travel in order to correct what he has learned."
Now you have read about Collio, I urge you to go there, taste the wines and talk to the winemakers. Avoid dalliances.
Five lessons from Oslavia - Collio's skin-contact wines.