There was a lot of interest in my recent column, which stated 'High yield = low quality' is an outdated model.
For some readers, especially those of European origin who have been thoroughly indoctrinated in the 'high yield means low quality' mantra, my words were unbelievable, as some told me. 'How can this be?' they asked. We have been growing grapes for hundreds of years, surely we must know everything. Maybe, maybe not. Let me try you with some new ideas. Well, not really new, about 20 years old.
A special set of circumstances
We need to agree on some definitions before we proceed.
What is a high yield? I think of a high yield as something more than 15 tonnes/ha, but less than say 25 t/ha. Similarly, I consider a low yield to be less than 3 t/ha. I note that for many vineyards where I consult the yield of 8-12 t/ha are often sufficient for the vineyard to be economical.
The question of what is quality is more difficult to answer. I understand there are many factors associated with high quality like higher price (value?), reputation, awards, sensory scores and some elements of chemical composition. (I note in passing that it's probably easier to define low quality.)
I am not suggesting that 'more yield, more quality' is a universal rule. Far from it, there are many exceptions. Here are some:
Firstly, consider a very cool climate, where obtaining sufficient ripening is difficult. Then very high vine yields will delay ripening, and reduce quality.
A similar consideration applies to unhealthy vines, be they infected with virus, fungal or bacterial disease. Similarly, high yields will preclude proper ripening.
How about a vine with insufficient leaf area and so photosynthesis. Again, higher yields will preclude proper ripening.
Let us consider then a healthy vine, adequately managed to be stress-free in a region with a climate sufficient to normally ripen grapes properly and normally capable of making a wine of quality.
Let us do an experiment together
Let us imagine that the vine is growing in a deep soil well supplied with water and nutrients, and so has vigorous shoot growth. Further, let us imagine that the vine is planted at say 2.8m rows, 1.5m vine spacing. The vine is trained to the common Vertical Shoot Positioning trellis system, with two pairs of foliage wires containing the upwards trained shoots. These vines have, say, 25 shoots per metre of row length, 37 per vine. Being vigorous, there are large leaves and substantial lateral growth on the shoots at most nodes.
The implication is that this canopy will be dense, and shaded. After several years of cropping, the yield of these too-vigorous vines will decline, due to shade depressing several yield components: bud break (shoots/bud retained), fruitfulness (clusters per shoot), and berry number per bunch. These are all well-known grapevine responses to shade.
'Shading reduces the total quality sensory score'
Not so well known, but equally as important, are effects of shade on fruit composition which impact on wine quality. Sugar concentration may not be much affected, since yield is lower, but often malic acid is increased with shade, and pH substantially so. For red varieties, it is a common observation that canopy shading reduces anthocyanins and phenolics. Detailed sensory analysis, as I have made on such experiments, indicates that shade reduces colour density and score for hue; scores for fruit character on the nose and palate, and palate structure are all reduced by shading, as is the total quality sensory score.
So, we understand that dense shaded canopies reduce yield, and can negatively affect fruit composition but substantially affect wine chemistry and reduce desirable sensory attributes and total score.
What happens when we avoid shade, for the same vines?
This is easy enough to do, by doubling the length of canopy per vine, using now well-known training systems of Scott Henry or Smart Dyson (canopies divided vertically) or the lyre or GDC systems, with canopies divided horizontally. So the distance between shoots is doubled, and shading is much reduced.
With less shade, the yield is increased, SO IS THE QUALITY. Both are improved at the same time by removing shade.
I have demonstrated this in an experiment with Cabernet Franc, in New Zealand, on a fertile soil. Yield was more than doubled by avoiding shade, and yet fruit and wine composition was improved, and also the sensory score.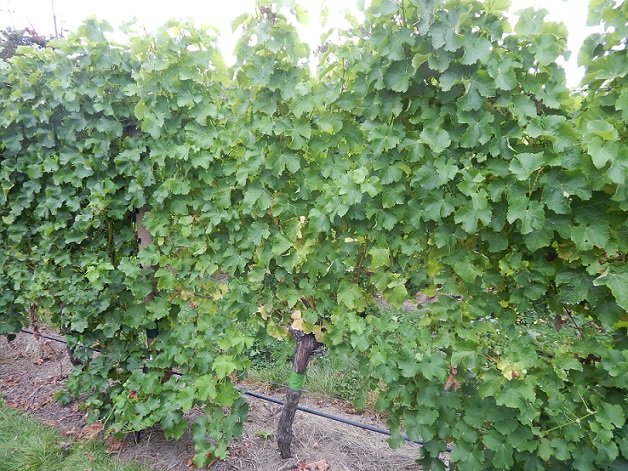 Photo shows Delegat's well-managed Scott Henry trained vineyard in Hawke's Bay, New Zealand.
'VSP trellises are best suited to low and moderate vigour situations only'

Conclusion
In my travels, I frequently see too-vigorous vines trained to VSP trellises. This system is best suited to low and moderate vigour situations only. For high vigour situations, a trellis with canopy division is required. Sadly, from the viewpoint of vineyard profitability, and wine quality, this transition is infrequently made.
Dr Richard Smart is an experienced viticultural scientist and consultant. He can be contacted using vinedoctor@smartvit.com.au