What is canopy management?
Canopy is a term borrowed from forestry and used in viticulture for the last 60 years or so. As far as I know, the term was first used in viticulture by Prof Nelson Shaulis of Cornell University, the acknowledged father of canopy management. I had the very good fortune to study for my PhD under Nelson Shaulis in the 1970s. A large part of my reputation is that of being Nelson's principal disciple.
The concept of canopy management is really quite simple. It involves manipulating the shoot system of grapevines to optimise the leaf and fruit environment so as to maximise grapevine yield and fruit composition – fruit quality in wine terms.
In modern vineyards one frequently has more problems of high rather than low shoot vigour or, in other words, canopies are often more leafy than is desirable for their optimal performance. Shaulis was one of the first to measure light in grapevine canopies, and to argue that low sunlight levels (or excessive shade) had negative effects on the vine's yield.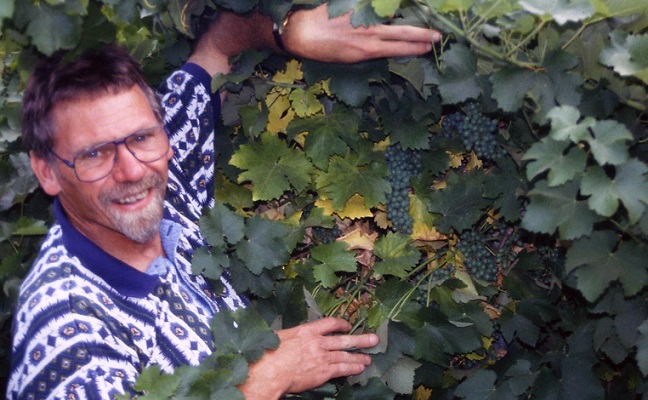 A younger Dr Richard Smart demonstrating a shaded canopy somewhere in the Napa Valley, California in the 1980s. He says: "Yellow (shaded) leaves are the enemy of the oenologist."

Improved training systems
Most of Shaulis' research was with the local variety Concord, which is used for juice production rather than for wine. Shaulis demonstrated that by avoiding shade within the grapevine canopy he could substantially improve yield. Thus was born the Geneva Double Curtain system of grapevine training, described in the mid-1960s. This system depended on training grapevine shoots initially downwards so that they did not shade each other and the fruit.
A parallel development to optimising vineyard performance was consideration of mechanisation. Shaulis and his engineering colleague Stan Shepherd at Cornell's Geneva Experiment Station in upstate New York also developed the world's first mechanical grape harvester and mechanical pruner. This was feasible with grapevine canopies that had some 'order' about their shoot orientation.
'Shade was found to be the enemy of wine quality, as well as yield'
The work of Shaulis received international attention. The 1980s saw canopy management concepts applied over the world, especially with winegrapes. Researchers from France (Alain Carbonneau), Italy (Cesare Intrieri and Giovanni Cargnello), California (Mark Kliewer) and myself in Australia and New Zealand published and promoted the concepts. Importantly, canopy management was quickly applied to a new understanding of factors which affect wine quality, with most significant results. Within canopies, shade was found to be the enemy of wine quality, as well as yield!
The Old and New Worlds of wine
Grapegrowing and winemaking with
Vitis vinifera
became well established in Europe from the Middle Ages onwards. For the last 150 years, European regions became specialised in variety use and developed local traditions in the approach to viticulture. Eventually, and specifically in France, local practices and beliefs became enshrined in laws such as AOC which has led to the retaining of outmoded practices and the dogma to match. An example of the worst is "high (grape) yields ruin (wine) quality" or some such.
Beginning in the 1600s and ending in the early 1800s the European wine grape was planted in the New World of the Americas (North and South), Australasia and South Africa, as part of making European colonisers "feel at home". And so New Zealand, maybe the newest of the New World wine countries celebrates on 25 September 2019 the 200th anniversary of the first grapes planted in that country.
By the early 1900s in New World regions a radical change took place. Grapegrowing no longer depended on summer rainfall! Irrigation of vineyards became widespread, relying initially on gravity water distribution then on pumping. Another significant boost was with the introduction of drip irrigation in the 1960s.
Furthermore, many New World vineyards developed with a tradition of use of tractors rather than beasts of burden as in the Old World (initially man, then oxen and horses). Therefore, row spacing was wider, proving to be the more desired configuration for modern viticulture where there is less dependence on human labour. And vineyard density was lower, more appropriate for vigour control.
The New World Trade Challenge
It was inevitable that the assumed superiority of European wines would be challenged by the New World in the wine trade, as happened in the last four or so decades of the 1900s. More recently, international wine shows, even those held in Europe, have strengthened the proposition of "equality of quality" between the Old and New World wines, despite the strongly held and arrogant beliefs of a few European producers and wine writers. This should be no surprise, since similar varieties were being used, and are being planted in a range of new but often similar "terroirs".
'The light environment of the developing grape clusters can be manipulated, encouraging both yield expression and optimisation of wine quality'
Returning to canopy management
The techniques of canopy management allow shading to be controlled, principally by control of shoot orientation, trimming and leaf removal; vigour control using irrigation management is also important. And so the light environment of the developing grape clusters can be manipulated, encouraging both yield expression and optimisation of wine quality for the variety within the environment.
Such an outcome would seem impossible to those believing Old World (especially French mythology), that both quality and yield can be increased at the same time. The author has demonstrated this in careful experimentation with the variety Cabernet Franc in New Zealand, the subject of a future article. A simple enough experiment to do, reduce shading in a dense canopy and yield and quality can both be improved. And the same result has been found in thousands of hectares of commercial vineyards where canopy management has been introduced.
For now it is sufficient to say that in many New World countries canopy management practices are being more or less widely practised with adoption of vertical shoot positioned canopies and leaf removal probably the most common.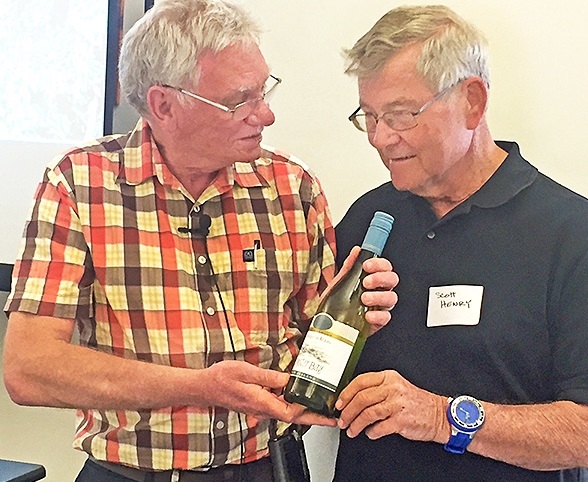 One of my New Zealand clients has the largest Scott Henry trained vineyards in the world, in two regions in New Zealand and one in Australia. They are pleased with yield and quality improvements over the standard trellis system, as well as reduced Botrytis. The Scott Henry trellis system is well suited to moderate vigour vineyards and is cane pruned as is more common in cooler climates. There is a spur pruned version of the same vertically-divided trellis known as Smart Dyson; both are well suited to mechanical harvesting.
Photo above shows Richard Smart (left) making a presentation to Scott Henry on behalf of his client. Scott is a vigneron in the Umpqua Valley, Oregon, USA.
'Canopy management is one of the principle tools to use in the pursuit of profit and quality'
Conclusion
Very famous Old World vineyards may be profitable because of higher wine prices, however the-not-so famous vineyards may be less economically sustainable with lower yields and lower prices. This is not to say that all New World vineyards are high yielding. Some proprietors choose to limit yields in the mistaken belief that quality may be improved, believing the Old World dogma when they are not required to do so by law.
In any event, the opportunity exists in the New World to be more flexible in approaches to viticulture, and canopy management and irrigation are two principle tools to use in the pursuit of profit and quality.
Dr Richard Smart is an experienced viticultural scientist and consultant. He can be contacted using vinedoctor@smartvit.com.au