"Hans Tschida is a sweet wine legend with very few peers. It's an enormous privilege to taste his world-class wines every year," said Tim Atkin MW, co-chair of the IWC, as he welcomed the Austrian winemaker onto the stage to collect his eighth Sweet Winemaker of the Year title.
The award comes after the Illmitz-based producer collected three trophies, seven gold medals and seven silvers at IWC 2022. This haul included the Austrian Sweet Wine Trophy and Austrian Sämling Trophy for Weingut Angerhof-Tschida's Sämling 88 Beerenauslese 2010 and the Austrian Sweet Chardonnay Trophy for the Chardonnay Trockenbeerenauslese 2010.
After receiving his Sweet Winemaker of the Year award, Hans said it was "a great award for me and our region", adding: "A huge gift in these challenging times!"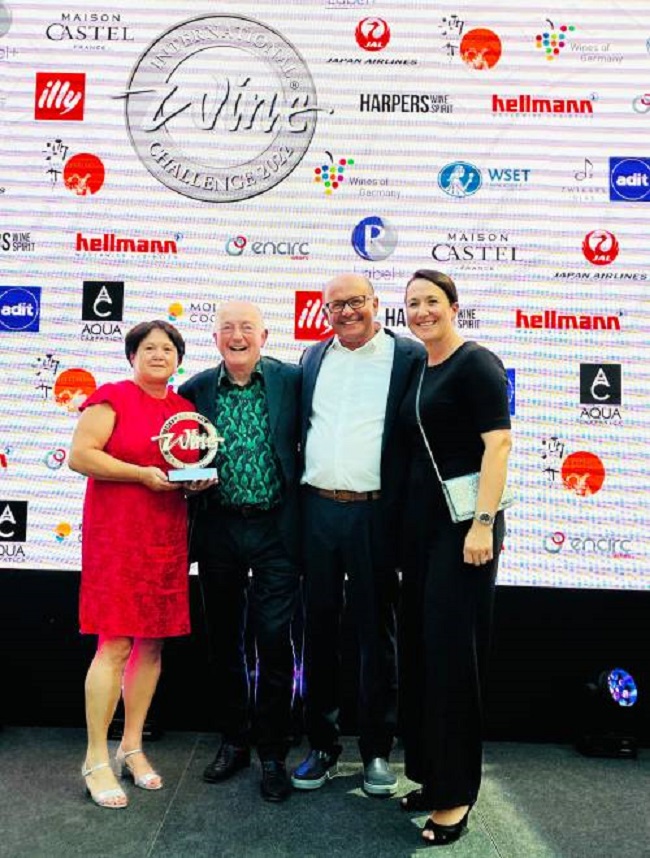 Burgenland winemaker Hans Tschida (third from left) with wife Lisa, IWC co-chair Oz Clarke, and daughter Daniela Salzl-Tschida.
The 40-year-old wine business cultivates 40ha of vineyards in the Seewinkel region of Burgenland – on the east side of Lake Neusiedl. It's an area blessed with the perfect conditions for all levels of sweet wines. There's the warm, shallow lake itself – 320sq km of heat storage – which extends the growing season and provides the kind of humidity that encourages foggy autumn mornings before giving way to dry sunny afternoons, producing perfect conditions for the development of noble rot (
botrytis cinerea
).
There's the additional boost from more than 30 salt lakes around the villages, ensuring high humidity no matter how the wind blows. There's also the proximity to the Pannonian Plain in neighbouring Hungary, and the relatively high sunshine hours, which make this part of Burgenland the warmest in Austria.
About 70% of the winery's production is dedicated to white grapes for sweet wines, including Beerenauslese, Trockenbeerenauslese, icewines and the increasingly popular 'Schilfwein', which is made from grapes air-dried on mats of woven reeds cut from the shores of Neusiedlersee and placed on racks of shelves in a polytunnel.
The white grapes include Welschriesling, Chardonnay, Scheurebe (Sämling 88), Muscat Ottonel, Traminer and Pinot Blanc, while the red wines come from Zweigelt and Cabernet Sauvignon.
Although the winery began in 1982, it wasn't until 1993 that Hans decided to dedicate himself to winemaking and grape growing.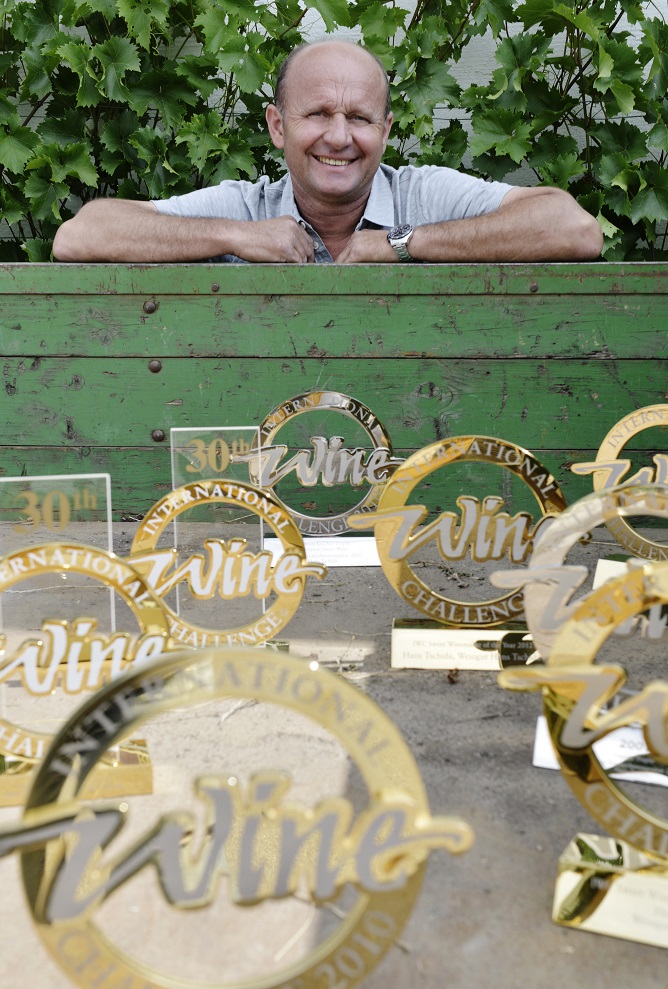 Canopy: Convince me that I should be drinking more sweet wines.
Hans:
"Sweet wine is fun! As a dessert by itself or with dishes like salads with fruits in the summer, or spicy food or game dishes, cheese plates or foie gras."
Is it becoming increasingly difficult to make great icewines and TBAs?
Hans:
"TBAs work very well. With icewine it is a problem because of warm temperatures in winter. It does not work every year."
Is Schilfwein the answer for sweet winemakers?
Hans:
"With Schilfwein you can produce every year top quality."
Is there a trend for more fruit flavours and aromas rather than those influenced by botrytis?
Hans:
"The most important is to achieve balance and varietal character in the wine."
What are the details of your sweet winemaking protocol?
Hans:
"Care of the vineyards; hand-harvested, healthy grape material; yeasts grown from our area of the Pannonian region; controlled fermentation with temperature control (starting at 18°C); and the wines kept on fine lees until bottling."
How has your winemaking changed since you first won the Sweet Winemaker of the Year title in 2010?
Hans:
"We have remained true to our style: producing wine from autochthonous grapes in the highest quality with variety typicity and a balance of sugar, alcohol and acidity. The only change is the closure of the bottles – since 12 years we use screwcap for 0.75L bottles and Vinolok for 0.375L. Before we used cork, but we are really very happy now. With this decision, all bottles have the same ageing process."
Is there one of your eight IWC titles that means more to you?
Hans:
"The first was the biggest for us, because before it was always our biggest aim to reach it. And now we would like to keep this quality, and try each year to achieve it again. We are really very proud and happy to be Sweet Winemaker of the Year for the eighth time."
Is there a way to make sweet wines with less intervention, less sulphur, less fining and filtering?
Hans:
"We do not use finings. Sulphur and filtering must be."
Such wines are more difficult to make and sell – why is the extra effort worth it?
Hans:
"The Seewinkel is a top sweet wine region and that is why we have specialised in sweet wine."
Welschriesling seems like a very underrated grape variety – what's your view of this grape?
Hans:
"Welschriesling is a very important grape in our winery – small berries and rich in extract."
Is Sämling 88/Scheurebe your favourite variety to work with?
Hans:
"I love aromatic grape varieties."
Are birds your biggest headache?
Hans:
"No. Our vineyards are all secured with overhead nets."
Weingut Angerhof-Tschida's results in IWC 2022.