Fourteen students and four professors – led by P Gregory Warden, an expert on the Etruscans – have descended on a winery in Tuscany, Italy. They will be at the beautifully restored Castello di Potentino – which was built on an Etruscan site – for most of the month, digging around the ancient castle, the vineyards and the dozen winemaking stones dotted through the bowl-shaped Seggiano valley.
These carved stone basins – called 'pestarole' or 'palmenti' – are of particular interest. So far, they been difficult to date because, well, they are carved from ancient volcanic stones. The current thinking is they date from 800-700BC or earlier, so the trainee archaeologists (
below
) are looking for things buried near them that they can date, such as grape seeds and fragments of amphorae.
Such wine basins have been found throughout Italy, but especially in southern Tuscany, northern Lazio, and the volcanic islands of Sicily and Sardinia, as well as in Spain, Israel, Iraq, and the Republic of Georgia.
The ones in Seggiano, in southern Tuscany, have a larger, square basin at the top, with a spout leading to a smaller round basin.
As well as searching for historic artefacts, the Potentino Exploration Project has also been set up to examine the biodiversity of this fragile but beautiful valley, which has remained relatively unchanged over the centuries due to its abandonment after World War Two and the lack of industrial agriculture here.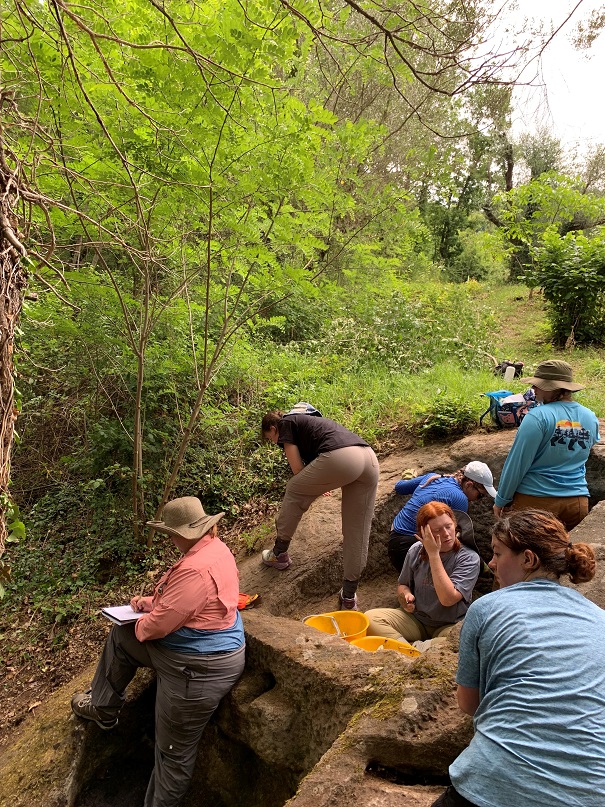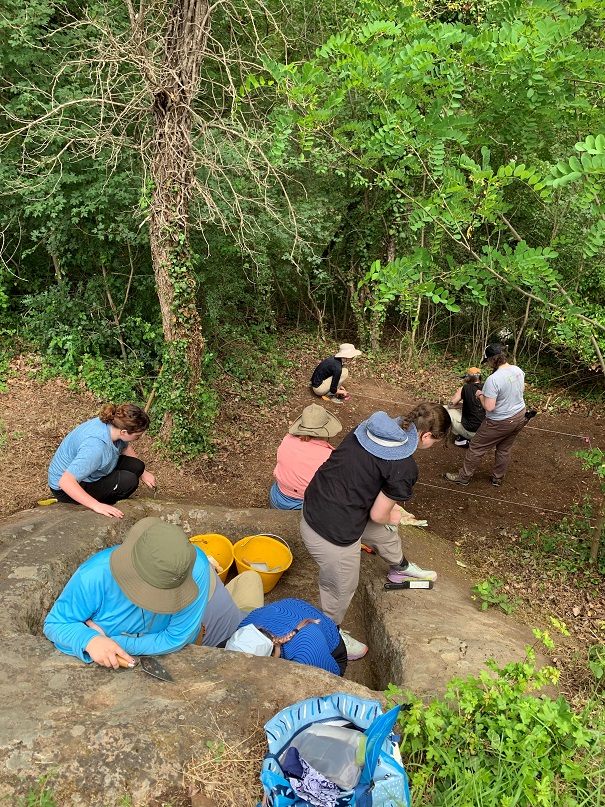 Undergraduate and graduate students and post-doctoral researchers from Franklin University Switzerland (where Warden is based) and the Abess Center for Ecosystem Science & Policy at the University of Miami have been encouraged to come to the site by Castello di Potentino's co-owner and winemaker Charlotte Horton.
Charlotte first came across the stone basins, which are carved out of boulders spat out by a long extinct volcano, in 2003. "I was shown a carved stone basin close to the vineyard of a local friend," she tells me in a Zoom call. "Immediately curious, I asked him what it was for and he said it was a 'pestarole' and probably used to make wine. I asked if anyone had ancestral memories of this type of winemaking and he said no. I then discovered more of the basins and decided to make wine in one of them, assessing how they could have functioned for winemaking.
"This wine we always drank in the house, but I have decided to commercialise it now in parallel with the survey project."
Castello di Potentino has released the Sangiovese in 800 reusable ceramic flasks with reusable silicon corks (
below
).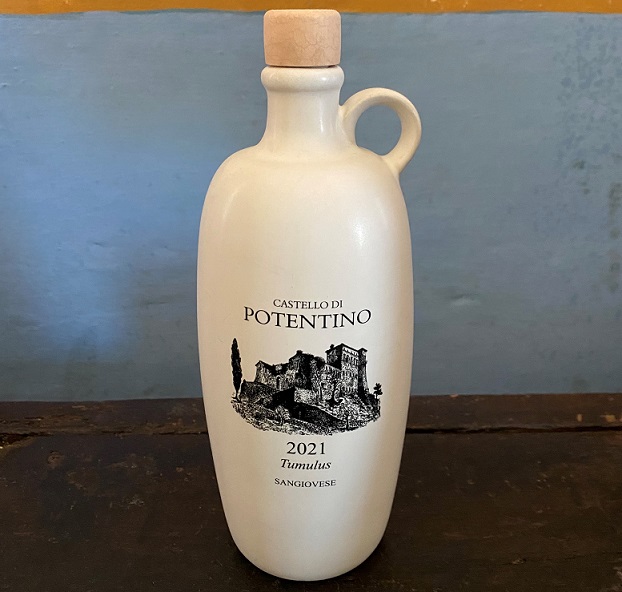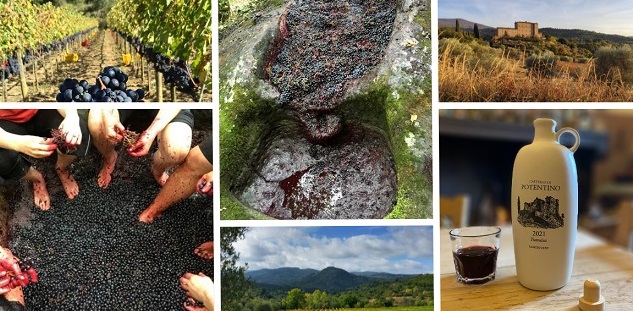 Making Tumulus
The grapes from the estate's oldest vineyards were brought to the stones and destemmed by hand (
above left
).
Charlotte, who learned her winemaking from the locals in Maremma and has been making wine commercially in southern Tuscany since 1995, says: "I've never been very keen on stems in wine because you get a different tannin and I like the tannins from the grapes."
She believes it's also more authentic as early illustrations of winemaking don't feature stems.
"There are some different theories about how people actually did it. I, as a winemaker, have invented how I think it was done," she says.
"And it works."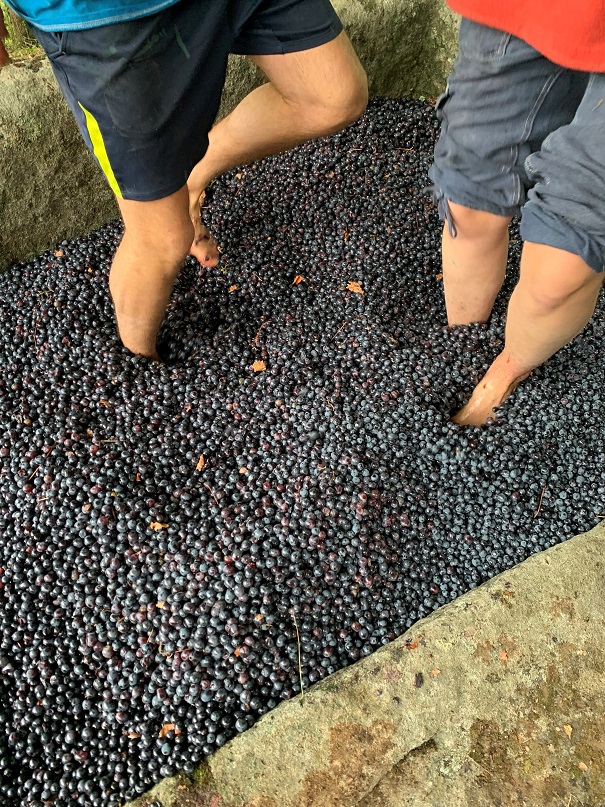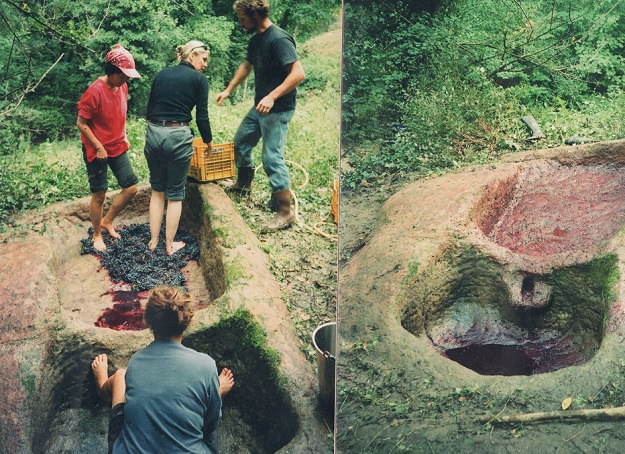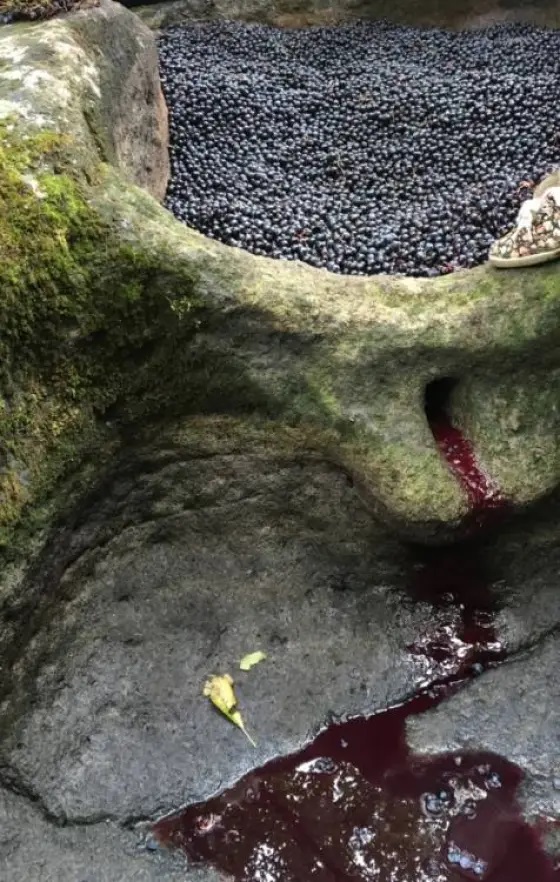 The grapes are crushed by bare feet, a gentle method that leaves the seeds intact. This takes place in the upper basin, with the juice running down into the lower section (
above
). The juice is then ladled into buckets and poured into a stainless-steel tank strapped to a tractor-trailer.
The juice and skins are transported up the rocky track to the winery, where the juice is bucketed into another tank and the skins are tipped on top to allow the fermentation to take place spontaneously.
"It went through a perfect fermentation, really nice and slow with the indigenous yeasts," Charlotte adds.
She says the yeasts "were no problem as the basins probably have the descendants of the yeasts once used by the Etruscans, because yeasts last forever".
Another plus point for the stones is their cooling effect. "The must was extremely cold," Charlotte remembers.
She also tells me the extraction of colour and phenolics was "extraordinary" because "you are working with your feet on an almost sandpapery surface, so you are actually kind of rubbing the skins".
After two weeks, the skins are removed and after six months the wine is bottled in the 0.75L flasks without any filtration or added sulphites.
Another benefit of using the ancient basins, Charlotte discovered, is that the minuscule particles of rock that crumble off during the pressing help to fine the wine. "The wine comes out beautifully clean without filtration," she states.
Charlotte and her family and friends have been drinking the wine at home for years. "It's great and everyone loves it," she declares.
"The Etruscan wine has a minerality and a fruit-forwardness that is exhilarating. There's something very vital about it… The tasting notes would be very similar to a Sangiovese, but it has some type of telluric or energetic dynamic element to it that I can't really describe yet."
Now Castello di Potentino has released the wine, Tumulus, priced at €50.
"It's a super-natural wine, and ultra-terroir," Charlotte points out. "We follow a fundamental process – grapes, feet, stone... We do not add anything to the wine – no sulphites or cultivated yeast.
"I challenge natural winemakers to get more natural than that.
"Tumulus is perhaps the closest we can get to what was drunk in the valley 2,500 years ago and simply delicious."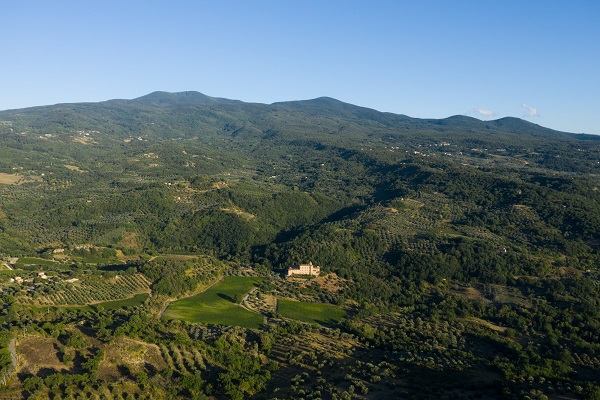 Low sulphite levels
What surprised Charlotte was the natural sulphite level in this wine – 15-16mg/L.
With the rest of her wines, she aims for 80mg/L total SO2 at bottling. These wines are made from Sangiovese, Grenache and Pinot Noir grapes growing in the same 4ha vineyard under Monte Amiata, a mountain sacred to the Etruscans.
The grapes for these wines are also fermented with indigenous yeasts but in large wooden vats.
For the stone basin wine, Charlotte decided to stick with stainless-steel tanks rather than using amphorae, as many suggested. "I'm going to understand more about the effect of the stone if I carry on doing it in stainless steel," she maintains. "If I put it into an amphora, I'm going to get different elements."
Charlotte and brother Alexander Greene bought the ruined and remote Castello di Potentino (above) from 24 different owners in 2000 after selling their previous renovated fortress, Castello di Montepò, to Biondi Santi.