"It's not about money, this is about me doing what I want"
I'm mesmerised by a piece of artwork. Glass 'bubbles' of different sizes stretch from 7.7m below ground to 6.7m above ground, passing through all five levels of the winery – from the underground production area to the tasting room. From there, I can see the vineyards of Montello and Abbazia di Sant'Eustachio, northwest of Treviso, which provide the Glera grapes for the Prosecco that inspired this stunning piece of art by French designer Patrick Jouin.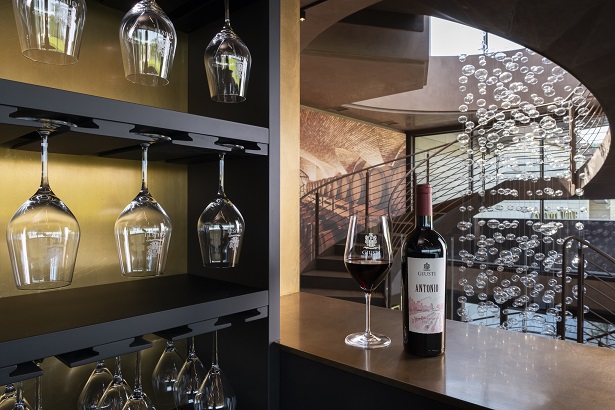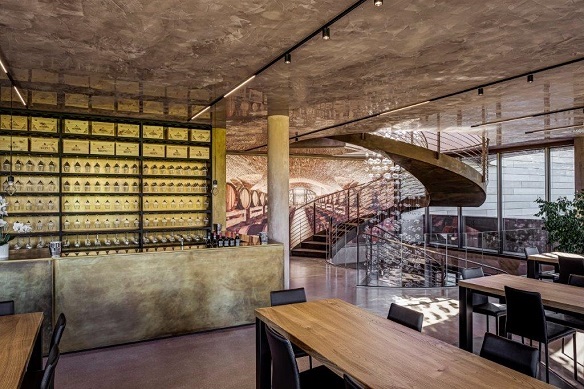 The artwork is just one of the eye-catching wonders at this €20m winery, which has PIWI vines growing on its undulating roof, an underground 'piazzetta' that is open to the sky yet covered by the overlying vines, and a sloping water wall.
While I'm waiting for a meeting with the wealthy owner, Ermenegildo Giusti, I taste three wines from the Giusti portfolio.
First, there's the Asolo Prosecco Superiore DOCG Extra Brut by Graziana Grassini – the best Prosecco I've ever tasted. There's a fascinating white blend, Sant'Eustachio Bianco Veneto IGP, featuring PIWI grape variety Sauvignon Nepis in a blend with Chardonnay and Incrocio Manzoni. And then there's a red varietal made from indigenous Recantina grapes.
I've selected these wines because they seem to symbolise the philosophies and passions of the self-made millionaire owner.
Ermenegildo left Treviso as a teenager and went to Vancouver with his younger brother, believing Canada was part of the United States. He returned in 2000 as a very wealthy man, after building up the Giusti construction company, and started investing in vineyards. He launched himself into becoming Prosecco DOC's largest landowner with 2ha of old vines at the Dal Col vineyard in Treviso, and also purchased Tenuta Case Bianche, which has been in the Giusti family since 1870 and contributes Chardonnay and Glera to the growing portfolio of wines.
With ten estates covering a total of 100ha (70 of which are under vine) and the new winery, which I wrote about
here
shortly after the opening, Ermenegildo has invested about €70m realising his dream. But, he says, "it's not about money; this is about me doing what I want".
The passion he has for this project and his home region is clear. As we chat, his passion for premium Proseccos, fungus-resistant Pilzwiderstandfähig (PIWI) grapes, and saving indigenous grape varieties becomes clear too. I also pick up a few business tips…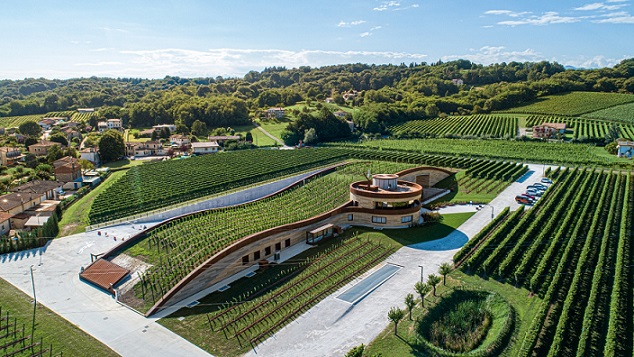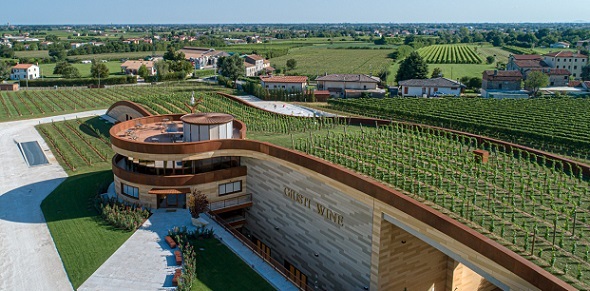 Is there a market for premium Prosecco?
Apart from her undoubted talent, one of the reasons that Ermenegildo head-hunted oenologist Graziana Grassini, who comes from Tuscany and studied partly in Bordeaux, is that she is not from the Prosecco hills.
Her first Prosecco – Asolo Prosecco Superiore DOCG Extra Brut by Graziana Grassini – is therefore a revelation, showing what is possible in the eastern Veneto municipality of Nervesa della Battaglia. Taking selected bunches from the southern side of Tenuta Aria Valentina, on the Montello hill, this premium Prosecco benefits from:
Manual harvesting of the Glera grapes in the very early hours of the morning;
Destemming followed by soft pressing of whole grapes in a nitrogen atmosphere with a 'cremant' type cycle;
Cold static decantation of the must and subsequent separation of the heavy solids;
Fermentation of the clear must at a controlled temperature for 15-20 days;
Maturation of the wine sur lie for two months before the second fermentation;
After appropriate stabilisation of the blended base wines, refermentation at a controlled temperature and subsequent maturation sur lie for six months before filtration and bottling;
Less than 1g/L of sugar in the final wine, which has total acidity of 5.9g/L and a pH of 3.18.
It's a very elegant and intense Prosecco with fruit, floral and mineral tones.
At €20, it's more than double the price of Giusti's DOC Proseccos, but Ermenegildo is confident it will sell. If it doesn't, it still has value in proving the potential of the region.
"This is something that was more for me because my dad (Augusto) used to make great Prosecco," Ermenegildo recalls. "I grew up in this region and I remember that wine; I can still smell it. But I've been away for 50 years and I want to make the best bottle of wine of our land. When I hired Graziana, I didn't want to have somebody from here. It seemed to me Prosecco had become like water and sugar, it's not the wine I remember as a child, so I wanted a winemaker who was not contaminated by the everyday business of Prosecco."
Regarding the new flagship Prosecco, he told Graziana: "You can do what you want – I just want maximum respect for the land and don't think we have to do a big number to make money. For me, that's old guy stuff – I don't care about the money, I'm just having fun."
He told her she can take his best grapes from his best property for this wine. She decided to pick the best two bunches from the sunny side of Tenuta Aria Valentina's 14-year-old vines and red soil.
Having released the wine to rapturous reviews, he thinks "the trick is not to load up the plants.
"Other producers add Chardonnay and Pinot Grigio to give more body, I think we can achieve that by producing less grapes."
He loves the resulting aromas – which are "very similar to the wine from my childhood" – and the wine's crisp, dry finish as it's a world away from mass-produced Prosecco, which he refers to as "7up".
"The world will like it or not, time will tell, but what is important for me is to be able to be the leader and to try different things, to try not thinking about we are doing this to make money. If we are thinking about money – I invested over €70m here in Italy – I would have left the money in Canada and today I would have €250m. So, it's not about money, this is about me doing what I want. I remember as a child I used to go in the farm – we had quails, partridges, pheasants everywhere, and then everything disappeared."
He puts this down to pesticides and spraying the land with chemicals. "I don't allow that in my farms and I want to see the farm clean like my dad had it. Our farm was like a garden. Perfect. And they used to do everything by hand. I remember Saturdays and my grandmother saying to all the kids you have to pick up the broom and sweep the courtyard. It was a couple of thousand square metres, and we had to sweep it. We were poor but we were clean. Whatever we had was always tidy, perfect. And we took care of it because we had very little, so whatever little we had we respected it and we took care of it. Here and in the world, it changed in the last 50 years – while I was away."
He urges other producers in the region to experiment and take risks, but says they are "so focused on making money every day".
'To become wealthy, you have to invest time and experiment'
He advises: "Making money is not the way to become wealthy. To become wealthy, you have to invest time and experiment and try and come up with something different. If you ask me, today's Prosecco is not as good as they used to make 50 years ago. We have to put out into the world a better product. Everybody drinks Prosecco now – except the Chinese. We cannot keep inventing more and more and more. Come on, let's do less and better."
He adds: "I will be happier to see less product in the market, less contamination (in the soil), and higher prices. It doesn't matter if consumers pay €1 or €2 a bottle more, we should give them a great bottle of wine."
However, he admits: "If I'd grown up here, maybe I would have thought like them."
But he didn't. His philosophy, when he arrived in Canada and started building houses, was to "do the best job".
"My houses were fantastic – I didn't care about the money," he remembers. "I would have preferred to lose money in a house than have my client not happy; they were my friends. With that philosophy, we became the biggest company."
In his second year, he sold 59 houses.
"Never think about the money," he advises me. "The money will come in a lifetime. If you want fast money, you have to go and steal.
"I strongly believe that, here, we should only think about quality wines."
'We should be doing top-quality, not numbers'
He's been told it's different for him because he has lots of money.
"To me, I see Italy as a very tiny country and we should be doing top-quality, not numbers. Numbers should be done by big countries like China. I think we should concentrate on very little quantity and great quality. That's my thought."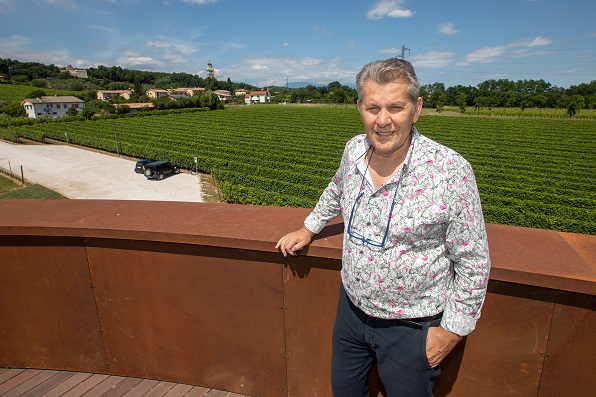 Experimenting with PIWI grape varieties
Giusti Wine was the first to plant hybrid varieties such as Merlot Khorus, Cabernet Volos, Sauvignon Nepis and Souvignier Gris in the Treviso area and now has 6ha of hybrid vineyards in the Montello region.
Ermenegildo (
above
) says he planted these varieties because "it's what I believe in". Although Giusti farms "beyond organic" – without copper – they would like to reduce spraying to the bare minimum. He believes hybrid varieties are the solution.
"I would love to see all my property like that," he says.
He is eager to see a PIWI version of Glera and thinks it could happen in "another couple of years or less".
"I think the sooner we eliminate all the spraying is the best. We are killing ourselves… I think there should be more people planting these grapes, more people trying them."
I tell him that I enjoyed Sant'Eustachio Bianco Veneto IGP – the company's first wine to use a PIWI grape variety, Sauvignon Nepis, blended with Chardonnay and Incrocio Manzoni.
He says the new vintage will be "50% better than the first one".
We then go on to talk about the potential of these disease-resistant varieties.
"If PIWIs were invented by the English or French in the 1960s, they would be worldwide today," he believes. "The fact they were invented by the Germans, they got penalised."
I ask him which variety has the greatest potential in this region.
"All of them. They're all good," he replies.
"Resistant hybrids are a great opportunity to make production more and more in harmony with the environment, because they have a high resistance to the most common diseases in the vineyard."
Rare Recantina
Recantina, an indigenous grape that has been present in the region since ancient times, was in danger of becoming extinct. Giusti, together with other producers in the area, has saved it and is experimenting to uncover the best vinification protocols.
"We're having fun with that," Ermenegildo admits.
They have experimented with stainless-steel tanks and different wooden barrels. Slavonian oak has been the most successful so far, but now Graziana is testing amphorae and six months of skin contact.
"We try every year to make it better and better," Ermenegildo states.
But how smooth should it be? Should it be more rustic and truer to its heritage? It's a debate Ermenegildo is currently having with his brother.
"I think before we make the final decision it's going to be done this way, I think we need to have a few more vintages," he concludes.
And the reason he is happy to experiment with rare grapes becomes clear: "I want to be able to give something to the world. I've been so blessed; I was so lucky in my life. To do something you enjoy because wine is about getting together and having a great glass of wine. That's what I want and I will not stop until I know in my heart that is the best glass of wine."