1
The top red wine at the International Wine Challenge 2020 comes from Georgian producer Tbilvino.
2
Tbilvino is a massive producer that flies the flag for Georgia's contemporary wines. Set up in 1962 to churn out bulk wines for the Soviet market, it has been thoroughly revamped since being bought by the Margvelashvili brothers – winemaker Zura and economist Giorgi – in 1999. Tbilvino produces 5.4m bottles a year but has the capacity to make 7.5m.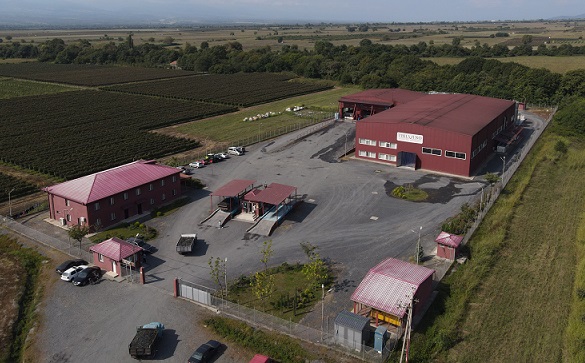 3
Its main winery, in the capital, Tbilisi, was revamped in 2009, and the newer one in Kvareli (
above
) – among the vineyards – opened three years later. Both wineries are equipped with the latest technologies, but at Kvareli the focus is on qvevri wines, while the French oak barrels for the premium line of 'special reserve' wines are in Tbilisi. The wineries operate to ISO 22000 and ISO 9001 standards.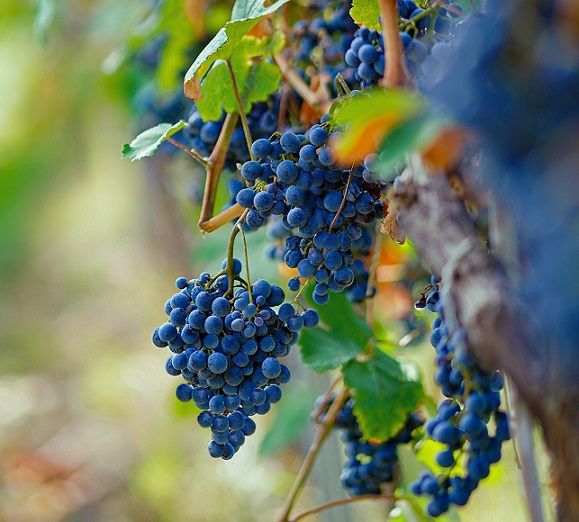 4
The winning wine is made from Georgia's flagship red grape, Saperavi (
above
). Saperavi produces full-bodied wines high in colour, acidity, tannin and dark fruit flavours. Unusually for a pale-fleshed variety, the juice comes out with a pinkish tinge.
5
The grapes for the Tbilvino Saperavi 2018 come from the country's main grapegrowing region, Kakheti. Saperavi grown on the left bank of the Alazani Valley is more acidic and has fewer tannins than Saperavi from the right bank, which usually has a higher sugar content.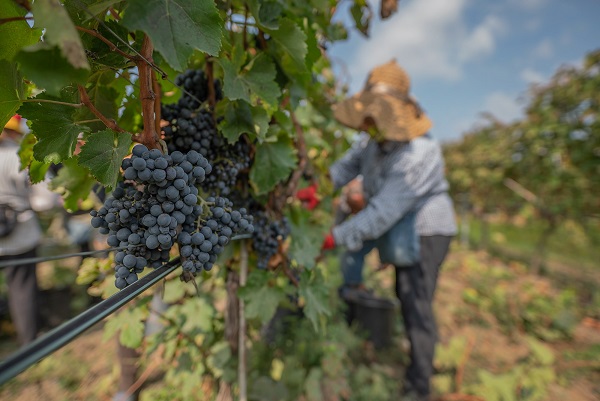 6
Tbilvino owns 270ha of vineyards in the key PDOs of Mukuzani and Kindzmarauli. The company also buys grapes from nine different sites in Georgia.
7
Tbilvino's chief winemakers are Zviad Loladze and Luka Guruli.
8
Tbilvino offers three styles of Saperavi:
Young Saperavi – with fermentation and MLF in stainless-steel tanks at controlled temperatures. Then it is blended with 15-20% wine aged in oak barrels to balance the intensity of young fruit aromas;
Qvevri style – made the traditional way, with fermentation and MLF in qvevri buried in the ground;
Reserve – after fermentation and MLF in stainless-steel tanks at controlled temperatures, the wine is transferred to 228L French oak barrels for 12 months' ageing.
The winning wine is the 'young' style – a 'modern' Georgian wine.
9
It scored 97/100 points – one of only four wines, and the only red, to reach this high score at IWC 2020. The other high scorers were:
Justino's Madeira Terrantez 1978, Portugal
Tolpuddle Vineyard Chardonnay 2018, Australia
Taittinger Comtes de Champagne Blanc des Blancs Brut 2008, France
Tbilvino's Mukuzani Special Reserve 2018 also won a gold medal, scoring 95/100.
10
The judges described the Tbilvino Saperavi 2018 as: "Viscous, electric and intense with amazing fruit and acidity. Ripe plum, damson and herbal fruit with a touch of floral perfume. Very youthful. Tremendous dark, style, black cherries, wild strawberries, liquorice and menthol, with chalky acidity and a long finish."
The top wines in other countries
Argentina:
Apelación de Origen Paraje Altamira 2018, Terrazas de los Andes, Mendoza Red Blend Trophy, Argentinian Red Trophy
Australia:
Coonawarra Cabernet Sauvignon 2016, St Hugo, Coonawarra Cabernet Trophy, Australian Red Trophy
Australia:
Morris Old Rare Liqueur Premium Topaque, Morris Wines, Rutherglen Topaque Trophy, Australian Fortified Trophy
Australia:
Lake Cooper Well Rhapsody Shiraz 2019, Lake Cooper Estate, Heathcote Shiraz Trophy, Australian Shiraz Trophy
Austria:
Ried Gottschelle 1ÖTW Erste Lage Kremstal Reserve Grüner Veltliner 2018, Petra Unger, Kremstal Grüner Veltliner Trophy, Austrian White Trophy
Austria:
Riesling Ried Zöbinger Heiligenstein 1ötw Kamptal 2019,
Weingut Birgit Eichinger
, Kamptal Riesling Trophy, International Riesling Trophy
China:
Syrah 2017, Ningxia Helanshan Manor Wine China, Chinese Red Trophy
England:
Classic Cuvée 2010, Nyetimber, Vintage Classic Blend English Sparkling Trophy, English Sparkling Trophy
France:
Clos de la Roche Grand Cru 2017,
Edouard Delaunay
, Clos de la Roche Trophy, Burgundy Trophy, French Red Trophy, International Pinot Noir Trophy
France:
Chablis Grand Cru Les Clos 2017, La Chablisienne, Chablis Grand Cru Trophy, White Burgundy Trophy, French White Trophy
Germany:
Kirchenstück Hochheim Riesling Trocken GG 2019, Domdechant Werner´sches Weingut Rheingau Riesling Trophy, German White Trophy
Italy:
Balciana 2017, Sartarelli, Italian White Trophy
Italy:
Vin Santo del Chianti Riserva Colmano 2000, Azienda Agricola Colmano di Piero Masi, Italian Sweet Trophy
Italy:
Carminium 2016
, Inama Azienda Agricola, Veneto Red Trophy, Italian Red Trophy
New Zealand:
Coal Pit Tiwha Pinot Noir 2018, Coal Pit Wine, Gibbston Pinot Noir Trophy, New Zealand Pinot Noir Trophy, New Zealand Red Trophy, Sustainable Trophy
New Zealand:
Church Road Grand Reserve Chardonnay 2018, Church Road, Hawke's Bay Chardonnay Trophy, New Zealand Chardonnay Trophy, New Zealand White Trophy
New Zealand:
Church Road 1 Syrah 2017, Church Road, Hawke's Bay Syrah Trophy, International Syrah Trophy
Portugal:
Fonte do Ouro Encruzado 2019, Sociedade Agrícola Boas Quintas, Dao White Trophy, Portuguese White Trophy
Portugal:
Tyto Alba 2016, Companhia das Lezírias, Portuguese Red Trophy
South Africa: Boschendal Elgin Chardonnay 2018, Boschendal Wines, Elgin Chardonnay Trophy, South African White Trophy
South Africa:
Groot Constantia Sauvignon Blanc 2019, Groot Constantia Wine Estate, Constantia Sauvignon Blanc Trophy, International Sauvignon Blanc Trophy
Spain:
Legaris Moradillo de Roa 2016, Raventós Codorníu, Ribera del Duero Trophy, Spanish Red Trophy
Spain:
Granbazan Limousin 2017, Agro de Bazán, Spanish White Trophy
Spain:
Lustau Oloroso V.O.R.S 30 Years, Emilio Lustau, Oloroso Trophy, Sherry Trophy
The best winemakers
IWC Fortified Winemaker of the Year 2020:
Sergio Martínez from Emilio Lustau
IWC Sparkling Winemaker of the Year 2020:
Michel Parisot from Champagne Devaux
IWC White Winemaker of the Year 2020:
Vincent Bartement from La Chablisienne
IWC Red Winemaker of the Year 2020:
Christophe Briotet from 
Edouard Delaunay
IWC Sweet Winemaker of the Year 2020:
Dr Klaus Peter Heigel from Weingut Hans Wirsching
Planet Earth Awards
IWC Organic Trophy 2020:
Maison Albert Bichot Volnay 1er Cru Les Santenots Domaine du Pavillon 2018
IWC Sustainable Trophy 2020:
Coal Pit Tiwha Pinot Noir 2018
IWC Fairtrade Award 2020:
La Riojana Coop Tilimuqui Fairtrade Organic Malbec 2019
IWC Special Awards
For Consistency over 5 years - Len Evans Trophy 2020:
Wolf Blass
IWC Best Wine in First Year of Production - James Rogers Trophy 2020:
Balfour Hush Heath The Red Miller 2018
IWC Lifetime Achievement Award 2020:
Aurelio Montes