Laurent Delaunay has achieved his main goal. When we met him in Paris last year, at the relaunch of Edouard Delaunay, he told Canopy: "My grandfather used to say that the House of Edouard Delaunay was 'the smallest of the great Houses'. My ambition has been to return it to its former glory and make Edouard Delaunay a leading Burgundian wine house once more."
We think he has done that, and then some. Edouard Delaunay was the big winner at the International Wine Challenge 2020. The winery won 15 gold, 30 silver and 7 bronze medals – and also picked up EIGHT trophies, including the Burgundy Trophy, French Red Trophy, and International Pinot Noir Trophy – giving its young winemaker, Christophe Briotet, the title of IWC Red Winemaker of the Year.
"This is an incredible recognition for our work and for the efforts of the entire team, especially Christophe, that have been put in over the last three years. I am passionate about Edouard Delaunay as it is very close to my heart, which makes these results even more special. It also shows that even a very traditional region like Burgundy can be ready to change and to show a new face," owner Laurent said.
The revival of the House of Edouard Delaunay began three years ago when Laurent, great grandson of the founder, bought back the winery, brand and cellar and added them to Château de Charmont (
above
), in the Hautes-Côtes de Nuits, which he purchased in 2007.
Laurent, who left Burgundy to start Badet Clément and make wines in the Languedoc, Rhône Valley and Provence, told
Canopy
this week:
"We bought back Edouard Delaunay in early 2017 and we have released three vintages only, as we made a very small volume of 2016 even before having rebought the house.
"We are just starting to propose our 2019 wines en primeur. The reviving of this old Burgundy house has been a pretty good success so far, indeed, but we did not start from nowhere. A lot of very favourable conditions were gravitating around us which just needed to be gathered and aligned. Among them, there are our longstanding family implication in Burgundy, even though we were no longer actually making wines ourselves in the last years. Our relations, my sister and my brother in law, my cousins, are growers in Burgundy. We have also always maintained deep friendships with many growers.
"One of the most important reasons is also that we own and operate one of the largest specialists of the distribution of domaine wines in Burgundy, DVP – Domaines & Vins de Propriété, which works and markets wines from more than 150 small independent Burgundy producers both in France and exports. This gives us an incomparable network, especially when it comes to grape sourcing, and a deep knowledge of the terroirs, the wines and the producers. In addition, I believe that we have a pretty good understanding of what the consumers, the connoisseurs, are expecting from high quality Burgundy wines.
'Purity and precision are the two keywords for us'
"We recruited Christophe Briotet, a talented young Burgundian winemaker with good experience, including five years as chief winemaker at the school of viticulture in Beaune, and I am a winemaker too, even though I have spent more time in the last 10 years trying to make high quality Pinot Noir in the Languedoc than in Burgundy. We share the same philosophy with Christophe, based on an in-depth reflection about the terroir and the vines' potential, its intrinsic character, prior to any winemaking and ageing decision. Purity and precision are the two keywords for us and that's what we would like to achieve in our wines and, in that regard, none of our wines follows the same method, the same winemaking course.
"All these positive conditions were pre-existing and the fact that we were not making our Burgundy wines before was rather the anomaly."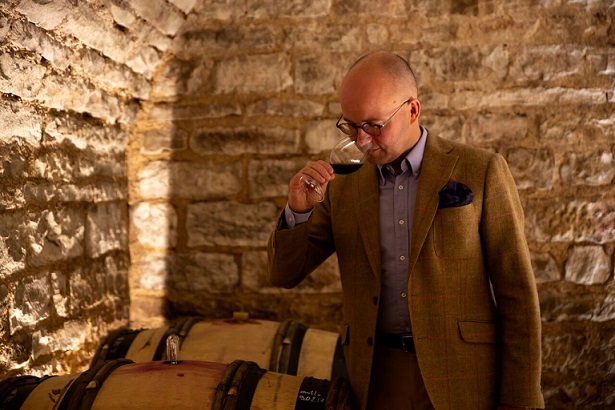 Laurent (above) also updated Canopy on the range:
"With the 2018 vintage, we were able to complete our range and to add several very interesting white wines from the Côte de Beaune, which was very modest at the beginning. We added a very good Meursault blended from five small vineyards located all around the village and some beautiful premier crus from Chassagne and Puligny. We also completed the range with several Côte de Nuits appellations including premier crus from Morey Saint Denis, Gevrey-Chambertin and several from Nuits-Saint-Georges, where we have a special focus for obvious reasons.
"Some beautiful grand crus also joined our collection with a very elegant Echézeaux, for instance. Finally, we also decided to explore the Hautes-Côtes de Nuits, where our winery is located and where the Delaunay family used to have some vineyards, and which seems to be a very interesting answer – because of the higher altitude – to climate change. The hill of Vergy, where we are, is only 4km west of Clos de Vougeot and 100 to 120m higher in altitude. A very interesting task has to be done to identify the best terroirs that could become remarkable in the next decades and we have started to work on it. We are going to release our three first Hautes-Côtes, including a single vineyard, with the 2019 vintage."
'Our main objective for 2021 is Chablis'
Laurent went on to outline some of their plans for 2021:
"Our main objective for 2021 is Chablis, where we plan to launch a new project with my cousin Dominique Gruhier, one of the emblematic growers, and a pioneer of organic and biodynamic farming, of the Yonne region. We created a joint venture called 'Gruhier & Delaunay, Associated cousins', and we have started to work in his beautiful facility of the old Abbaye du Petit Quincy, in Epineuil, close to Chablis. We carefully selected some cool terroirs of Chablis, worked closely with some of the best growers and vinified some 2019 and 2020 Chablis, premier crus and a little of grand cru that we plan to launch in March, 2021.
"The approach will be very similar to Edouard Delaunay and the wines will be distributed along with them through the same channels. Our goal is really to launch a range of contemporary wines with a modern but strong personality featuring with precision the cool climate and stony, mineral character of the Chablis wines which are so distinctive.
"Although our model was initially based on grape purchases, we started to lease our first vineyards in 2020. These are 2.2 hectares located in Pommard and especially made of two interesting premier crus: Les Pézerolles and Les Chaponnières, a little of village Pommard and of Bourgogne Blanc. This is going to allow us to work in the vineyards ourselves in the exact way we would like and have a much better input. 2020 is going to be our first vintage, although we were already having a little of grapes from Les Chaponnières in the 2019 vintage.
"Starting to work some vineyards, lease or eventually purchase a few vineyards was the second step of our plan and we are very pleased to have had the possibility of starting it."
Edouard Delaunay's trophy winners
Clos de la Roche Trophy, Burgundy Trophy, French Red Trophy, International Pinot Noir Trophy: Clos de la Roche Grand Cru, 2017. 96/100
Chambolle-Musigny Trophy: Chambolle-Musigny 1er Cru Les Fuées, 2018. 96/100
Clos Vougeot Trophy: Clos Vougeot Grand Cru, 2017. 96/100
Echézeaux Trophy: Echézeaux Grand Cru, 2018. 96/100
Edouard Delaunay's IWC2020 results.
'The one I find the most interesting to vinify is probably our red Corton grand cru'
Winemaker's comment
Winemaker Christophe Briotet
told
Canopy
: "My favourite wines and those I believe demonstrate particularly my philosophy are very different. Our Nuits-Saint-Georges, our village, for example, is very interesting in terms of the search for complexity based on a blend of different terroirs, from the north and the south of the village and which are all so different. Nuits is probably one of the villages where there are the most differences between the 'climats' and where the soil composition appears so clearly in the wines. I love our Nuits-Saint-Georges Les Perrières premier cru, for instance, for its mineral and almost salty character coming right from its hard limestone rock underground.
"But one of my favourites, and the one I find the most interesting to vinify, is probably our red Corton grand cru. First of all, it comes from a very special 'climat' (terroir), a single plot located 'En Charlemagne', planted on filtering soils on mid-southwest facing slopes on the Pernand-Vergelesses side, perfect for getting a slow and homogeneous ripening and beautiful, ripe tannins. We harvest it slightly later than the other Côte de Beaune vineyards and we keep a little percentage of whole bunch (10 to 15%) and we vinify with no sulphites. We make a long maceration with limited and subtle foot pigeages, and an ageing in barrels from the Chatillon forest (located north of Côte d'Or) which give very precise results. My philosophy is really: listening, reading the terroir and the vines' condition, trying to understand, and gently accompanying the natural evolution of the wine.
"I am also particularly proud of what we achieve with more modest appellations such as the new Bourgogne Côte d'Or which produces very elegant and yet affordable wines."
Regarding the award, he said: "I am so thrilled by the success of our wines at the IWC and I feel very honoured to be the competition's Red Winemaker of the Year and that our wines have been so highly recognised."
The best winemakers
IWC Fortified Winemaker of the Year 2020:
Sergio Martínez from Emilio Lustau
IWC Sparkling Winemaker of the Year 2020:
Michel Parisot from Champagne Devaux
IWC White Winemaker of the Year 2020:
Vincent Bartement from La Chablisienne
IWC Red Winemaker of the Year 2020:
Christophe Briotet from Edouard Delaunay
IWC Sweet Winemaker of the Year 2020:
Dr Klaus Peter Heigel from Weingut Hans Wirsching
For the full list of Trophy results click here.

IWC Lifetime Achievement Award 2020: Aurelio Montes