"We never do the numbers of a project. If we were to do the numbers of every project that we have done, we wouldn't have made it – because the numbers wouldn't fit with it. But because we love it, we just go forward and we do it. The money comes afterwards, and it actually came!"
Aurelio Montes, Chile's legendary winemaker, seems almost surprised that his Viñas Montes project is a financial success – because making money was never the goal. "We're very happy, but it wasn't the main purpose of it," he continues. "The purpose was to enjoy our passion, have fun and develop what's in our DNA – exploring, progressing, doing things. We were this close to planting vineyards in Machu Picchu in Peru. We were so close, we had the base, we did all the research… but the Peruvians didn't allow us because the original people there planted corn."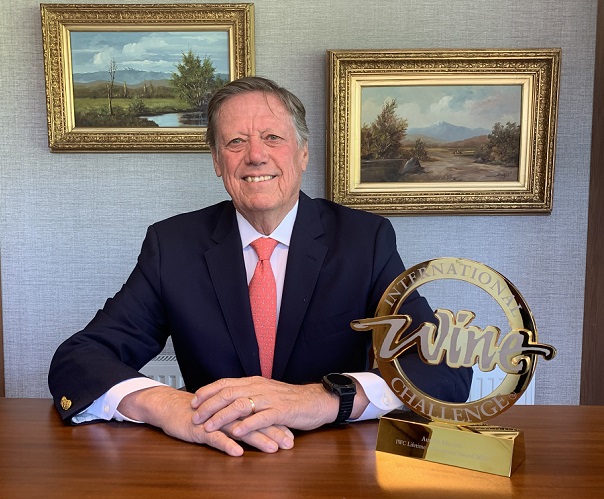 I've called Aurelio to congratulate him on his IWC Lifetime Achievement Award, but we start talking about his various projects:
the Machu Picchu one which never came to fruition;
the projects that weren't successful – like using dynamite to reduce the need for irrigation;
the ones where the jury is still out – like planting a vineyard on a tiny island in Patagonia;
and the one that was mega-successful, Viñas Montes.
After 16 years gaining experience and rising through the ranks at Viña Undurraga and Viña San Pedro, Aurelio co-founded Viñas Montes in 1988 – to produce premium wines for the export market.
All he had at that time was a dream he shared with a few colleagues. They built Viñas Montes, in Chile's Colchagua Valley, from nothing. The wines are now available in more than 100 countries and critics rave about them.
Reflecting on the success, Aurelio recalls the thinking behind it: "I thought Chile deserved to produce better wines because the conditions here – geographically speaking, climatically speaking, even the skills of the people – were pretty well suited for something better than 'good value for money'."
So, with a wife and five children to support, he quit his job… to become a consultant and start Viñas Montes as "a little retirement project".
He says they started Montes "very shyly, not thinking of a big success in the future, but things came much faster than we expected. Our project was to do 30,000 cases (of 12 packs) in five years and what happened was that in year number two we hit the target of 30,000 and then we kept on growing and we never stopped. Today, we're the fifth biggest exporter in the country with one of the highest price points, which means we are devoted to quality wines, basically.
"Why it's been a success? It's because we did everything differently. We started with a project, a revolution in viticulture. We changed the clones of the varieties, we brought clean cuttings from France, we knew the ones we had in Chile were full of viruses and diseases. Then, in the winemaking, of course it was different to what Chile was used to doing.
"The world understood our message and they enjoyed the wine, they paid the price – a fairer price, which was very good for us, and we grew beyond our dreams."
Aurelio likes to say the bodega started as a "retirement project", but it's now clear he has no intention of retiring, even though his son, Aurelio Junior, is in a position to take over.
'Retirement is the beginning of the end'
"I'm allowing Aurelio (Jr) to take a lot of responsibilities here in the winery, so I have more time," Aurelio Sr admits. "It's not a retirement at all but I have more time to do crazy things, to go around, to think of developments. I'm still involved in the tastings with the whole team, including my son, so retirement I will say 'no way'. I will say that retirement for a human being is the beginning of the end. When you sit at home with nothing to do, when you have an empty agenda for a day, it's terrible. I just go crazy... I just have to look for something."
I point out that he has more interests than most septuagenarians (flying helicopters and small planes, sailing, horse riding, golf), so you'd think he'd be perfectly happy to retire.
"Yes and no," he replies. "Because I think you enjoy sailing, flying, golf, and horseback riding when you do it in little bits and pieces in a week. You spend a whole day golfing or the whole week sailing, you get a little bit fed up with it. You need to feel that you're doing something positive and that you're leaving some sort of footprint behind. So, I think you need to have a combination of all of this. Of course I'm willing to sail more, to fly more, horseback ride more but still – let me put it in numbers – still I want to have 70% of professional responsibility, or 60% at least, and the rest would be to enjoy life a little bit more. But still I want to be pretty much involved in the company. It's my baby, so it's very hard for me to look at it from a distance. I want to be here in some way."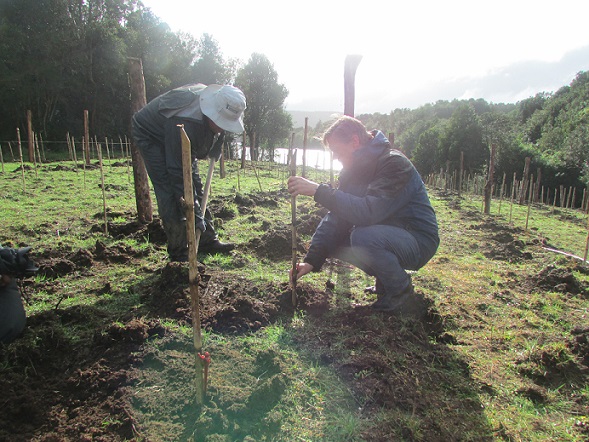 It was sailing his 50ft Jeanneau around the Chilean archipelago of Chiloé, 1,000km south of Santiago, that gave him the idea of being the first to plant vines on the small island of Mechuque (which shares the same latitude as Tasmania, 42°). They will harvest the first grapes (Chardonnay, Pinot Noir, Sauvignon Blanc, Albariño, Gewurztraminer, Pinot Grigio and Riesling) from the 2ha experimental vineyard this season.
"It's a wonderful place, it's very similar to the Norwegian fjords," he says.
He is very pleased with the health of the grapes, as no grape or vine diseases have reached this isolated island yet. But he admits the grapes are struggling to ripen. To help with this, he is experimenting with laying mussel and clam shells between the vines to absorb the daytime heat and radiate it at night in a similar way to the pebbles in Châteauneuf-du-Pape. "So far the mussel shells are absorbing more heat," he says. "It's a lot of fun."
Aurelio is also famous for treating another vineyard with dynamite: blowing up a layer of rock 0.5m deep so the vines' roots could delve deeper, and he could reduce their reliance on irrigation. That experiment wasn't the success he'd hoped for: "It was a nightmare because handling dynamite is hard and you need a lot of permits from the police, from the government, from the Minister of Defence, so we had to go through a huge amount of paperwork to be able to make this big explosion. It was a lot of fun when we did it but, to be very honest, I didn't see a real effect on the vines. The soil became much looser, easy for the roots to explore a bit more, but the quality of the wine, of the grapes, was not much different from those that were not exposed to dynamite. So, it was fun, but always when you are a pioneer doing things, you fail also. You succeed and you fail. And failing is as good as succeeding because you know that you shouldn't do it again. It's a part of learning."
This pioneering spirit is one of the reasons the IWC has honoured him with this year's Lifetime Achievement Award:
Aurelio made Chile's first premium wine – a Cabernet Sauvignon – and changed the direction of Chile's wine industry;
He showed fellow Chilean producers they could earn better, fairer prices, if they produced higher quality wines;
He unlocked the potential of wine regions previously unplanted with vines: Apalta and Marchigüe in the Colchagua Valley, Zapallar in the coastal portion of the Aconcagua Valley and, more recently, high up in the Andes Mountains.
His Sauvignon Blanc from the Andes will be launched shortly.
"We are in a constant move of doing things," he tells me. "Who knows what is coming next? For sure, something – I won't stay still at home. I will still keep moving and looking for adventures. It's not the willingness to be rich or to have more money, it's just that we enjoy the adventure."
I ask him:
How important is it to be the first, to be innovative?
"For me, innovation is a must," he responds. "We must do it permanently and, in my particular case, I feel a lot of satisfaction because I think we showed a path to other small wineries that were afraid to start."
He says Viñas Montes showed what "a group of crazy guys – with no fortune behind them – just with passion and knowledge and the willingness to do different things" could achieve. "We succeeded and we succeeded well. Many small wineries followed and today we have not less than 200 small wineries or entrepreneurs exploring a little bit the same concept of innovating."
We go on to talk about some of the other areas where he is considered a pioneer: wine tourism and meeting buyers.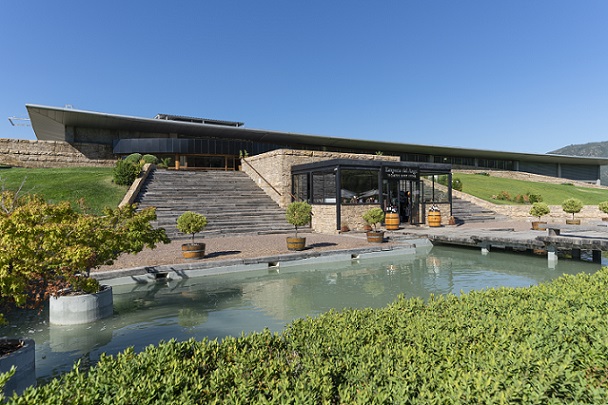 Wine tourism
Earlier this year, World's Best Vineyards crowned Viñas Montes the best in Chile and fourth best in the world.
Aurelio believes in wine tourism – but not just for the obvious reason. "It's one of the most powerful tools in terms of marketing," he says. "It's like inviting people to your house. You must have your house clean to invite people. When you are open to tourism you need to have a perfect winery, a perfect vineyard, so you are forced to be efficient and that's important and when people come to visit us, our winery is feng sui inspired.
"We have music playing in the barrel room all day long. People can't just forget that when they come here and see that. They say it's one of the most impressive things they've seen. So when you visit a place that's nice, that's beautiful, it's friendly, it's approachable, you fall in love with it and you become the best ambassador of that particular place or winery among your neighbours, friends, community.
"We receive 20,000 people more or less per year, we have a fantastic restaurant, managed by Francis Mallmann (Argentina's most famous chef), so when you come here you leave the winery with a sensation that you lived a unique experience in terms of beauty, of viticulture, of winemaking, of music and fine dining, so you are the best ambassador in the future. So tourism for us is, I would say, a key issue in terms of making yourselves known and prosperous."
I ask him
how the feng shui helps.
"It helps the people that work with us," he explains. "They are happy people and happy people do everything correct; unhappy people do everything wrong. So, my philosophy is that feng shui makes this the best place to work and that means people do their work happy, professionally, and that makes the wine a better wine."
Meeting buyers
Aurelio was one of the first winemakers in Chile to go out and sell his wines. He says he misses this part of his job and hopes to resume his travels again. As soon as it's safe, he would like to visit China to help the "market that is doing so well for us" and to the USA, where they have been losing market share to Californian wines.
He would also like to travel to the USA to resurrect his Napa Angel project. After launching the brand in 2006 with a leased winery and purchased grapes, they stopped production in 2012 because the prices of grapes and labour "were crazy". However, Aurelio has decided to restart it. "I couldn't leave a project to die so I restarted in a very shy way with a very little production and with a different concept. So, we will relaunching this project, maybe by March next year. The wines will be bottled in December."

One Lifetime Achievement Award doesn't seem enough for Aurelio. In our chat we don't have time to cover some of his greatest achievements: a marriage that has lasted nearly 50 years and has resulted in 19 grandchildren; his role as president of Wines of Chile, pushing the country's image as a producer of world-class wines.
I finish by asking if he has any unfulfilled dreams – and he mentions learning to play the piano.
"I think I have achieved 99% of what I wanted to achieve," he says. "Maybe the 1% is piano playing. It's still a challenge to go for."
When I congratulate him again on his IWC Lifetime Achievement Award, he concludes our call by saying: "I am very grateful, very proud that you thought of me. It's a pity that it was a very weird year and we couldn't make it the normal way – nice dinner, black tie, little speech and all that." But we're hoping he will be able to visit London on June 30, and be part of the IWC 2021 celebrations.