Where's the best place to grow Carmenère?
Judging by the International Wine Challenge 2020 results, it's here: latitude 45.392488, longitude 11.461403.
Surprisingly, that's only a few kilometres southeast of the Soave hills, in northeast Italy. To be precise, it's in a vineyard halfway up the beautiful hills of Colli Berici, on the right-hand side of Val Liona. The 12ha vineyard at San Germano dei Berici is called Oratorio di San Lorenzo (
above
and 
below
) and it belongs to the Inama family.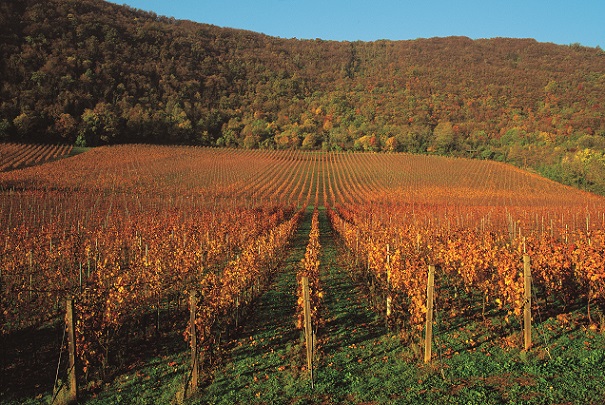 The Soave producer spotted the potential of the vineyard in 2001. Stefano Inama realised that this small valley was ideally shaped to help this difficult grape to ripen. Despite its proximity to Soave, this area couldn't be more different to Soave Classico. Colli Berici, which has had its own DOC for Carmenère since 2009, has half the annual rainfall, and higher average temperatures than the Soave Classico area.
"The earth is red, rich in iron oxide and on calcareous stone. The climate is milder than the surrounding areas. The vineyard Oratorio di San Lorenzo, in the village of Villa del Ferro, is marked to the west by a steep woody hill that feeds it with red silt washed down by the rain. In the summer, the area is extremely hot during the day but cool in the evening because of the air that comes down from the wood to the vineyard," says Stefano, who runs the winery with his three sons, Matteo, Alessio and Luca. They say it is the "ideal area" for growing Carmenère and "producing a great and unique red wine, typical of the Berici Hills".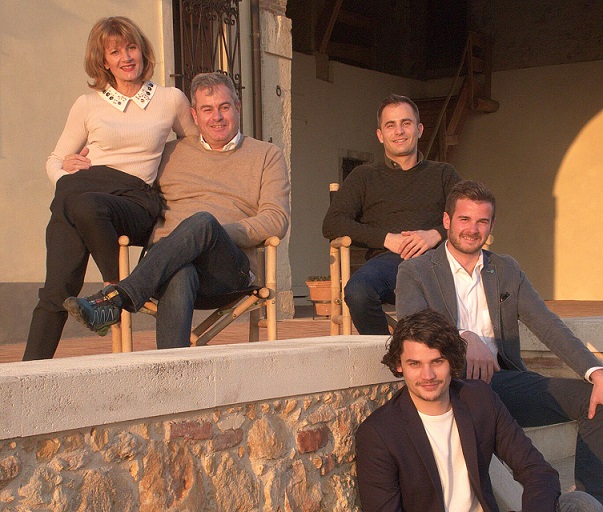 With 96/100 points, Inama's Carminium 2016 was one of the highest scoring wines at IWC2020. Not only was it recognised as the best Carmenère in the competition but also the top red wine from Italy!
The judges described it as "floral and expressive with blackberry and black cherry fruit, perfume of green capsicum coriander seed, pink peppercorn and juniper. Delicate and silky texture, the palate is supple with lovely exotic spices. Long and rich."
The aromas of exotic spices and peppers are distinguishing features in this region.
Carminium – which takes its name from a lone tree in the vineyard (
main photo
) – is made from organic grapes that are sorted and destemmed before maceration and fermentation (about 12 days) in stainless-steel fermenters with internal paddles.
The wine is then racked and pressed, going through malo in stainless-steel vats before being transferred to barriques (20% new) for 12 months' ageing.
Stefano is hoping this win will put DOC Carmenère Colli Berici on the world stage. He told
Canopy
: "We strongly believe that Colli Berici is the place for Carmenère in Italy and, pardon me, possibly also outside Italy."
The Oratorio San Lorenzo vineyard also provides the grapes for Inama's Carmenère Riserva, but Stefano says: "Carminium is made in a fruity style with the aim to express the complexity of the combination of the variety and red clay of this location."
Incidentally,
the top wine from Chile
– the winner of the IWC Chile Red Trophy – was a Syrah with a dash of Cabernet Sauvignon: Tabali's Sirka By Maray 2014.
More surprises
England for red wine
One of England's 14 gold medals was awarded to a red wine! It's the first time the country, which has been making waves in recent years with its sparkling wines, has achieved a gold with a red wine. And, even more surprising, Kent-based producer Hush Heath's The Red Miller is made from Pinot Meunier. The Red Miller not only scored 95/100, it also picked up the first English Red Wine Trophy at the International Wine Challenge and the James Rogers Trophy for the best wine in its first year of production.
Winemaker Owen Elias says the wine was made from a single parcel of beautifully ripe Pinot Meunier. A short three-day fermentation on the skins was followed by full malolactic in stainless steel and a brief sojourn in French and American oak barrels.
New Zealand for sustainable red wines
New Zealand cemented its reputation as a world-class producer of sustainable red wines at the International Wine Challenge...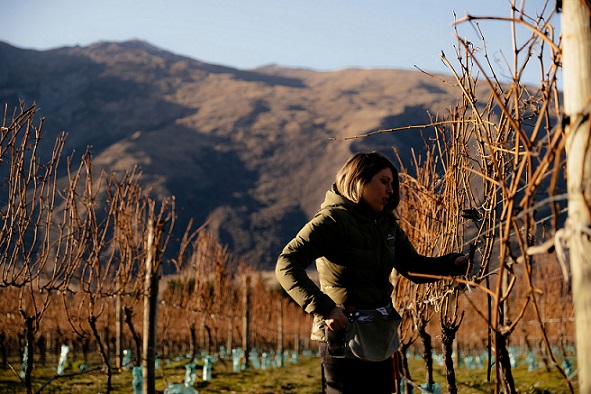 Coal Pit Tiwha Pinot Noir 2018 from Central Otago was awarded the IWC Sustainable Trophy 2020, as well as the New Zealand Red Trophy. Its American winemaker, Anika Willner (
above
), who joined for the 2018 vintage, told
Canopy
: "Each clone of Pinot Noir (115, 10/5, 777, 5) is handpicked, destemmed, and fermented separately in 4-tonne fermenters. Clonal variation, as well as old and new rootstock throughout the vineyard, allows for variation within the ferments and, therefore, play a role in determining cap management and fermentation length for each tank. Typically, ferments peak around 32-33°C and get two punchdowns a day, depending on the time of ferment and as well as vintage, which can be quite variable in Gibbston. In 2018, following the (3-4 days) cold soak, the fruit was inoculated with commercial yeast and fermented on skins for 14-18 days before pressing. The wine was racked into 228L French oak (40% new) and left on light healthy lees before being blended and bottled in late March 2019. There was light fining and crossflow filtration done prior to bottling. Going to bottle, the wine would have 35ppm free SO2."
Regarding sustainability, they are halfway through a three-year conversion process to organic and owner Rosie Dunphy, who studied horticulture in Sydney and viticulture in England before buying the beautiful vineyard in 2000, is focused on improving the biodiversity, soil health, fruit quality, and longevity of the vines. "As a family-owned business, we are focused on stewardship of the land," Anika said. "This means leaving the land better than how we found it."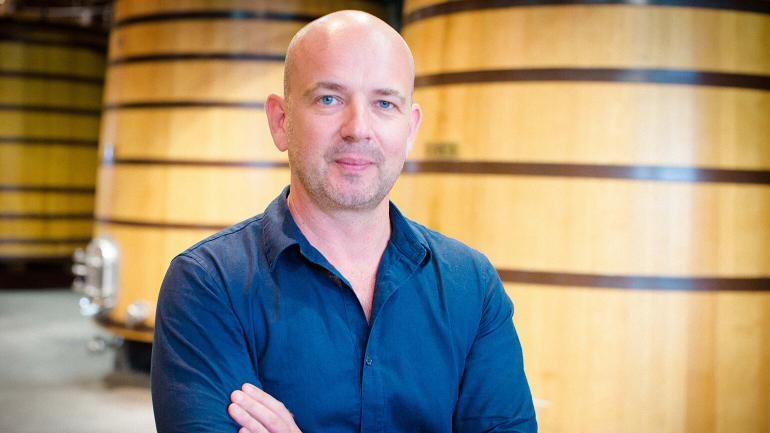 Hawke's Bay producer Church Road, one of the oldest wineries in New Zealand, continued the winning streak for New Zealand Syrah. Chief winemaker Chris Scott's 1 Syrah 2017 collected the International Syrah Trophy. Chris (
above
), who started his career at Church Road Winery in 1998 as a cellarhand, says the secret to creating award-winning wines is using traditional techniques to add depth of flavour and layers of texture to exceptional quality fruit.
The fruit was destemmed, crushed and immediately inoculated with a selected yeast strain. Fermentation was allowed to peak at 34°C, ensuring good extraction of colour and ripe tannin. The wines were allowed to undergo post fermentation maceration for a total time on skins of three weeks. During this time regular aeration was employed to stabilise colour, integrate the tannin and open up the fruit aromatics. The wine was then drained and pressed before filling to new (41%) and older French oak barriques to complete malolactic conversion and subsequent maturation for 18 months. The wine was very lightly fined using egg whites to soften the tannins, then racked for clarity and bottled without cold stabilisation or filtration.
From Canopy's archive
It's time to take Kiwi Syrah seriously
South Africa for Sauvignon Blanc
The International Sauvignon Blanc Trophy went to a South African winery. It's the first time in ten years that the award hasn't gone to either the Loire or New Zealand. Groot Constantia Wine Estate's Sauvignon Blanc 2019 won over the IWC's expert judges, who described it as: "Zesty, green and lively, with capsicum, pea shoots, wax and grass aromas. The palate is fresh, elegant and juicy, yet poised and pristine. Savoury on the finish. Quietly complex and very elegant."
Rieslaner on a roll
Dr Klaus Peter Heigel from Germany's Weingut Hans Wirsching was named IWC Sweet Winemaker of the Year after winning the German Sweet Trophy, two gold, four silver and two bronze medals. The silvers included a 94-point TBA made from Rieslaner grapes (Rieslaner being a Silvaner x Riesling crossing). But Klaus was also shortlisted for the title of White Winemaker of the Year after winning one gold, 15 silver and four bronze medals for still wines made from Riesling, Silvaner and Scheurebe grapes. His star still wine, and winner of the Franken Riesling Trophy, was the Iphöfer Kronsberg Riesling Alte Reben Trocken Erste Lage, 2019.
One to watch
One of central Serbia's rising stars, Lastar, continues to shine. Lastar, created in 2015, has been winning bronze medals at the IWC since the 2016 vintage. This year, all three of its wines – Chardonnay Triangl 2017, Sauvignon Viognier Triangl 2017, and Pinot Noir Triangl 2017 – gained silver medals with 90/100 points. It's the best performance so far from a Serbian producer.
Find out more about Lastar and why its young winemaker uses different protocols for different clones of Pinot Noir here.

The best winemakers
IWC Fortified Winemaker of the Year 2020:
Sergio Martínez from Emilio Lustau
IWC Sparkling Winemaker of the Year 2020:
Michel Parisot from Champagne Devaux
IWC White Winemaker of the Year 2020:
Vincent Bartement from La Chablisienne
IWC Red Winemaker of the Year 2020:
Christophe Briotet from 
Edouard Delaunay
IWC Sweet Winemaker of the Year 2020:
Dr Klaus Peter Heigel from Weingut Hans Wirsching
The top wines in each country
Argentina:
Apelación de Origen Paraje Altamira 2018, Terrazas de los Andes, Mendoza Red Blend Trophy, Argentinian Red Trophy
Australia:
Coonawarra Cabernet Sauvignon 2016, St Hugo, Coonawarra Cabernet Trophy, Australian Red Trophy
Australia:
Morris Old Rare Liqueur Premium Topaque, Morris Wines, Rutherglen Topaque Trophy, Australian Fortified Trophy
Australia:
Lake Cooper Well Rhapsody Shiraz 2019, Lake Cooper Estate, Heathcote Shiraz Trophy, Australian Shiraz Trophy
Austria:
Ried Gottschelle 1ÖTW Erste Lage Kremstal Reserve Grüner Veltliner 2018, Petra Unger, Kremstal Grüner Veltliner Trophy, Austrian White Trophy
Austria:
Riesling Ried Zöbinger Heiligenstein 1ötw Kamptal 2019,
Weingut Birgit Eichinger
, Kamptal Riesling Trophy, International Riesling Trophy
Chile:
Sirka By Maray 2014, Tabali, Chilean Red Trophy
China:
Syrah 2017, Ningxia Helanshan Manor Wine China, Chinese Red Trophy
England:
Classic Cuvée 2010, Nyetimber, Vintage Classic Blend English Sparkling Trophy, English Sparkling Trophy
France:
Clos de la Roche Grand Cru 2017,
Edouard Delaunay
, Clos de la Roche Trophy, Burgundy Trophy, French Red Trophy, International Pinot Noir Trophy
France:
Chablis Grand Cru Les Clos 2017, La Chablisienne, Chablis Grand Cru Trophy, White Burgundy Trophy, French White Trophy
Georgia:
Saperavi 2018,
Tbilvino
, Georgian Red Trophy, Champion Red
Germany:
Kirchenstück Hochheim Riesling Trocken GG 2019, Domdechant Werner´sches Weingut Rheingau Riesling Trophy, German White Trophy
Italy:
Balciana 2017, Sartarelli, Italian White Trophy
Italy:
Vin Santo del Chianti Riserva Colmano 2000, Azienda Agricola Colmano di Piero Masi, Italian Sweet Trophy
Italy:
Carminium 2016, Inama Azienda Agricola, Veneto Red Trophy, Italian Red Trophy
New Zealand:
Coal Pit Tiwha Pinot Noir 2018, Coal Pit Wine, Gibbston Pinot Noir Trophy, New Zealand Pinot Noir Trophy, New Zealand Red Trophy, Sustainable Trophy
New Zealand:
Church Road Grand Reserve Chardonnay 2018, Church Road, Hawke's Bay Chardonnay Trophy, New Zealand Chardonnay Trophy, New Zealand White Trophy
New Zealand:
Church Road 1 Syrah 2017, Church Road, Hawke's Bay Syrah Trophy, International Syrah Trophy
Portugal:
Fonte do Ouro Encruzado 2019, Sociedade Agrícola Boas Quintas, Dao White Trophy, Portuguese White Trophy
Portugal:
Tyto Alba 2016, Companhia das Lezírias, Portuguese Red Trophy
South Africa:
Boschendal Elgin Chardonnay 2018, Boschendal Wines, Elgin Chardonnay Trophy, South African White Trophy
South Africa:
Groot Constantia Sauvignon Blanc 2019, Groot Constantia Wine Estate, Constantia Sauvignon Blanc Trophy, International Sauvignon Blanc Trophy
Spain:
Legaris Moradillo de Roa 2016, Raventós Codorníu, Ribera del Duero Trophy, Spanish Red Trophy
Spain:
Granbazan Limousin 2017, Agro de Bazán, Spanish White Trophy
Spain:
Lustau Oloroso V.O.R.S 30 Years, Emilio Lustau, Oloroso Trophy, Sherry Trophy
Turkey:
Kav Boğazkere Öküzgözü 2017, Doluca Bagcilik Ve Sarapcilik, Turkish Red Trophy
Planet Earth Awards
IWC Organic Trophy 2020:
Maison Albert Bichot Volnay 1er Cru Les Santenots Domaine du Pavillon 2018
IWC Sustainable Trophy 2020:
Coal Pit Tiwha Pinot Noir 2018
IWC Fairtrade Award 2020:
La Riojana Coop Tilimuqui Fairtrade Organic Malbec 2019
IWC Special Awards
For Consistency over 5 years - Len Evans Trophy 2020:
Wolf Blass
IWC Best Wine in First Year of Production - James Rogers Trophy 2020:
Balfour Hush Heath The Red Miller 2018
IWC Lifetime Achievement Award 2020:
Aurelio Montes