The evening before his icewine harvest, winemaker Helmut Lang switches on his head torch and crawls under the nets in the family vineyards. It's -6°C and he wants to discard any bunches that show signs of disease or smell a little vinegary.
He knows his pickers, who'll be going out at 3am when the temperature drops below -10°C, won't have quality control foremost in their minds.
"This is only a small thing which makes the wine more perfect because in the harvest they are in a hurry," he tells
Canopy
.
Helmut, the reigning IWC Sweet Winemaker of the Year, can discard up to 20kg of grapes during his evening crawl. Surprisingly, he is happy to leave some of the dry leaves in the netting with the grapes as he thinks they add some complexity to the juice.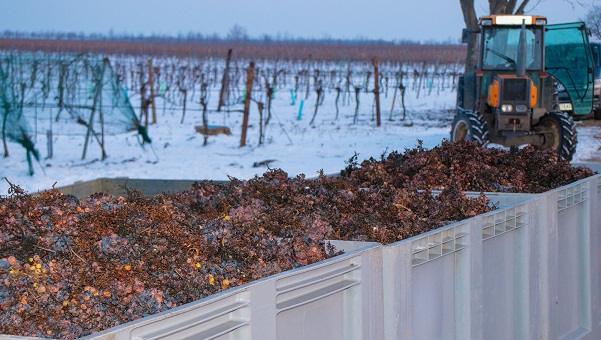 Helmut starts the slow process of pressing the frozen berries at about 7am. At midday he'll have a bowl of warm soup and then get straight back to work. "You have to get up otherwise you will sleep on the table," he says.
He'll follow this routine for two or three nights until his harvest is over for another year.
The harvest, for him, is "the easiest part". He says: "It takes only one or two nights. It's no problem, just the right clothes and gloves."
Helmut's grapes come from 18ha of vineyards in eastern Austria, on the eastern shore of Lake Neusiedl.
The Neusiedlersee region is a special area for sweet wines. Incredibly, it has produced the IWC Sweet Winemaker of the Year 15 out of 18 times in the last 22 years, and two of the other winners came from the western side of Lake Neusiedl.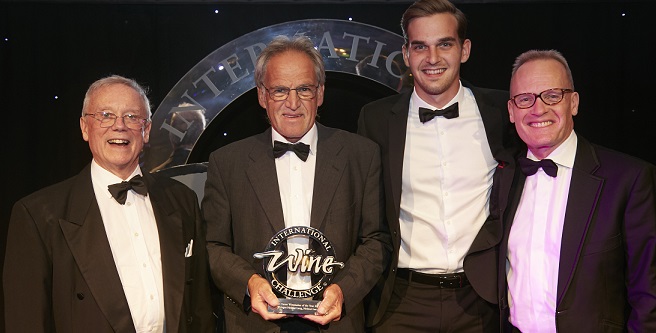 Following in the footsteps of Willi Opitz, Alois Kracher, Luis Kracher, Hans Tschida and Peter and Christoph Münzenrieder, Helmut took the award for the first time in 2018 after winning the Austrian Sweet Trophy with his Rheinriesling Eiswein 2005. He was also awarded two gold, eight silver and five bronze medals in the competition.
Helmut, the third generation of the family to produce wine in Illmitz, started when he was 15.
"It was easier to get botrytis then," he recalls.
He remembers working with his father and grandfather and seeing a reading of 32-33°KMW for a Gewürztraminer must at the end of September. Over the years the harvest for his botrytised wines has been pushed back to October and November, and, this year, finished on January 9.
"Never so late before... Is the skin getting harder because of the heat and preventing the fungus getting in?" he wonders.
The icewine harvest has also moved back, from November and December to January and February.
Helmut has a wide range of grapes to play with. This vintage he will use Grüner Veltliner, Riesling, Gelber Muskateller and Goldmuskateller for his icewines, Chardonnay and Pinot Noir for his Beerenauslesen, and Sämling 88 for his Trockenbeerenauslese. His vineyards are planted with 75% white varieties and 25% red varieties (including Zweigelt, Blaufränkisch, Merlot and Pinot Noir). 
The operating philosophy since the beginning has been to produce varietal wines, mostly in the sweet wine categories, which make up about 60% of the annual production of about 50,000 bottles.
In recent years, his yields have been hit by spring frosts. But the weather is not his biggest problem.
'A high percentage of consumers don't know the difference between sweet wine and sweet wine. This is the biggest problem'
"A high percentage of consumers don't know the difference between sweet wine and sweet wine. This is the biggest problem," he declares.
Would it be better to switch the emphasis from sweet wines to dry wines, I ask?
"No, the market is too big in dry wine," he replies, before suggesting: "It shouldn't be allowed in our DAC to make dry wine."
His son, also called Helmut, is currently studying food production and plans to take over from his father one day. He is more open-minded regarding wine styles. He tells
Canopy
: "You can't say what you're going to be making in ten or 20 years."
But his mother, Helmut senior's wife Karin, is not completely happy with her son's career choice. "She knows how much time I lost with the children. When they were playing football, I was on the tractor," Helmut senior explains.
"But you can't have everything. I am my own boss."
Related articles from our special Illmitz-Apetlon issue