The vineyards on the eastern shore of Austria's Lake Neusiedl, between Illmitz and Apetlon, are blessed with the perfect conditions for all levels of sweet wines. There's the warm, shallow lake itself – 320sq km of heat storage – which extends the growing season and provides the kind of humidity that encourages noble rot. There's the additional boost from more than 30 salt lakes around the villages, ensuring high humidity no matter how the wind blows.
There's also the proximity to the Pannonian Plain in neighbouring Hungary, and the relatively high sunshine hours, which make this part of Burgenland the warmest in Austria.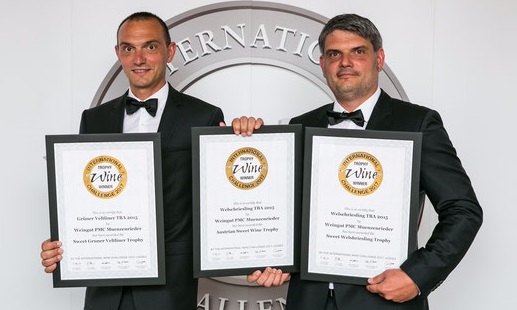 Since 1996, the Neusiedlersee DAC has produced the IWC Sweet Winemaker of the Year 15 out of 18 times. The run began with maverick winemaker Willi Opitz (
top
picture
) and continued with multiple successes for the Kracher family (1997, 1998, 2000, 2001, 2006, 2008, 2009), and Hans Tschida (2010, 2011, 2012, 2013). In 2017, brothers Peter and Christoph Münzenrieder (
above
) of Weingut PMC Muenzenrieder took the title, and in 2018 Helmut Lang triumphed.
Peter Münzenrieder explained to
Canopy
why the region is so special: "No matter which direction the wind comes from, you always have humidity on the grape, so botrytis has the best conditions here in these two villages (Illmitz and Apetlon)."
The sweet wine categories include Beerenauslesen, Auslesen, Trockenbeerenauslesen, and Eiswein (icewine).
'You have to wait, wait, wait and the quality goes down'
However, many of the wine producers I met on a recent trip to the region have stopped producing icewine. Weingut PMC Muenzenrieder quit three years ago. Peter Münzenrieder said they used to harvest the frozen berries at the end of November or beginning of December, "but now it's impossible, you have to wait, wait, wait and the quality goes down, the quantity goes down, and the wines, after five years, break down because you have the grapes so long on the vine."
Instead, PMC focuses on 50% red, 25% white and 25% sweet (from botrytis-infected grapes). 80% of the sweet wines are exported, while the reds go to the home market.
But climate change means it's also becoming harder for noble rot to develop consistently in the key local grape varieties – Welschriesling, Chardonnay, Riesling, Traminer, Scheurebe, Yellow Muscat and Muskat-Ottonel.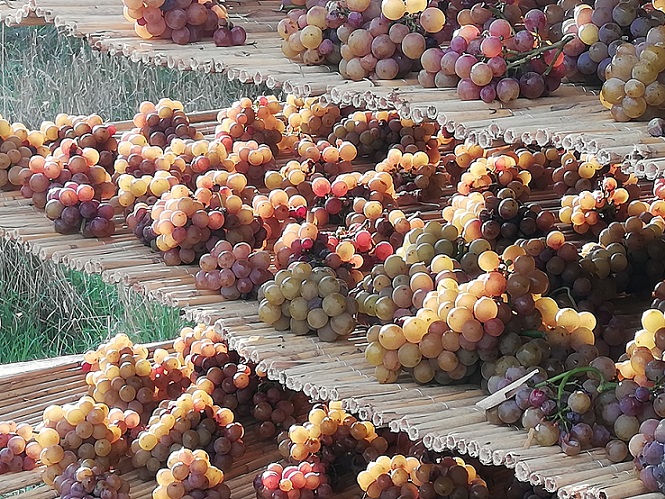 To ensure he gets high-quality sweet wines every year, Willi Opitz has developed a new method. 'Schilfwein' is made from grapes air-dried on reeds, which are cut from the local lake and placed on racks of shelves. These shelves line three polytunnels in a small field near the Opitz winery, guest house and restaurant. One advantage of this method is it enables Willi to make sweet red wines. His signature wine, Opitz One, is made from Zweigelt grapes dried on reed mats for six to eight months before being squished in a small basket press.
"Most dessert wines are white but most desserts are chocolate," Willi, a former mechanical engineer at Mars, points out.
'People are not willing to pay the right amount for the wines we are producing here'
While other winemakers in Illmitz were dragging their nets over their vines or sweating on the development of botrytis, Willi's grapes were safely under polythene. "Nothing can happen," he said as we strolled through the polytunnels. "I can go on holiday now for three months, whereas the producers of TBA and other sweet wines are under stress."
Netting, he pointed out, is expensive to buy and a hassle to put on and take off. "But," he said, "people are not willing to pay the right amount for the wines we are producing here."
The idea for 'Schilfwein' (reed wine), he said, came from his desire to help his plants. He believes other forms of sweet wines stress the vines "every year heavily".
When he started making wines, first part-time and then full-time from 1995, he would alternate the style of wine: "One year ice wine, one year Schilfwein, the next year botrytis, then repeat."
Now, in a crowded market, he simply wants to produce something "outstanding, something unique".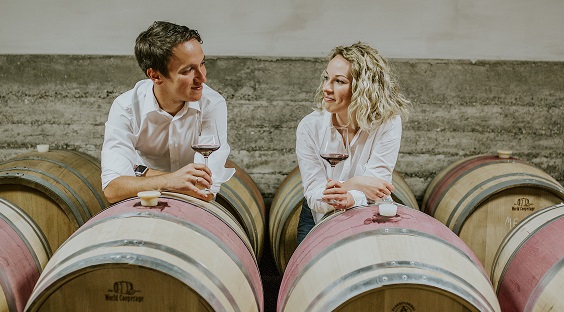 Although the numbers of vineyards and sweet wine producers are in decline here, all is not lost. The fourth generation at Weingut Haider, for example, believe in the area's Prädikatsweine heritage.
Gerhard Haider, who worked at Alois Kracher before joining father Martin at the family winery, told
Canopy
: "Our main focus is still growing pure and straightforward Prädikatsweine which reflect our region."
Sweet wines still account for about 60-65% of Haider's portfolio.
The only major change in recent years is that Gerhard and wife Theresa (
pictured above)
 are taking the 15ha estate, which dates back to 1870, along an organic route "step by step".
"We have to do it," Theresa said. "It's the more expensive route, but I think it is worth it."
Related articles from our special Illmitz-Apetlon issue