Grillo, one of the three key grapes used in the production of Sicily's famous, fantastic but unfashionable fortified wine, Marsala, is breaking free of its roots and setting its sights on the market for light, easy-drinking, good value Italian whites. Sicilia DOC, the body which is encouraging producers to lower their yields in pursuit of higher quality, believes it should be considered as an alternative to Soave, Gavi and Pinot Grigio.
Like many of Sicily's grapes, it is also drawing attention because of its ability to withstand high temperatures and drought.
Post-phylloxera, Grillo plantings grew at the expense of Catarratto with the goal of producing a more aromatic Marsala (typically a blend of Grillo, Inzolia and Catarratto).
Plantings then nosedived again in the 1960s, when producers planted more vigorous varieties for bulk wines. Grillo's rebirth started in 1990, when legendary Marsala producer Marco de Bartoli decided to vinify Grillo on its own as a dry white wine. In the decade from 2004 to 2014, Grillo plantings grew by 180%, reaching approximately 6,500ha. Antonio Rallo, president of the DOC Sicilia consorzio and co-owner of the Donnafugata winery, calls Grillo's resurgence dramatic. "Grillo has taken off, especially in the US," he says. "It's fresh and easy-drinking, but with a savoury note that gives it a distinctly Sicilian personality."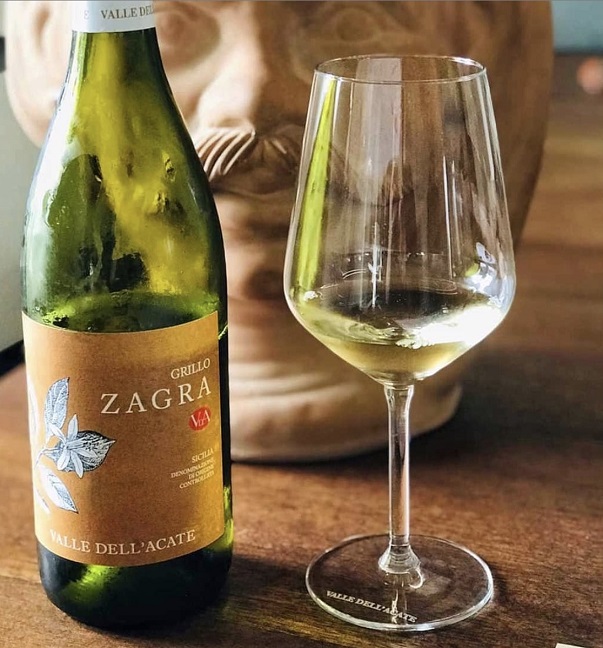 I visited Sicily, the largest island in the Mediterranean, to see how local producers are handling this underrated grape variety and to see if any of them are doing anything slightly different to stand out from the crowd.
The modern method of making Grillo, a crossing of Catarratto Bianco and Muscat of Alexandria (Zibibbo locally), is typical of reductive white wine production. Grapes harvested late August to early September are destemmed, crushed, and cold-soaked. The free-run juice is then fermented using selected yeast strains in stainless-steel tanks at a controlled temperature (14-18°C), and the resulting wine is left on lees for a few months to impart complexity and depth of flavour. Sometimes a percentage of the wines are aged in oak barrels for added complexity.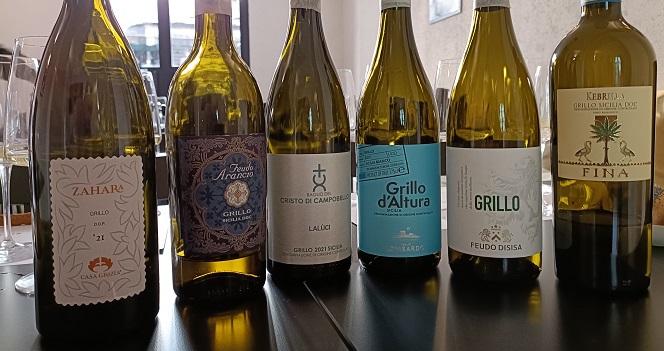 The Grillos I tasted were generally light with crisp acidity. The nutty, fruit-driven flavours included citrus fruits (especially lemon) with notes of apple, pear, and jasmine.
Alcohol was usually in the 12.5-13.5% range.
Delving a bit deeper, I discovered there are four clones: Regione Sicilia 297, VFP 91, 92, and 93. As the VFP 91-93 are similar, they are usually referred to as biotype B, while the more widespread and productive Regione Sicilia 297 is biotype A.
Biotype A
has more compact bunches and larger berries. It has greater acidity and a citrus and exotic fruit aromatic profile.
Biotype B
is less productive, has looser bunches, smaller berries, and potentially greater sugar ripeness – which results in higher alcohol levels, lower acidity, and a more floral, spicy and ripe white fruit aromatic profile. Plantings of this biotype are on the rise to satisfy the increasing demand for fruitier white wines.
Making Grillos

Donnafugata's SurSur
From grapes grown on Donnafugata's Contessa Entellina estate and the hilly hinterland in southwest Sicily, SurSur is a fresh and informal Grillo with aromas of peach and cantaloupe melon and notes of wildflowers and mint.
Yield per ha:
7,500-8,500kg
The grapes, harvested in late August and early September, were fermented in stainless-steel tanks at a temperature of 14-16°C (57-61°F). The wine was aged in tanks for two months and in bottles for at least three months.
Alcohol:
12.73 %
Total acidity:
5.4g/l
pH:
3.20
The label:
Grillo is an ancient Sicilian grape variety, and also a cute little animal (the cricket) that brings good luck. The name SurSur also means cricket in the classical Arabic language which was once also spoken in Sicily. The label also shows the "voice of spring, with its scents and colours" and Gabriella (who founded Donnafugata with husband Giacomo) as a girl in flight, running barefoot through the flowers and fresh grass, following the singing of crickets that sounds sweet to her ears, like a thousand "SurSur".
Feudo Arancio Grillo
This wine has more tropical aromas (mango and papaya), which blend with hints of jasmine and white flowers.
Grapes from Acate, in the province of Ragusa, are picked in early September and vinified in a reductive manner. After destemming and pressing, the juice is left to settle naturally before racking and fermentation at 18°C for 10 days. Maturation on lees is for five months with continuous mixing to give "greater body to the wine".
Alcohol:
13%
Fina Kebrilla Grillo
A fairly savoury wine with grapes harvested from vineyards adjacent to the coast in western Sicily at the end of August.
Yield per ha:
8,500-9,000kg
Fermentation and maturation are 20% in barrique and 80% in steel. The wine is aged in bottle for three months.
Alcohol:
13.50%
Baglio del Cristo's Lalùci
There are mineral notes in this wine, as well as the typical citrus fruits, white peach, pear and green apple.
Yield per ha:
9,000kg
Grapes hand-harvested from a hilly terrain are destemmed and crushed, and the temperature is dropped to 8-10ºC for the maceration. A light pressing follows, after which the free-run juice is separated, settled and fermented in steel tanks at a controlled temperature. After fermentation, the wine stays on lees for four months and in bottle for at least three months.
Alcohol:
13.5%
Total acidity:
5.9g/L
pH:
3.20
Tenute Lombardo's Grillo d'Altura
Floral and citrus scents dominate this fresh and fruity Grillo.
Grapes from 650m-high vineyards in central Sicily are handpicked and selected in early September.
Yield per ha:
11,000kg
Fermentation is in stainless-steel tanks at a controlled temperature of 13°C. Maturation is also in tanks, at 15°C.
Alcohol:
12.5%
Casa Grazia's Zahara Grillo
Grapes grown near Lake Biviere, the largest coastal lake in Sicily, are handpicked near the end of August.
Yield per ha:
9,000kg
They are destemmed and gently pressed. After natural settling, the must is fermented in stainless-steel tanks at 16°C for about 15 days. The wine is aged on lees for four months and in bottles for two months.
Alcohol:
12-13%
Valle dell'Acate's Zagra
Grapes grown in eastern Sicily are harvested in late August.
Yield per ha:
6,000kg
They are fermented in stainless-steel tanks at 17°C. The wine is left there for four months and in bottle for another four months.
Alcohol:
12.5%
Total acidity:
 6.29g/L
pH:
3.25
Feudo Disisa Grillo
Selected grapes from the Grisì-Monreale region near the capital, Palermo, are fermented at a controlled temperature of 15-18°C. The wine is aged in stainless steel for six months and in bottle for 60 days.
Yield per ha:
7,000kg