Wine producer Stefano Girelli's goal of doing something different in Sicily has hit the back of the net with his latest releases: three limited-edition, single-vineyard reds made from native grape varieties, using some unusual winemaking techniques. Like keeping red wines on skins, seeds and gross lees in amphorae for a year or rotating barriques every day to integrate the aromas and tannins.
"We believe that the future is not producing a wine that is similar to others, it's really to create your own identity," Stefano says over lunch in London, accompanied by his winemakers Mattia Giacomelli and Stefano Chioccioli.
As he introduces the three wines – O, Avulisi and Boscopiano – he says: "The whole idea was to create wines that are a pure expression of the terroir, the territory, the tradition and the grape variety."
Production of each is 2,000 bottles.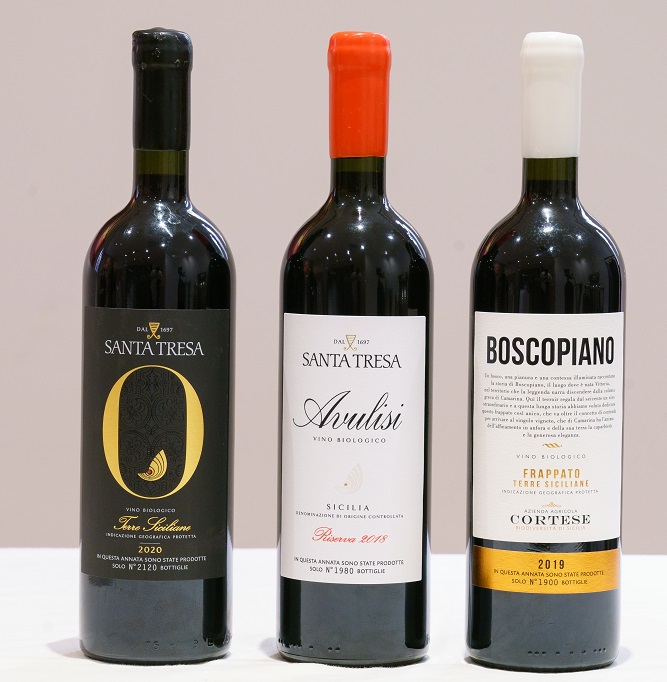 Santa Tresa Orisi 2020 – O
O is made from the rediscovered, ancient Sicilian grape variety Orisi, a native crossing of Sangiovese and Mantonico Bianco brought back to life at Santa Tresa, which Trentino-based Stefano and his sister Marina bought in 2001 to fulfil their dream of producing organic wines.
They have spent several years experimenting with the winemaking protocol for this high-acidity, tannic red and, according to Mattia, are "finally happy". Here's how they did it in 2020:
Grapes from 1,523 vines are handpicked into 15-18kg crates, which go into a cool room overnight to chill down to 7-8°C.
The softly crushed and destemmed grapes are inoculated for fermentation in medium-sized Slavonian oak barrels.
Extraction is from regular punch-downs.
The wine remains in these barrels for spontaneous MLF.
After topping up, the wine is left with skins, seeds and gross lees until the next harvest.
The wine is then racked to a stainless-steel tank, where it spends a further four to five months.
It is fined with minimal vegetal proteins (from pees and potatoes).
Avulisi Riserva 2018
Avulisi is made with Santa Tresa's best Nero d'Avola grapes from the estate's oldest vines, planted in red soil in 1964. The beautiful single vineyard is only about 0.5ha, and the yields are extremely low (23-24 hl/ha).
The grapes for the 2018 vintage were hand-harvested into 15kg crates at the end of September.
As with O, the grapes are refrigerated overnight to lower the temperature to 7-8°C, then gently destemmed.
The single berries are sorted by hand, with only the very best used in this wine.
The first phase of the inoculated fermentation features an element of carbonic maceration, as much of it is with whole berries.
The fermentation takes place in fine-grain French barriques, with different sections of the vineyard vinified separately.
Extraction is from rotating the barrels every day. "In this way, the aromas and tannins become extremely well integrated, while maintaining perfect fruit quality."
The wine remains on skins in the barriques for a total of 40-45 days.
After MLF, two barriques are combined into one.
The wine is aged for 12 months in barrel, followed by another six in bottle.
Fining is with minimal vegetal proteins (from pees and potatoes).
These "integrated vinification" techniques result in rounder wines with greater volume, richness and complexity, a defined aromatic character, and a lovely silky, well integrated finish, according to the company.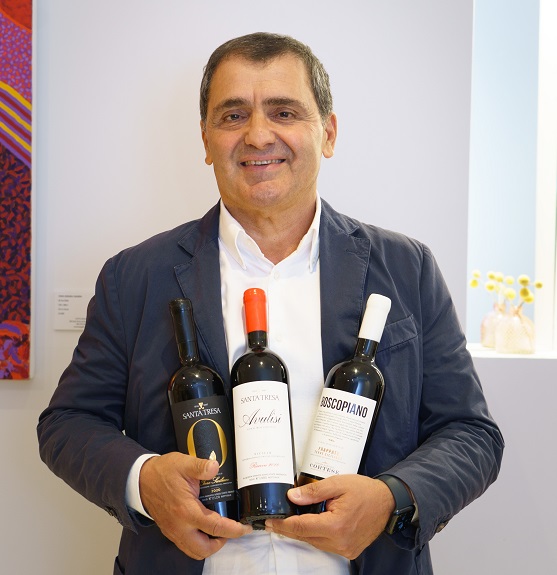 Cortese Boscopiano Frappato 2019
Another of the grape varieties grown at Santa Tresa is Sicily's oft-underrated Frapatto. But the top-notch Boscopiano 2019 comes from a single vineyard of just over 1ha (4,500 vines per ha) at sister estate Azienda Agricola Cortese, which the Girellis purchased in 2016.
This version features late-picked grapes (early October) and fermentation and maturation on solids in 700L amphorae until the next harvest.
Stefano Chioccioli (
above
) commented: "I hope that amphora gave something more."
The grapes are hand-harvested into small crates (15-18kg) and refrigerated overnight to 6-8°C.
The grapes are destemmed and the berries are sorted before gentle pressing.
Different parcels within the vineyard go into different amphorae for fermentation.
Extraction is through regular punch-downs during fermentation.
After fermentation, the amphorae are topped up with the same wine for spontaneous MLF.
Maturation is on solids until the next harvest.
Then the wine is racked to steel for a first blend and left to settle for two months.
Further blending and resting in the tanks takes place over another few months to finalise the wine.
Fining is with minimal vegetal proteins (from pees and potatoes).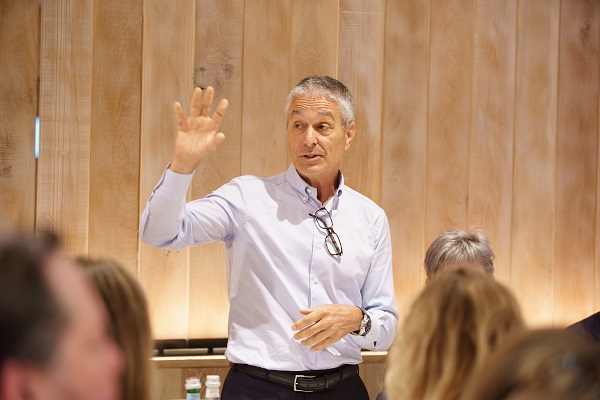 Organic approach
Stefano Chioccioli believes one of the reasons these wines are so complex is because of the biodiversity in the vineyards.
"Many flowers, many insects and animals…" he says. "We don't call our vineyards 'vineyards' but ecosystems."
He adds: "Very complex vineyard gives very complex grapes. This is the goal."
Stefano Girelli (
above
) says the whole island has "incredible biodiversity" but, for him, the important thing is growing the "incredible grape varieties" organically.
"Growing organic grapes is really the future," he says. "I think it's our duty to really take care of what we manage in terms of land and hopefully to really make a better place than what we found at the beginning."
They still use a little copper and sulphur "but only in that little part of the vineyard" that's affected by mildew.
They have also started incorporating biodynamic techniques. Stefano says: "I'm not thinking of going biodynamic, but biodynamics has a lot of concepts and good things and if they are applied correctly, they can really show the difference. We have vineyards that are organic and biodynamic and when the wines are produced, they taste differently. I'm not telling you which one is best but they are different so there is an influence. Biodynamics is a very interesting approach."
Given all this, I'm always surprised that Santa Tresa and Cortese wines are inoculated for the fermentations. Stefano explained why in a
previous article
. Basically, it's because he would rather use less SO2. His winemakers, however, are experimenting with a wine with no added sulphur. The aim is eventually to move towards native ferments. "You expose yourself to a lot of potential risk but there is a typicity that is even more than what we're doing today," he reflects.