I have fallen in love with Pinot Grigio.
That's quite an admission for me. It's the variety I have avoided for so many years. So much so that I paid corkage at my daughter's wedding when the venue said it served Pinot Grigio because it "didn't offend anyone". I served a Juhfark from Hungary's Somló region, a sparkling pink Blaufränkisch from Slovenia and a Plavac Mali from Croatia.
Many of the guests would have preferred a Pinot Grigio from Italy's Veneto region.
My love affair with Pinot Grigio began late last year in Italy's Collio wine region – where producers are reviving
the ramato style
. The love affair blossomed in Croatia earlier this month after discovering three winemakers who were using the variety for a wide range of distinctive wines – from oak-aged to extended skin-contact in qvevris, from sparkling to rosé.
It really is one of the finest grapes. And it's good to see Croatian producers upgrading their Pinot Grigio offer to cater for the likes of me rather than my in-laws.
'She shows me a barrel that's been in use since 1827'

Vino Lovrec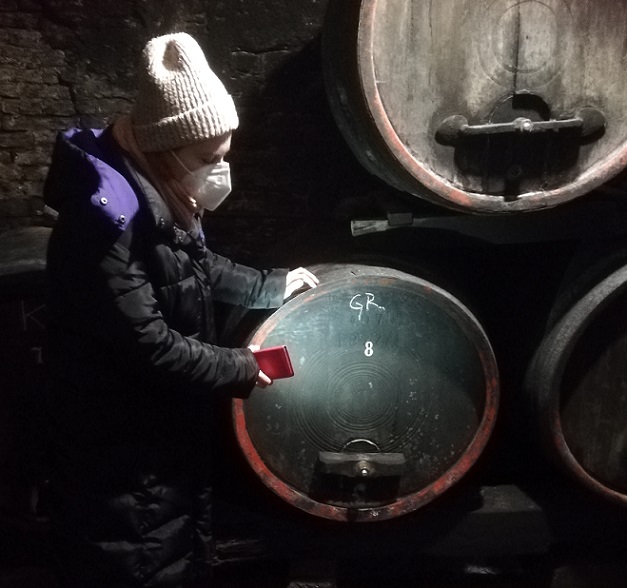 Jasna Lovrec (
above
) shows me round the winery's small museum, displaying artefacts from her family's long winemaking tradition. She then takes me into the cellar, which dates from the 16th century. It's hard to tell where the museum ends and the cellar begins. She points out a barrel that's been in use since 1827.
Inside is Pinot Grigio from the 2021 vintage, marking the first Vino Lovrec wine that will be officially certified organic. "It will be in this oak barrel until autumn when we will put it in bottles for ageing," she says.
Jasna, her brother Krešo and father Franjo are deciding whether to market it separately. They already have three Pinot Grigios in their portfolio, after discovering the potential of their two diverse clones, H1 and 27 Gm.
Franjo restored the family's winemaking tradition in the 1990s, after the breakup of Yugoslavia. They have 6ha of (now) organic vineyards near the small winemaking village of Sveti Urban, in northern Croatia, close to the Slovenian border. They grow ten varieties here: Sauvignon Blanc, Silvaner, Riesling, Chardonnay, Yellow Muscat, Gewurztraminer, Merlot, Cabernet Sauvignon, Syrah and Pinot Grigio.
The family planted their Pinot Grigio vines in 1999, on a small hill called Perjak, but it's only in recent years that they have vinified the different clones separately.
"At first, we harvested them together and we got a typical wine of Pinot Gris with light copperish colour," Krešo (
below
) says.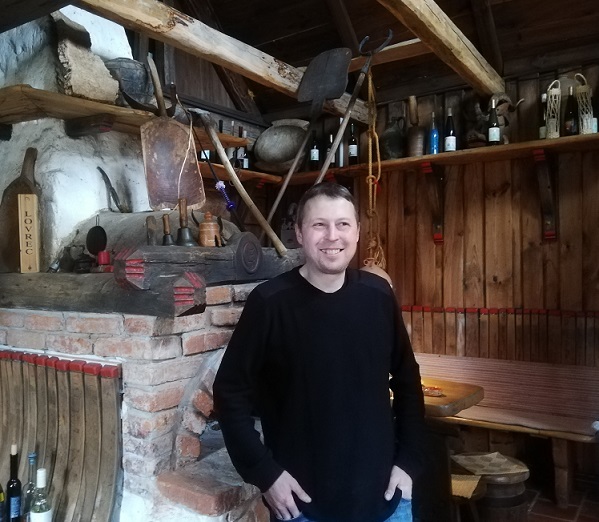 The winemaker pours me the recently bottled fresh-style Pinot Grigio 2021. He explains this Slavonian clone, H1, "has a good sugar content and a very stable yield. It was a very widely spread clone in the past. We use it for quick pressing and white wine".
The rosé, which gets its light pink colour from 24 hours' cold maceration, is from Swiss clone 27 Gm (also called 27-2 Gm). "This clone has smaller bunches with a certain amount of small berries, so that they are not compact and will seldom be infected by botrytis. We use it for our rosé, as it has a darker colour of grapes," Krešo continues.
"We wanted to make something original, hopefully we achieved that with this rosé from Pinot Gris and not from pressing some red wine variety.
"It is a challenge because Pinot Gris is sensitive to grey rot, especially in organic viticulture. On the other hand, Pinot Gris is very resilient to frost which can be a problem, despite climate change."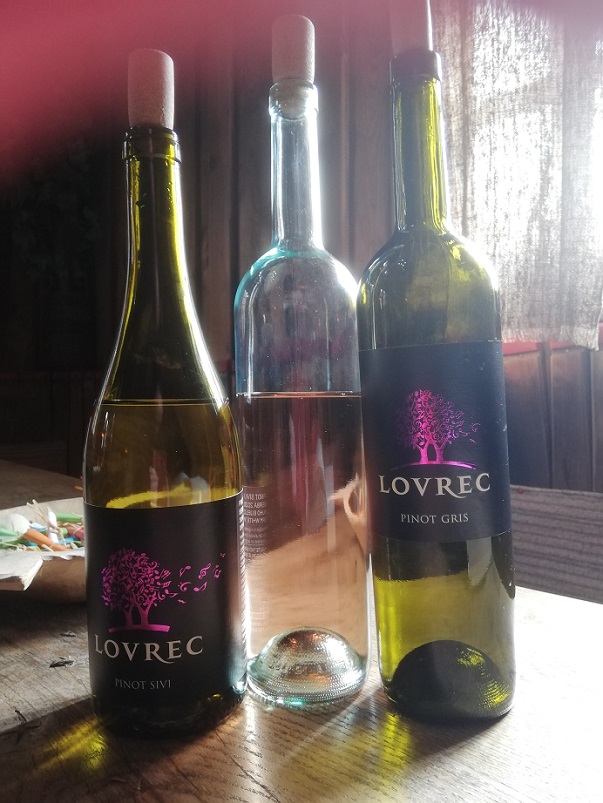 The last wine in the trio of Vino Lovrec Pinot Grigios comes from the archives. It's from the 2016 vintage, which marks the family's second year of conversion to organic farming, and features both clones. Wines for ageing are only made in certain years. Krešo explains: "Each year is different and not equally good for ageing the wines. Some wines are better when they are younger. Years with enough rain are good for ageing. Very dry years give Pinot Gris with lower acidities. That kind of wine loses freshness with ageing. After vintage 2016, we think 2021 could be good for ageing. Vintages 2020 and 2019 were very good too, but we had less quantity because of hail."
While I'm looking at the label, two things jump out at me: this wine has 14.4% alcohol.
I also notice they no longer use plastic capsules over the corks. "As organic winegrowers, two years ago we decided not to use PVC capsules because eco and sustainable packaging is also a very important aspect of our organic winery," Krešo says. "It is a small step, but it makes us feel better."
Kolarić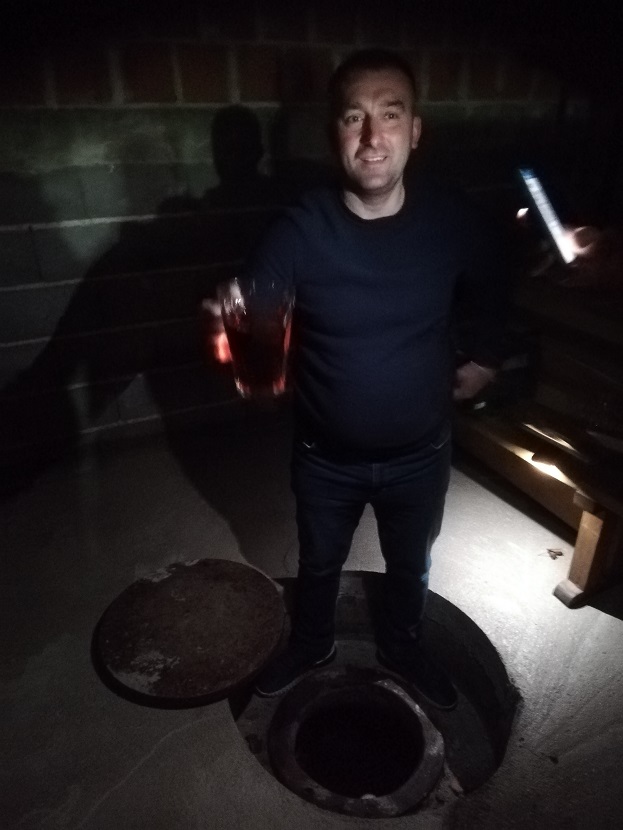 Franjo Kolarić (
above
) dips a jug into a qvevri buried in his new marani and pours a sample of what will become his Amfora Grigio 2021, after one year in the qvevri and two more in large oak barrels.
The Georgian qvevri is one of four – all with capacity for 1,200L of must – in this new addition to the family winery in Plešivica, a continental wine region about an hour's drive from Croatia's capital Zagreb. Franjo says he is sourcing 120-year-old qvevri from Georgia, which are being dug up during the construction of a new road. Sadly, only about a third are coming out intact, but he hopes they will give him something special for a new line of wines.
The copper-coloured Pinot Grigio is one of four styles available at the Kolarić winery, which brands its wine under the Italian version of the family name, Coletti.
Franjo was a young man in a club in Slovenia when he tasted his first Pinot Grigio in 1997. He came home and told his father to plant the variety. The Kolarić family, which has 40,000L of fresh-style Pinot Grigio ready to bottle when I show up, has been making Pinot Grigios since 1999, but has only "upgraded" the variety in the past five years.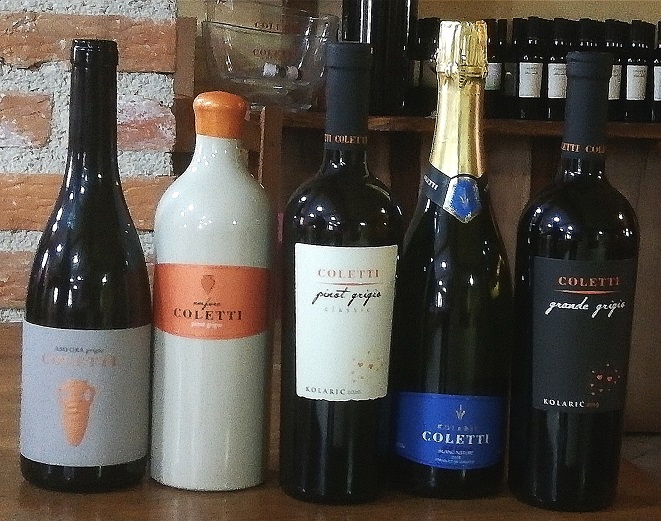 As well as the fresh version, they make the more serious Grande, which is fermented and aged for a year in used 500L barrels, and the zero-dosage sparkling Penusac Grigio, which spends three years on lees.
But it's the copper-coloured Amfora Grigio that I'm most curious about. When I first encountered this wine a couple of years ago, it came in an eye-catching ceramic bottle. Supply issues mean the 2019 is being served to me from a glass bottle.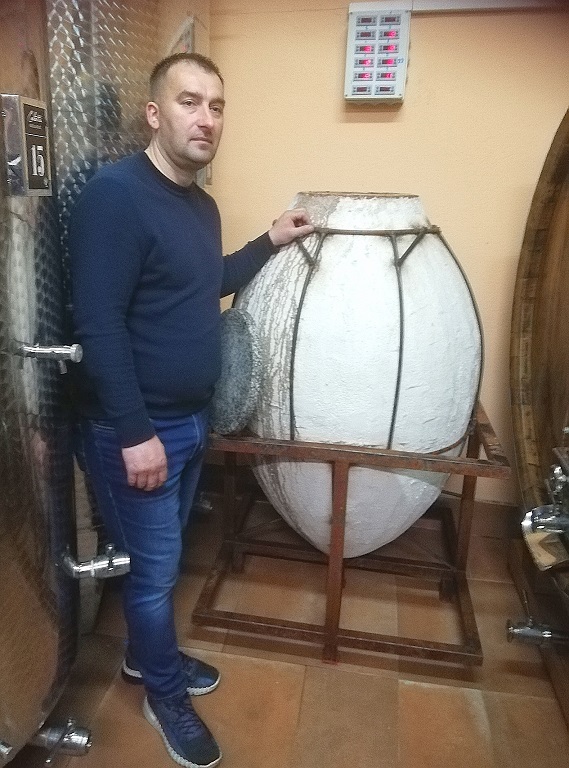 It's made with destemmed and crushed grapes, and native yeasts. The cap is hand-plunged a couple of times a day during the fermentation period. When that's finished, a little SO2 is added (about 18mg/L) and the qvevri is sealed for three months. Then the lid is lifted again to check the wine's condition and to maintain the sulphur level at 18mg/L. The analysis is repeated after a further four or five months in the ground at a natural 16°C. The wine is racked off the skins and into barrels just before the next harvest. Franjo admits he leaves about 500L of the 1,200L in the qvevri but, he says, he was advised by Kabaj's Jean Michel Morel, a Frenchman who has become one of Slovenia's top orange winemakers, not to be greedy – and not to take any of the sediment. The wine is beautifully clear as a result.
He met Jean Michel and his wife, Katja Kabaj, in the seaside resort of Zadar. One of the other things he recalls Jean Michel saying is that you should macerate for two days or one year. He chose a year.
After two years in barrels, the wine is bottled unfiltered with minimal SO2.
This was my favourite Pinot Grigio until I met the Jagunić family.
Jagunić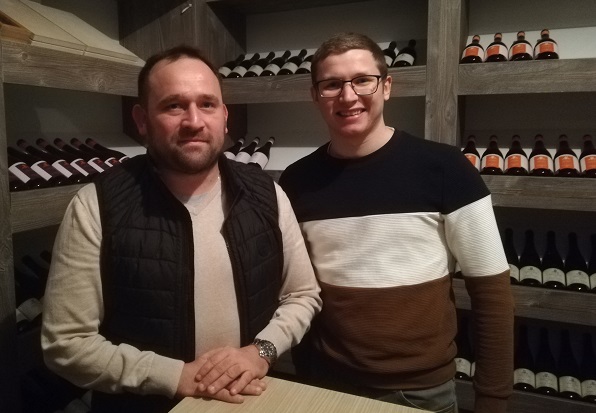 Dominik Jagunić (
left
) is from a winery and region (Plešivica) that specialises in sparkling wines. At a wine fair in Geneva he tasted a Sauvignon Blanc from Jura, the French region known for its vin jaune wines. "We didn't copy the Jura style, but it changed our mindset," he recalls as we taste Jagunić's exceptional Amber Selection Pinot Grigio 2017.
Dominik and his brothers Martin and Zvonimir fell in love with natural wines and added skin-contact creations to the family winery's portfolio in 2016. Their output of 30,000-40,000 bottles per year is now split 70% fizz, 30% amber. They pick their grapes for the amber wines about three weeks later than for their classic-method sparklers, having removed any bunches that aren't healthy during what Dominik calls "two negative harvests".
In the future, they would like to combine the two styles and produce a sparkling wine where the base is produced in amphora. Meanwhile, they have the best Pinot Grigio I have tasted.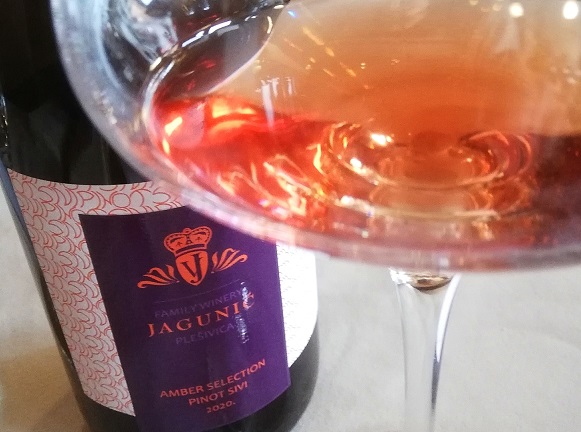 Like all their Amber Selection wines, which also include a Riesling and Traminer, the wine spends six months on skins in old Hungarian oak barrels. Their technique includes destemming and crushing, spontaneous fermentation and MLF, maturation in the same oak barrels after racking off skins and pressing, no fining or filtration, and a small addition of SO2 (about 40mg/L total and 5mg/L free) before bottling.
The three brothers, who work their own 5ha of vines and a further 3ha belonging to neighbours, started their sparkling programme in 2011 (releasing their first wine in 2014) and their amber wines five years later. They are building their portfolio to offer four sparkling wines and four amber wines.