Discordance between wine colour and taste expectations might just be the tipping point between consumers liking or disliking your wines.
In a new study,
Wang QJ (2019)
provides a stark example of how we can significantly influence tasters' experiences by modifying wine colour and how a discordance between colour and taste expectations can potentially create a negative reaction. The study involved sensory evaluation of a white wine, a rosé wine and a white wine dyed to look like a rosé.
Here are the key findings:
Experienced wine tasters judged the dyed white wine to be more similar to the rosé wine than the white wine;
Red fruit descriptors were associated by the tasters with the dyed wine (and the rosé wine);
The dye resulted in a shift in the detection of aromas from green apple and pear (olfactory) to strawberry and rose and by tasting from green apple and lemon to strawberry and grapefruit;
The dyed wine was less liked and found to be somehow different.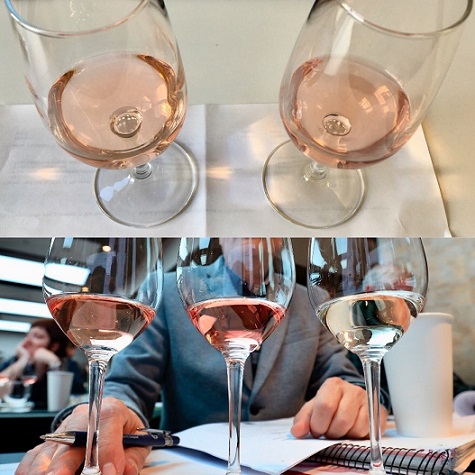 Top left: Artificially dyed rosé. Top right: Actual rosé. Bottom: An image from the actual tasting, with the fake rosé on the left, rosé in the middle, and white wine on the right.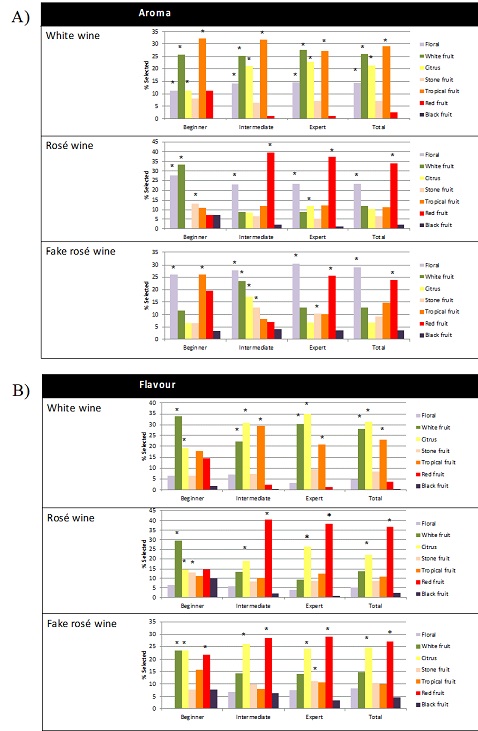 Figure 1:
Distribution of A) aroma and B) flavour descriptors for the three wines, sorted by participant expertise level. Note that the right-most column shows the total participant population. Distribution is normalised as the percentage of the total number of descriptors selected for a particular wine and by the particular set of participants. Asterisks indicate where the descriptor group was selected above chance level.
For background information on colour perception see my previous article in Canopy.
James Wright is an international viticulture and management consultant and author of www.vitisynth.com and the newsletter VitiSynthesis.