Winemaker Rebekah Wineburg is extremely busy – and that's before the imminent harvest at Quintessa, one of Napa Valley's premium estates.
On Monday she was assessing the 2021 wines, tasting all the lots and working on the red blend with international consultant Michel Rolland. They also dipped into the archive to gauge the evolution and future of past vintages.
"It's a good day," Rebekah admits. "But not great for my teeth."
On Tuesday she met with artist
Bob Johnson
who has produced a stunning pen and ink drawing of the 280-acre estate in the Rutherford AVA, 135 of which are planted to Bordeaux varieties. Now he is going to draw another map showing the unique geology of each of the 26 blocks on the property. It's so Rebekah and other members of the team at Quintessa, which is owned by Chileans Agustin and Valeria Huneeus, can explain why the flavours of Cabernet Sauvignon vary so much from block to block, and why Quintessa focuses on a single blend to showcase the whole estate.
"It's going to be something amazing," she comments, as it draws on the work of terroir expert Dr Pedro Parra and geologist Brenna Quigley. The resulting artwork, Rebekah says, will "share 50 million years of history".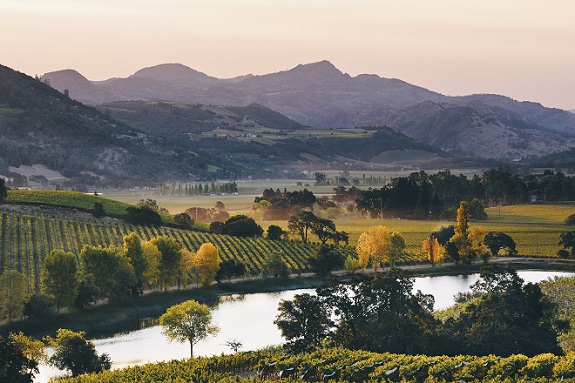 This morning, before our Zoom chat, Rebekah had been walking in the vineyards as usual, thinking about the 2022 blend and what she's going to do with each lot when it reaches the crushpad on the roof of the winery. She will have an incredible array of components to blend over the coming year to 18 months: 26 blocks, 70 to 80 pickings, five varieties, free run plus a couple of cuts of the press, fermentation in stainless steel, oak or concrete, ageing in wood or amphorae…
But before the month-long harvest gets under way, there are a couple of things to organise:
The harvest ceremony;
Making the pied de cuve.
The harvest ceremony involves passing a freshly picked bunch of grapes through the hands of the team: from vineyard manager to vineyard crew and winemaking team, and then to the hospitality and sales teams. "In this way we honour all of the people who help to make and sell the wine," she says. "I'm figuring out what day that's going to be. We've already started the Illumination harvest (for the estate's small parcel of Sauvignon Blanc) and for that it's a much smaller ceremony. First, we did an intimate asking of permission from Quintessa, the estate. So just the vineyard team, myself and the tourist estate director. We gathered at dawn in the spiritual centre of the vineyard – a series of rock wells and an open labyrinth design underneath some of the oldest trees on the property – and acted a ceremony to ask permission before we do the harvest."
Rebekah continues: "It's an idea that comes from the traditional practices of a lot of indigenous communities of thanking the place or thanking the animal before they harvest it. It's about taking that time to feel the connection to the land. That's why we did it with the vineyard team – because they have such an intense and personal connection to the place and they feel it."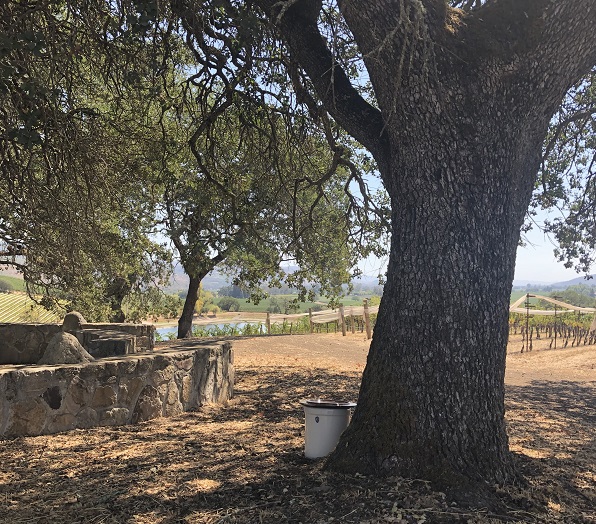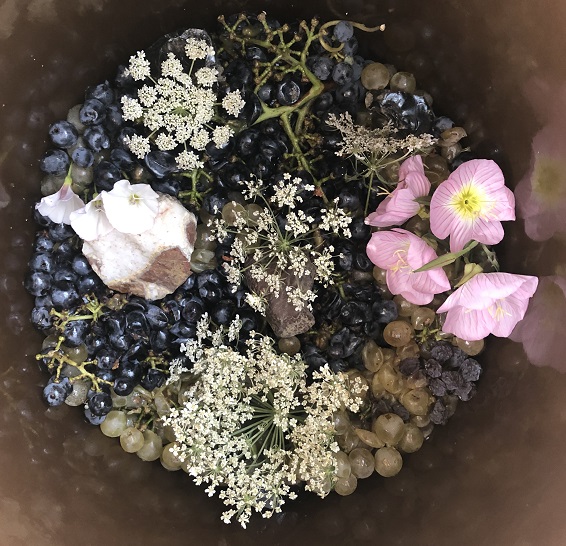 This spiritual place is also where Rebekah keeps the pied de cuve. For this starter yeast, she picks some grapes a couple of days before the harvest begins and places them in a ceramic pot with wildflowers and small rocks. It almost looks like a beautiful flower arrangement (
above
). The ceramic pot is placed under one of the estate's oldest oak trees for about five days. Rebekah used to use an orange bucket but the director of marketing bought her the more Instagrammable ceramic pot.
She tosses a cupful of this pied de cuve into the first tank.
"My philosophy," Rebekah explains, "is that this is making that connection (with the land) stronger and helping to make the dominant yeasts inside the winery to be from the vineyard. So, once you've got a few tanks fermenting, it's in the air – everything is going to go. By the end of harvest, it can be hard to keep the cold soak from going because there is just so much yeast in the air."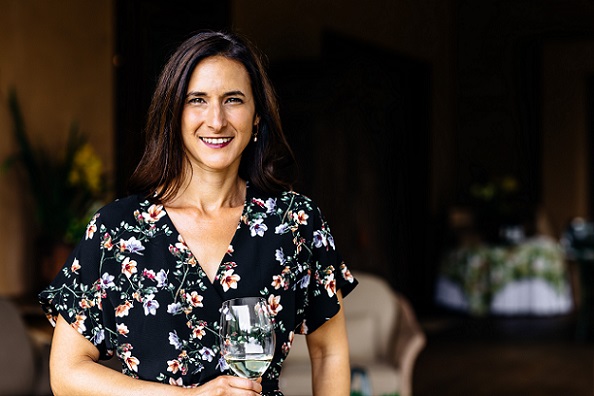 The harvest will probably begin with one of the newer blocks of Cabernet Sauvignon. So far, Rebekah (
above
) thinks it will be a good vintage with "moderate to low yield but not as extremely low as '21". However, it could be "an exceptional vintage", she says, if they have "another two or three weeks of great weather".
Before all that there's the little matter of launching and promoting the 2019 wine on September 1. It's a beautiful wine with nuance, depth, and great persistence: 91% Cabernet Sauvignon, 4% Cabernet Franc, 2% Merlot, 2% Carmenère, and 1% Petit Verdot.
"That blend just came together," Rebekah tells me. "Some years it's just so obvious what the expression is. 2019 was mild, it was even, there was good rain in the winter, so every part of the estate showed in its best light."
This seems a good moment to ask for a masterclass in blending.
"For me, I start thinking about the blend when I walk around the vineyard," Rebekah obliges. "I'm thinking about teasing the best out of the grapes; I'm thinking about the picking decisions."
As she walks among the vines, she observes them to understand them. "Walking the vineyard all the time, all year round, you really get to understand the different characters of it. And tasting through the grapes as they start to mature, you can think about how best to highlight their unique character in the winery."
Once the wines are made (
see below
), she tastes the individual lots for about eight months to see how they "evolve", with Michel Rolland visiting three times a year.
The next step is to put the core blend together – from the usual blocks. "And that is where you really see the character of the vintage come together," she observes. "Is it a powerful vintage? Is it an elegant vintage?
"Some parts of the property show themselves very early and other lots need longer to get through their teenage years…
"And then, over the course of another eight months, we refine that blend even further, continuing to add different pieces. That's where you start to play with the 1% Petit Verdot, 2% Carmenère. You taste multiple times until it just fits.
"It's a gift to have this long to work with the one wine, and to think about the one blend."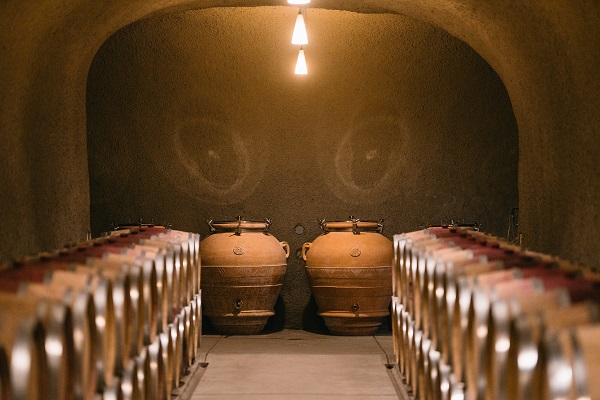 Canopy: What's more important – to show the vintage or the site?
Rebekah:
"To show the site, I guess, is the easy answer. With a property like Quintessa, which has such a strong character, a strong terroir, the place really shows through every year and so you can allow yourself to think more about the vintage because the place is a given.
"I get so excited about a wine like 2019 because, for me, it is exactly what I taste when I walk through the property. I can see in that wine all the individual pieces that make up Quintessa.
"In 2019 the place is just so strong, and it tastes like Quintessa and so it becomes what is 2019 and how does 2019 differ from 2018?"
Is vintage more important than consistency of style and flavour?
Rebekah:
"Consistency is not a given. If we were to taste all the vintages, we've had an evolution over the last 25 years. But the character of Quintessa shows through. The real challenge is not making your fingerprint noticeable. If you focus too much on vintage maybe you'll do too much winemaking, so I think consistency is important, but I don't use the term consistency; in my head I use the term transparency."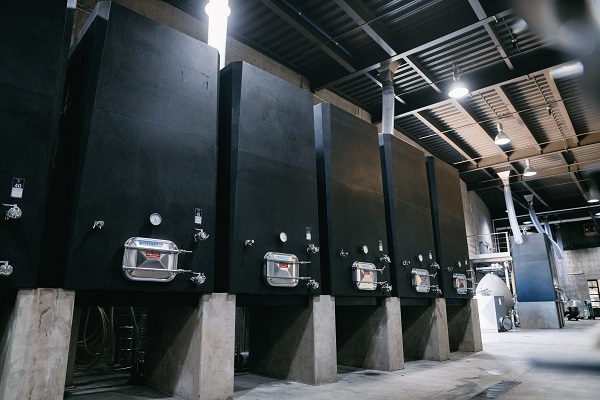 The winemaking
The winemaking starts simply:

Destem and crush most of the grapes without adding sulphur;
Give them a cold soak for three to five days;
Use native yeasts;
When the must has warmed up, Rebekah adds a cupful of the pied de cuve to the tank to assist the first fermentation "because those are the hardest to go".
She adds: "If I didn't add the pied de cuve, the fermentations would go anyway. It's a little starter and it just helps it kick off and make that connection with the vineyard."
After that there's usually enough yeasts in the air to get all the ferments to start naturally. If they don't go, she can "go tank to tank" with the must.
Rebekah knows the fermentations will finish with
Saccharomyces cerevisiae
. She tells me: "Between zero and 5% alcohol it's one population (of yeasts); 5-10% alcohol another population is dominant; and then at the end after 10% alcohol it's
Saccharomyces cerevisiae
."
'I'm still experimenting with how best to express Merlot on this property'
Fermentations are in stainless-steel tanks and increasingly in concrete tanks (
above
). A few are in barrels.
As the vinifications proceed, things become more complicated. "Every tank is individual in terms of days and contact before pressing off," Rebekah says, as we talk through the varieties.
After the cold soak, each of the parcels of Cabernet Sauvignon and Cabernet Franc receives a slightly different regime as far as maceration, fermentation temperature, type of tank and extraction method are concerned. The average maceration time is 26 days.
With Carmenère, "one of the blocks does really well with barrel fermentation," Rebekah says.
Petit Verdot also gets a different treatment. Rebekah says: "I press it sweet, at 5 Brix and that seems to work."
With climate change, the percentage of Merlot has dropped. "In this region it's harder to make it expressive and fresh," Rebekah admits, as she strives for a solution. "I'm still experimenting with how best to express Merlot on this property. I don't know that I've quite found it yet, so I'm still working with that.
"I'm feeling like I'm going to try some whole-cluster, some stems this year. I thought if I brought a little bit more structure in with the stems and also slowed the fermentation down a little with that whole-cluster component it could be interesting. We'll see."
Carmenère is increasingly taking over Merlot's role. "Carmenère is doing really well here and I'd love to see how it expresses itself on different parts of our terroir, as the Cabernet Sauvignon and Cabernet Franc do here. As we've gotten warmer and drier, Merlot is more sensitive to that and problematic. And Carmenère has some of the same features that one would look for in Merlot – which is the mid-palate plushness, that kind of textural component to the tannin. Of course, Carmenère has a little bit more interesting aromatics so I think it would take the place of the Merlot."
'If I could do it all in concrete, I probably would'
Nearly half the wine now ferments in concrete – either the custom-made tanks or egg-shaped vessels from French manufacturer Nomblot.
"What I've noticed is that it seems to allow for a purity of the flavours but a suppleness to the tannin," Rebekah explains. "I think the main difference is the thermal properties, so I think it's a great match for fermentations because it is slower moving; it supports the yeast, there's no shocking. The yeasts seem happier and at the end of fermentation it holds the temperature as well and it promotes the suppleness in the tannin… If I could do it all in concrete, I probably would."
Stainless-steel tanks, however, are superior for many practical reasons, such as draining and sanitising, and measuring quantities. So Quintessa's wines are blended in stainless steel and stay in tanks prior to bottling.
The wines are bottled without fining or filtering. Sulphur is added after the MLF has finished.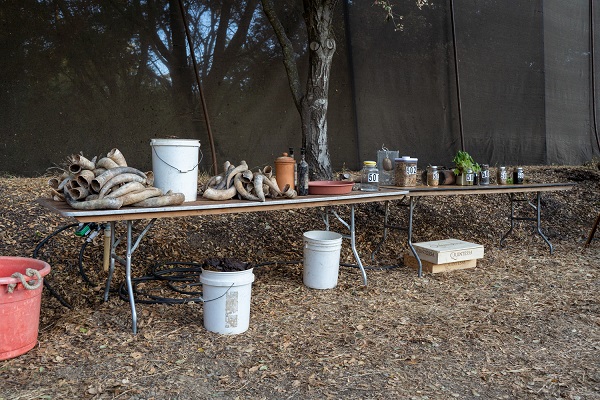 MLF and ageing (for 22 months) are mostly in French oak barriques from coopers such as Sylvain, Demptos, Seguin-Moreau, Taransaud, Saury and newcomer François Frères. But less new oak is used.
When Rebekah joined the biodynamilly-farmed Quintessa estate in 2015, after 18 years of working at other wineries in California, 85% new oak was the norm in Napa Valley. "But as I've come to understand the vineyard and the line and the expression of the place, it doesn't need – nor do we want to put – makeup on the wine, and so we've lowered that percentage down and I'm happy with about 60%."
She's also been tweaking the grain and toasting. "Very tight grain and mostly medium plus toast," is now her preferred specification.
But she is not a fan of water-bent staves. "Every year I trial – I try to control myself so I say no more than 10% of the barrel order can be trials – and I've been trying some water bent. So far that's not working for me. They seem more sappy and green, which is not what we're looking for."
However, Rebekah is a fan of amphorae. Since 2021 she has been using two 350L and two 500L amphorae for some of the ageing and is ordering more. The downside, she says, is: "You have to learn how to physically handle these things."
I know she's busy and has a lot to do, so I let her go. I've learned enough for one day. Plus, I'm eager to try the 2019 wine…
Wow, wow, wow! I perform my own ceremony to thank Quintessa – the estate and the team – for this exceptional wine.