Feeling the wind in his face, his eyes already touching the sunny hill…
Artist Bob Johnson recites poetry as he wanders lonely as a cloud through California's vineyards. Emily Dickinson, Rainier Maria Rilke and Stanley Kunitz are among his favourites. But he also recites lines from poets as diverse as Alfred Lord Tennyson and Louise Glück, TS Eliot and August Wilson on his daily walks between vines and over the hills.
One year he hiked 825 miles looking for inspiration for the maps and illustrations that now adorn tasting room walls, wine labels and packaging.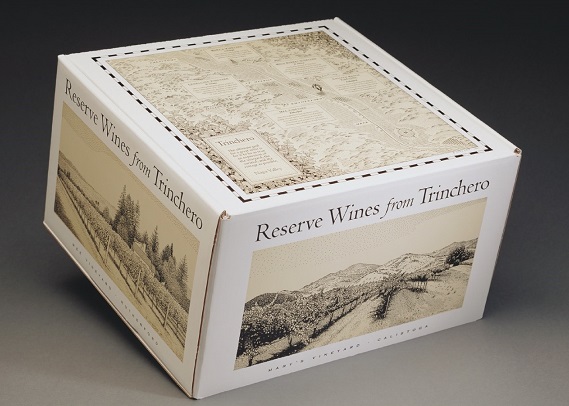 "My love of nature and botanicals and viticulture fuels my work," he tells me. "Last week I walked the vineyards of Kenefick Ranch – a Cabernet Sauvignon producer in Napa Valley – and next week I will be in the Russian River Valley for a tour with a gifted Pinot Noir winegrower. The family needs a map for their new tasting room."
Bob, who began his career illustrating botanical books before moving on to wine labels, cartoons and maps, is now the artist-in-residence at the 448-acre Robert Young Winery (
below
) in Geyserville, Sonoma County.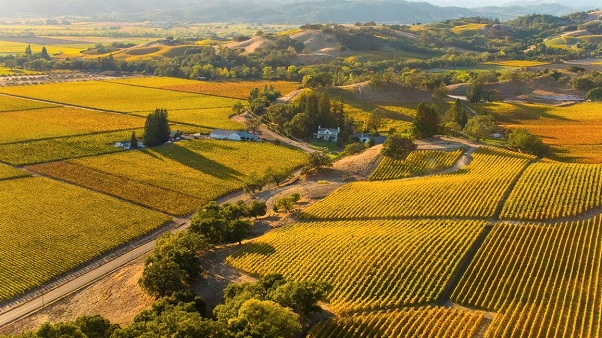 Bob lives above the four-car garage – with views of the winery's cows, horses and llama. He's been there since losing his own home in the wake of the 2008 financial crisis.
"I became the first tenant behind the gated entrance since Robert Young was established in 1858," he says. "I have become a fixture and, after 11 years, I created a new label for them. I also created an award-winning firepit barrel. I'm on call for art projects and they sell signed printed editions of my Robert Young map and collectible prints of my wine cartoons."
It's part of "the experience" for Robert Young visitors, part of the winery's identity, and it gives them good publicity.
"I know it sounds corny, but art and wine are the same state of being," Bob states. "Both are a physical manifestation of a creative – and intelligent – act. Ask (John) Keats. Or (Charles) Bukowski.
"I have worked in many fields of endeavour, but the perfect fit I embrace with the world of wine is steeped in common ground: familiar levels of creativity and risk, and a similar world of judgement.
"I cannot imagine a landscape more familiar for this artist."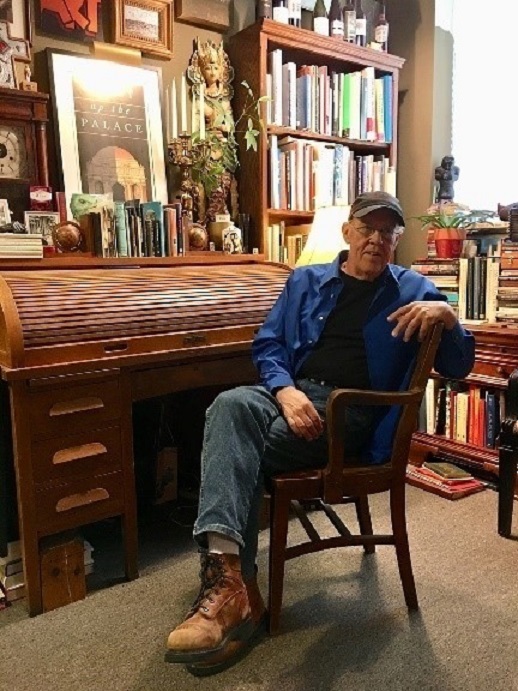 Bob (
above
) has illustrated more than 125 books, created more than 99 wine labels and has an art gallery in Healdsburg. He also designed the logo for UC Davis 25 years ago. "The art icon is the original vintage apple press at Krug Winery," he points out.
But the focus now is vineyard maps.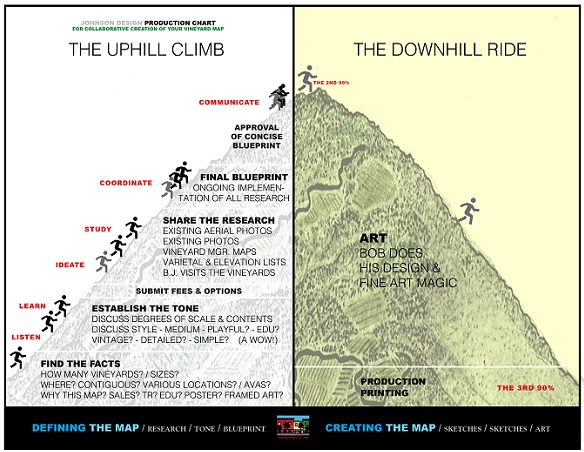 When I ask how he creates the maps, he directs me to a sketch he has produced to explain the process to clients.
"I created it for clients who are interested in commissioning me for a map," he explains. "It's actually the 'share the research' stage when I'm ready to present sketches as well as a budget range for the map. I've found that this chart helps them further determine what they want as I draw out their story for them and learn more about this particular map's reason for being.
"Some choose to create a hard-working map that helps inform and function in sales mode: data, info, beauty. Some are looking for the 'wow' experience that captures the heart and soul of the estate and the vines: frameable, memorable, fine art, handcrafted art, art that fits right into the viticulture and oenology of it all – capturing the magical details of the complex art of creating that single glass of handcrafted wine."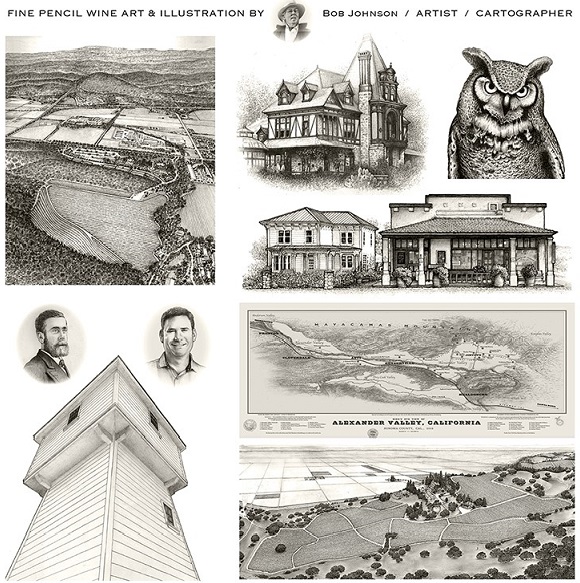 It can take Bob up to a year to create a 6ft map for a tasting room.
"The longer my learning curve, the more it becomes the foundation of something new and original," he says.
After being introduced to a prospective client, he likes to "get into" the vineyards as soon as possible.
"With Sir Peter Michael Winery (
below
) I spent nine hours hiking in three properties before submitting a proposal," he says. "The more I learn at the beginning, the more inventive my presentation. It's my own time well spent."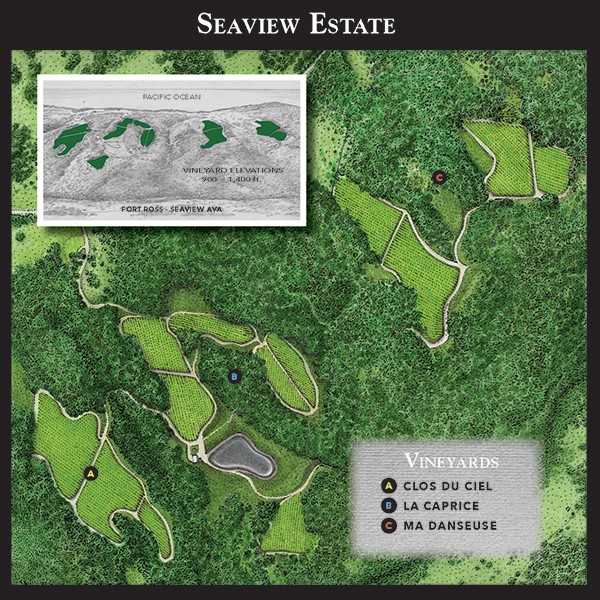 Google Earth is a useful resource. Sometimes he uses drone shots for reference; sometimes it's aerial photos from vineyard managers' files and sometimes, he says, "I've sketched from a helicopter and a tiny plane where I sat behind the pilot under the canopy".
But there is always "lots of mountain biking and hiking. In the mud. In the rain. In 95°F heat with the rattlesnakes. Atop Atlas Peak with 20,000 bees. Just me and the bees…
"You get ideas from the land. From the flora and fauna. The sketching excursions help to imagine the look and personality of the map to come."
To capture some of the details, he takes photos and videos with his iPhone and does pencil-sketches. He collects rocks, leaves, cast iron objects, stones, petals, and pebbles...
"Everything feeds the imagination. I'm a tinkerer in craft and imagination, I guess.
"The first visit is always exciting and revealing. I encourage my guide to open the windows and doors of their imagination, daily, in regard to the 'idea' of our map. Text me. Call me. Text a photo. Cut out a cool design or font or colour. Everything feeds the creative."
Here are a couple of examples of his work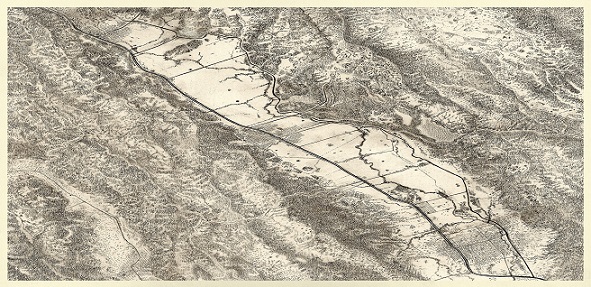 "I've been driving and biking and hiking this region since 1973. I never tire of it. For the purist, many of the small roads are totally accurate. That's Sonoma Valley on the left. Highway 12. Pope Valley upper right."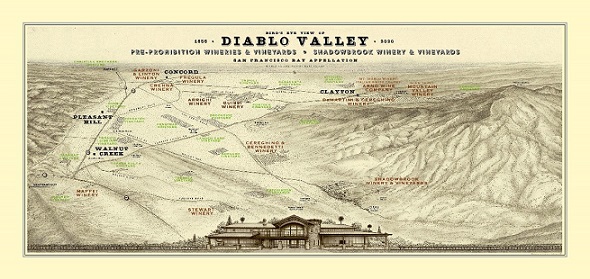 Bob says the owner of Shadowbrook Winery, in the shadows of Mt Diablo, wanted to tell two stories in this map:
His newly remodelled winery.
How Diablo Valley's wine businesses thrived more than Napa Valley before Prohibition.
For more examples, click here.

Many lives
Bob has "walked through many lives", to quote one of his favourite poems.
He began his art career in the 1970s as a botanical and garden book illustrator. His first taste of the wine industry came with designing this label (
below
) for the launch of Lambert Bridge in the late 1970s – which led to other commissions from wineries, wine magazines and the Napa Valley and Sonoma Valley wine auctions.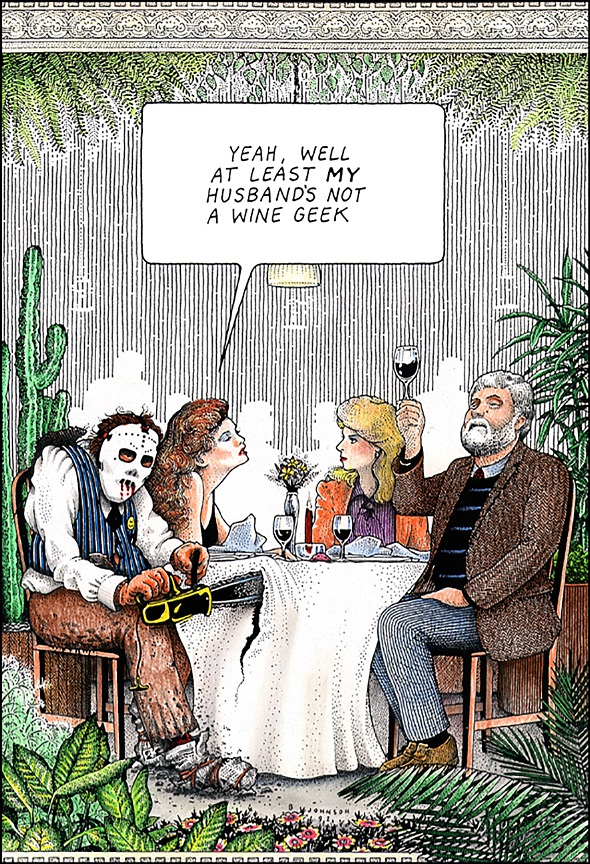 In the 1980s, while creating cartoons for the Pacific Wine Company (
above
) in San Francisco, he "adopted the wine industry as my art niche. I've been in the fray ever since," he says.
Bob started creating vineyard maps in 1990 – with a letterpress printed brochure for Stags' Leap.
"The experience was particularly thrilling because I felt I had come full circle back to my roots as a botanical artist," he recalls.
Now maps are his main focus.
"As a cartographer, I have less competition and the clients value the art of mapmaking."
He clearly loves his job and his surroundings.
After answering all my questions, he heads out into the vineyard and, as usual, recites 
Invictus
 by Robert Ernest Henley under the night sky:
"It matters not how strait the gate,
How charged with punishments the scroll,
I am the master of my fate:
I am the captain of my soul."