I've come to one of the most beautiful and least developed parts of Slovenia to make a white wine as part of my self-imposed challenge of making eight wines in four countries in one vintage.
I want to make a skin-contact Furmint (Šipon) from grapes grown on the remote border hills that tumble into Croatia from Slovenia's oldest city, Ptuj. It's one of my favourite grape varieties and the underrated Haloze Hills are where I uncovered two of my favourite examples. Here, on steep-terraced vineyards tended by goats in winter, the soil is limy and sparse, and the climate is influenced by both the Alps and Adriatic Sea.
Here, in the small settlement of Gorca is where a young Austrian winemaker, Michael Gross, has set up a boutique winery with his wife Maria – while his older brother Johannes runs the family winery in Ratsch, Austria, taking over from their father, the highly acclaimed winemaker Alois Gross.
But even in Michael's talented hands, the organically-farmed vineyards around Gorca don't always produce the desired high quality of grapes each year for their premium wines – as I was about to find out.
Michael's winemaking generally involves spontaneous fermentations, maturation in large oak barrels, and bottling unfiltered with no finings and minimal sulphur added. He says his wines fall into two styles: those defined by terroir and those defined by maturation. He also likes to experiment. And his single-vineyard Gorca and Iglič vie for the title of my favourite Furmint.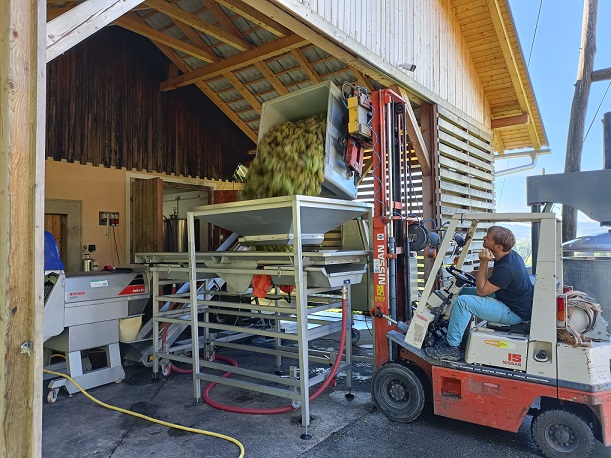 When I arrive at the winery, overlooking the south-facing basins that grow Furmint, Sauvignon Blanc and Laški rizling (Welschriesling), Michael is driving a forklift and unloading bins of Furmint (
above
). It's for another project. Another experimental wine: he's going to ferment the juice on some Blaufränkisch skins for a light, refreshing red wine.
He quickly presses the grapes because the wet September has taken its toll on their health. While he pumps the juice into a stainless-steel tank for settling and then a native fermentation, Michael informs me the quality isn't right for a skin-contact wine. He suggests postponing our experiment for another year when, hopefully, climate change will grant a more favourable vintage.
But I'm still keen on producing eight wines in four countries in one vintage. With my red wine in Hungary in doubt – and only a sparkling wine in Hungary and an amber piwi blend in Austria so far assured – I start to pursue other options...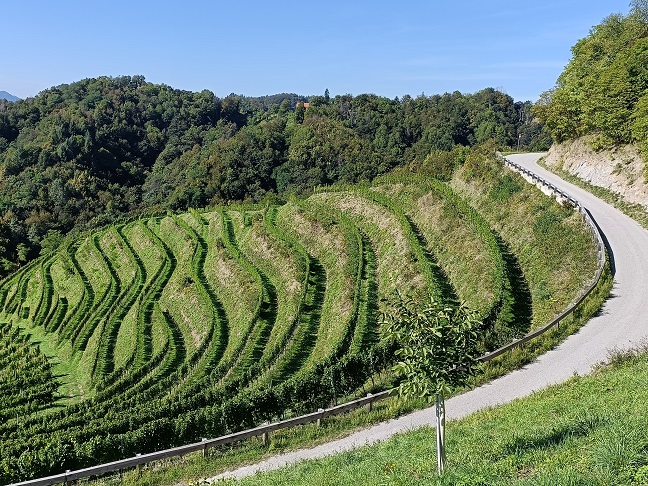 On the 65-degree slopes nearby, Laški rizling still hangs on the vines and looks healthy. Vino Gross also has some Traminec (Gewürztraminer) near Michael and Maria's home north of Maribor, the main city in Štajerska Slovenija. Michael normally macerates the Laški rizling for 48 hours to extract tannins from the skin. After pressing, the must is left to ferment spontaneously in used wooden barrels, where it matures for 12 to 18 months.
The Traminec is usually made with the 'macération semi-carbonique' (intracellular fermentation) technique. "We leave 50% of the grapes whole and lightly press the other half. They are left together for several weeks, sometimes even months, in a large mash tun. The subsequent pressing extracts additional sugar from the previously unpressed grapes. The fermentation is completed in used wooden barrels, where the wine matures for at least two years," is his usual-but-unusual approach to Gewürztraminer.
I suggest co-fermenting the Laški juice and some Traminec berries – inspired by one of the best orange wines I've tasted recently. It came from Maribor winemaker Joannes Protner, who co-fermented Laški rizling juice and Yellow Muscat berries. After 21 days of fermentation and maceration, the Joannes Natura spends 12 months in barriques before bottling without filtration. I get a nod of approval from Michael: he thinks something similar, using Traminec, could work and the project is back on.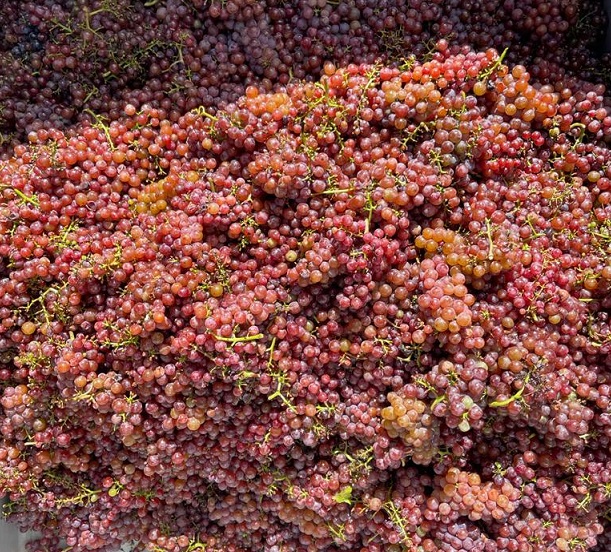 The plan develops. He will whole-bunch press the Laški with 350L of free-run going into a stainless-steel tank for fermentation with native yeasts, and add 130kg of destemmed Traminec berries. But the Traminer (
above
) ends up being picked a day earlier than the Laški. The Traminec comes in at 92 Oechsle, 5.8g/L acidity and with a pH of 3.45. The berries look gorgeous, though. The Laški comes in the next day at 90 Oechsle, 5.5g/L acidity and with a pH of 3.32 and, fortunately, starts forming a froth the next day.
There are also bubbles in the Traminec bin by the time the berries are added to the native Laški ferment.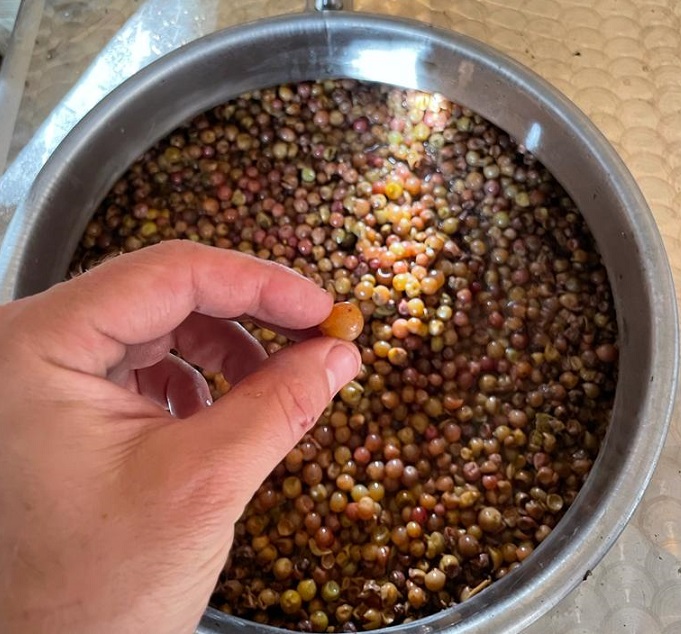 Halfway through the fermentation we consider scraping off and pressing the berries that have floated to the top, but they taste so good that Michael suggests leaving them and pressing them after nearly four weeks, when the ferment is nearly through – leaving the whole berries that have sunk to the bottom to macerate through the winter, at least.
I ask him about punching down, but he says "never" as he doesn't want to squeeze the juice from the Traminec too soon.
Michael's calculation is that 350L of Laški and the juice from 130kg of Traminec berries will fill a 400L barrel after the fermentation and pressing. But the fermentation, aromas and flavours were going so well in the 480L fermenter that we decided to leave it there, topping up with Laški when the fermentation finished.
When I was looking to buy a wine house in Slovenia 13 years ago, the first property I looked at was in the Haloze region. But the house was too old (made of mud and straw, with a toilet on the outside), and the vineyard was too steep (for me). In the end, I bought a place about 40 minutes away, on the equally beautiful Jeruzalem-Ormož hills. As I drive down and around the Haloze Hills, through scattered settlements, steep vineyards and extensive woods, I can't help but wonder 'what if'…
However, there's no time to dwell. I have to plan my next #harvest2022 adventure. I want to make wine in a qvevri in Telavi, Georgia. But planning a trip from Jeruzalem, Slovenia, to Telavi is confusing Google maps – it wants to send me to Israel.