Huayrapuca, "the witches' wind", is blowing in Gualtallary. Also known as Zonda, it starts around noon and sends birds, trees, leaves and dust flying. Sometimes there's so much brown, dry dust in the air that it can obscure the sun.
Uco Valley locals complain that the Huayrapuca creates sleeplessness, anxiety, a suffocating feeling, and depression.
It's one of the main problems facing viticulturist Franco Bastias at this time of year, as the new growing season dawns in Mendoza, Argentina.
And when the Zonda stops, a mass of cold air sweeps in, bringing frost.
The double whammy of the Zonda followed by frost typically reduces yields by 25-30%.
The Zonda belongs to a category of winds broadly defined as 'foehn' – dry, warm winds that gust down the slopes on the leeward side of mountains. In South America, moisture-laden winds arrive from the Pacific Ocean, travel east across Chile and over the Andes, coming down on the Argentine side, having lost all their moisture. The Zonda remains a presence in the Uco Valley from August through October – longer than anywhere else in Mendoza. Super-dry (almost 0% relative humidity), hot (around 100°F) and strong, the Zonda can reach tree-ripping, leaf-stripping, vine-burning speeds of up to 120mph (~200km/h).
The problem for Franco is that the Zonda overlaps flowering and fruit set. Wind speeds in excess of 50mph can damage or destroy tiny, sensitive vine buds and flowers. Sudden escalations in temperature due to the hot, dry Zonda, with humidity falling to almost 0%, diminish the length of time flowers remain fertile and receptive to pollen, leading to a further loss of potential fruit.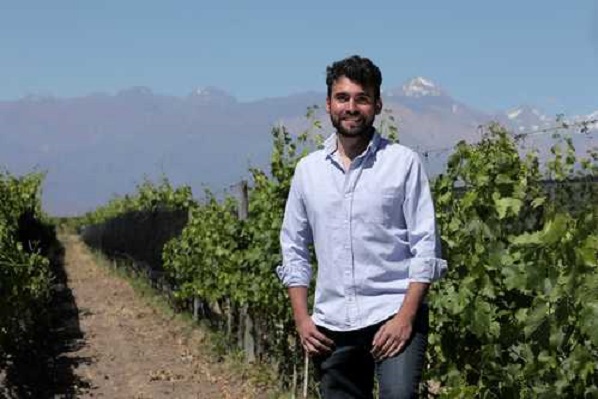 The frequency and intensity of the problem vary year to year, making planning more difficult for Franco (
above
), chief agronomist at
Domaine Bousquet
, Argentine's largest exporter of organic wine.
Long and regular irrigation mitigates the impact of low humidity and low temperatures. Hail protection nets remain in place from August to October to minimise trellis and shoot damage.
Working at a winery where all grapes are farmed organically has led Franco to become an expert in "reading the signs of nature". Since starting at the domaine in 2015 – aged 25 – he has become an acutely sensitive observer of subtle developments in the vineyards, from newly emerging plants and grasses, to vines that begin to lack in vigour, or demonstrate too much of it.
"In organically-farmed vineyards, you must stay in permanent contact with the field, always watching, always learning and, above all, constantly receptive to what the vines need," he says.
'You must stay... constantly receptive to what the vines need'
That eagle-eyed vigilance and familiarity with Domaine Bousquet's 270ha of vineyards enables Franco to deal with the unpredictability of the Zonda and corresponding needs of individual parcels of vines and grape varieties.
Early-budding varieties such as Chardonnay and Pinot Noir, for example, are more impacted by the Zonda. To help with that overarching challenge, Franco has instituted late pruning of these vines. "Pruning earlier flowering varieties later helps retard sprouting and flowering, counteracting some of the more harmful effects of the Zonda winds, and minimising frost damage," he says.
After wind and frost incidences, Franco and his team take samples of vines from random rows in each vineyard to gather the following information: number of bunches affected per vine, number of flowers affected per vine, total potential bunches per vine, and total potential clusters.
Based on this assessment, Franco can approximate potential yields. This data will guide his decisions throughout the rest of the growing season regarding irrigation, fertilisation, summer pruning and canopy management.
The silver lining is that lower yields, as we know, are conducive to higher quality.
Normally Franco expects around five or six Zonda winds per year, but they appear to be increasing in frequency and intensity due to climate change. "Year to year, we are discovering that the foehn effect is more aggressive and occurs over a more prolonged period with each successive year, starting as early as December and January."
Late frosts are also becoming more frequent, he says.
But the attraction of Argentina's Uco Valley remains the same for Franco as for the French winemaker who first saw it as a "paradise" for organic viticulture.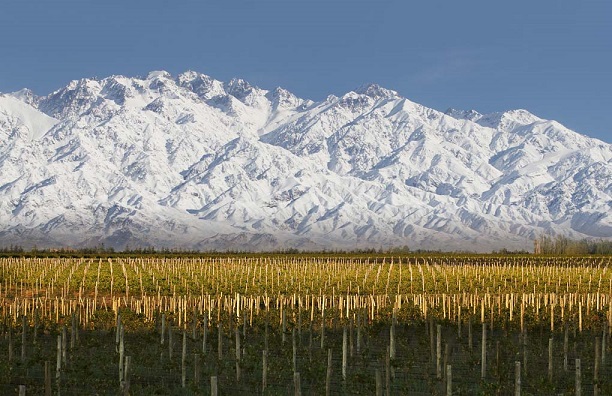 Jean Bousquet bought the land in 1997, planted vines in 2000 and released his first wine in 2005 – already certified organic.
The Zonda and the potential for spring frosts appear to be the only downside. The desert-like site's high elevation (4,000ft) in the Andean foothills, the near constant breezes from the mountains, and the huge 59°F day/night temperature differentials are what's now in demand from viticulturists and winemakers the world over.
But the deal-clincher for founder Jean Bousquet, who sold his Carcassonne winery, Lalande, to fund the purchase of the vineyards, was the sandy soils. Indeed, when Jean explained his plans to his family, daughter Anne – now the CEO – teased him about buying "a beach".
Of course, buying that "beach" would not have been an option without it coming with a water table – even if it was a daunting 495ft below the surface and took two years of digging to reach.
Now the estate, which produces more than 4m litres of organic wine a year, is taking the next step and converting the original 'home vineyard' to biodynamic.
More than ever, Franco will be drawing on the lessons from his upbringing…
Franco's journey
As a lad of 11, Franco followed his parents, itinerant farm labourers, as they worked their way through the vineyards of Argentina's Uco Valley, pruning, binding vines, maintaining trellises and, of course, harvesting. Twenty years on, as chief agronomist at Domaine Bousquet, Franco oversees a team of 50, increasing to 80 at harvest. Each day he clocks up around 120 miles in his ancient pickup, checking on the estate's 270ha of vines spread between the Bousquet estate, plus 30-35 growers.
Co-owners Anne Bousquet and husband Labid al Ameri took a chance on the 25-year-old local when they hired him in 2015 as an agronomist reporting to the winemaker. Promoted four years later to chief agronomist, Franco now reports directly to the owners.
Unlike other applicants for the role, Franco recalls arriving for his interview "in work jeans, dirty boots, and really tired after working all day visiting growers for Rutini".
But he came with all the right credentials: an agronomy degree from the Universidad Nacional de Cuyo in Mendoza, an exchange year at the university in Concepción, an internship at the Carneros Vintners' custom crush facility in Sonoma, and four years with Rutini Wines, travelling the Uco Valley's many and varied sub-zones, and meeting growers.
Instinctively, Anne and Labid figured Franco to be "the real deal", someone with the sort of knowledge that doesn't only come from books.
'The Syrah is just sad because it doesn't have enough sun'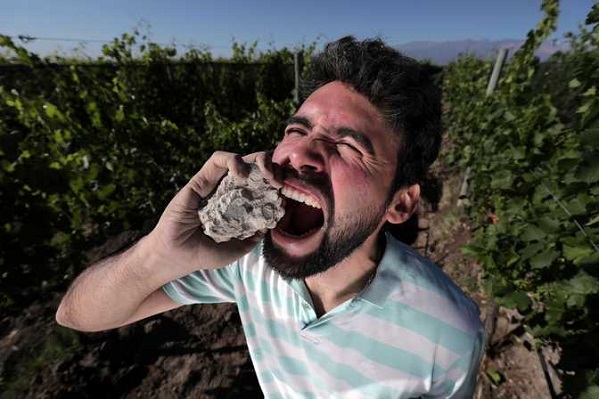 Reminiscing on his childhood, Franco says that working alongside his father, irrigating the vines, he learned "to feel what each vine needs".
For Franco, however, the true "plant whisperers" are the workers who tend to the same vines, often for decades.
Soon after arriving at Bousquet, Franco was stumped as to why, though springtime, the Syrah's canopy was yellowing. Nothing seemed to explain "the disease", until one of the old hands said: "Don ́t worry, the Syrah is just sad because it doesn't have enough sun. Check back when the sky is clear." A few sunny days later, the canopy had already started to revert to a healthy green.
Franco believes that success depends on building a team from the ground up, not top down. "You are only as good as the people in the vineyard. They can make or break you," he explains.
So, when he started, he made a point of earning the workers' respect, leading by example, not words. One time he started pulling leaves and said: "If I can do this in 10 minutes, you, who are in the vineyards all the time, can do it faster!"
It was important to win them over and gain their trust because Domaine Bousquet is transitioning from organic to biodynamic farming, starting with a trial plot of 173 acres (70ha). Franco is hoping this 'home vineyard' – the estate's original plantings – will be Demeter-certified for the 2022 harvest. It's a significant milestone on the way to converting the whole estate.
"Yep, it's a big challenge, but we think that we are ready to do it," he tells
Canopy
.
Organic from the beginning, the estate's team is very familiar with most of the practices anyway and are now familiarising themselves with preps 500, 501 and Fladen. "It's almost our natural way of vineyard management," Franco concedes. It's also part of their "360° sustainability vision".
This includes installing solar panels to power the winery, water treatment facilities to limit waste, automatic cut-off cleaners to reduce water consumption, and the use of lightweight glass bottles across the range of wines to further reduce their carbon footprint.
It's the way the wind is blowing.