"When I started, this was the forgotten part of Gran Canaria. But now the people from Bandama are coming here to buy."
Thirty-two-year-old Carmelo Peña, graduate of the Niepoort school of 'infusion, not extraction' is talking about the high-altitude (1,000-1,100m) vineyard area above San Mateo, in the northwest of Gran Canaria. This is the locus of his Bien de Altura project, which he launched, apparently with some prescience, with the 2017 vintage.
Local grape varieties, organically farmed, high-altitude vineyards, early picking, long maceration, no filtering and minimal SO2 – that's Bien de Altura in a nutshell. The wines he's made so far for the project, under the 'Ikewen' label, are some of the most refined I've tasted from the Canaries and frame Carmelo as a viniviticultor who, like Jonatan García, Roberto Santana, Viki Torres and Borja Pérez before him, will play an important role in defining Canary Island terroir.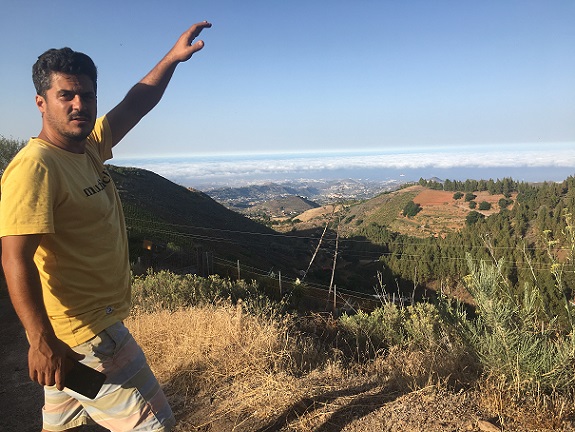 For Carmelo, Bien de Altura is just the beginning of the story. In addition to his Ikewen line, he makes another set of scintillating volcanic terroir wines in Lanzarote for Puro Rofe, a joint venture with Canarian wine distributor Rayco Fernandez based in the museum-like bodega of Chicho Mota in La Geria. He's also involved in a collaborative project, Elemento, with Niepoort table winemaker Luis Pedro Cândido (a friend since university days). And he works as a consultant winemaker for Bodega San Juan in Gran Canaria. All this while working three days a week as a maths and chemistry lecturer.
To be clear, this is a winemaker on a mission – a mission to make fine wines, to defend the winegrowing heritage of his island and to show the world how diverse the volcanic terroir of the Canaries can be.
Gran Canaria, his home, will always be at the priority. As Carmelo explains it, vinegrowing is, roughly speaking, split in two areas: first, you have Bandama at 500-700m in the north-east of the island. Here the temperature is relatively warm, the fruit a little darker. Geologically, this is the younger part of this 14.5 million-year-old island, where black sand and picon gravel dominate.
Then you have "the forgotten part" – San Mateo...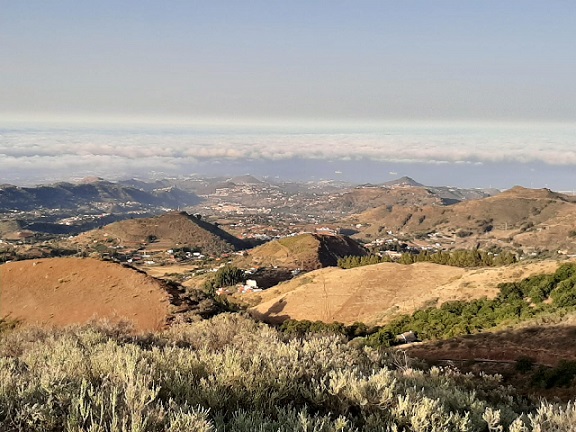 Here, the soils are older and more degraded. Winds from the northeast blow over this area, which, combined with the high altitude above the cloud layer, makes this area more suitable for organic cultivation – a prerequisite of Carmelo's work. Many of the vineyards are dry-farmed and own-rooted. Temperatures are also relatively cool, allowing him to produce reds under 12 abv.
There, key varieties among the island's mere 200ha of vineyard plantings are Listán Negro for reds and Listán Blanco for whites, though it should be noted that around 80-85% of the island's plantings are red. There's plenty of Moscatel along with smatterings of Listán Prieto, Negramoll, Vijariego Negro and Baboso Negro, for reds; Vijariego Blanco, Albillo Criollo and Malvasia Volcanica, for whites.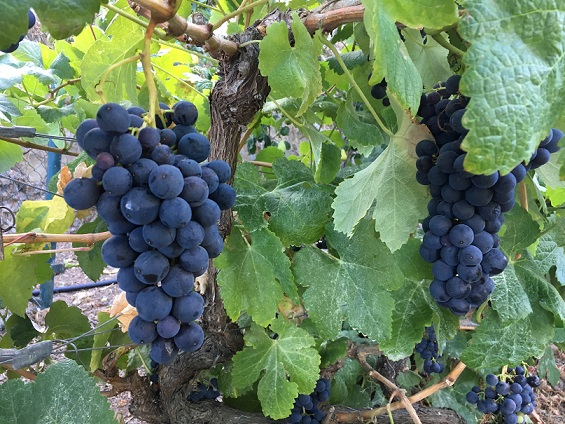 It's Listán Negro (above), though, a grape which seems to express the volcanic terroir – through notes of pepper, flint, volcanic ash, smoke – better than any other variety, that forms the backbone of his Ikewen Tinto, for now the flagship wine of Bien de Altura (in 2019 he will make his first Gran Canaria single-vineyard bottling from a mixed plot of 120-year-old Listán Blanco, Listán Negro and Listán Prieto in La Lechuza, close to San Mateo). For this wine, Carmelo uses Listán Negro and Listán Prieto from various plots on Lomo Sepultura (
below
), a hill summit of the Cuevo Grande part of San Mateo.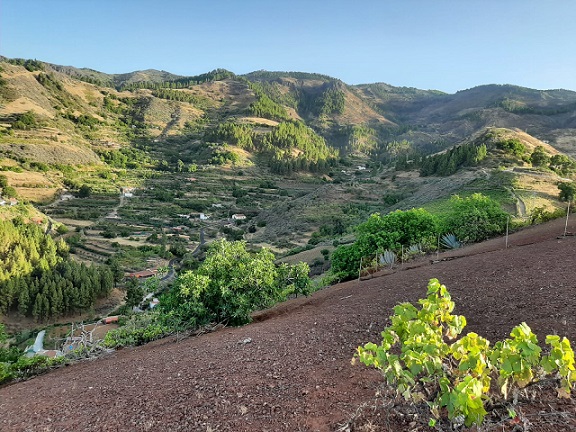 This red is strikingly light, delicate, fine-detailed and mineral. Carmelo tells me that Ikewen is typically 11.5-12% abv with a total acidity of around 6g/L. This certainly seems on the fresh side considering the island's location – just 100km from the Sahara Desert – but this is no anomaly. During my visit to Gran Canaria, Carmelo and I taste a few wines in tank in the cellar of a producer he's been consulting for in La Lechuza. One white blend made predominantly with Vijariego Blanco has an abv of around 11.5%. What's more surprising is its total acidity of 9g/L – that's like German Riesling in a cool year.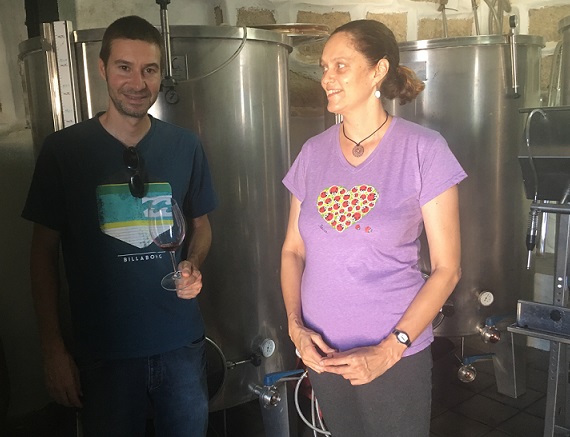 I also taste wines from a fellow Gran Canarian producer, Juan Manuel Martín (pictured above with Maria Martin) of Bodega Lava in Santa Brígida (former El Bulli sommelier Ferran Centelles picked a 2017 blanco from Bodega Lava as one of his top five wines of 2018). In particular, his flagship tinto, made using the high-acid Vijariego Negro and Baboso Negro, along with Listán Negro and Tintilla, is striking for its light, crystalline profile.
Of course, there is the terroir – the high altitude, the proximity to the Atlantic, the trade winds, the volcanic soil – and the grape varieties to consider, but in Carmelo's case, it's also a stylistic preference. In Gran Canaria, a recurrent theme is early picking, often allied to long maceration – a preference not just for Dirk Niepoort, for whom he worked for two years at Quinta de Nápoles in the Douro Valley, but also for Raúl Perez, with whom Carmelo worked on the 2017 vintage.
"It's picking early in comparison with other people," he points out. "For me, I am picking at the right moment! For Listán Negro, what's most important is the acidity. So we have to pick early for that. There is the moment that the acidity starts to fall fast, like Listán Prieto, or País in Chile."
He says that in Gran Canaria, he could be picking at least 15 days before anyone else, depending on the year. This reminds me very much of my time at Niepoort for the 2018 vintage: Niepoort was coming to the end of his harvest just as other producers were beginning.
Early-picked fruit undergoes long, gentle maceration
But more than just an early picking regime, Carmelo's wines seem to owe something to the Niepoort table wine principle of 'infusion, not extraction'. As I have learned first-hand, in the Douro this means that early-picked fruit undergoes long, gentle maceration (gentle rémontage with buckets rather than punchdowns or pumpovers) at controlled temperature. While 'bucketage' is not quite appropriate for Gran Canarian varieties, the goal of more gentle extraction is the same. Juan Manuel Martín employs a similar approach at Bodega Lava.
'I don't just think about my brand, I think about my island'
The wines Carmelo has produced so far give a tantalising glimpse of what is to come from him and young Canarian viniviticultores like him. Other names to look out for include Pablo Matellana, who makes wine in Tenerife, Lanzarote and El Hierro, and Juan Daniel Ramírez and Marta Labanda, who make wine in Lanzarote.
All of them share the same ambitious, long-term goals: to revive Canarian winemaking traditions, to restore abandoned vineyards, and assert the diversity of Canarian terroir wines.
"I don't just think about my brand," Carmelo says, "I think about my island. I want more good vineyards in Gran Canaria. When we improve Gran Canaria we can think more about our projects. So my idea is I try to push one person to push another person, to recuperate vineyards, to motivate winegrowers and to make wines that represent our island."