A special feature to mark Italian wine producer Sartarelli's 50th anniversary next year and to explain how the family produces Verdicchio in its purest form.
Verdicchio has always been at the heart of Sartarelli's wine production. The family-run winery, located in the heart of Le Marche's Verdicchio wine country in central Italy, produces five varietal wines using this grape variety – the only one it grows in 55ha of vineyards – and now it plans to make a sixth version to mark its 50th anniversary next year.
But the main goal over recent years has been to produce Verdicchio in its purest form.
Sartarelli.ZERO, a vineyard management project started in 2013, guarantees there are zero residues of synthetic chemical molecules on the grapes or in the wines.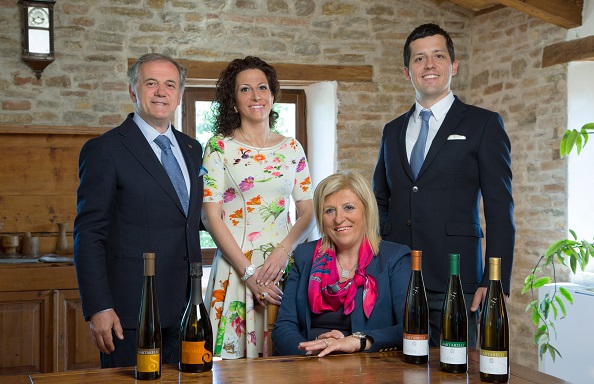 Caterina Chiacchiarini Sartarelli, daughter of winery owners Patrizio Chiacchiarini and Donatella Sartarelli, says the project ensures they take "more care of our environment, our nature, our world and our lives".
With Sartarelli.ZERO, chemical sprays have been replaced with products of a natural origin – including extracts derived from herbs, algae and yeasts. This means fighting downy mildew with a natural extract made of lignin plus gluconate compounds and zeolite powders. For powdery mildew they use algae and other vegetable extracts plus bicarbonate of potassium, laminarin and an oil made from orange skins.
Botrytis is battled with a compound composed of eugenol, thymol, and geraniol.
Bacillus thuringiensis
, a species of bacteria that lives in soil and makes proteins that are toxic to some insects but not humans, is used against vine moths.
'Resistance inducers are very important to us'
Some of these products are 'resistance inducers'. "They simulate a disease in such a way that the plant feels and recognises the disease attack and it immediately starts reacting by rapidly protecting itself with no need of external help," Caterina explains. "The resistance inducers are very important to us."
The pioneering producers still use phytopharmaceuticals once during the first vegetative phase of the vine, before the blooming period. But as the grapes begin to appear, they only use the resistance inducers – products the family has identified as being safe and efficient during long trials.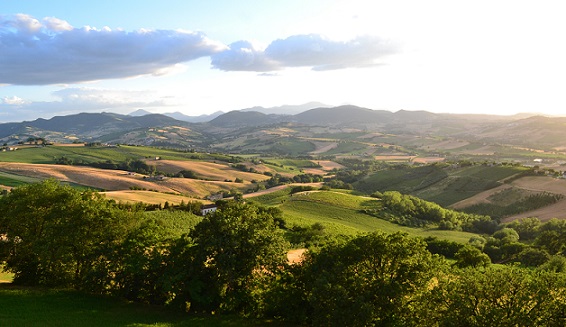 After proving itself on a small plot in these beautiful hills, the 'Residual Zero' project started by Patrizio and son Tommaso, Sartarelli's oenologist, has been gradually rolled out by their team to all of Sartarelli's vineyards in DOC Verdicchio dei Castelli di Jesi Classico, culminating in the launch of the first certified Sartarelli.ZERO wines last year (certified by RINA AgroQ).
"We would like take this opportunity to thank all our co-workers who have believed in this project with us and have supported us every step of the way, not only technically but above all by embracing this new philosophy," the family says.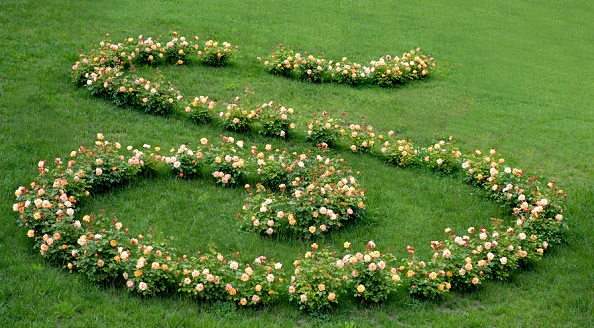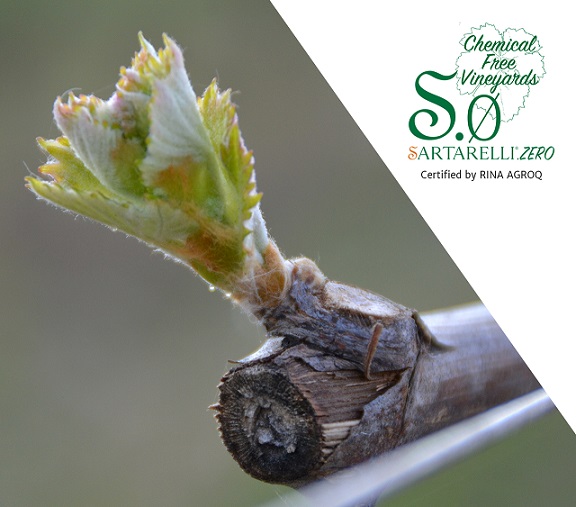 The logo for the new wines shows the 'S' symbol of Sartarelli and a zero, which underlines the company's commitment to "cultivate while de-polluting" the environment.
The result of farming in a more sustainable manner, according to the family, is healthier vines and higher quality grape bunches – with an increase of natural antioxidants in the wines, smoother fermentations, and the total absence of chemical residues.
"We have always thought that respect and care are the two most important words in our wine world. You can apply these words to the vineyards, to the making process, to the relationships with partners, to the loyalty with end-consumers and wine lovers. This is the base of our philosophy," Caterina says.
The wine business was started in 1972 by Caterina's grandfather, Ferruccio Sartarelli, a baker first and an entrepreneur with a passion for wine who decided to try his hand at making a world-class Verdicchio. Now the family produces about 300,000 bottles a year in a winery located just outside Poggio San Marcello.
The estate has always run the steep-sloped vineyards with total respect for the environment – which has made the transition to zero residues much easier.
"Sartarelli.ZERO is possible because our vineyards were strong and healthy," Caterina states. "The vineyards and resistance inducers are complementary."
She adds: "If the vine grows in a healthy environment, in a sort of vegetative wellness, then it is much easier (for resistance inducers) because the vine is more responsive to this kind of natural treatment."
'Beyond organic farming'
The family views its vineyard management as "something beyond organic farming" and sees the vine as "part of a higher concept of Land-Man-Vine. We don't treat the vines, but we consider them intelligent enough to have the capability and the genetic memory to start their own protection and to improve their immune system."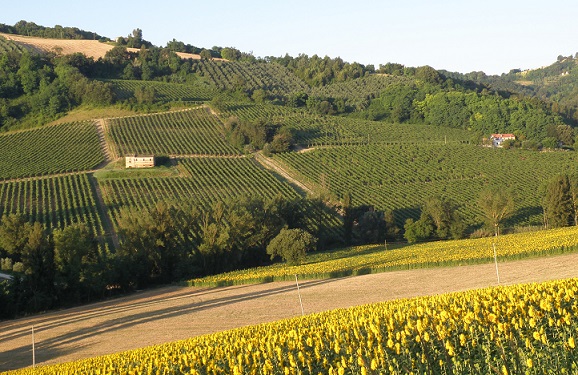 The wines
Sartarelli produces Verdicchio in five different styles, from sparkling to sweet, with a classic and two single-vineyard versions in between:
Sartarelli Brut – a sparkling wine made of 100% Verdicchio
Sartarelli Classico – Verdicchio dei Castelli di Jesi d.o.c. Classico
Tralivio – Verdicchio dei Castelli di Jesi d.o.c. Classico Superiore
Balciana – Verdicchio dei Castelli di Jesi d.o.c. Classico Superiore (from the vineyard above)
Sartarelli Passito – Verdicchio dei Castelli di Jesi d.o.c. Passito (from the vineyard above and below)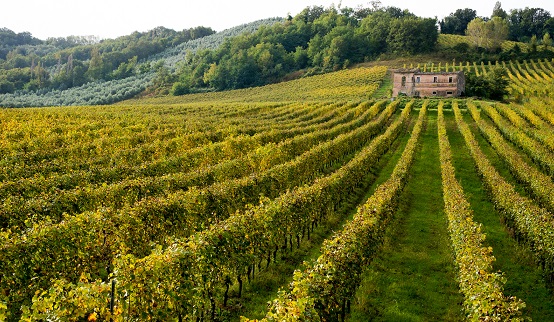 All are made in a similar, simple way. After destemming and crushing, the grapes are softly squeezed in a horizontal membrane press. The must is immediately pumped into stainless-steel tanks for settling, racking to a different tank for fermentation at a temperature of 18-20°C using selected yeasts and, increasingly, with a percentage of yeasts from the Balciana vineyard. After fermentation, the wine is racked several times to clarify it.
The main differences between the wines are the grapes' locations, their exposure to the sun, the mesoclimates, their ripening times, and their picking dates, with the harvest extending from the end of August to mid-November.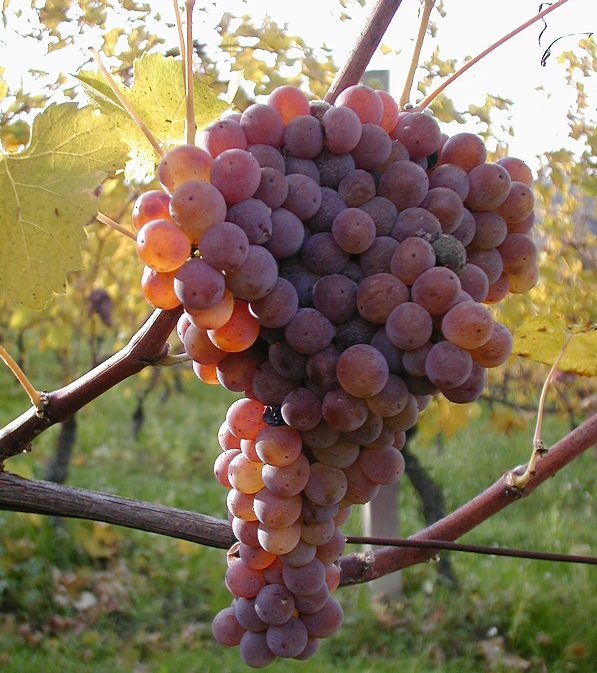 The grapes from the Balciana vineyard (
above
) are the last to be picked.
Balciana is a wine we adore here at the International Wine Challenge (IWC). Twice it has won the trophy for the best Italian White Wine. The Balciana 2017 won the trophy in 2020 and the Balciana 1997 triumphed at the 1999 IWC. Not only did it win the Italian White Trophy that year, it also took the Champion White Wine award and launched Verdicchio on the world stage. 
Full story here.
For its 50th anniversary next year, Sartarelli plans to launch a new wine using grapes from its vine nursery. Patrizio started taking cuttings from the best vines on the estate and multiplying them on a plot of land purchased in 2015. The purpose of this exercise was to create a Verdicchio with "more complexity and more aromatic nuances, to enhance the typical characteristics of this fine indigenous grape variety by intensifying them even more in our wines, whilst still maintaining their traditional taste".
We can't wait!