"We're hanging our hats on a varietal that needs a lot of attention," comments Johan Jordaan, cellarmaster at one of South Africa's oldest wine farms, Spier.
Speaking during a tasting of seven Cabernet Sauvignons from Stellenbosch, the region with the most Cabernet Sauvignon vines in South Africa, he continued: "We're proud to be Cab producers in Stellenbosch and we're proud to say that we're not resistant to change but the reason we don't move as fast in Stellenbosch is you have to look at Cabernet as a grape – Cabernet Sauvignon is not a simple grape to make a great wine from – it grows quite easily, you can manage the foliage quite easily, but once it comes to the cellar, especially in the South African climate conditions, there's a fair bit of uneven ripeness. If you want to make world-class wine, in my mind, you need to remove that, so Cabernet is pricey."
Sorting by machine or hand is expensive, but it's a necessity in Stellenbosch, a region that is slowly tweaking its whole approach to the variety to uplift the middle and top tiers. From the choice of clones to the choice of barrels, the fine-tuning is taking place and the results are gaining critical acclaim.
Here,
Canopy
looks at the subtle differences in the winemaking behind some of South Africa's top Cabernet Sauvignons.
Jordan Estate's The Long Fuse Cabernet Sauvignon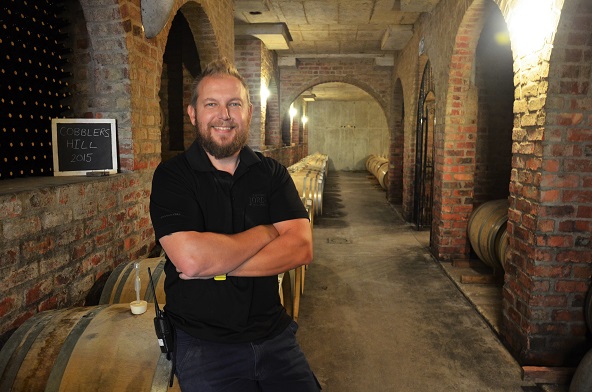 From vines more than 30 years old and planted in the warmest part of Jordan Estate's Polkadraai Hills farm, near the winery, comes The Long Fuse Cabernet Sauvignon.
The wine gets its name from the way the ground was originally prepared. To create the perfect soil environment for the Cabernet Sauvignon vines, many large, sub-surface granite boulders were excavated and blown up with dynamite. One of the boulders required over 300 charges, necessitating a very long fuse.
With lots of fruit on show, this is an example of the modern, lighter style of Cabs hailing from Stellenbosch, South Africa's largest Wine of Origin district. "Our wine is not heavy, full of tannin," winemaker Sjaak Nelson (
above
) points out. "But it can handle oak and it's got this lovely acidity. It's almost in the same style as the wines used to be with the Cinsault added back in the day. Intense fruits and this long, nice, natural acidity."
The grapes from a variety of clones (CS163, CS27, CS14, CS46) are harvested at about 23.94° Brix.
They are fermented in overhead retort-shaped, stainless-steel fermenters.
For a gentler extraction, pump-overs are preferred to punch-downs. The pump-overs occur three times a day during fermentation.
Selected tanks receive extended maceration on the skins after fermentation.
The use of gravity flow and gentle pressing ensures full-flavoured wines with soft, balanced tannins, according to Sjaak.
The wine is racked into barrels for MLF. After further racking, it spends 18 months in new and used French oak barrels, before being lightly filtered prior to bottling.
AnalysisAlc:
14%
pH:
3.53
Total acid:
6.0g/L
Residual sugar:
1.7g/L
Warwick Wine Estate's Blue Lady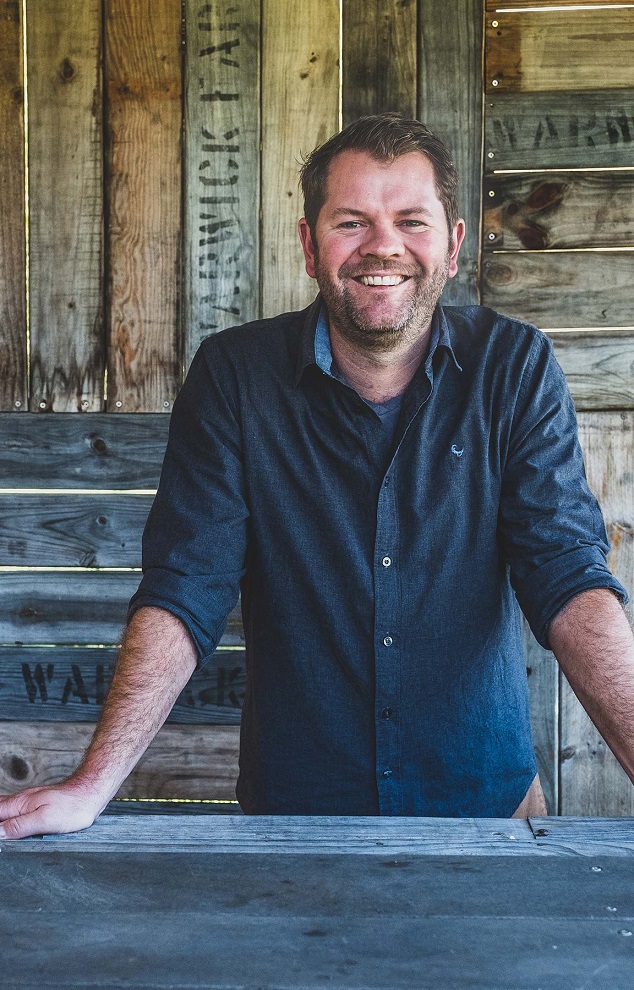 Three specific blocks in Simonsberg are used for Warwick Wine Estate's Blue Lady.
The grapes are hand-harvested, destemmed and sorted into tanks for fermentation and maceration. The wines spend, on average, 36 days on skins – the exact time dependent on the tannin structure. They receive three or four pump-overs per day.
The wine is then pressed and prepared for MLF. After completion, the wine is racked to French oak barrels (25% new) for 27 months. The big, powerful tannins from this warm site need that long to mellow.
Winemaker JD Pretorius (
above
) says the main concerns are managing the vigour in the vineyard and the tannins in the winery.
The final wine is a selection of the best barrels, blended and allowed to clarify naturally before bottling.
AnalysisAlc:
14.33%
pH:
3.56
TA:
5.6
RS:
3.4
Oldenburg Vineyards' Rondekop Per Se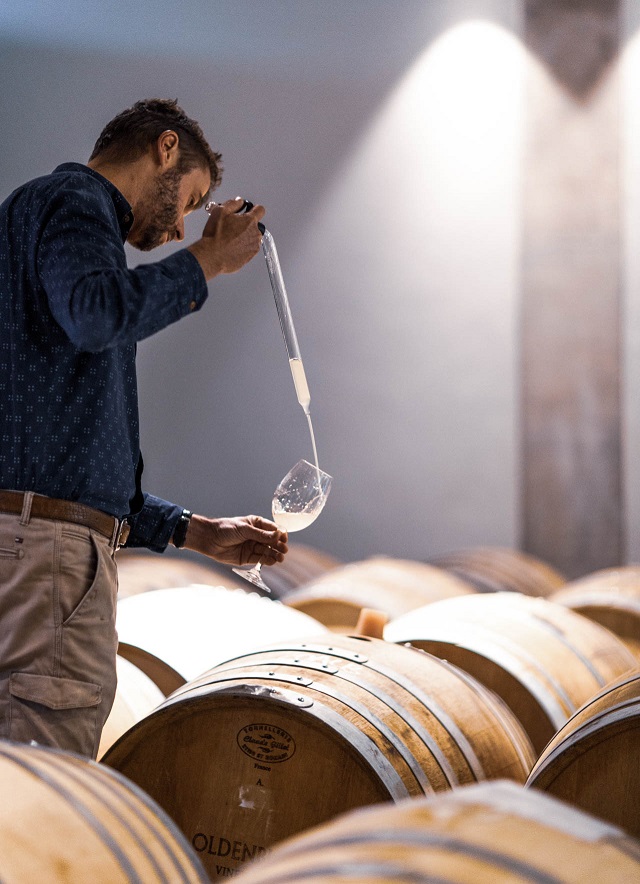 The aim at Oldenburg Vineyards is to deliver the best possible rendition of Cabernet Sauvignon.
Its Rondekop Per Se has elegant varietal aromas and flavours, and light tannins.
The grapes are handpicked from the perfectly round hill, Rondekop, at about 23.7° Brix. This is a cool area with warm slopes.
The fruit is sorted by hand and stored in a cool room overnight.
The grapes then undergo a five-day cold soak before fermentation is initiated.
Pump-overs are performed up to three times daily.
Malolactic conversion is in barrel.
The wines are matured for 18 months in 225L and 300L French oak barrels (40% new).
The final wine comes from a small selection of the best barrels.
AnalysisAlc:
13.7%
pH:
3.4
TA:
6.8g/L
RS:
2.4g/L
Rust en Vrede Vineyard Selection Cabernet Sauvignon


Since 1977, Rust en Vrede in Helderberg has specialised in the production of red wines, with the focus on Cabernet Sauvignon and Syrah. Cabernet currently accounts for 60% of the plantings.
Seven clones of this variety are grown here, on the lower slopes of the Helderberg Mountain: 18H, 37C, 46C, CS163, CS169, CS338 and CS23A.
Winemaker Danielle le Roux (
above
) is gradually fine-tuning the whole process. "We try to hone in on understanding our soils and our vineyards and our clones even better," according to owner Jean Engelbrecht. "We try to hone in and see what's happening internationally in winemaking practices and then adapt all that to making Rust en Vrede vintage by vintage something that if you open it up regardless of what vintage, you will always know this is a Rust en Vrede Cabernet in your glass."
The grapes are picked and sorted by hand, with different parcels and clones kept separately during vinification.
The grapes are destemmed, crushed and pumped into open-top fermentation tanks where they undergo a 21-day maceration period involving a seven-day fermentation with pump-overs and manual punch-downs 2-4 times daily.
Malolactic conversion is in barrels.
Maturation is in 300L French oak (20% new, medium-toasted, 20% second fill, 20% third fill, 40% fourth fill), for 18 months.
AnalysisAlc:
13.74%
pH:
3.61
TA:
5.7g/L
RS:
2.1g/L
Spier's 21 Gables Cabernet Sauvignon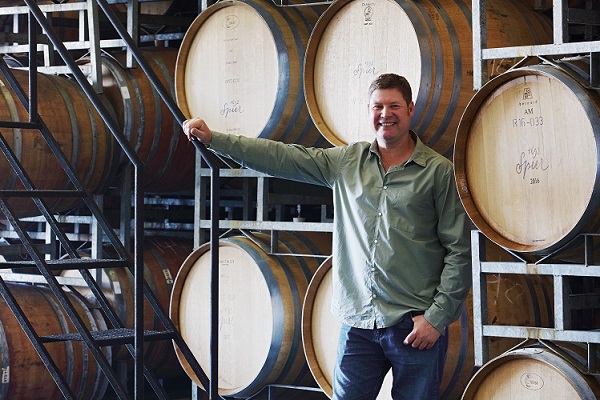 Johan Jordaan (above), cellarmaster at Spier, says he is chasing "freshness".
Spier's 21 Gables Cabernet Sauvignon comes from small berries grown on the west-northwesterly-facing slope of the Helderberg, where the foliage is manicured to withstand the onslaught of cool south-easterly winds and to enable the bunches to develop colour and flavour evenly during the cool, slow cycle of ripening.
These are berries that get plenty of "hangtime". "We're able to ripen Cab in Stellenbosch but very slowly," Johan concedes.
Managing the large canopy from the fertile soils and allowing the right leaf-to-bunch ratio and sun exposure is a tricky equation to get right.
Once the harvest time has been selected, the grapes are handpicked, destemmed and individually sorted to ensure only the best coloured and sized fruit are used.
Fermentation occurs in stainless-steel fermenters for a period of 24 days with extended skin maceration of 15 days.
The free-run wine is barrelled down to 70% new French oak for 26 months.
Barrel selection is carried out to make the perfect blend to represent the original single vineyard site.
AnalysisAlc:
14.80%
pH:
3.66
TA:
6.0g/L
RS:
2.4g/L
Kleine Zalze's Vineyard Selection Cabernet Sauvignon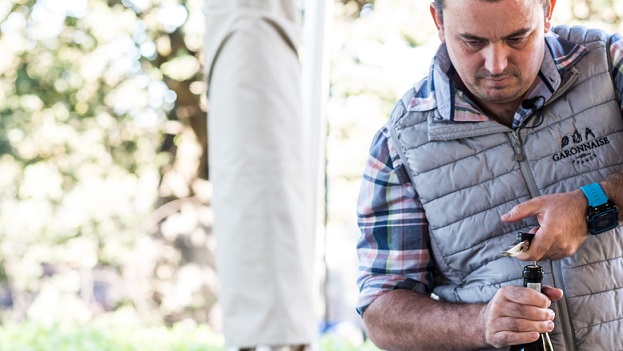 Kleine Zalze has replanted 70ha in last six years in a bid to put the right virus-free vines and clones in the right spot in Helderberg.
About 70% of its plantings are Cabernet.
Most of the fruit for its Vineyard Selection Cabernet Sauvignon comes from the estate, with a few selected parcels from other Stellenbosch vineyards.
The various blocks are harvested at optimum ripeness and vinified separately. After careful selection in the vineyard, the grapes are hand-sorted at the winery, with only the best fruit going for vinification.
After destemming, the grapes are fermented in a combination of stainless-steel tanks and traditional open-top fermenters. A combination of punch-downs and pump-overs at different stages during fermentation is used to achieve the best possible extraction and to get a good balance between flavour and tannin levels.
Special care is taken not to over-extract the wine and maintain density without compromising elegance.
After primary fermentation the grapes are gently pressed and transferred to French oak barrels (40% new, 30% second fill and 30% third fill) for 19 months before final blending.
Cellarmaster RJ Botha (
above
) says: "This wine is a classically structured Cabernet that speaks more of refinement and elegance than of power and weight."
AnalysisAlc:
14%
pH:
3.68
TA:
6.0g/L
RS:
3.1g/L
Le Riche's Reserve Cabernet Sauvignon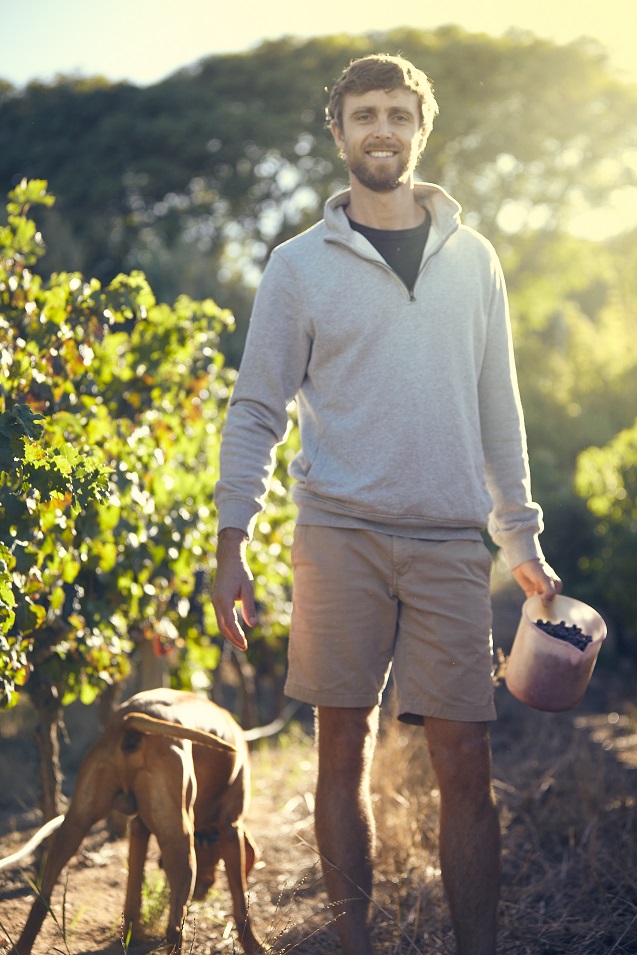 Le Riche's Reserve Cabernet Sauvignon is a blend from four different wards: Firgrove, Jonkershoek, Raithby, and Simonsberg.
They have different soils, aspects, distances from the sea, altitudes, and vine ages – giving different tannin structure.
The aim of the wine is to give classic Cabernet aromas, flavours, and complexity in a smooth, fresh, sophisticated wine. 
Hand-selected grapes from older, lower yielding vines are used.
Fermentation is with a selected yeast strain under controlled temperatures.
Manual plunging is used to ensure optimal colour extraction.
After five days, the tanks are closed and allowed to macerate for a further period, normally 10-14 days.
After pressing, the wine is transferred to barrel for MLF. On completion, a final quality check and analysis is performed and the Reserve is then prepared for 24 months' ageing in 225L French oak (76% new).
AnalysisAlc:
14.87%
pH:
3.77
TA:
5.6g/L
RS:
1.4g/L