Alejandro Galaz, the Pinot Noir and white wine specialist at Chilean winery Viña Ventisquero, uses different percentages of stems in his range of coastal-climate Pinot Noirs – but does not use whole bunches.
He lays the stems on top of whole berries, and fills the vat layer by layer.
"What I do is destem the berries, keeping them complete without crushing them, and then I put in the open vat a layer of berries and then a layer of stems," he told
Canopy
at a tasting in London.
"When you put the stems in between during the alcoholic fermentation, there's much more oxygen.
"Pinot Noir can be a very reductive variety. With the stems in between, it's not only giving a little more structure and freshness to the wine, but it's also giving more oxygen during the alcoholic fermentation. It gives cleaner aromas and better definition at the end of the fermentation."
The stems go into the press as well because it helps the pressing – "it's like a net that's between the skins so you can press in a cleaner way," Alejandro explains.
After pressing, the skins and stems are composted for one year and returned to the vineyard as organic fertiliser.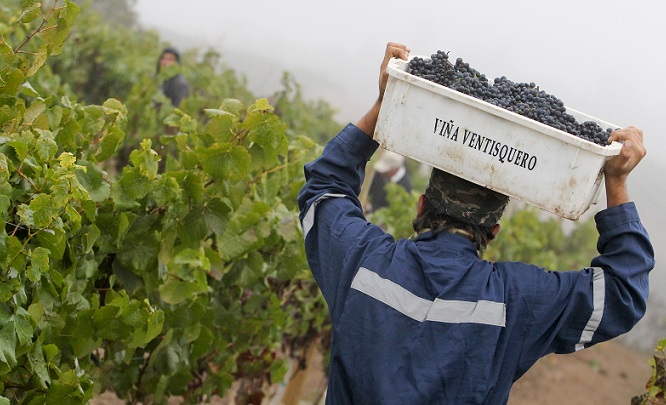 The fruit comes from Viña Ventisquero's own Pacific-influenced vineyards, where the morning fogs and cooling breezes promote grapes with fresh fruit flavours and bright acidity.
The range is called Kalfu, which means blue in the Mapuche language. Alejandro says it's an important colour for the natives as it is connected to the beginning of life, and it's also the colour of the Pacific Ocean – which is important for this range.
All the vineyards for the Kalfu series are near the Pacific Ocean and feel the influence of the cold Humboldt Current.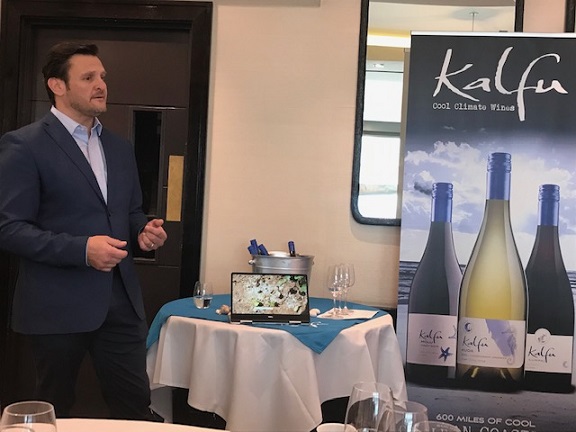 Launched in 2015, the concept behind the nine-strong, three-tier range is simple – premium varietal wines with a coastal-climate influence. The four grape varieties involved are Sauvignon Blanc, Chardonnay (which is replaced by Syrah in the top range), and Pinot Noir – with each line offering three levels, named after the relevant vineyard.
The introductory level Molu Pinot Noir comes from the Casablanca Valley and has no stems in the fermentation or pressing because Alejandro wants "to keep it very drinkable".
The mid-level Kuda Pinot Noir comes from Leyda, home to some of Chile's most exciting cool-climate wines, and uses 15% stems in the fermentation and pressing.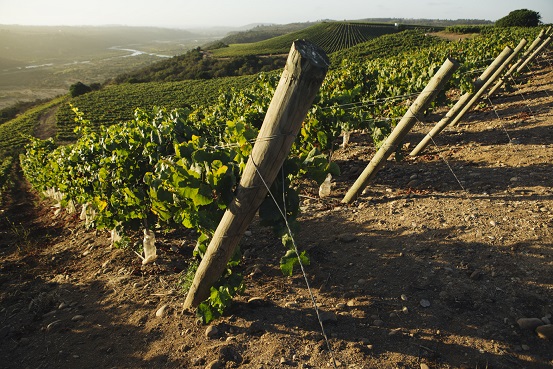 The top-of-the-range Sumpai Pinot Noir also comes from Leyda (
above
) and has 30% stems included in the fermentation and pressing.
Regarding the three levels, Alejandro says: "The commercial department asked me to produce three quality levels or three price ranges, but I don't think that way. Because even if we have three levels of quality, we can enjoy the entry level with the starter, the same as you can enjoy the higher quality level with dinner. So for me they are for different occasions of consumption."