I am not an accidental winemaker. It is not a job that I fell into, that I inherited or stumbled upon unexpectedly. Instead, after 20 years in the wine trade selling and promoting other people's wine, it was a very deliberate decision to be creative, take some risk and to make wine from beginning to end.
The story was supposed to start and finish in the Roussillon. In a village called Estagel, 20 minutes north of Perpignon, I took two barrels and embarked on a journey that has resulted in a 30,000 bottle project named after the pretty yellow flower that grew between the vines, Immortelle. Success here led me to start a similar project in Terra Alta, Spain, and a much larger one in Marlborough, New Zealand. My thirst was quenched.
Two years ago, I took wine writers Jancis Robinson MW and Fiona Beckett to India, to walk and talk the vineyards of this emerging wine producing country. Under a sun hotter than we thought viticulture permitted, we were introduced to the challenges of winemaking in a climate with no dormant season and two harvests a year (albeit the summer one, swamped by the monsoon, yields no wine). Tasting extensively, the wines of Nashik – India's premier wine region – rarely managed to thrill but frequently showed potential, often leaving us questioning whether quality was limited by nature or by an increasingly thirsty and unquestioning customer base.
'The ripening flex of Syrah began to stand out as the varietal most able to survive the challenging conditions'
The ripening flex of Syrah, for me, began to stand out as the varietal most able to survive the challenging conditions with one of two wines from the likes of Grover Zampa and Frattelli being quite exceptional. A conversation began about whether I could play a role.
York Winery is not only one of the country's most reliable, the owners are in my mind the industry's most forward thinking. We struck a deal that I would take the fruit from their coolest vineyard site and run a small ferment in tank then through four French oak barrels and together we would create a wine. Nervous from the outset, I held my breath, crossed my fingers and waited for the wine to emerge, respond to technique with aroma and flavour.
In a classroom in Delhi I put the naming of the wine to a group of students, I was determined the wine was truly Indian in its messaging. In response to my words, a hand went up and offered the suggestion of Yaatra. Yaatra is a local word meaning 'journey', which tied in so closely to the path we have been on with this wine and all visitors to India experience.
'I did it because I love India, I love the challenge'
Three vintages in, and I now know why I started this project. I did it because I love India, I love the challenge and now that we have made the wine I believe in its potential. This December we release our first vintage in the UK, with profits going to the Jungle Crows, a charity that uses sport to weave together the fabric of society for slum and street children. This is a wine with a story and purpose.
The wine is on the wine list at Southernhay House, a beautiful townhouse hotel in Exeter, England. The 19th-century property was originally built for a trader who worked for the East India Company. The hotel's new wine list, dubbed 'When A Friend Makes Your Wine', features six wines created by Liam, plus two of his all-time favourites – an aromatic Verdejo from Rueda, Spain, and a Sicilian Nero d'Avola.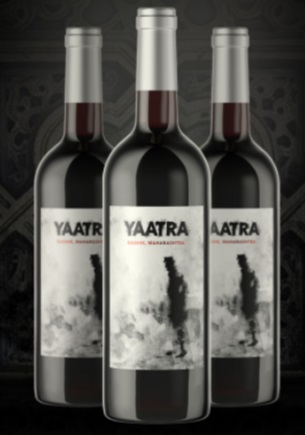 Yaatra's journey

The winemaking
The Syrah used for Yaatra is destemmed and fermented as whole berries. The fermentation process takes place in stainless steel tanks at temperatures kept deliberately low to preserve the red fruit elements in the wine. The total maceration time on skins is 22 days to extract colour, flavour and tannins. Post malolactic fermentation, the wine is allowed to mature in medium toasted French oak barrels for a period of 13 months.
Technical details
Alcohol: 14%
pH: 3.66
TA: 8.1g/L 
FSO2: 30ppm
TSO2: 78.4ppm
RS: 2.9g/L 
VA: 0.59g/L