Thomas Teibert is the German-born winemaker who helps to develop barrels with the renowned Austrian cooper Franz Stockinger. He also represents the brand in France and Spain.
For someone so ingrained in barrel-making, Thomas has a surprisingly light touch when it comes to using oak in his own wines, which he makes in the Catalan part of Languedoc-Roussillon, in southwest France. Thomas, who studied winemaking at Geisenheim, worked in various wine regions including Austria (at Graf Hardegg) and Italy (at Manincor in the Alto Adige) before he created his own biodynamic estate, Domaine de l'Horizon, in Calce in 2007.
He was inspired to check out this village at the foot of the Pyrenees after meeting legendary winemaker Gérard Gauby and tasting his "fresh and mineral" wines in 2003.
Canopy: Why did you choose a relatively unknown part of France to make your wines?
Thomas:
"I always wanted to start my project at the Mediterranean Sea and for me it was not a question of known or not – it was, and is, a question of potential for great wine."
Why is Calce unique?
Thomas:
"For its big variation of great soils within a small place: limestone, slate (brown and black), red limestone with clay (rich in iron), and marl. This in combination with a unique climate: it's always windy (with the 'Tramontane' roaring down from the north and the 'Marin' blowing in from the Mediterranean Sea). With our indigenous varieties it means we are able to make fresh and mineral wines."
You have said you make wines "first in the head" – how do you translate that into an actual wine?
Thomas:
"The objective is clear – with the years I know the vineyards and I know what the wine can and should be in the end. This is one of the things I love about this job, that with experience of drinking great wines, in winegrowing and winemaking, you bring everything together and you know how to come to a certain result. It doesn't work out all the time perfectly, but it works."
Even in the good years your old vines produce barely 2-2.5 tonnes per hectare. How do you survive as a business with such low yields?
Thomas:
"We have good average prices, but it is true, that it is more a question of a balanced business record than of earning money."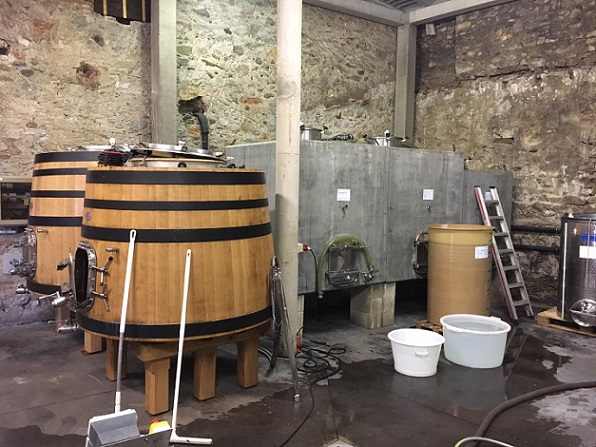 Let's talk about fermenting in oak – what's your preferred size, shape, grain, toast, etc, and why?
Thomas:
"I think 20 to 30hl is quite ideal – we have conic fermentation vats which we use for the fermentation of the best Carignan and Grenache and we use them for ageing of wine during the year.
'It has to be well seasoned'
"The point is like with oak in general for me – it has to be well seasoned in order to have ripe and smooth tannins and I like it only with very little aromatics – so this is the same for the fermentation vats as for the foudres and smaller barrels.
"Fermenting in small barrels blows up the wines too much – which is still quite liked nowadays – but it's like bodybuilding or plastic surgery. I prefer natural beauty."
What does fermenting in oak add to red and white wines?
Thomas:
"In both cases, stability and better ageing potential in time. Protection of colour, better length, better resistance against oxidation, better depth and length of the wines."
You also like to combine cement and oak – why?
Thomas:
"Wines from great soils should always be able to breathe, at least a little bit to gain and to keep alive. The other advantage is that there is no electrostatic tension on concrete either. Wines do not close up too much and continue their evolution in either (vessel) very slowly.
"The even fresher fruit from the concrete is what we look for in our easy-drinking Mar i Muntanya (45% Syrah, 45% Carignan plus a splash of Grenache, made partly in cement vats and partly in large oak barrels using semi-carbonic maceration to give "a 'Beaujolais Cru' profile").
At what stage do you blend your wines?
Thomas:
"In some cases, we do first blends after the fermentations but most are done at the end, when we are sure what the wines look like – when they start to be 'adults' and are close to bottling."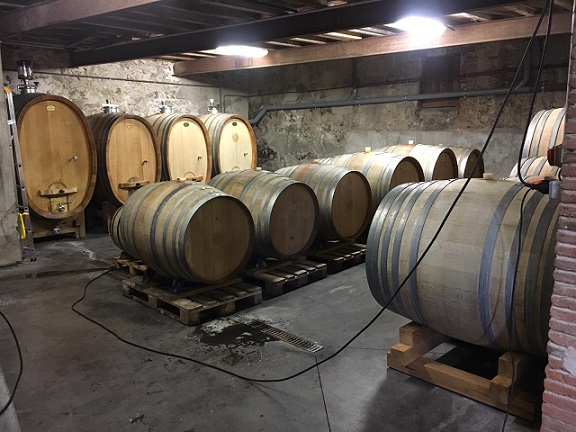 With elevage, what's your preference regarding size, shape, grain, toast, etc?
Thomas:
"I like the mix of sizes because it cannot be true that one size is the best – each year and variety is different. I quite like the diversity of the different sizes and shapes. It is in the continuity of the idea of the 'selection massale' in the vineyards and the natural fermentation (using native yeasts).
"Then, as I said before, we prefer ultra-light toast to maintain the natural beauty and we do not look to put on some 'maquillage' to the wine."
Tell me about the differences in performance of foudres versus demi-muids.
Thomas:
"The smaller a barrel is the more the wine gets volume and 'structure' but the more the fruit and precision goes away during or towards the end of elevage.
"For me, good demi-muids are like the smallest size of foudres. It is considerably more precise and fresher than 225/228 but even a nice step after the tonneau of 500L which, for me, is between 225/228 and 600L."
You use a variety of techniques in your winemaking – what have you learned about…Whole cluster fermentations
– "I like but as a spice, without that this technique dominates the wine – so usually we never do 100%."
Semi-carbonic maceration
– "We only do this, so we never crush red grapes and use either whole grapes or whole clusters."
Pigeage
– "is good when you do not do too much."
Remontage v delestage
– "We use small (short) and gentle remontages. Delestage can be good, but is more suited for those who want to make 'bigger' wines, with more colour, tannin, etc. But it is a nice technique which works well without any doubt."
For views on oak from coopers,
click here
.
For views on oak from winemakers,
click here
.