A 12.8m-tall, 12,000kg siege machine that looks like it's from the props department of Game of Thrones launches an old oak barrel high into the sky. It doesn't seem the most respectful way to end a barrel's years of service, but it does look fun.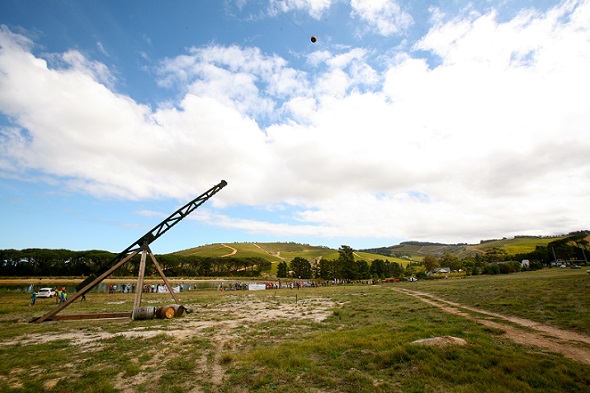 Instead of seeing out its days as a plant pot, the barrel smashes on the ground, next to an old car that has also been catapulted through the air by the trebuchet at the fittingly-named Journey's End vineyard in Stellenbosch, South Africa.
Rather than sell their old barrels for a few hundred South African Rand, Journey's End holds a fundraising Trebuchet Day to support the local community of Sir Lowry's Pass Village.
They started with a soup kitchen (
below
) and pensioner lunches and went on to fund the building of a new school hall. The winery has also funded a creche and a campaign to eradicate bullying in five township schools.
"We just like to try to get involved," Journey's End's managing director Rollo Gabb tells me.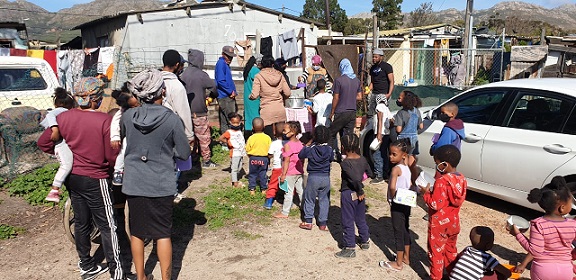 It's a video call from his office in England. He managed to fly back during that brief window between the end of the "cracking" 2020 harvest and the start of South Africa's strict lockdown. Rollo usually spends one week every month in the Western Cape, but as he can't get back at the moment, he has launched the Journey's End Foundation to tackle hunger and extreme poverty in the Helderberg Region of Stellenbosch – rising sharply as a result of the Covid-19 pandemic.
'Starvation in the Cape is a real risk'
Set up as an NGO, the Journey's End Foundation aims to provide 10,000 meals per week through a network of soup kitchens by the end of October 2020.
Rollo says: "The South African economy continues to be very badly affected by Covid-19, with the Western Cape in particular hit by zero tourism and close to zero hospitality. This coupled with a recent ban on domestic wine sales (since lifted) has severely impacted the wine industry, and a 9pm curfew is killing the restaurant sector, leading to a very significant increase in unemployment. With very little government support, many families are now unable to bring any food to the table and starvation in the Cape is a real risk. It has been reported that some 20,000 people in Stellenbosch alone are at risk of hunger.
"Journey's End has committed funds to provide food for just over 400,000 meals through a network of nine soup kitchens over the coming 12 months."
The company's commitment to the community started in the vineyards and winery and has spread to the local community. Rollo says they pay workers "way, way, way above" Fairtrade rates. "And we look after the team way, way, way better than any Fairtrade norm would require – school fees, funeral care, help with housing, paying good wages and bonuses, huge investment in training.
"I think that shines through with the fact that in 25 years we've lost maybe three people and we've grown from a team of about five to over 40."
He adds: "The aim is to have a happy and positive farm that's producing really nice wines that everyone can be proud of."
The farm
The Gabb family took control of the picturesque wine farm in 1995. Rollo's father, Roger, bought it when he was founder and managing director of UK wine importer Western Wines, which owned and created the Kumala brand. At the time he wanted to demonstrate to South Africa that he was committed to investing in the country and wasn't just a UK importer who had come up with an idea for a brand.
"It was purchased with a view to it being the Penfolds Grange of the Kumala brand," Rollo explains.
Journey's End remained in the family after Roger sold Western Wines to Constellation Brands in 2006 and, the following year, Rollo took over the estate and increased its landholding from 20ha to 120ha by July 2011.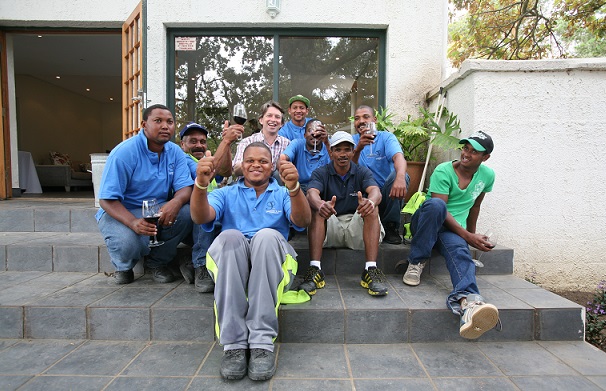 About 40ha is currently planted to French grape varieties. A further 20-30ha could be planted in the future.
"I'm planting all the best bits of soil but I'm not wanting to over-farm or overplant the land," Rollo continues. "I'm wanting big open spaces for wildlife, birdlife and nature."
At least 4ha is being devoted to a new wildflower meadow for endangered species.
"We're trying to make the farm very, very beautiful."
Sustainability is also important to the Gabbs. "For me, it's an absolute must on wine production and pretty much everything we do," Rollo confirms.
Journey's End is self-sufficient in water, channelling rainwater into a network of dams and feeding the winery from a borehole. "The dirty water from the winery we treat ourselves and put back into the dams and back on the vineyard, so everything that comes through the borehole goes through the winery, goes through the treatment plant back onto the vineyard, back into the ground."
Geese wander around the vineyards eating snails, while spotted eagle owls "mop up" the rodents.
Lupins (a natural nitrogen fixer) and wheat grow between the rows of vines to prevent weeds and topsoil erosion, and improve the soil's health.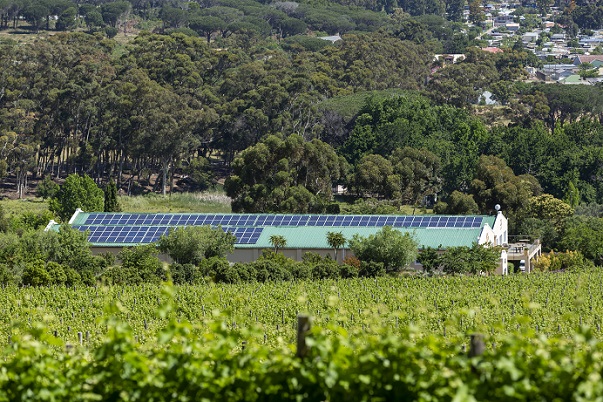 The wines
The solar-powered winery (
above
), with capacity for 350 tons of grapes, was completed in time for the 2010 vintage and the release of two premium single-vineyard wines: 'The Cape Doctor' – a Cabernet Sauvignon named after the cleansing south-easterly wind that blows through the vineyards from False Bay and plays havoc during flowering; and 'Destination' – a creamy Chardonnay that shows off Leon Esterhuizen's white winemaking skills. It's a wild ferment, partially in oak, partially in amphora, with grapes picked at three different levels of ripeness.
Regarding the use of amphorae, Rollo says: "What we're finding with the clay is, it's really giving the Chardonnay all the structure you'd hope to get and expect from a barrel without any of the flavour. The components aren't right by themselves but they're brilliant for a broader cuvee.
"When you bring all the components together, you have a wine with great freshness, great acidity and remarkable intensity without it feeling heavy or over-oaked."
In 2015, they added an impressive, quirky new wine to their top tier. 'The Griffin' Syrah started as an experiment with carbonic fermentation. Whole bunches of Shiraz from a 20-year-old block are put into a stainless-steel tank filled with CO2 and left to ferment. After two weeks – when about 30% of the grapes have undergone carbonic maceration – the skins are pressed and the wine is racked to 30% new American oak and 30% French oak barrels for 18 months' ageing.
'I'm completely confused'
"I'm completely confused how we produce this product and that (fruity) profile with the new American oak. You definitely wouldn't believe it's there tasting the wine," Rollo says.
Journey's End's focus is on high-end wines made with a twist but in an ethical and sustainable way. Rollo says their slice of the Schapenberg terroir is "only suited to high quality, site-specific wines. You can't get machines in there. You get a very low yield because of the wind coming through the vineyard (disrupting flowering).
"Our business model is based on 2.5 tons per acre."
He sums up the range this way: "Each wine is very, very different. They are a real expression of what we're about at that level. I think bang per buck they're ridiculous value."
The winery was built with plenty of storage space, but that has now been overtaken by tanks, barrels and 3,000L clay pots, and the bottling and storage have been outsourced to the neighbouring Lourensford Estate.
Rollo says there are no plans to bring them in-house either. "I don't want to build more buildings and screw up the land," he says. "I don't think that's right for the environment."
He does, however, admit the business must grow to survive. "The bigger I build the business the more work I'm creating for myself," he reflects. "I don't really need to work, but it's fun. It's a nice challenge and unless you move forward you go backwards. So, as I see it, I've got one choice which is to move forwards."
Journey's End recently launched Identity, a range of six wines with Augmented Reality labels. The trebuchet is the centrepiece of the label, of course, and swings into action through the technology. The labels also feature the vineyards' bees, geese, owls and cranes – which soar over the winery.
Rollo says they are also working on a sparkling wine made partly in amphora.
"We're trying to push boundaries, we're trying to be as forward-thinking and dynamic as we can be whilst at the same time remaining commercial."
The business is firmly aimed at the export market, with the wines available in more than 20 countries. However, the UK takes about 60% of Journey's End's output – which is why Rollo is based in the UK. Before the Covid-19 crisis, the wines went to the on-trade, airlines, and cruise ships. "All the things that have imploded in the last three months," Rollo says, with a resigned smile. Domestic sales account for only 2-3% – mostly top restaurants in the Western Cape.
Surprisingly, given that Rollo is a director of the Hart restaurant group in London, they do not have a restaurant at Journey's End– or any plans for one. The Trebuchet Day and tastings by appointment are where the journey ends for wine tourism here. "I'll leave that to the pros," Rollo states.
'The principles of business are always the same'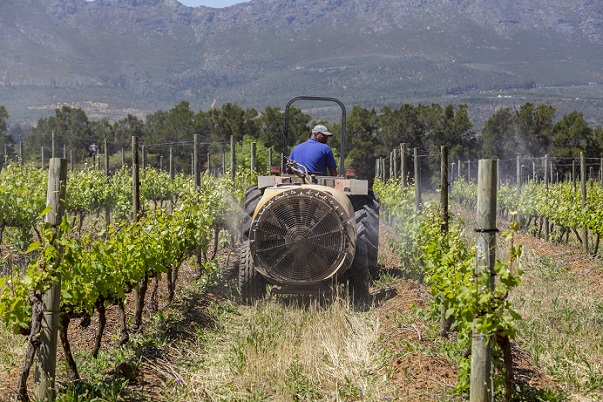 Advice
Roger, who's now 82, is still involved in the business. Rollo says: "I go to him whenever we need a bit of help and advice. He's very fit and active; he's chairman; he likes seeing the figures if they're good and we go to him if we're stuck.
"He's the sage who's been there, done that, seen it all."
Rollo, who worked vintages in Australia, New Zealand and Friuli, Italy, before joining his father in a sales role at Western Wines in 1998, says he enjoys working with his father. "We've got a very positive working relationship. I've learnt enormous amounts from him and I continue to learn enormous amounts from him. While the world has changed and continues to change very, very fast, the principles of business are always the same and the principles of building brands broadly don't change, though the tools that one might use to build them and create them do change, but the fundamentals don't."
These, he says, include "integrity and honesty". To that, they can probably add a very strong commitment to sustainable and ethical practices.
Journey's End's best wines in the International Wine Challenge.