Smart tractors roll into To Kalon vineyard
The first models of the fully electric, driver-optional, smart tractor MK-V are coming off Monarch Tractor's production line in Livermore, California.
The first six are destined for Constellation Brands' vineyards, including the newly certified organic To Kalon, which provides fruit for Constellation's Robert Mondavi Winery, Schrader Cellars and Double Diamond as well as To Kalon Vineyard.
It's been two years since Monarch unveiled its tractor, which combines electrification, automation, and data analysis – helping growers to reduce their carbon footprint, improve field safety, streamline farming operations, and increase their bottom lines.
Praveen Penmetsa, co-founder and CEO of Monarch Tractor, said: "Our team has worked tirelessly and relentlessly with a mission to make farming more profitable and sustainable. We're proud to see our commitment to technological innovation and sustainable solutions culminate in celebrating our first tractor off the production line, which, I might add, is powered by renewable energy."
The other co-founder is Robert Mondavi's grandson, Carlo Mondavi.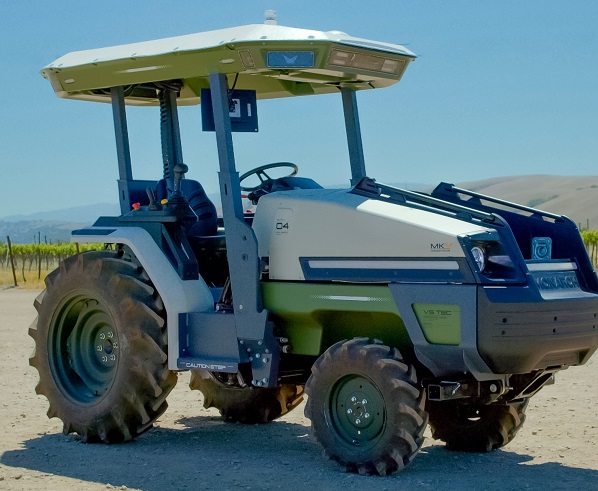 Robert Hanson, president of Constellation Brands' Wine & Spirits division, said: "We are pleased to partner with Monarch Tractor as its first customer, accelerating our deep commitment to sustainability while supporting a business driving future-forward innovation in agriculture technology. As we build a leading global premium, fine wine and craft spirits portfolio, comprised of some of the world's top vineyards including To Kalon, we are focused on protecting and amplifying our resources while producing the highest quality wines and spirits in the world. Being the first to leverage the Founder Series MK-V affords us an industry-first opportunity to do so, and we congratulate Monarch on this exciting launch."
After raising more than $110m, Monarch has now signed a manufacturing contract with Hon Hai Technology Group (Foxconn) to build the MK-V and its battery packs at the Foxconn Ohio facility. Manufacturing operations are expected to begin there later this year, while research and development will continue in California.
Diam company invests in plant data collection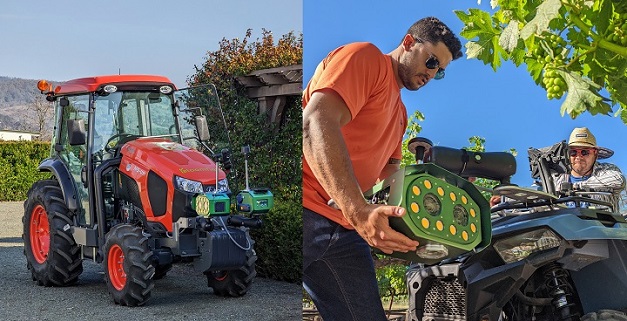 Tractor manufacturer Kubota is renewing its investment and strengthening its commitment to Pittsburgh-based Bloomfield Robotics, which develops AI-driven plant imaging technology.
The aim of this deepened relationship is to ensure that each of its farm vehicles becomes a platform for continuous data collection to assess both the health and performance of each plant.
Wine equipment supplier Oeneo Group – the company behind cork closure brand Diam and various cooperages – is also investing in Bloomfield. The investment provides Bloomfield with direct access to Oeneo's 10,000 customers in the wine industry worldwide, helping Bloomfield to provide specific analysis for each wine region and grape variety.
"This partnership with Bloomfield is aligned with Oeneo's development strategy to build a complete and innovative offer for winegrowers," explains Dominique Tourneix, CEO of the Oeneo Group. "It will allow us to accelerate our own initiatives, in particular in response to the impacts of climate change. In the vineyard, we want to offer our clients new indicators, enabling them to make the most relevant decisions possible, to secure the quality and quantity of the wine production."
Straddle concept tractor wins design award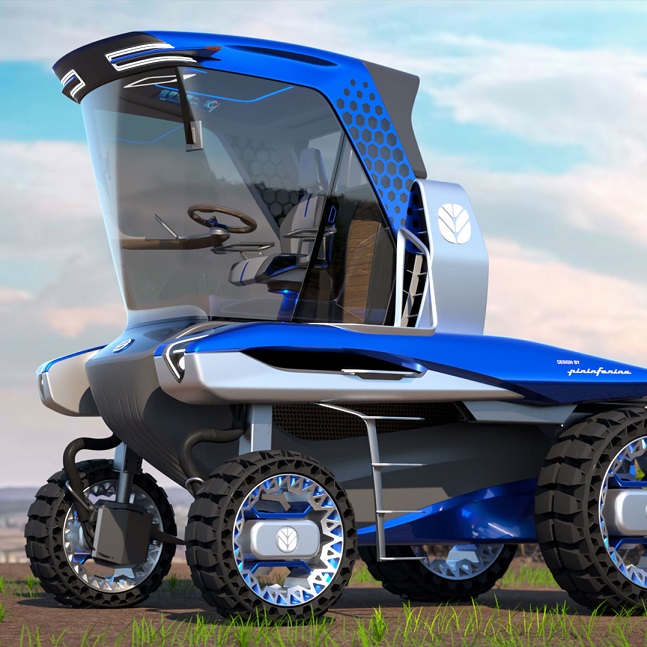 New Holland's straddle tractor concept, designed to meet the requirements of narrow vineyards, has won a gold medal at the German Design Awards 2023 in the category of Excellent Product Design.
Unveiled at the SITEVI exhibition in 2021, the electric-powered straddle tractor concept is a co-production by New Holland Agriculture and car design house Pininfarina.
The futuristic design combines safety, comfort, and technology: it is inspired by the shape of a glass of Champagne – tall, wide at the top and tapering down at the bottom.
The cab is completely made of glass, providing the operator with all-round visibility of the vines, and is angled in the direction of travel to make it look more dynamic. The interior features a large single door and rotating seat, with use of wood contributing to the cab's plush, luxurious feel.
Autonomous robots to help piwi development
This spring, a small army of Cornell-developed PhytoPatholoBots (PPB) will be deployed to four grape breeding programs across the US to monitor the development of new disease-resistant grape varieties.
The autonomous robots will use computer vision to gather data on the physiological state of each grapevine. By combining this data with a decade of grape-breeding information, Cornell researchers are refining the PPB to allow breeders and growers to evaluate their vineyards – leaf by leaf, in real time, down to the chemical level.
The PPB rollout is happening in the first year of a new four-year project at Cornell and extends the National Institute of Food and Agriculture and Specialty Crops Research Initiative's previously funded VitisGen1 and 2 projects, in which Cornell-led scientists discovered many of the genes that control important traits in grapevines, such as disease resistance, insect resistance, and fruit and wine quality.
The new Cornell project focuses on bringing VitisGen's genetic and technological innovations into the vineyard by combining plant pathology, computer vision, AI and robotics. They see this work as crucial for encouraging growers to embark on widespread plantings of new disease-resistant grape varieties.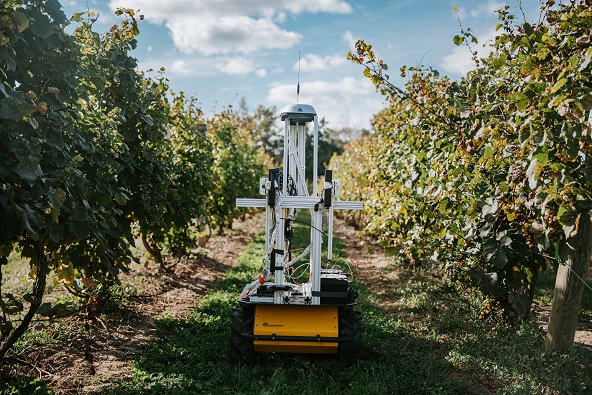 "Adoption of these new varieties alone has potential to reduce pesticide use by 90%," said Lance Cadle-Davidson, co-project director and research plant pathologist at the USDA-ARS Grape Genetics Research Unit at Cornell AgriTech. "Now that breeders have introduced natural disease resistance into soon-to-be commercialised varieties, growers need updated guidance."
This is where the PPBs come in. They will help the Cornell AgriTech team to design low-input disease management programs for new varieties in VitisGen's pipeline.
SDF invests in Bakus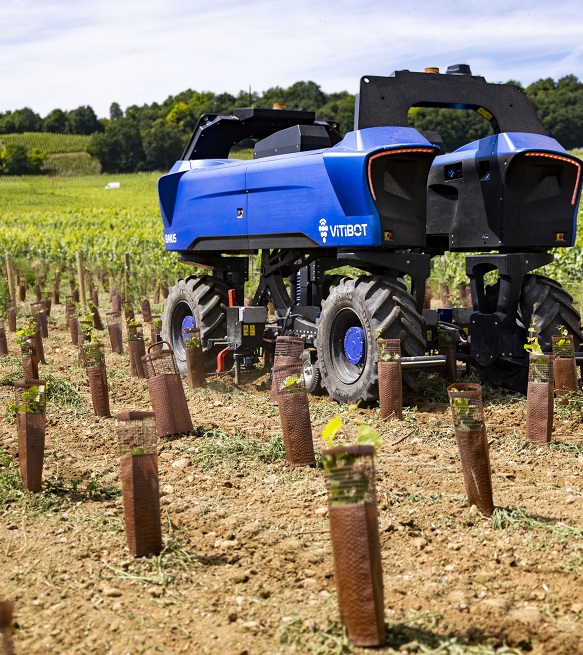 Italian tractor manufacturer SDF has taken a majority stake in VitiBot, the French specialist in robotics for the vineyard care market. Based in the Champagne region, VitiBot has created Bakus, a 100% electric and autonomous straddle tractor.
SDF says Vitibot – like the group's other subsidiaries – will retain full autonomy in terms of technical, industrial and commercial development.
Robots at World FIRA 2023
More than 20 autonomous field robots will be demonstrated at World FIRA 2023, which will take place at the Agrobiopole Campus, in the outskirts of Toulouse, France, from February 7 to 9. It will be a 100% "in-field event", and the robots are expected to show their potential for weeding, harvesting, sowing or data collecting.
Robots coming your way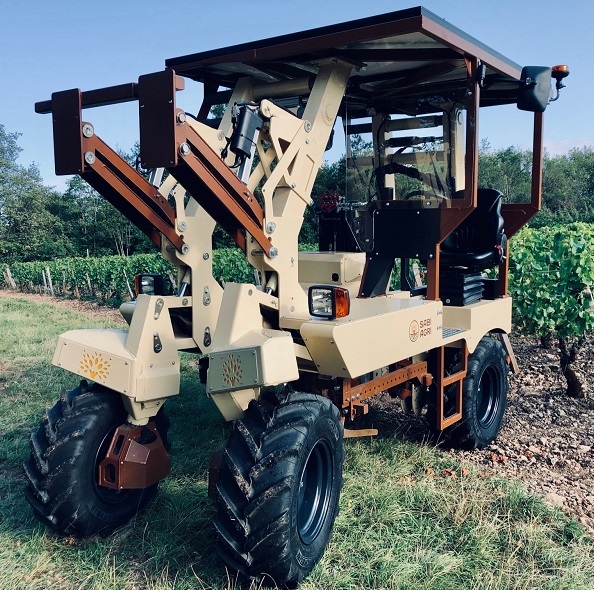 Sabi Agri has developed the
Alpo electric straddle tractor
(
above
). This 100% electric, four-wheel-drive straddling robot has a power of 50hp and an autonomy offering up to 10 hours of work for a recharge time of 1hr 30mins. The French manufacturer says it can perform all soil work (hoeing, etc) and vine maintenance (trimming, mowing, etc) with all tools (mechanical or animated) using its hydraulic power unit and its ventral, front, and back tool holders.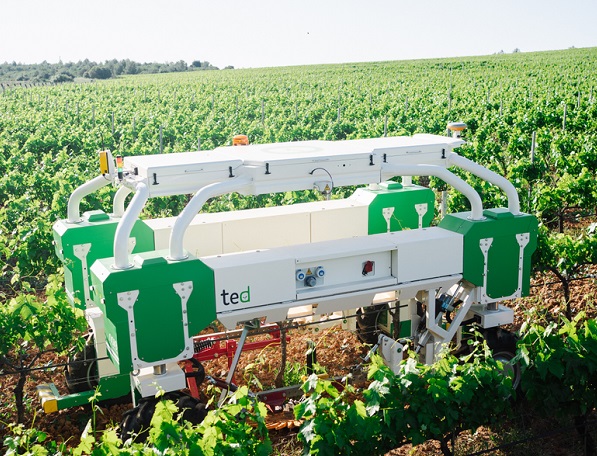 Naïo Technologies'
Ted
 (
above
) is a straddling robot dedicated to vineyards. Made in France, it can be used for mechanical weeding and pruning. Prototypes have been working at Grands Chais de France's Château de la Galinière since 2020.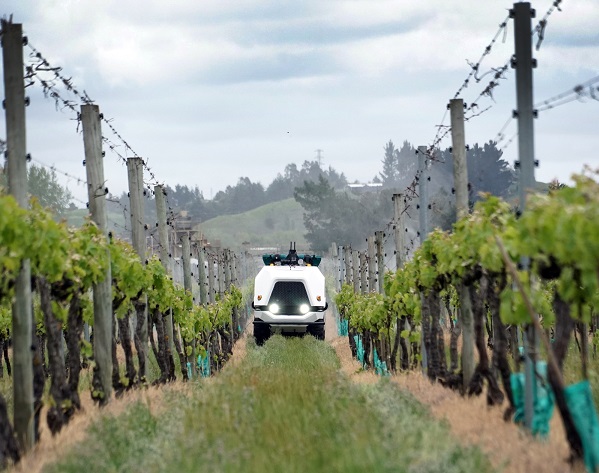 New Zealand-based
Robotics Plus
has produced an autonomous multi-use, modular platform (
above
) that automates orchard and vineyard tasks, such as spraying, weed control, mulching, mowing and crop analysis. Steve Saunders, co-founder and CEO, says: "To adapt and thrive in a changing world and create a sustainable and competitive future in the agricultural and speciality tree crop sector, growers and orchardists need automation that solves real-world problems, reduces reliance on increasingly costly and hard-to-find machine operators and provides data-driven insights for informed decision-making."
Yamaha Motor Company is one of the investors and the power for the lightweight machine comes from an electric drive motor and diesel generator.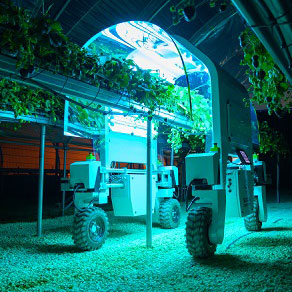 More than 50 autonomous Thorvald robots are currently in operation in five countries. Thorvald, which reduces powdery mildew through UV-C treatment, comes from Norway's Saga Robotics.
Video: Spraying at night
The Pelican Spray from Pyka is a fully autonomous and 100% electric agricultural aerial application aircraft. It has secured approval to fly unmanned aerial spray missions at night in Costa Rica, so it can spray bananas round the clock if necessary. The California-based aerospace company is now scaling up manufacturing.

Barolo winemaker Roberto Conterno has developed and autonomous robotic tractor in collaboration with engineer Federico Bona. The first product from their company, Conterno & Bona, is a tractor called RC3075, which can mow the grass and apply plant protection products.
The prototype Landini REX4 orchard and vineyard tractor has plug-in hybrid power. "Included in this new vehicle are technologies for optimising mechanical systems, reducing noise levels, recovering energy and intelligently managing power flows in the various electrical devices," explains Giovanni Esposito, innovation director at manufacturer Argo Tractors. The REX4 is powered principally by a 55kW (74hp) diesel engine but also has a combined electric motor/generator within the driveline, producing a nominal output of 50kW (67hp) and up to 65kW (87hp) peak, which can either be used on its own or in support of the internal combustion engine – adding 25kW (33hp) to the diesel engine's output to assist with power-demand peaks, such as moving off with a heavy trailed load or with high-draft soil engaging equipment.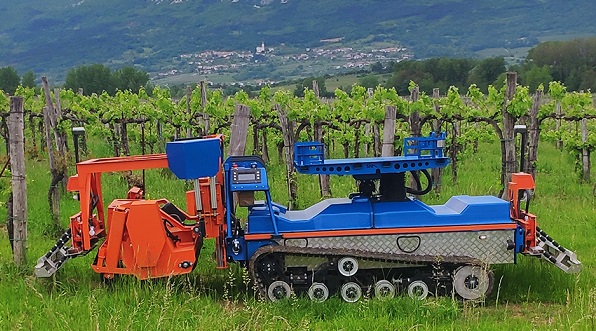 Slovenia's
Slopehelper
is an autonomous electric system that has the entire annual agricultural cycle in vineyards and orchards in its sight. Autonomous operations range from spraying and fertiliser application to trimming, mulching, and harvesting. The Slopehelper, which can operate on slopes as steep as 45 degrees, is powered by electric batteries, comes equipped with AI systems that allow it constantly to analyse and report on its surroundings and operations, and has a range of modes from fully autonomous to first-person view, visual remote control and the option to follow an operator around the vineyard.