Strawberry clover
After four years of study, researchers in Spain have demonstrated that the use of a cover crop under the vines can be an economically profitable alternative to herbicide or intra-row mechanical tillage.
Their
study
involved using a strawberry clover (
trifolium fragiferum
) cover crop as an alternative for weed control under the vines in an irrigated vineyard located in a semiarid area of northern Spain (Navarra). The cover crop allowed a satisfactory and cost-effective management of weeds, without causing relevant changes in yield and grape and wine characteristics.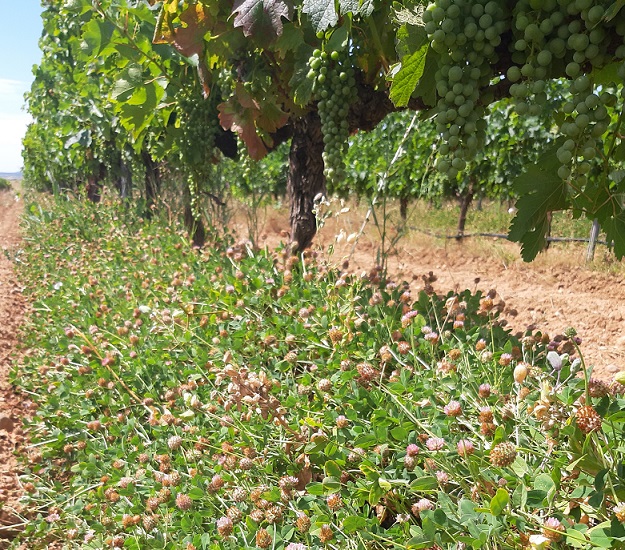 The researchers now believe that the typically tilled vineyards – "with their soils free of any adventitious vegetation" – have had their day. They say: "This (approach) is changing little by little due to a shift in the agroecological vision of growers, together with a partial migration of vineyards to more fertile and irrigable places, resulting in cover crops becoming an increasingly popular option for soil management in the Mediterranean."
It's a topic that has been researched extensively around the world, with results highlighting the suitability of cover crops due to their beneficial effects on vineyards and more vineyards moving in this direction. However, the space under the vines is often still kept free of vegetation, either by carrying out inter-row tillage or using herbicides, despite the drawbacks linked to such practices in terms of speed of work, weed control efficiency, cost and environmental impact.
To look into this topic, three institutions in Navarra (INTIA, UPNA and EVENA) teamed up with the sister-run Bodegas Ochoa winery in Olite. The organic winery established a research plot so they could compare the control of weeds under the vines using a cover crop with conventional mechanical tillage.
Trifolium fragiferum
(strawberry clover) was sown under the vines in February 2018 in a 17-year-old Merlot vineyard, covering a 40cm-wide strip under the vines (
above
) and using a 15g/m2 dose. During the four years of the experiment, sowing was carried out only at that time as the cover crop continued to grow naturally in subsequent years.
The under-vine cover crop (UV) was compared with inter-tillage management (T), which consisted of four tillage operations per season (November, March, May and July). Irrigation was equally used for both treatments, following a deficit irrigation strategy, with an average water use of 13L/m2 per week between early July and early September.
Winemaker Adriana Ochoa explained the problem to
Canopy
: "Our climate is very dry and we have drip irrigation, so the problem arrives when we irrigate. The wild crop (weeds) grows under the vines where we have the water and it is very difficult to remove them because the soil is very dry. That's where
trifolium
works. It doesn't grow very high and it is quite stable."
Monitoring the evolution of soil coverage with vegetation in the area under the vines showed that the sown clover cover crop was effective, with a gradual increase in the area occupied by this species reaching 70% coverage in the second year, and > 85 % in the following years.
The number of plant species identified as weeds barely changed between the soil management practices, but their extension decreased along the seasons in UV, whereas in T vines they remained relatively stable, covering about 45% of the under-vine area.
The impact of using a cover crop under the vines on yield was not big, but it was relevant, since a tendency of an 8% decrease was observed; this was linked to a slightly lower water availability for the vines, which caused less vegetative growth and a slightly lower fruit set. However, this decrease could be easily corrected with occasional increases in irrigation doses. The wines produced from UV and T vines showed no differences, although the former slightly increased the floral and fruit parameters in the olfactory tests. This increment was likely associated with the slight increase in must nitrogen NFA observed in UV, linked to the N fixing ability of the cover crop species.
The researchers say the economic analysis "demonstrated that this weed control technique could be economically profitable, provided no re-sowing is needed during the first two years – a period of time that should in principle be easily attainable".
They concluded: "It is possible to use a cover crop under Mediterranean climate conditions and with irrigation support, as an alternative to the usual weed control under the vines by chemical or mechanical means. Additionally, if we consider the environmental impact of growing grapes, in many contexts it may be more sustainable to use under-vine cover crops and irrigate slightly more to compensate for the decrease in yield, provided that the cover crops have the expected positive impacts on soil health indicators. As is the case for most agronomic practices, the specific factors related to each field and the production goals will condition the suitability of using cover crops; nevertheless, this practice should be included as a choice in the decision-making portfolio of viticulturists."
'This practice should be included as a choice in the decision-making portfolio of viticulturists'
Adriana Ochoa told me they are using
medicago truncatula
(barrelclover) and
lotus corniculatus
(birdsfoot trefoil) in other plots and extending the experimentation with
trifolium fragiferum
and tilled soil to Tempranillo plots.
"I'll do even the vinifications apart to see the influence on polyphenols," she said.
Mowed grass
Researchers in Austria examined the effects of five under-vine management methods on the activity of soil hydrolytic enzymes, the soil water content, vine photosynthetic activity, shoot pruning weight, grape yield and quality over three consecutive seasons (2018-2020).
The five methods used in the experimental vineyard near Langenlois, in Lower Austria, were: application of herbicides (H), soil tillage with rotary tillage (RT), soil tillage with an under-vine weeder (UVW), spontaneous vegetation mowing (CCM, complete cover mowing), spontaneous vegetation NO mowing (CC, complete cover).

These photos show the methods after a dry period in spring.
The
study
could not provide evidence of the direct linkage between soil microbial activity, vine nutrition and grape quality, but it did uncover:
Enhanced soil microbial activity with under-vine vegetation, independent of whether it was mowed or not.
Seasonal effects on β-glucosidase activity and the soil water content, especially in 11–20cm soil depth due to an active growing spontaneous under-vine vegetation in spring.
Photosynthetic activity depends on environmental conditions – including the interaction of precipitation and under-vine treatments.
Only berry weight and shoot pruning weight were reduced by under-vine vegetation as compared to herbicide application in this study.
The researchers concluded that "under-vine vegetation regularly mowed could be an alternative under-vine management strategy in supplement to soil tillage and herbicide application. Additionally, the enhanced soil microbial activity could enhance vine resilience through root–microbe interaction."