This modern sailing boat is due to dock in New York City in the coming days with more than 7,000 bottles of French wine onboard.
It's the most sustainable way to ship premium wine from France to the United States.
But it's about ten times more expensive than using a conventional cargo ship.
Matthieu Riou, export director at the shipping company Grain de Sail, said this is mainly because of the size of the vessel. The 26m-long boat, which set sail from Saint-Malo, Brittany, on April 12, can only carry the equivalent of one 40ft container (about 26 pallets/18,000 bottles of wine). Matthieu (
pictured below
) calculated that before the current container and shipping crisis, it cost about €0.10 to send a bottle from France to New York City by sea. "With the cargo sailboat it's approximately €1 – ten times more expensive," he admitted.
But in terms of carbon footprint, he said: "For a single bottle of wine we produce 17 times less carbon than with the conventional transportation."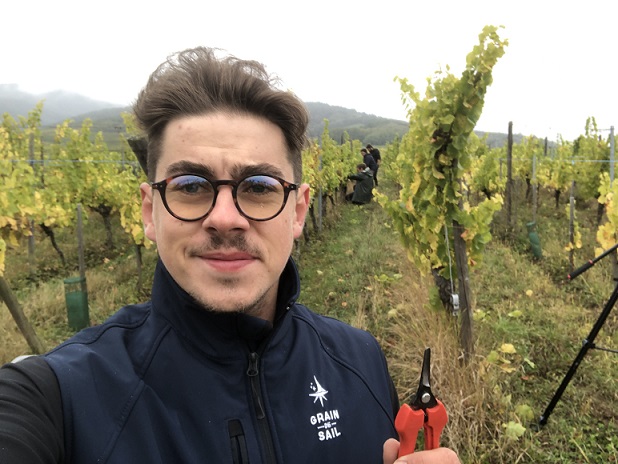 Matthieu added: "One thing to know as well, the shipping industry is not only about carbon emissions, there's a lot of other harm that a big conventional cargo ship is doing to the environment." He cited noise pollution and spillages as two examples.
Onboard the Grain de Sail, which is due to arrive at New Jersey's Port Elizabeth on May 9, are eight pallets of wine (5,600 bottles) from various organic and biodynamic producers and eight pallets (1,440 bottles packed in wooden cases of three) of champagne from Charles Heidsieck, which has sent a special-edition cuvée to the US by sailboat to celebrate the bicentennial of the house's founder, Charles-Camille Heidsieck (
below
) – the original Champagne Charlie who sailed to New York himself in 1852.
Charles Heidsieck's executive director, Stephen Leroux, told
Canopy
: "The wines onboard are a rare shipment of the new vintage release of the house's legendary cuvée, Champagne Charlie. This historic wine is being released to celebrate the 200th anniversary of founder Charles-Camille Heidsieck's birth date on June 17."
Once the wines arrive, they will be unloaded and held in temperature-controlled cellars until their release on June 17. "In recognition of the importance of the US market to the history of Charles Heidsieck, American wine collectors and private clients will be the first to taste these exquisite bottles," Stephen said. "A series of celebrations, tastings and dinners will be held throughout 2022 to celebrate this momentous occasion."
As for the cost of shipping the wines in a more sustainable way, Stephen confirmed it is "up to 10 times the cost of commercial shipping".
But with this special cuvée, the cost is a secondary consideration. Stephen said this voyage reflects the house's tribute and commitment to the founder's sense of adventure: "Transport by sea is an integral part of our history: that is how Charles Heidsieck supplied the American market. We chose Grain de Sail as a partner because it is more than just a company, it is an adventure.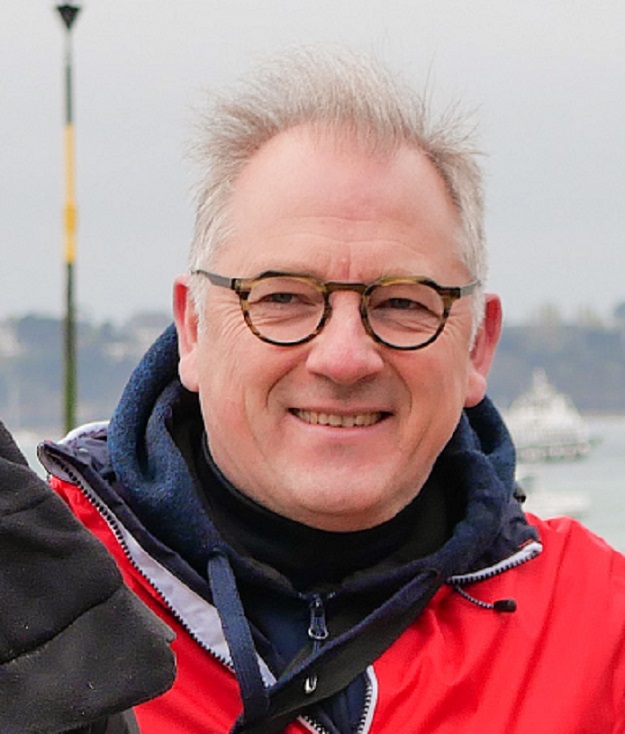 "We share many key values, such as patience, a daring and entrepreneurial spirit, the world of sea, and respect for ancestral skills whilst cultivating innovation."
Charles personally chose the US as his first export market, back in 1852, Stephen (
above
) reminds me, adding: "To celebrate our 200 years of adventure, we are paying tribute to our founder's travels to the United States in our own way: taking our – slow – time, in a daring and entrepreneurial approach, and innovative spirit."
For Jacques Barreau, co-founder and executive director at Grain de Sail, carrying the Champagne house's special cuvée perfectly befits their own sense of adventure: "An adventurous spirit is essential at Grain de Sail, as well as our environmental approach. I am sure that Charles Heidsieck himself would have been delighted with the partnership between our two companies, which gives special meaning to the exceptional products created by the house in tribute to its founder. It is a pleasure to be working together."
Charles Heidsieck says it is planning a long-term relationship with Grain de Sail, making one delivery a year via the North Atlantic, and taking on other routes as the partnership develops.
'Taking our time is a good thing'
Stephen loves the idea that the shipment is not on a strict deadline (due to reliance on wind power). "For us, taking our time is a good thing. We leave our wines until they are fully matured, and we think that a slower pace allows you to appreciate things in life, and we really like the idea that our wines will get there when they get there," Stephen said.
Matthieu pointed out the crossing is longer for the Grain de Sail than conventional cargo ships but that it makes up some of the time because it goes to a smaller port, where the unloading and customs clearance is generally quicker. A conventional cargo ship takes 10-15 days to cross the Atlantic from Le Havre to New York while the Grain Sail takes about 25 days.
"When we arrive in Port Elizabeth, next day the wines are in the warehouse. So, when you take the full lead time from France to the warehouse in the US we are faster than a big conventional ship," Matthieu said.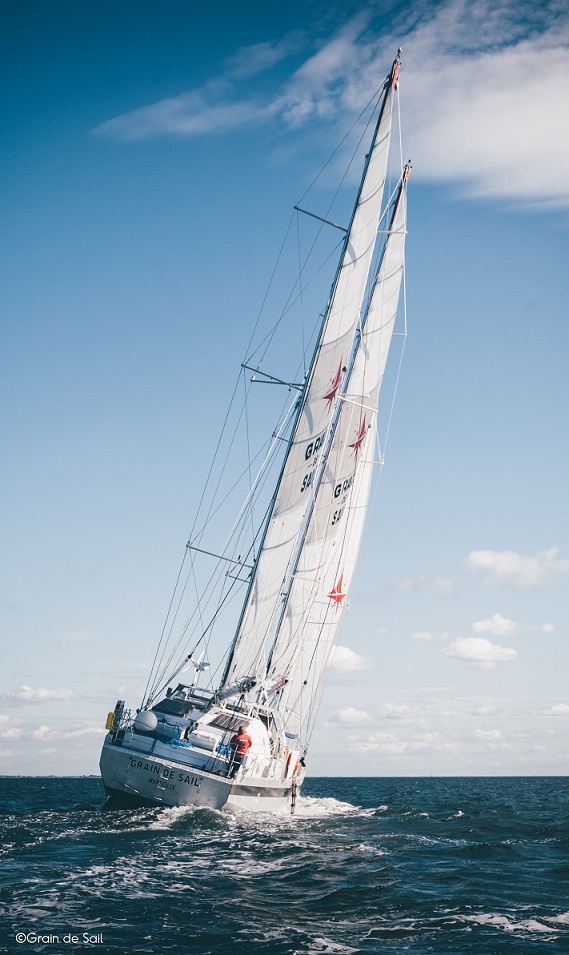 Onboard the Grain de Sail are also wines from Hérault estate Château Maris. Grain de Sail works with 15 estates, including Domaine Achillée, Domaine de Bichery, Domaine de la Fessardière, Domaine l'affût, Famille Hebinger, Domaine des Maravilhas, and Chateau Lafitte.
After the boat has unloaded its cargo, it stays in Brooklyn for 15 days so people can tour the boat, go out in the harbour and understand the concept. "Then they are more ready to pay a premium for this kind of shipping," Matthieu said. Some producers use this time for tastings onboard.
Before the next leg of its journey begins, the boat's four-person crew reload the hold with 20 pallets of medical supplies. These are destined for the Dominican Republic. In the Dominican Republic, the crew collects cocoa and coffee beans to take back to France.
Grain de Sail started as a coffee roasting company in 2013, adding chocolate in 2016, and wine in 2017. The company commissioned the construction of its own boat in 2018 – with the first sailing in November 2020.
The boat has now made four sailings, and will sail every spring and autumn until its larger replacement launches in a couple of years.
Wine was added to the mix because it was the first thing that came to mind when they thought about taking a French product to the USA on the outward leg of the journey.
"The goal of the cargo sailboat is to always be full, never sail empty," Matthieu explained.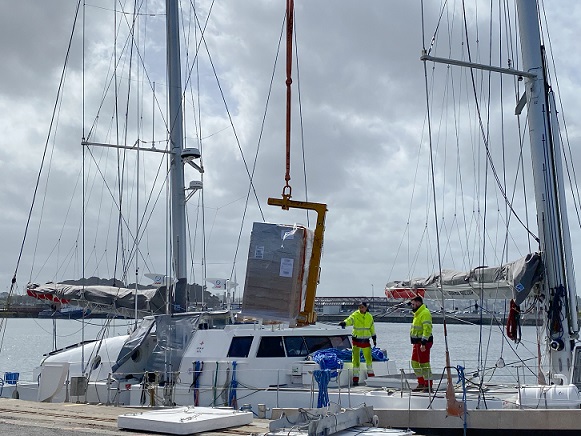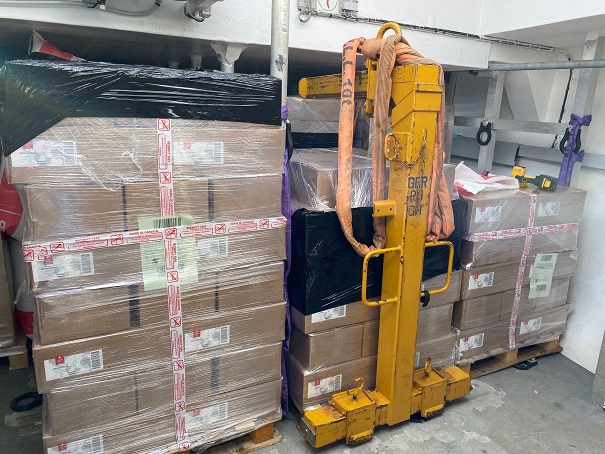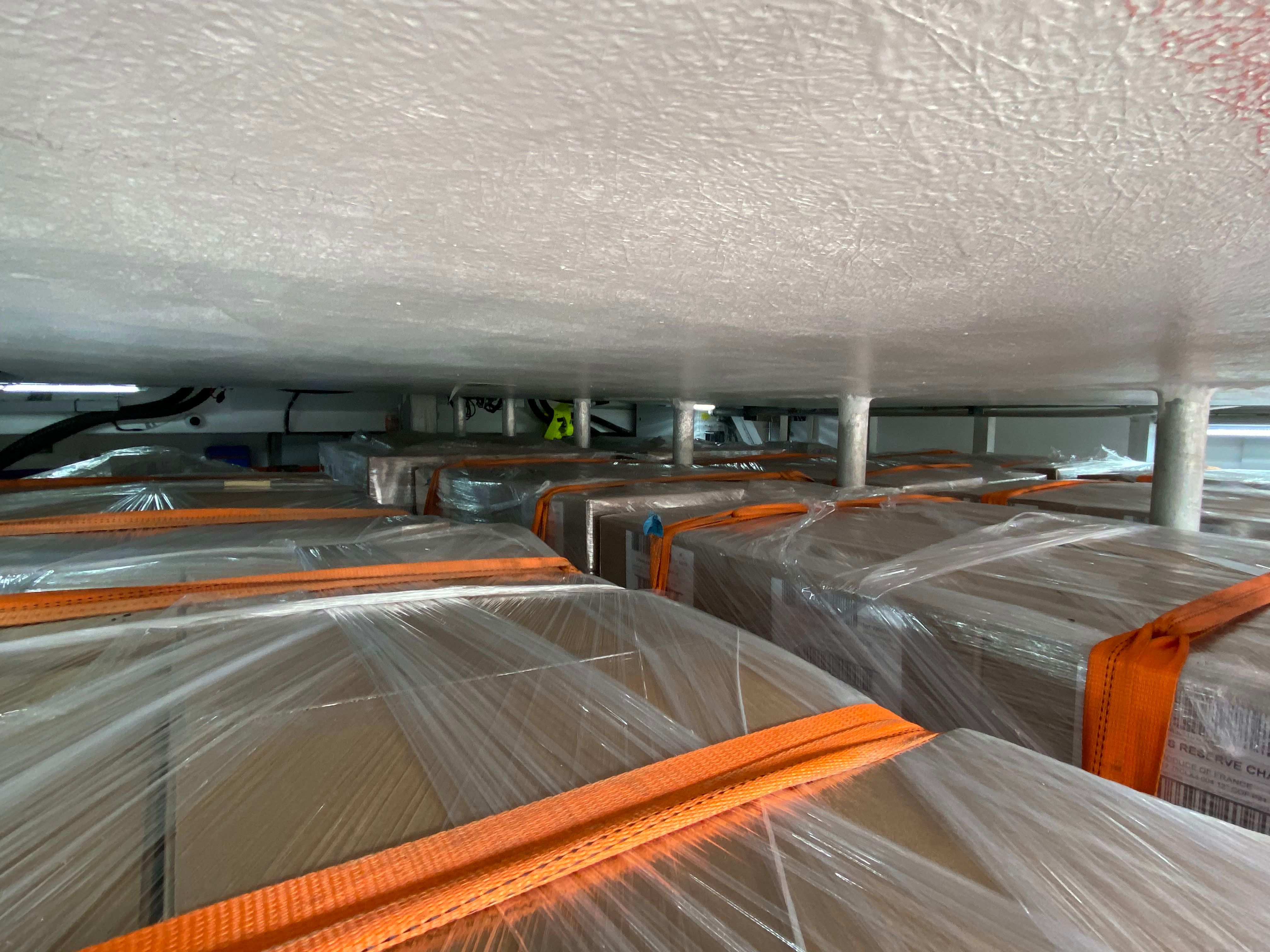 Asked about the conditions in the hold, Matthieu said: "The aluminium boat, built around the hull to maximise space for cargo, is insulated with 30cm of foam between the hull and the wall in the hull. Pallets also have a temperature blanket." He reckons the temperature in the hull is a constant 16-19°C during the trip. The boat is also very stable, as it has "a huge keel that weighs almost as much as the boat".
And the condition of the wines on arrival?
"I've been doing some tests, tasting the wines when the boat arrives and what I advise all the clients that we are working with is to rest the wines for approximately one month," Matthieu said. "But some of our clients like Château Maris, who we worked with last fall, was so excited that the day after the boat arrived he took all the bottles and sold them and the wines were perfect."
Matthieu said that this is the fourth trip and on the last three "there was no change at all in the quality of the wines".
Here are a couple of additional images from the latest crossing…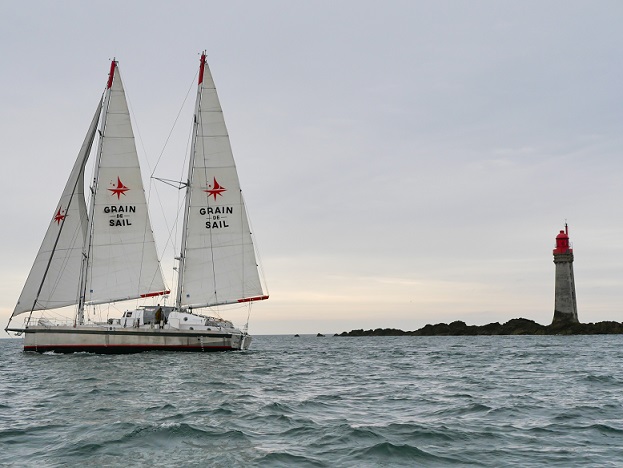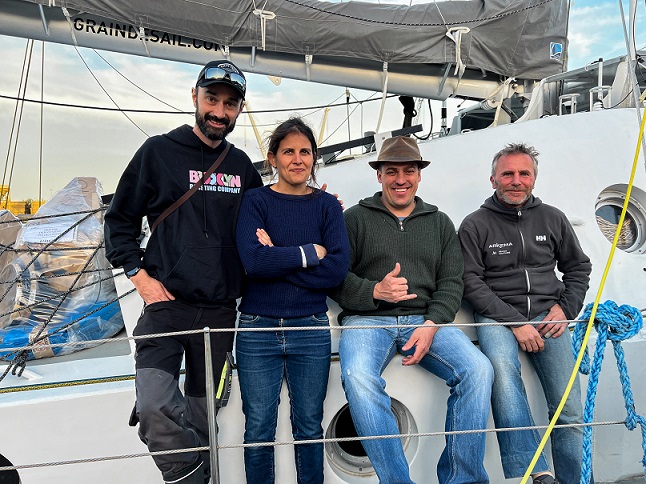 More sailing ships on the horizon
Grain de Sail has commissioned a second, larger sailboat which should set sail in 2024. About 52m in length, it will be able to carry 238 pallets, plus up to 18 cbm of bulk liquid (and 5 cbm of liquids in barrels on deck) during its four annual sailings. "So, the cost will be at least half of the cost right now, so it's going to be more sustainable in the economic sense as well," Matthieu said.
With Grain de Sail 2 making the transatlantic crossing, the smaller Grain de Sail 1 will be repurposed for coastal shipping in Europe, perhaps picking up organic olive oil in Spain and Portugal and whiskies in Scotland and Ireland.
The hull manufacturer, Piriou in Ho Chi Minh City, Vietnam, is also building Transoceanic Wind Transport's (TOWT's) 262ft cargo sailboat, which is scheduled to make its first transatlantic crossing next year. Its load capacity will be 1,100 tons and it is expected to make the transatlantic crossing in about 12 days.
Martell Mumm Perrier-Jouët and Champagne Drappier are among the wine and spirits companies that have already signed letters of intent to ship their products with TOWT.
Michel Drappier, owner of Champagne Drappier, says he would like to send all exports to the US by sailboats one day.
Check the boat's latest position here.