Helmut Lang, IWC Sweet Winemaker of the Year, is very proud of his vineyards, especially the trellis system.
Walking between the Gelber Muskateller vines, he declares: "Nothing to repair."
This is a vineyard that has been built to last. But it comes at a high price.
"Three times more. But it doesn't matter," Helmut states.
He estimates that his investment in his top sites is about €30,000 per hectare.
"But this one is standing, nothing to do, nothing to repair… as long as I don't kill it with the tractor." In the long run, he believes, it's cheaper to over-spec.
It also makes life a little easier. Helmut has two employees but he does much of the work in the top sites himself.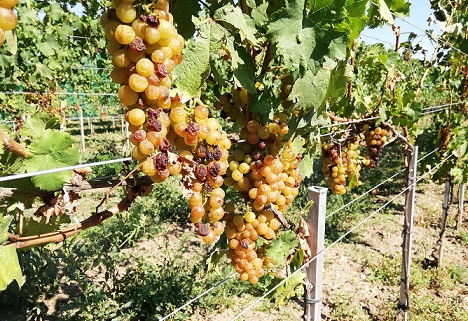 His 18 hectares are located on the eastern side of Lake Neusiedl, around his hometown, Illmitz.
All are planted with varieties matched to the different soil conditions, which vary from gravel and sandy sediments to loess and loam.
The row we are in is 527m in length with steel end posts and concrete intermediate posts. 
The end posts are 2.90m in length with a diameter of 10.5cm and a thickness of 3mm. They go 90cm into the ground. The vine supports (
above
) are 1.5m in length, with a diameter of 25mm and a strength of 1.5mm.
'I planted 4,000 young vines and I didn't lose one'
Each row was laid out using Helmut's own sight and planted by hand. He claims it is straighter than any machine could achieve.
It certainly looks very straight and strong.
Five pairs of steel wires – 2mm thick and protected with aluminium – keep the canopy in place. "The strain is only a maximum of 3%," Helmut says. Each wire can be lowered during pruning and clipped back into plastic 'teeth' on the intermediate posts afterwards. 
The new plantings are also done by hand in July (or occasionally in the autumn while awaiting the onset of botrytis). Helmut puts the new vines in a tub of water first to ensure they are growing before planting them in a mix of vineyard soil and planting material with a similar pH. He prefers to plant by hand so he knows where the square supports go and can position the roots. "I planted 4,000 young vines and I didn't lose one after one year," he recalls. "Replanting is more difficult than planting."
Having all the plants the same height also makes life easier for spraying.
In the hollow part of the first support in each row, he inserts the tag showing the name of the clone.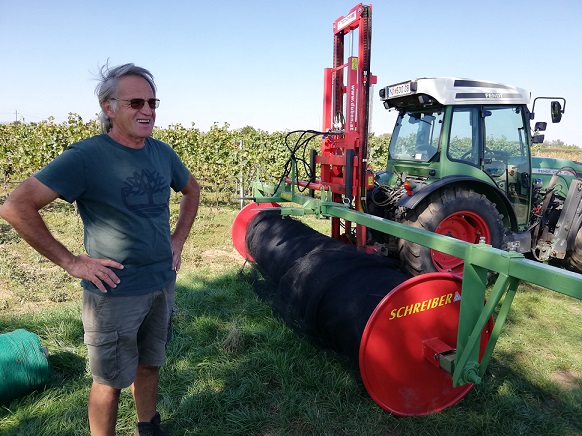 Helmut (
above
) favours keeping the soil open, as is traditional in the wine-growing region of Neusiedlersee, even though it is more expensive to maintain than grass cover. He also favours mechanical weeding over herbicides.
A top-notch irrigation system has been carefully installed – to give "a quicker drip in the right places" – even though the system is only used once or twice a year to protect against frost damage.
For the vertical shoots, he keeps five buds, often removing alternate buds and the buds from underneath to ensure an open canopy and to minimise leaf-stripping in the summer.
Related articles from our special Illmitz-Apetlon issue