Renaud Burnier is preparing for a milestone year. His 49th and 50th vintages are coming up, after already clocking up 32 in Switzerland, where he makes wine at the family estate in Mont Vully, and 16 in southern Russia, at his estate on the Black Sea coast.
It's also the 20th anniversary of Domaine Burnier's project in Russia's Krasnodar region, which Renaud and Russian wife Marina started in 2001, harvesting their first grapes in 2005.
To make the story even more unusual, the Swiss winemaker champions organic farming, vitiforesterie (creating an ecosystem of vineyards and trees), and the indigenous Russian grape Krasnostop Zolotovskiy. Domaine Burnier was the first winery in modern Russian history to launch a Krasnostop varietal when it released its 2005 vintage.
"Its taste is very complex, with intense colours and a great tannic mass," Renaud says. "It has a beautiful acidity which allows conservation for 20 years without problem."
It's the grape that made Renaud – who grew up in the family vineyards in Switzerland's Three Lakes region – want to take on a project in his wife's homeland.
"When you see this great terroir as a professional winemaker, it's hard to resist starting a project," he explains. "The bureaucratic effort and costs were not very important to us. Even so, our Swiss and Russian friends thought we were crazy. Of course, the whole thing is associated with great risk, but if you only see this then you let it be."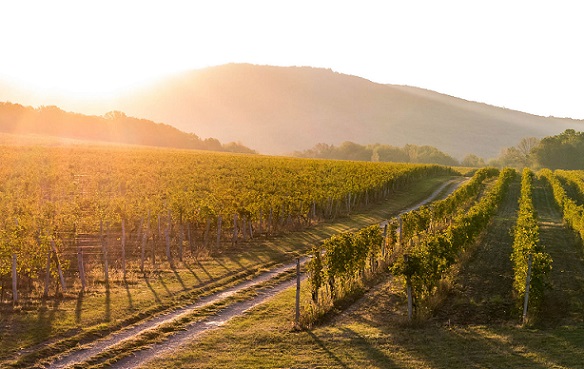 Renaud discovered the potential of the Krasnostop variety, which means 'red feet' in Russian because it stains grape-stompers for days, when he first visited a Russian vineyard and tasted the grape in 1999.
Marina takes up the story:
"Renaud has had empathy and interest in Russia since childhood. His relative (great-grandfather's sister) worked in Russia as a governess back in Tsarist times. She returned to Switzerland at a very old age, and at all family holidays she told the children, who gathered around her, about her Russian life, about balls and palaces. For them it was a magical and beautiful country.
"In 1993 I came to Switzerland as a student at the University of Bern. And by chance I visited Renaud at the winery on an open day, which he holds twice a year. Then there were practically no tourists from Russia in Switzerland, and I was the first Russian he saw. Against the background of his childhood memories, he really wanted to learn more about the country.
"In 1995, by then a couple, we arrived in Moscow. We also stayed at the former Moscow Hotel (now the Four Seasons) near Red Square. Renaud, as a professional, was very interested in trying Russian wine. He tried to order it in all cafes and restaurants near the hotel, but they answered that Russian wine either does not exist at all, or it is very bad. He was very surprised, because during his studies at the Higher School of Winemaking in Switzerland, an authoritative professor told at a lecture how in Soviet times he travelled to the south of Russia at the invitation of the Institute of Viticulture and Winemaking, and what good conditions there were for winemaking.
"Krasnodarskiy Kray and the foothills of the Caucasus are located at the same latitude as Bordeaux and Piedmont, at the so-called 'winemaking latitude'. Also, the Black Sea coast of Caucasus is generally recognised historically as the wine region where grapes have been grown since ancient times.
"Therefore, he suggested that we go to the south of Russia to find out why wine is not produced there. I had no acquaintances in the south and planning a trip there with a foreigner in the mid-1990s was not easy. We did not abandon these plans, but decided to postpone them until better times."
Canopy: When did it happen?
Marina:
"In 1999, we produced wine in honour of the 200th anniversary of the passage of Suvorov's army across the Alps. And they called this wine Suvorov. We arranged a tasting and presentation at the Russian Embassy in Bern, where many officials were invited. Many of them came up to us and said that it would be nice to have such wine in Russia, to which we replied that Russia needs to make its own wine.
"This is how we met people from the Krasnodar Territory. They invited us to come and helped with organising the trip. And in the end, we arrived in Krasnodar. We were given a meeting at the Krasnodar Institute of Wine and Viticulture and invited to look at the grape harvest near Anapa.
"When we arrived in Anapa, the first berry that Renaud tried turned out to be Krasnostop. Renaud's grandfather taught him to taste the potential of grapes and the wine that will be produced from it. When he tasted those grapes near Anapa, he was pleasantly surprised. He said: "None of my colleagues will believe that such grapes exist in Russia. The best wines in the world can be made here." He immediately said that it was necessary to look for a place here for vineyards."
Canopy: When did you find your site?
Marina:
"Three years later. At that time in the Krasnodar Territory there was an old-school power, which lived according to other Soviet laws and ideas. They were oriented mainly towards a planned economy and the production of grapes in large quantities. For example, a state farm winemaker told us that the growers want to produce as many grapes as possible and they don't care what the quality is.
"When Renaud said that we wanted to organise a small production on a small parcel and that we were planning to make premium quality wines for the international market in order to sell them all over the world and show the world that Russia has its own wine, no one understood us at all. We were told that no one is looking for plots of less than 200-300-500 hectares here, whereas we were looking for a parcel of 50 hectares. Officials then openly told us that, apparently, we only need a vineyard as a cover to produce wines made of powder.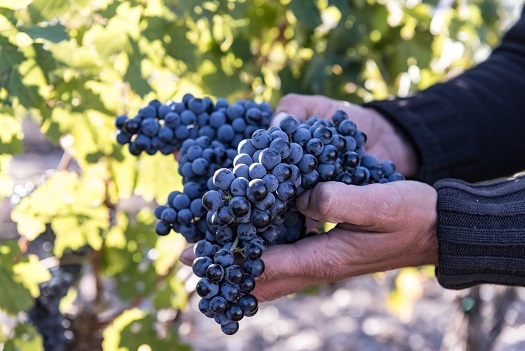 "We told every agronomist that Krasnostop (
above
) is an indigenous Russian variety and that it is important to plant these varieties. But they asked us to bring European Sauvignon and Merlot, because they did not believe that good wine could be made from Russian grapes. Everyone wanted something foreign and did not value their own.
"Our relatives and friends also vied with each other to tell us that in Russia no one is engaged in agriculture and is not interested in that as it is not profitable. It was very difficult for us, but we followed our idea to the end, and in the end we found a site in 2001, when we were almost desperate."
Canopy: How did things develop?
Marina:
"Difficulties began immediately, with the lease of land. We were offered a plot for rent for 15 years. We explained that for the development of the vineyard it is necessary to lease a plot for at least 49 years, that this is a long-term investment. Minimum. We were the first to achieve this.
"Probably, we were faced with all the stories that tell about doing business in the 1990s: absurd requirements and claims, chaos, difficulties in obtaining a building permit. And, of course, with a shortage of specialists and insufficient technological equipment. But, nevertheless, we did everything to work according to European standards and using European technologies. They wanted us to be allowed to use them, brought equipment and engineers here from Switzerland. Although, I want to note that over the 20 years that we have been doing business here, there has been a lot of progress in winemaking."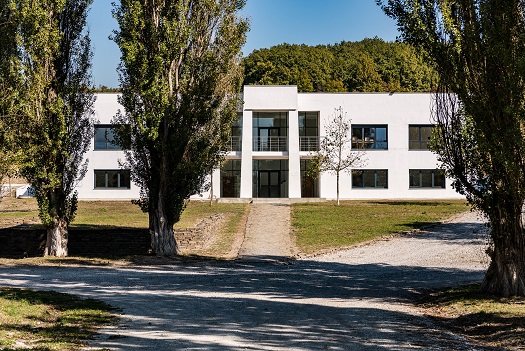 Canopy: What is your mission?
Marina:
"As a Russian-Swiss company, we are advocates for improving the culture of wine-drinking in Russia. To make people understand and appreciate wine. Therefore, we constantly tell that the most valuable thing for wine is good, healthy grapes. Russia has all the conditions for the production of great wine, it can be proud of it.
"Our wine was initially exported. For almost 20 years, from the very beginning, we have aimed to produce high-quality Russian wine for the international market.
"An important thing of Russian wines is that they are natural. The ecological balance is not disturbed here, the earth is alive, there are a lot of microorganisms in it. Biodiversity is just great here. Because the lands on which vineyards were in Russia, for many years, simply 'rested' and were not touched by chemistry. Of course, there is also an influence of the Caucasus mountains. This is reflected in the grapes and transferred to the wine. And this is a very big plus."
Canopy: Describe the Russian wine consumers for us.
Marina:
"People have become more interested in wine. Both Renaud and I note that our clients and buyers in Russia are very curious. In Russia, a sincere interest in wine is visible. Very often this is due to a person's social status. A cultured person needs to understand things related to wine. And if earlier about dry wine in Russia they said that they do not drink it because it is sour, now you practically will not hear such phrases."
Canopy: What is the reason for the bias against domestic wines in Russia?
Marina:
"I think it's disbelief. There is a stereotype: there is no good Russian wine. In Soviet times, it was not done correctly, the main thing was quantity, not quality. For many years the Russian winemaking school was divorced from the world school, although it was strong in theory. Experience is very important in winemaking, the secrets of craftsmanship that are passed down from generation to generation, and Soviet winemakers found themselves in isolation, they did not know about new trends or the equipment used in Europe, did not have the opportunity to use Western educational literature, taste good wines...
"Most people in Russia have not yet cultivated taste, we cannot distinguish good from bad, it is believed that French wine is even better for €3 than Russian wine.
"This, of course, is a misconception. In any country there are very good wines, there are winemakers who make wine right, take care of it. Wine is like a child: it needs to be raised, educated. And in any country there are businessmen who want to sell more and quickly, to manufacture products on an industrial scale. But we believe that wine is made in the vineyard and the most important thing for it is the quality of the grapes. And to grow good grapes, you need climatic conditions, suitable soil and an undisturbed ecological balance. And here Russian winemaking has great potential. Due to the fact that in the Rostov region, in the Crimea and the Krasnodar Territory, viticulture was in decline for a long time after the 1985 anti-alcohol campaign, the land rested. No chemicals were applied to it, and these are unique conditions for organic production. In Europe, the transition to such production takes more than three years, they do reclamation, improve the quality of the soil, wait until chemical fertilisers leave the earth. And here, everything is ready!"
Canopy: What are the main differences between working in Russia and Switzerland?
Marina:
"Most of the employees are local and come from our village, Stanitza Natuhaevskaja. We don't have many people, but they have been loyal to us for years – they are like family. It is important for us that we employ the same employees as in the previous season, as they better understand our requirements. In the beginning we also had seasonal workers, but we wanted to work with people from our region – also to establish a connection to the vineyards.
'Green harvesting was a shock for some of our employees'
"Of course, there were problems at the beginning. For example, we use the green grape harvest, which means that unripe grapes are cut off before the actual harvest in order to obtain better quality for the remaining grapes. That was a shock for some of our employees, as this would not have happened in the Soviet era. They would have worked on the vineyard all year round and now they should just cut off part of it? In such situations it was important to explain the reasons calmly. And not only that, but also to show exactly how it should be. Systematic thinking and logic are different than in Switzerland. Therefore, we have found that you have to take the time to clarify everything precisely because then the result is also very good.
"Although the wage costs are not as high here as in Switzerland, we need five local employees for some tasks and one in Switzerland. In Switzerland, people are used to doing everything very precisely, which is not necessarily the case here. You have to constantly control everything. The experience with our people has made a lot of things easier.
"Particularly noteworthy is the work on a common idea in Russia – perhaps also from the Soviet era. Teamwork works very well here. If a team sees a clear goal, then there is great motivation for it. Our goal is to produce excellent Russian wine."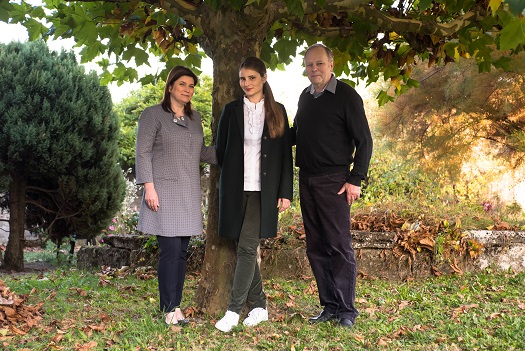 The focus in the wineries is different, too. In Switzerland, Renaud majors on light wines made from Chasselas and Pinot Noir. In the seaside town of Anapa, Domaine Burnier makes richer reds from Cabernet Sauvignon, Merlot, Cabernet Franc, Syrah, and Krasnostop, plus a little Chardonnay, Pinot Blanc, Pinot Gris, and Viognier.
The focus, though, is Krasnostop Zolotovsky.
The harvest in Russia starts in August and finishes in September – about a month before the harvest in Switzerland. Fortunately, Renaud and Marina are now being assisted by their daughter, Alexandra-Maria, who is studying winemaking in Switzerland.
The sizes of the operations are different, too. In Switzerland, the Burniers have about 7ha of vines, producing wine mainly for the domestic market. In Russia, they have 50ha producing between 200,000 and 250,000 bottles per year which are exported to Switzerland, Belgium and Hong Kong and sold in restaurants and wine boutiques.
Renaud says his aim in Russia is to produce authentic terroir wines of the highest international quality — "wines that are worthy of representing Russia all over the world".