Derek Smedley was the perfect navigator on so many trips to Bordeaux to taste the new wines. Derek was the one who always remembered his way around the backwoods of Pessac-Léognan, the one who always recalled the best way to Tertre-Rôteboeuf, and who attracted the widest smiles from sometimes frosty Bordeaux château owners. I counted myself fortunate to be his companion.
Derek had lived such a long and respected life in the wine trade that almost everyone knew him. And he was respected and loved in equal measure. Robert Joseph and I were so lucky that Derek decided to support us at the International Wine Challenge from early days. He brought a sense of order to the chaotic early years, and was an indefatigable taster. His size was in inverse proportion to his stamina.
'He was the right companion in a tight corner'
Derek always had stories about the wine trade past. He never talked about his time in the SBS (the naval equivalent of the SAS), but he had a reputation of being the right man to have on your side in a fight. The nickname 'Deadly Smedley' was certainly not because he was boring.
And he would occasionally refer to his early training as a lawyer. Contracts needing immediate approval for a crucial deal would have fazed most members of the wine trade. Not Derek. He just sat down, read through them, and made whatever lawyerly suggestions needed to be made, calmly and quietly. I don't remember Derek ever raising his voice. He was always perfectly polite, the right companion in a tight corner.
He did hint that he had a hand in persuading Harvey's of Bristol to buy shares in Château Latour in his early years at Harvey's, but that was the only time I can remember him saying anything that reflected well on himself. Derek was extraordinarily modest. He gave the impression that he was fortunate to have found himself in such good company. You always felt better after spending time with Derek.
'He knew the back roads of Moldova and Macedonia as well as he did Bordeaux'
His stamina led him to continue working long after his contemporaries had flagged. He was a valued wine guide for the wine tour company Arblaster & Clarke for years after he had stopped being an active wine trader. He took happy wine travellers round South America as well as Europe, and was always ready with recommendations from countries on the eastern edge of Europe. You felt he knew the back roads of Moldova and Macedonia as well as he did Bordeaux.
'Derek was one of the last of a generation of gentlemen in the wine trade'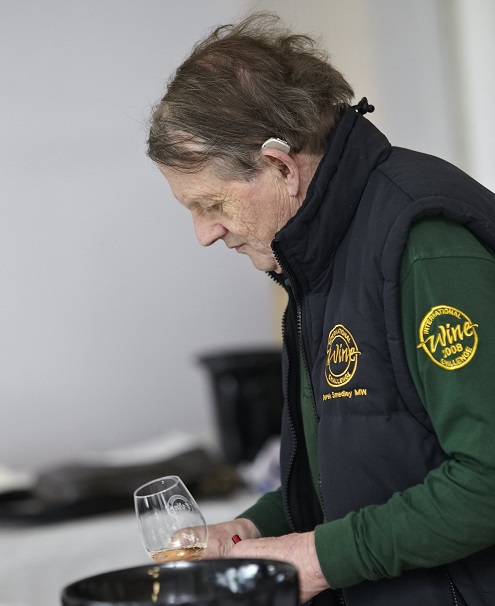 Derek died as he lived, quietly wrapping up his affairs when he knew he had not long to go. He didn't want to leave anyone in the lurch. The first I knew how ill he was was when he emailed to ask advice about a replacement wine consultant for the City of London (he looked after the Mansion House, Aldermens' Dining Room and four livery companies). We spoke a couple of times. He told me how he was. We discussed likely candidates. And within a couple of weeks, he was gone.
Derek was one of the last of a generation of gentlemen in the wine trade. He was as kind and generous as he was modest and self-effacing. He could be firm if that was needed. He made people smile. I'm sad he's no longer there, but I'm so grateful I spent time with him.
There will be a service for this "very much loved husband, father and grandfather" at Lilley church, near Luton, England, on May 1. There will also be a thanksgiving service in London later to celebrate Derek's life and work.