"Pinot Noir is a variety where you need to keep the vegetal notes."
I'm tasting five Burgundies from the 'classic', cool 2017 vintage with Sylvain Pabion, chief winemaker at Château de Marsannay, an up-and-coming estate in the northern part of the Côte de Nuits.
It's these vegetal notes that bring complexity, according to the talented winemaker. Sylvain, who worked in the Loire and Rhône valleys, Bordeaux and Australia before coming to Bourgogne in 2015, has been tasked with overseeing a quality revolution at the château and lifting it to the top tier in the Côte de Nuits.
We start the virtual tasting with En Montre Cul, from a very steep, warm 2.17ha plot located within Dijon's city limits. Sylvain says it has "a lot of ripeness but also this touch of vegetal notes that I really love in Pinot Noir. For me, Pinot Noir is a variety that needs to keep the vegetal notes aromatically. Not too vegetal – just noble vegetal notes because we are in the northern part of France."
The key to retaining these noble vegetal notes, he believes, is gentle extraction. With the En Montre Cul, this means a cold maceration, 30% whole bunches, and only "pushdowns" during the fermentation. After a soft pressing, the wine was aged for 11 months in oak barrels then three in a tank.
'A larger range of aromas for Pinot Noir… is very important for me'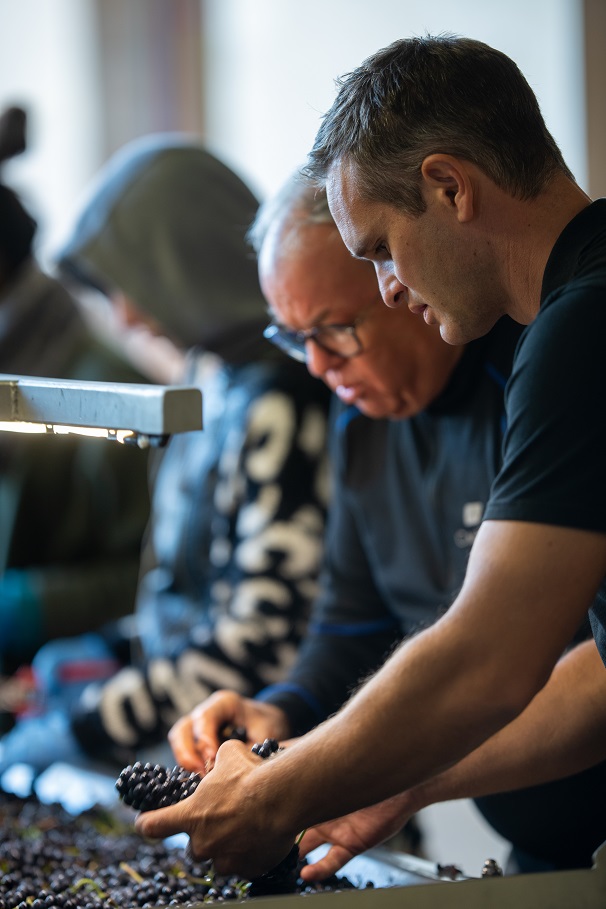 Sylvain (
above right
) recognises that with global warming and riper fruit, these vegetal notes are in danger of disappearing. With 2017 sandwiched between the 'hot' vintages of 2015, '16 and '18, the vegetal notes stand out. "In 2017 we have a lot of vegetal aromas that are combined with a very interesting intense fruit that makes a larger range of aromas for Pinot Noir, which is very important for me," he says.
We move on to the Clos de Jeu 2017, which turns out to be an even better example of this – with notes of underwood and wild roses in the mix.
Sitting just above the château and the village of Marsannay-la-Côte, Clos de Jeu is one of the region's top vineyards. The destemmed fruit from two parcels in the 1.79ha vineyard was cold-soaked before fermentation with 40% whole bunches added. Sylvain says the whole bunches provide the "very elegant roses aroma".
He adds: "For me, it was very interesting in 2017 to put whole bunches in most of the cuvées because it brought a lot of tannins to the wines. The stalk has a lot of tannins. Sometimes those tannins are not very interesting, but 2017 was very ripe but a little bit diluted because we had some rain at the end of August and the berries grew up very juicy, so the skins were a little bit thin and I wanted to bring a bit more tannins with the bunch. The bunch helped to bring also aromatic notes, so it was a double impact practice. It helped me to bring more tannins, more roundness on the palate and also aromatically to enhance the range of aromas."
Pushed to reveal further details about his whole-bunch strategy, Sylvain says he goes into the vineyard to select the parcels and keeps those crates to one side to add "on the top of the tank". He explains: "I never put the whole bunch at the bottom because when it's really deep inside the tank it is always macerating in the wine and there you can extract very bad tannins. I prefer to have it on the top."
The extraction, again, was very gentle. "The important thing is that we don't plunge too much during the fermentation in order to extract only the best."
Some of the wine in the range remains on skins for seven to eight days and some for three weeks. It depends on the plot and vintage. "Each plot has a different procedure and every year we change a little bit in order to adapt and understand how to manage each plot, but the idea is to extract very slowly and with a lot of respect for the fruit," Sylvain confirms.
After this long, gentle infusion with the skins post fermentation and a soft pressing, the Clos de Jeu wine is racked off and aged for 12 months in oak barriques (33% new) and four months in stainless steel, producing a wine which Sylvain describes as "easy to drink but with a lot of complexity". And much of that comes from the vegetal notes.
Château de Marsannay's Gevrey Chambertin gets its complexity from being made from 11 plots with different soil types. It's made in a similar way to the first two wines, except all the grapes are destemmed before the cold soak, fermentation with pushdowns, 13 months in oak (35% new), and three months in tank.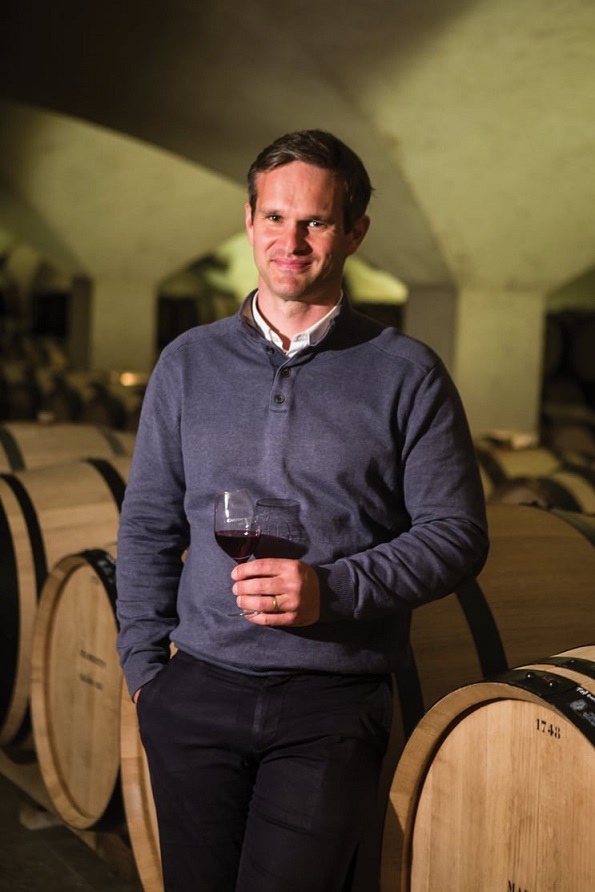 Sylvain (
above
) joined the team three years after Olivier Halley bought the estate. (The Halley family purchased Château de Meursault at the same time, giving them a total of 107ha in Bourgogne.)
One of the big changes Sylvain introduced is switching production from a small number of multi-climat blends to a range of high quality single cuvées – by investing in "a lot of tanks" and vinifying each climat separately. Sylvain tells me he makes 45 cuvées from Château de Marsannay's 40ha of vines (35ha in the Côte de Nuits – including 28ha in Marsannay – and 5ha in the Côte de Beaune) – "because we really want to express each plot".
And he reckons there are 100 plots. "It's fascinating to work with so many types of soils, so many types of parcels," he says. "It is a lot of good moments and a lot of joy."
Many of these plots are on course to achieve Premier Cru status over the coming years. This includes Clos du Roy, a 0.25ha plot of 70-year-old vines. The main difference with the wine from this plot is that the tannins were enhanced by 18 months in 100% new barriques.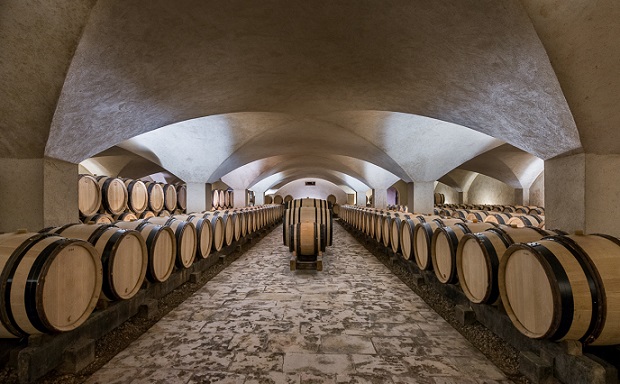 Micro-vinifications is just one of the changes introduced during Sylvain's reign as chief winemaker at Château de Marsannay. Other changes at the estate in more recent vintages include:
The conversion to organic viticulture, which started in 2018 – meaning the 2022 wines will be certified organic;
Reducing the sulphur in the wines by 50% and only using it after malo;
Doing away with filtering by racking several times and putting "very clear wines in the barrels";
Being "as natural as possible" – and using a pied de cuve to start the fermentations.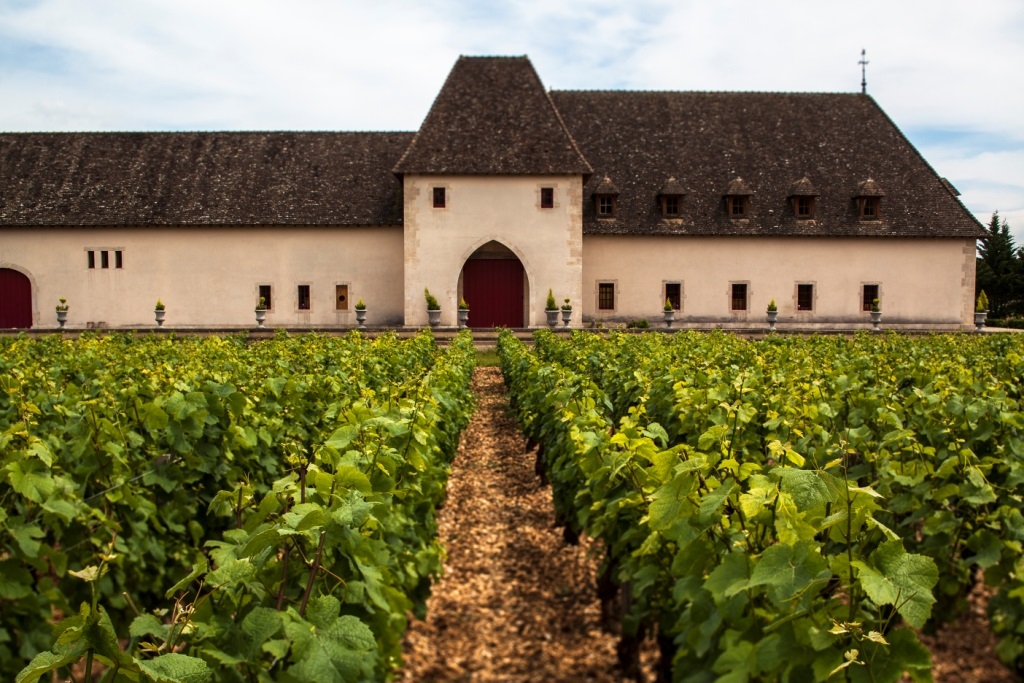 We finish the tasting with what Sylvain calls a "very serious Pinot Noir" – Champeaux, from a climat located in the northern part of the Gevrey-Chambertin appellation. Sylvain "seasons" this wine with 15% whole bunch – "to bring some additional aromas".
Champeaux's tannins can be "too serious so the bunch tannins give more roundness and aromatically more complexity too," Sylvain explains. "But just a touch, not too much because we are in the premier cru and I don't want to transform the wine with the whole bunch, I want to keep the identity of Champeaux."
After destemming most of the grapes, the berries are put into stainless-steel vats for a cold soak. The fermentation in 2017 was punctuated by pushdowns to obtain a soft and complete extraction. In warmer vintages – when there is more sugar and alcohol – there is less need for pushdowns as the alcohol "helps to extract naturally". After a soft pressing, the 0.3ha of 60-year-old vines yield enough for one 400L barrel and two barriques. One of these 228L barrels is a Pure T from French cooperage Taransaud – a barrel made mainly for white wines. "It gives a lot of tannins, but not too much toasting," Sylvain says. "Our way to age the wines here is very important – we want to keep the identity of the wines, so we don't use so much toasted barrels."
The wine spends 12 months in wood (75% new), followed by five months in tank.
It's a complex and classy Pinot Noir that will benefit from ten to 15 years of additional ageing – to soften the dense tannins.