'We believe this is a time to look at innovation and creativity because we're having to adjust to the new normal'
The man in charge of the Francis Ford Coppola Winery, Corey Beck (below), started his wine life at the heels of his grandfather, the vineyard manager for Napa Valley's renowned Chateau Montelena. After gaining a degree in fermentation science from the University of California at Davis, Corey returned to Chateau Montelena as Cabernet Sauvignon cellarmaster, working with grapes his grandfather had planted in the 1970s – from the same vineyards that gained international recognition in the Judgment of Paris tasting.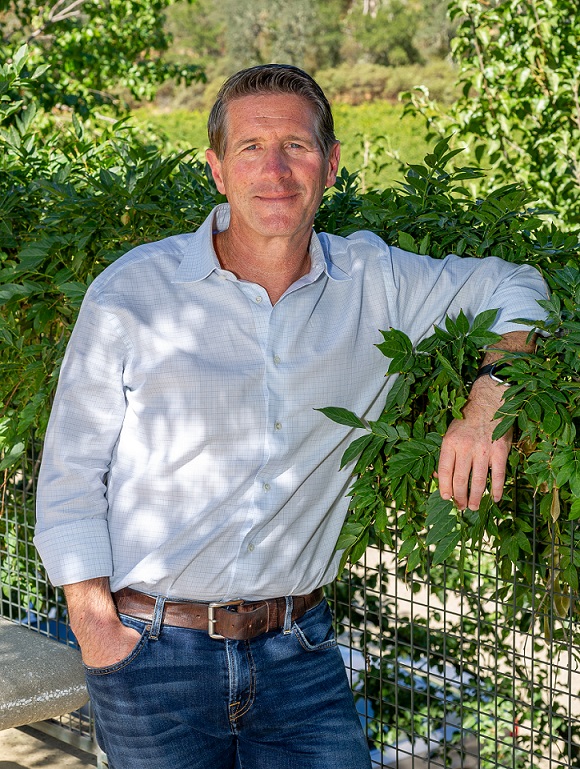 Wanting to broaden his repertoire, in 1998 he took the job of assistant winemaker at Inglenook, the historic estate which Francis and Eleanor Coppola acquired in two parts: firstly, with profits from
The Godfather
films in 1975 and, secondly, with profits from
Bram Stoker's
Dracula
in 1995. When, in 2006, the Oscar-winning filmmaker – whose work also includes
Apocalypse Now
and
The Conversation
– purchased the historic Château Souverain property in Sonoma County, Corey became the director of winemaking and general manager. Working alongside Francis, they revitalised the property and expanded the wine operation – turning it into Francis Ford Coppola Winery four years later.
The winery in Geyserville, in the Alexander Valley, is now part of a wine resort which Francis describes as "a wine wonderland, a park of pleasure where people of all ages can enjoy all the best things in life: food, wine, music, dancing, games, swimming and performances of all types. A place to celebrate the love of life."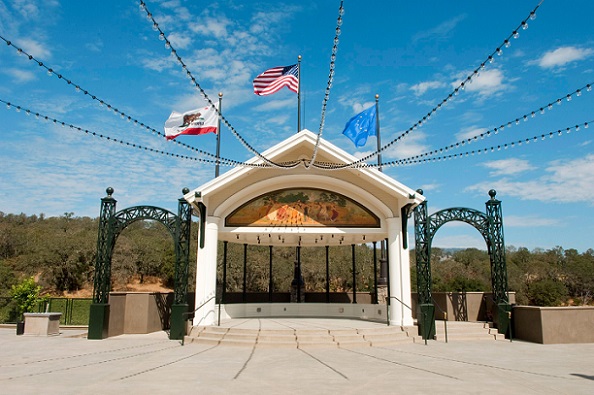 The winery, recently named Sonoma County's highest-ranking wine destination in the World's Best Vineyards
list
, is every bit as immersive as Coppola's unforgettable films. It features two restaurants, a swimming pool, a movie gallery, a performing arts pavilion (
above
), a park area with game tables and bocce courts, and tasting rooms offering a choice of more than 40 wines from 10 distinct wine brands. These include the limited-edition, single-vineyard Francis Coppola Reserve, the flagship Bordeaux-style Archimedes, the small production Syrah and Cabernet Sauvignon blend Eleanor, and Director's Cut and Diamond Collection. All showcase grapes either from Coppola's own 100 acres of vineyards (stretching from Domaine de Broglie in Oregon's Willamette Valley down to Paso Robles) or from more than 200 contracted growers.
After each harvest, Corey and his team of seven winemakers and six on the viticulture side barrel-taste with each grower to see how their fruit is coming along, and discuss the style they're trying to achieve. Providing the growers with the winemaking goals helps them prepare for the next season and allows them time to improve and introduce specific growing procedures into the vineyards. Often the tastings include the current vintage and older vintages, so growers can understand how the wine has evolved as a result of work implemented over the years.
Corey was promoted to president of Francis Ford Coppola Winery in 2014 and now oversees the overall business as well as winemaking at the 62,500sq ft winery, which has the capacity to produce up to 10,000 cases per day.
'We're going to come out of this a stronger company'
The Conversation
Canopy: How has the Covid-19 crisis affected your job?
Corey:
"It's scary times for many so part of my job was to reassure our employees we're going to come out of this a stronger company. We believe this is a time to look at innovation and creativity because we're having to adjust to the new normal."
How has it changed the business?
Corey:
"We've lost a lot of business in the on-premise sector but fortunately our off-premise business has been doing well. When we had to shut down our hospitality services we relied heavily on ecom and social media to make up for people not coming on property, our goal was to provide our customers with a great tasting experience from their homes."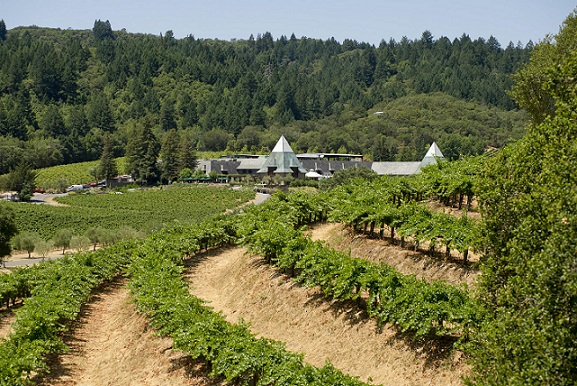 Are there any positives to take away from this experience?
Corey:
"I've seen a lot of innovation and businesses looking at ways to reach their customers in ways they would have never dreamed of prior to Covid-19."
As someone who came to the business through winemaking, how do you find the hospitality side?
Corey:
"Fortunately, my wife used to run all the hospitality for the winery so it's not unchartered waters. Our philosophy is to focus on the details and making sure we connect with every guest because, ultimately, they're going to be our best PR."
How do you split your time between the winery, vineyards and resort?
Corey:
"The majority of my time is focused solely on the wine business, the Hideaways (resorts) are handled by another business unit. Covid-19 has been tough because I love getting out to the marketplace and meeting with our customers, there's so much to learn from visiting with the people who really are moving the wines."
What's your favourite part of the job?
Corey:
"It's still walking vineyards in the early morning when it's just Mother Nature, although I don't get to do this as much any longer."
'The car represents who we are as a company'
Your workplace offers a touch of movie magic, with your boss's memorabilia on show, including Don Corleone's desk from The Godfather (1972), costumes from Bram Stoker's Dracula (1992), the neon cocktail glass and bar from One from the Heart (1982), various props and keepsakes from Apocalypse Now (1979), and the Oscars he won for The Godfather, The Godfather: Part II (1974) and Patton (1970). Do you have a favourite?
Corey:
"I've always loved the Tucker car (from 1988 film
Tucker: The Man and His Dream
). He was so far ahead of his time and in many ways the car represents who we are as a company."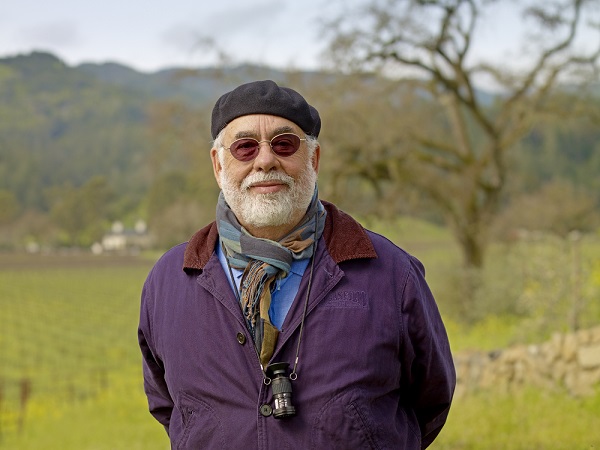 What's your winemaking philosophy? How does it compare to that of the owners Francis (above) and Eleanor?
Corey:
"The good news is my philosophy about winemaking parallels that of the Coppolas. We believe in starting with great ingredients (grapes) and then letting the wine speak about the place of origin. We've never chanced down the sweet wines nor wines influenced by large amounts of oak, the wines we make are centred around food and that's a philosophy we've never wavered from."
What's your favourite wine in the range?
Corey:
"My favourite wines change along with the seasons. During summer I tend to drink more Diamond Sauvignon Blanc and Sofia Rose. Then when the leaves start to change colour, I lean towards Russian River Pinot Noir and Alexander Valley Cabernet."
Please give us the juicy details behind one of your flagship wines, such as the premium red Archimedes.
Corey:
"When we first purchased the winery in 2006, Francis wanted to make a flagship wine from the Alexander Valley and our estate. The name of the wine was to be called Archimedes, named after Francis' uncle. We were fortunate enough to find a small vineyard on Pine Mountain that had Cabernet Sauvignon and Malbec planted on it. The grapes turned out to be a cornerstone for Archimedes and after four vintages the owner, Barry Hoffner, approached us about buying the property. We jumped at the opportunity and it gave us the ability to label the wine as Estate, something that was always our goal. We were about one week away from closing and Mr Hoffner sent over a video from one of his night cameras and it was of a 400-pound black bear walking around the vineyard looking for ripe Cabernet Sauvignon grapes. The Archimedes vineyard has the highest elevation of any Sonoma County vineyard and is frequently visited by all sorts of wildlife."
How did the introduction of sparkling wine change things for you?
Corey:
"Our Sofia Blanc de Blanc started in 1998 so it was well ahead of the popular Prosecco movement happening today. We then started canning the wine in 2004 and this was a huge success. Francis wasn't afraid to make a canned sparkling wine and this was a great learning opportunity for me because Francis doesn't follow trends and only creates products he believes in."
What's the most useful piece of new technology you use now, and why?
Corey:
"We put in an MBR system which processes all of our waste from hospitality and we use this water to irrigate our vineyards and landscaping. Over the course of a year we are able to put over 2m gallons of water back on our vineyards. As it turns out, this piece of technology is one of the most useful at the winery because of all the water we're able to put back into use."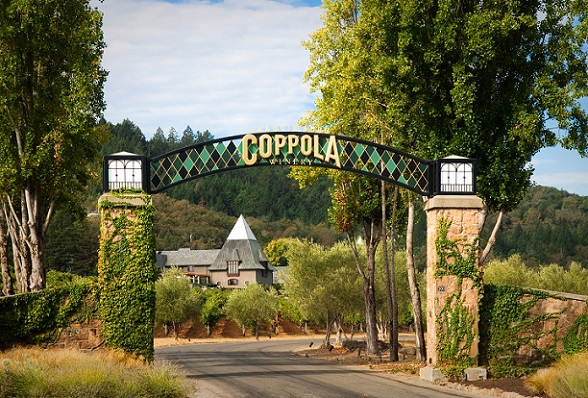 Sustainability
Sustainability is important to Francis and Eleanor Coppola, as they want to preserve the land for their children and grandchildren.
In this video
, director of grower relations Ryan Stapleton explains how the winery became certified sustainable through the California Sustainable Winegrowing Program and how this has improved the wines.
How Sonoma County's winegrowers are dealing with climate change.