An old, acclaimed vintage, with a very low dosage, disgorged just prior to release – after more than 13 years on lees. This is the thinking behind Maison Bollinger's R.D. wine.
R.D. stands for 'Recently Disgorged' and declares the sparkling wine has been disgorged less than a year before its release – and after ageing for more than twice as long as most vintage wines. It's what makes Bollinger's iconic Champagne so extraordinarily complex and aromatic.
The R.D. is also a wine that pays tribute to Madame Bollinger's visionary spirit. In Aÿ in the mid-1960s, while many Champagne houses focused on packaging and style, Maison Bollinger decided to make its point of difference one of taste. Although old vintages weren't fashionable in 1967, Mme Bollinger encouraged guests at a private dinner to try an old vintage – 1952 – that had been recently disgorged by hand and had the dosage of an extra-brut.
The new taste contrasted exceptional freshness on the palate – thanks to the natural acidity of the grapes at harvest and the extra-brut dosage – with the aromatic intensity of the very greatest vintages. It was a masterstroke that led to the legendary cuvée R.D., to Champagne brands putting the disgorgement date on their labels and to the current Bollinger style.

The latest R.D. is the 2008, from a year that has become synonymous with exceptional Champagnes. The Chardonnays were lively and powerful, and the Pinot Noirs were characterful and balanced. Both were free of botrytis.
Picking commenced on September 15 with optimal ripeness, 9.8% potential alcohol and total acidity of 8.5g/L.
This ultra-prestige cuvée has spent a minimum of 13 years ageing on lees.
The blend of 71% Pinot Noir and 29% Chardonnay features grapes from 18 grand and premier crus, predominantly from Aÿ, Verzenay, Le Mesnil-sur-Oger and Cramant.
Aromas include marzipan, stewed apricots, honey and breadcrumbs, with notes of fresh bergamot and lime.
On the palate, the rich, precise mousse carries notes of acacia honey, hazelnuts and delicate dried fruit.
To find out more about the technicalities behind the wine,
Canopy
contacted Bollinger's new chef de cave, Denis Bunner (
below
), who was promoted following the death of longtime chief winemaker Gilles Descôtes.
'The disgorgement is a new birth'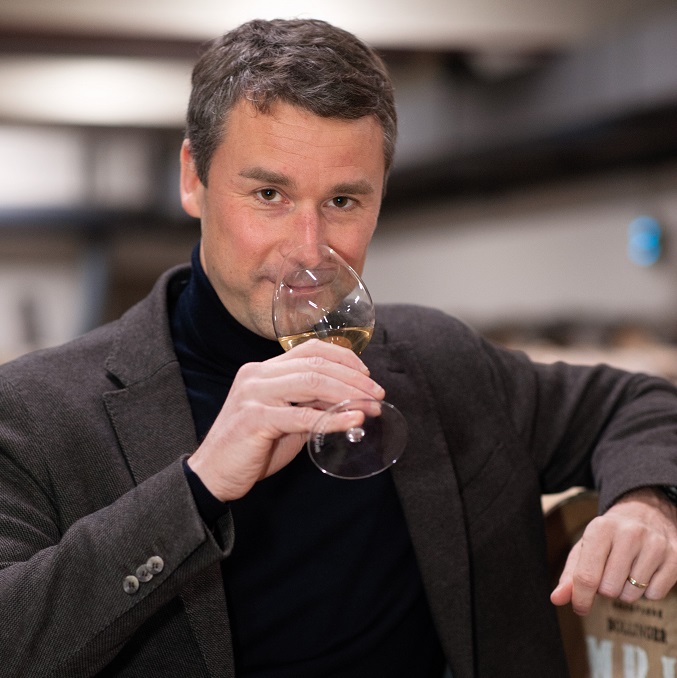 2008 was an exceptional vintage in Champagne – what does R.D. add to it?
Denis Bunner:
"R.D. stands for 'Recently Disgorged'. This wine is kept on lees until the disgorgement, which is an important step for Champagne. The disgorgement is a new birth.
"Like every birth, R.D. is related to a 'date of disgorgement' that is written on the main label. The date of disgorgement gives you two important pieces of information: how much time the wine has been on lees, and for how long the wine has rested after disgorgement. That's why time is the architect of this wine.
'That's why time is the architect of this wine'
"When Mme Bollinger launched this Champagne in 1967 with the 1952 vintage, she decided to present a wine to Bollinger fans that had been aged for an extended time, 14 years on lees! It was very innovative at the time. Therefore 'time' is in the DNA of this cuvée and Mme Bollinger was the first in Champagne to put the date of disgorgement on the main label.
"Then Mme Bollinger came up with another great idea: as this Champagne has extra ageing, she decided to decrease the dosage of the cuvée. We still follow the same philosophy. R.D. 2008 has only 3g/L of dosage – it's an extra brut. We want this wine to be as pure and precise as possible!
"Its freshness is very surprising."
What do you lose with this method?
DB:
"Nothing. On the contrary, we gain more complexity. The aromas are changing slowly thanks to the maturation under a natural cork and the special shaped bottle that we created in 2008 with a narrower neck. R.D. 2008 is benefiting from this innovation."
(Editor's note: For the first time in the history of Bollinger R.D., the 2008 vintage is being sold in Maison Bollinger's signature 'Petit Magnum' bottle shape which, the company says, will allow the wine's aromas to flourish and will give the cuvée incomparable ageing potential.)
How do you decide when to disgorge this wine?
DB:
"By tasting regularly. As soon as the tertiary aromas appear, the wine is ready!"
How does that differ to other wines in the range?
DB:
"As I mentioned, 'time' is part of the equation for R.D. At Bollinger the first release of a vintage is called La Grande Année. Only a selection of them go on to become R.D.
"Mme Bollinger is the one who invented this concept of double ageing a vintage. First release after seven years (which corresponds to La Grande Année). The second release after 14 years – this is R.D.
"But, again, the vintage has to show a significant freshness and ageing potential to become an R.D."
'R.D. is all about time, boldness and rarity'
What's so special about the combination of lengthy ageing, recent disgorgement and low dosage?
DB:
"R.D. is all about time, boldness and rarity!
"Time for the long ageing on lees and the tertiary aromas.
"Boldness on the palate due to the low dosage and the incredible freshness of this wine.
"And rarity for the few vintages we declare R.D."
(Editor's note: There have been 27 vintages of Bollinger R.D. since 1967.)
How do you go about deciding on the level of dosage?
DB:
"It's always chosen from a blind tasting in the range 0 to 6g/L. The universe of R.D. is located in the extra-brut area."
(Editor's note: The extra-brut dosage highlights the cuvée's purity and enables the short period between disgorgement and sale, because a low dosage needs less time to harmonise than brut.)
What does a low dosage give you?
DB:
"More purity, precision and freshness! We are as close as possible to the truth of the wine."
What's the dosage made of?
DB:
"Since we are looking for purity, the liqueur de dosage is made from the same wine plus sugar cane.
"Dosage is not an element of complexity but an element of purity. It's there to serve the wine."
'Dosage is not an element of complexity'
What are your views on zero dosage?
DB:
"We decide by taste, so one day we will have an R.D. at 0g/L for sure!
"For information, we practised zero dosage on VVF 2005."
Could that work with the R.D.?
DB:
"Yes, of course. With climate change we have more and more maturity. The wines are rounder and richer. We have to work on the vineyard to maintain the freshness."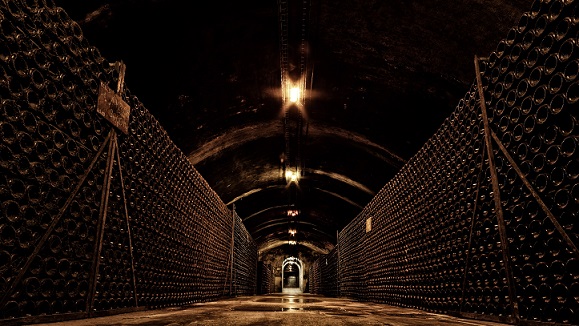 What do you gain through hand-riddling and hand-disgorging?
DB:
"More precision. We adapt to the wine profile and each bottle."
Is it just for the marketing story or are there real benefits that justify the extra expense?
DB:
"The ageing under a natural cork is key. We did many blind tastings to prove it, including with experts (wine journalists, MWs, sommeliers) and everybody agreed that we have more definition, more complexity and energy.
"There is no method to disgorge a natural cork maintained with a staple mechanically. Therefore, we do it by hand!
"This is a huge commitment to quality as it takes more time and it's more labour intensive. Again, Mme Bollinger is the one who maintained this practice when everybody was changing to the metal cap. R.D. pays tribute to Mme Bollinger's vision for quality."
The R.D. wine was said to be ahead of its time – what are you doing now that's ahead of its time?
DB:
"We implemented the jetting method on the disgorgement line in 2014 to control the oxygen ingress in the neck of the bottle. This technique is totally natural. It consists of injecting a little drop of wine in the Champagne before closure. With this drop we provoke a foam and, by rising up, the foam pushes out the oxygen from the neck of the bottle.
"So, typically, we use the CO2 from the bottle to protect the Champagne from strong oxidation. You have to know that in a few minutes the Champagne can have as much oxygen as more than 10 years of ageing on lees! That's why it's so important to protect all the bottles from strong oxidation.
"Furthermore, we ensure the consistency between bottles and we are able to disgorge without any sulphur (SO2) protection, in line with our objective of purity."