For the 2019 vintage, New Zealand winemakers Rob Cameron and Tim Lightbourne travelled to New York for the blending session with their celebrity collaborator, Sex and the City actor Sarah Jessica Parker. With international travel restrictions in place, the 2020 vintage of the 'Invivo X, SJP Sauvignon Blanc' was blended 'virtually'.
Rob and Tim, co-founders of Invivo & Co, stayed in New Zealand and sent six tank samples from different estates in Marlborough and a variety of wine-blending equipment to Sarah Jessica, who was in New York with her actor-husband Matthew Broderick and three children. The blending kit included flasks and measuring cylinders to ensure that the Zoom-assisted blending session followed all the correct procedures and was as exact as possible.
While Tim and Rob sat in their winery in Te Kauwhata, a rural village set in the vineyard region of Waikato, Sarah Jessica joined them on a screen for the two-hour session to finalise the proportions from each vineyard and sign off the new blend.
Afterwards, Tim said: "It's important to us that Sarah Jessica blends the wine and signs it off with us – after all her name is on the label so it's essential that the style of wine we're making together reflects her tastes just as much as ours."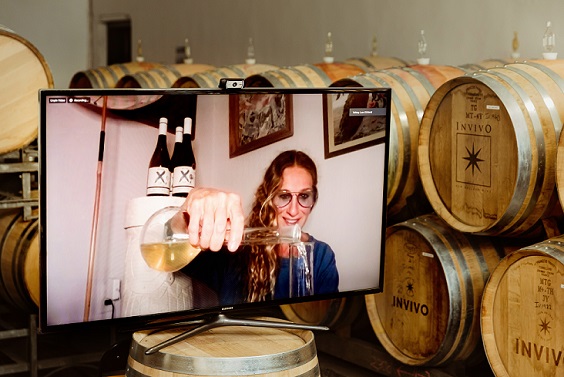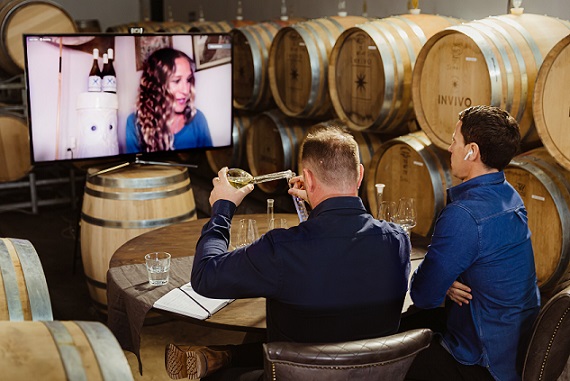 Winemaker Rob commented: "We hit a great style with the 2019 Sauvignon Blanc, so we felt there were some big shoes to fill with the 2020 wine, especially given this year's vintage was so different to last year's. That said, I was really impressed with how Sarah Jessica's focus was always on trying to create the very best of what we had to work with, rigorously testing each blend option to ensure we were producing our 'A' game. The 2020 is going to be a treat."
Sarah Jessica stated: "I'd much rather prefer to be in their company and was concerned that a virtual blending wouldn't allow for us to arrive with a blend for our new Sauvignon Blanc that would thrill and delight as the first did. I thought the distance would make the kind of necessary communication impossible. However, it was our typical fun, surprising, wonderfully perplexing moment, and an ultimately fruitful blend."
The wine will be launched in September.
Sarah Jessica's first wine, the 2019 Sauvignon Blanc, sold more than 400,000 bottles globally, retailing for $18-$20. They have also produced a southern French rosé together, in collaboration with Provence producer Chevron Villette.
The Invivo X, Sarah Jessica Parker Rosé was launched in May 2020.
'I wanted a table wine that people understood'
Sarah Jessica said of this wine: "I didn't want a super-thin rosé; I didn't want something that was uber sophisticated, so complicated that it was better than the drinker. I wanted a table wine that people understood but that was exuberant and complex. It just has a slightly different, to me, tiny bit of age on it but obviously it doesn't… It's not so clean and showered that all of its personality has gone; there's some earth in there somewhere that's really nice."
Rob, who honed his vintner skills at Villa Maria before moving to Cellarwood Europe, took this notion as guidance to get more texture and body into the rosé – which is why they chose a blend of Grenache, Cinsault and Syrah from northern vineyards in Provence.
How it all started
Kiwi schoolmates Tim and Rob started Invivo after meeting up again in a pub in London in 2006. By then, Rob was a winemaker and Tim was in marketing with Group Danone, L'Oreal and HJ Heinz. After moving back to New Zealand, they launched their first wine, a Sauvignon Blanc, in 2008. It was made from borrowed equipment with the duo operating out of an apartment, hand-selling to shops, and gradually building up the business – until they took over one of the country's oldest wineries, in Te Kauwhata.
'When I received the call, I thought it was absurd'
In 2014 they launched a Sauvignon Blanc with UK talk show host Graham Norton. The wine sold 12,000 bottles in its first year and now sells 3.5 million bottles globally. Buoyed by this success, they went looking for someone to help them in the US market. As Tim says: "Someone who would be hands-on, be a credit in the marketplace and loved wine."
They approached Sarah Jessica.
She recalled: "When I received the call, I thought it was absurd – I mean, I had no business even entertaining (the idea), you know, messing around in the wine trade. My husband and I are consumers – we love wine and we drink wine. We don't have an important wine collection but we've always enjoyed it and I think the more I travel in the world, the more exposure I've had to local wines and wines from different regions, my love for wine has grown, of course. So, absurd as I thought it was, I certainly wanted to meet the two gentlemen who were bold enough to even ponder the idea. So, we had a lovely conversation and as with many things that I've been asked to participate in, initially thinking I had no business or wasn't equipped, they convinced me."
What seems to have impressed Sarah Jessica most is the duo's willingness to share their wine knowledge.
"They said they would be willing to let me learn, which is something that I love doing, and that I could ask questions and be wrong and be inspired and informed, and it's just been an extraordinary, unexpected, lovely, delicious experience," Sarah Jessica said during a virtual tasting of this wine.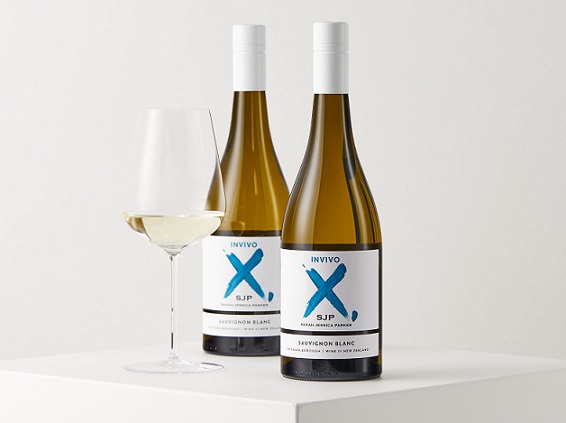 Invivo's wines are present in 16 countries and Sarah Jessica realised she had been a customer in Ireland. "So, there was a natural affection for the brand which made me feel better that I was already a sold customer and we really loved the wine," she remembered.
Joining the trio for the virtual tasting, I was impressed by the actor's passion for the project and for the refreshing language she brings to the wine world.
Sarah Jessica admitted she wasn't a fan of Sauvignon Blanc before this project started. "I have a bunch of friends who always order it, but I was intimidated by it. It seemed a far more complicated affair to me than a Chardonnay which I always thought presented itself very simply – I understood it immediately and it wasn't asking too much of me. It was a table wine that I could order with some phoney authority."
She didn't want a Sauvignon Blanc that was "high and pointy" or expressed the passion fruit and papaya aromas which Rob loves, but she did want one that was "slightly bigger".
'Excited about moving the goalposts'
She quickly learned there's no need in the marketplace for another Sauvignon Blanc, "so we better be deserving and worthy of anyone's time and attention and dollars.
"When I started sharing with Rob, at first I was timid but then I asked is there a way to make her a little bit bigger but still stay within an understanding of what Sauvignon Blanc is?"
And they all agreed their creation should "still play by the rules". Sarah Jessica said Rob was "excited about moving the goalposts a little bit but staying true and honouring what a Sauvignon Blanc is".
Of the resultant Sauvignon Blanc, she says: "I feel like it's a much more hospitable species than I understood it to be and though you want it to play by the rules and live by the name, it has much more elasticity to it than you think. It has to be familiar and deserving of being called Sauvignon Blanc but there is room in there."
How does she feel about the variety now?
"I'm absolutely mad for it," she replied.
Of the experience, she said she enjoyed the opportunity "to learn something that people spend years and years and their entire adult professional lives working in a business that's complicated and competitive and scary and uncertain and I've been welcomed into their business which is a hard fought-for business. So, obviously the human connection has been deeply meaningful to me and then, I think, just seeing people respond so well to the Sauvignon Blanc was beyond all of our expectations."
'There's an element of the whole terroir process which is very much down to human hands'
Rob reflected: "There's an element of the whole terroir process which is very much down to human hands and that's the little bit of magic that Sarah Jessica put into this blend – which is her style, her sway on it which we think is such a fun thing. We're not living in America, we're not eating what you guys do, how fitting is it to have somebody in your country help us design a wine that is more tailored to your palates?"
So, Rob took on the challenge of adding texture and weight to a Sauvignon Blanc – without taking away the grape's citrus and tropical fruit characteristics.
How Rob met Sarah Jessica's requests
Reductive handling of the fruit.
Holding a portion of the blend on skins for up to 8 hours to extract some of the ripe phenolics and therefore develop structure and power.
Fermenting the wines in stainless-steel tanks with a variety of yeasts, temperature and nutrition regimes.
Adding untoasted "blonde" oak to some of the ferments to "promote palate weight and breadth but not have and overt oak influence".
Stirring all parcels on gross lees for 80-90 days.
Rob said these measures "helped to create this wonderfully seamless textural wine but still retain all the fruit and excitement of Sauvignon Blanc".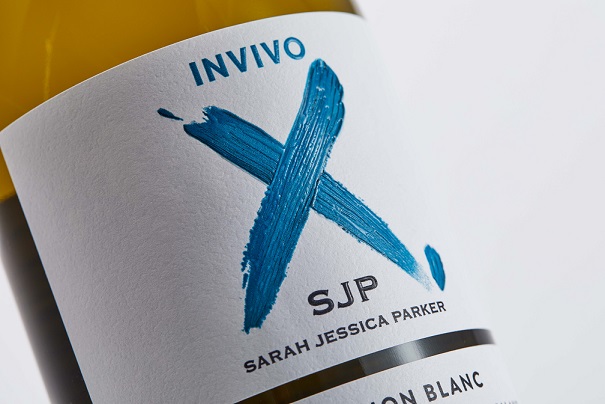 Sarah Jessica, who launched her own footwear, apparel and accessory label 'SJP by Sarah Jessica Parker', in February 2014, was heavily involved in the name of the wine and design of the label, too. The X and the comma directly after it references her signature email and Instagram post signoff: 'X, SJ'. Sarah Jessica painted the X on the original label with her finger and found the teal paint to match the exact shade of one of her favourite satin shoe colourways, Hamilton, from her SJP Collection label.
'I partner colours with tastes and feelings and ideas'
"It seemed to suit the Sauvignon Blanc," Sarah Jessica said. "I partner colours with tastes and feelings and ideas."
Further down the line, Rob, Tim and Sarah Jessica will consider adding another wine to the collection, probably a Cabernet Sauvignon or Chardonnay.
Sitting amid a cellar-full of barrels, Rob said: "I like the look of these barrels. It would be nice to maybe fill them with something with an X on it."
Sarah Jessica responded: "I'll do whatever I'm told. I'm a sheep not a shepherd."