For her intrepid, entrepreneurial spirit… For leading the way for women winemakers in Argentina… For creating the first world-class Torrontés in the early 1980s… For her vision… Susana Balbo was presented with the IWC's Lifetime Achievement Award earlier this month. Here is her acceptance speech…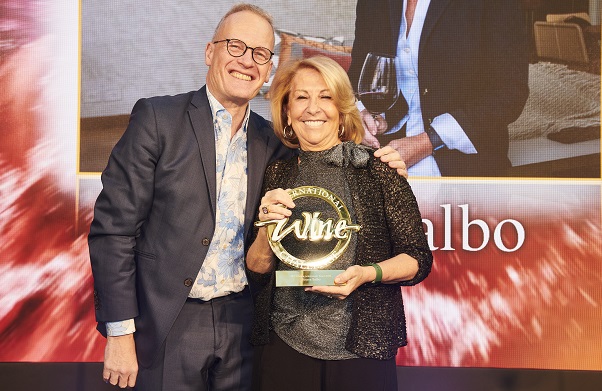 Susana's acceptance speech
As Argentina's first female oenologist, I have faced many challenges. I have had to break the stereotype that women cannot make wine or manage a vineyard. Even after I graduated as the country's first female oenologist in 1981, I had to struggle to find a job. Eventually, I was hired to run the Sucesión Michel Torino winery. It was a huge responsibility to be a 20-something woman in an industry that, at the time, was run almost exclusively by men.
My biggest goal then was to show people that I had talent and that I really knew what I was doing. It took a while until I gained the respect of my colleagues but, as soon as I got that recognition, my job was much easier. One of my first breakthroughs came with the ability to redefine the Argentine Torrontés, an aromatic white wine.
After that, I returned to my homeland, Mendoza, and worked as a consultant for a while before taking a leap of faith with my very own winery. Winemaking is my lifetime passion and it was a dream come true to create the Susana Balbo Wines label in the heart of Mendoza.
'Winemaking is my lifetime passion'
Over the years, I have developed my reputation as a pioneer of Argentina's wine industry, experimenting with different winemaking procedures to achieve different styles of wine.
The high-altitude air combined with a strong sun exposure makes Mendoza a marvellous place to grow vineyards, and it creates wines with a real character. Our wines have very approachable flavours and colours and they have a beautiful capacity to age.
The people of Mendoza have a special quality, too. We, as mountain people, are quiet, shy and reserved but we are also compassionate: we have a strong sense of how to look after other people and our environment.
I am so proud to have become Argentina's first female winemaker. Since my adventure began more than 40 years ago, I have paved the way for other women in the industry. Mendoza's wine scene now counts many women in its ranks.
To other trailblazers thinking of pushing boundaries like I have, I would say: the only limits that we have as women are in our minds. Once we realise that, the sky is the limit. I grew up in a traditional family but I did not let that, or Argentina's culture, prevent me from achieving the goals that I wanted. Only we, as individuals, can do that. We can empower ourselves. Our strength as women comes from within.
I am deeply grateful to the IWC Awards' organisers for today's prize. And I am especially grateful to my two kids, José and Ana, who work hand in hand with me and my team. We will continue doing our best to deserve your recognition.
To finish, I would like to say: thank you to all the people who joined my journey with their support, their love, their compassion and empathy during the difficult times, and forgive me for the times without my total attention, especially to my son and my daughter.
Thank you very much!