One of the most exciting developments in Portugal's Alentejo region is the revival of vinho de talha, a process that goes back to Roman times and may have been introduced by the Phoenicians.
It taps into the trend for low-tech, rustic, natural, authentic wines with a sense of place. It's still a niche sector of the market but it is raising Alentejo's profile as a dynamic, exciting wine region. It's also giving value to old vineyards and out-of-favour red varieties that don't perform so well in oak barrels.
The technique has been passed down through generations and was kept alive by families and restaurants when Portugal's wine industry became industrialised during the 1950s.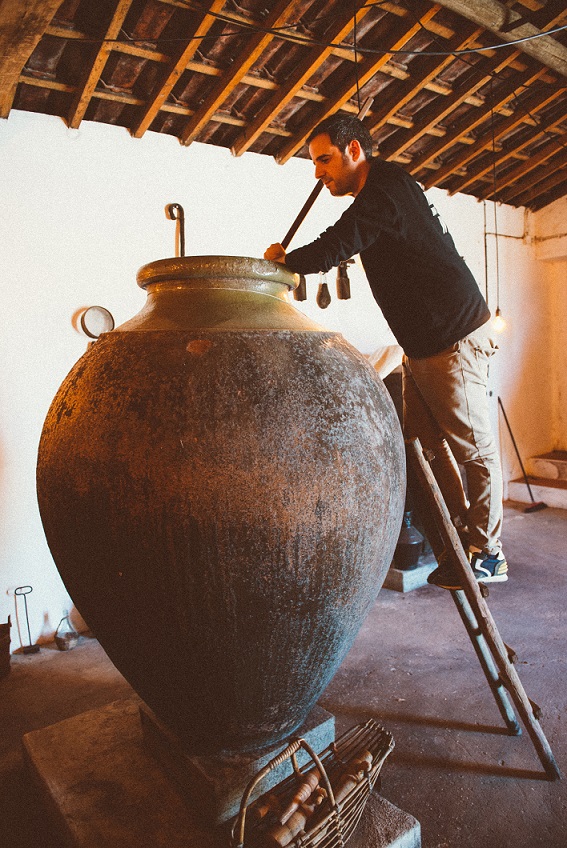 The key is the clay amphorae, called talhas. Although more and more variations are creeping in, the basic method of winemaking is very simple:
Crushed grapes – either with or without stems – are dumped into the talhas for a spontaneous fermentation.
The fermentation is often fairly hot and fast (8-15 days).
During this period, the grape pulp and skins rise to the surface and form a solid mass. This is punched down two to four times a day with a wooden plunger to promote the extraction of colour, aromas and flavours, and to break the cap.
Temperature control involves spraying the outside of the talha with cold water. Some talha are draped with dampened burlap and/or rags.
Punching down continues until the cap sinks to the bottom.
The wine is left in contact with the grape mass for a few more weeks – and at least until St Martin's Day (November 11).
Then the cork stopper near the bottom (called a batoque) is punctured and replaced with a spout (main photo).
The grape skins and stems help to filter the wine when it is racked off through the spout.
The first 40L or so may be cloudy, so this is poured back through the 'natural filtering system'. In taverns and family homes, the wine is served directly from the talha. In modern wineries, it is usually racked to another talha over winter and covered with a wooden or clay top. A thin layer of olive oil may be added to protect the wine from oxidation.
It's a simple, 'natural' method of winemaking that would still be recognised by agronomist António Augusto de Aguiar, who described it in 1876. The main difference between now and then is that the grapes are no longer dumped on the winery floor and stomped on there, with the must running to the middle of the slabbed floor and dripping into the talha on a lower level. The talha may have been buried but, more likely, was in a cistern – called a ladrão or adorna – which had an important protective function: the clay pots are prone to explode during fermentation if the cap becomes firm; the ladrão retains any spilt wine.
Treading tanks and manual or electric destemmers and crushers (typically slated tables or mesas de ripanço) are more common now, but the rest of the classic technique is recognisable among today's devotees.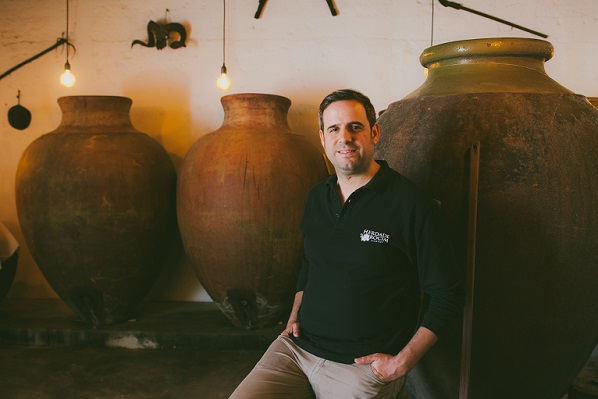 Pedro Ribeiro (
above
), general manager at Vidigueira producer Herdade do Rocim, has two of the best examples of talha wines that I've come across.
For these wines, he uses unlined clay pots because he likes the earthy texture that the clay imparts. He also uses native yeasts and field blends from old (now organic) vineyards.
Pedro and wife Catarina Vieira were winemakers in the Douro region before they settled in Vidigueira, in the southern part of Alentejo. After ten years making wine there – with Herdade dos Grous and then Rocim – Pedro launched a side project called Espaço Rural and a range of wines called Bojador to showcase the region's potential. 
"Bojador is a personal project that brings to life an old dream – transforming into wine my love for the Alentejo," Pedro explains.
This "very export driven" project involves grapes which "show the minerality and freshness of the region", and low-intervention winemaking, but talhas take the "leading role… although representing only 10% of Bojador's total production".
The two talha wines under the Bojador label are:
Bojador Vinho de Talha White – a field blend featuring dry-farmed Perrum, Roupeiro, Rabo de Ovelha and Manteúdo, picked early to keep the alcohol levels down, basket pressed and co-fermented in ancient talha for four months.
Bojador Vinho de Talha Tinto – a field blend featuring Trincadeira, Moreto and Tinta Grossa.
Pedro fills a third of the talha with stems and then adds destemmed, slightly crushed berries, filling it to two-thirds of the capacity – leaving space for the cap to form during fermentation. The cap is punched down three times a day.
The white stays 5-6 months on skins while the red stays for 7-8 months.
A little sulphur (30-40mg/L) is added before bottling. David Rego, export manager, explains: "We'd rather be safe than sorry as the wines are shipped around the world."
Pedro doesn't put a lid on the talha, preferring to use a film of olive oil to protect the wine during its long extraction period.
Tiago Macena, Adega Marel's winemaker, prefers to top up his talha and seal them with plastic and elastic "because the olive oil can also get oxidised and rancid".
'A bamboo stick stuffed with junça'
He's an example of a winemaker who has modernised talha winemaking.
He sulphurs after malo, works with the free run and doesn't press the skins at any time, so he only gets about 500L of wine from a 1,000L talha. And he doesn't use stems.
But to aid filtering he taps the wine with a bamboo stick stuffed with junça (yellow nutsedge). "It adds no flavour," he says. "It's used because it's hollow, allows the wine to pass, but helps to retain some sediments."
Some of Tiago's new wines are a blend of stainless steel and talha. Manolito Branco sees a field blend going into 700L talha and Antao Vaz going into stainless steel, both left on skins. Manolito Tinto features Moreto in talha and Trincadeira in stainless steel.
Tiago, who has a talha from 1867, puts his wines into different pots and blends them because they are manmade and vary in size, shape and porosity – which is determined by the type of clay and firing temperature. Old clay pots were heated up to 800°C, but newer pots could have been fired to 1000°C and so are less permeable.
Permeability, however, is not the big issue with this technique. Tiago recognises one of the weaknesses of talha wine production – that the wine gets "massive oxidation at the beginning of its life" – but says this makes it "much more stable through time".
What's obvious from the tastings I've done is that this production method is more noticeable with the whites than reds, and the reds evolve quickly. A 2019 wine that I tasted earlier this year seemed more like a 2018 or 2017.