Laurent Delaunay has bought back his great-grandfather's Burgundian grande maison and invested €1.5m to return Château de Charmont, in the Hautes-Côtes de Nuits, to its former glory.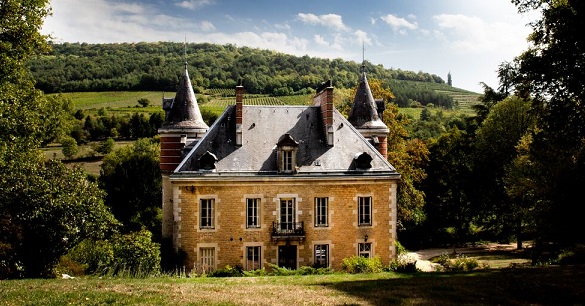 "I grew up with my father and my grandfather in the cellar and the vineyards," he tells
Canopy
. "And I started to work there with my father, after my studies, in 1989.
"But after a few years we were obliged to sell for various reasons. One was that my father was ill with Alzheimer's disease, so he made some wrong decisions in terms of investments. The other reason was that it was in the early 1990s, and the economic situation became very complicated with the cost of oil going up with the first Gulf War."
'We wanted a change of air'
Laurent stayed with the new owners, Boisset, for a couple of years, but then decided to branch out with his wife Catherine, in 1995. "We wanted to recover our independence, so we left and started our own company in the south of France. We wanted a change of air."
They started Badet Clément to make wine in the Languedoc, Rhône Valley and Provence. The company became known for its Les Jamelles brand of varietal wines from Pays d'Oc, its high-end label Abbotts & Delaunay, and for selling more than 15 million bottles of wine around the world.
"But I always kept the dream of coming back to Burgundy and creating my own brand, my own range there," Laurent recalls.
The first step came in 2003 when Badet Clément purchased DVP (Domaines & Vins de Propriété), which distributes Burgundian domains. But the big step came two years ago when they purchased the Edouard Delaunay property from Boisset and some other buildings from relatives. The extensive refurbishment covers the chateau, which dates from the 19th century, the vaulted cellars and the buildings next door, which date from the 1950s and 60s but have been renovated in the style of factories from the 1920s and 30s. The metal beams and pillars, for example, are reminiscent of the metalwork used in the Eiffel Tower.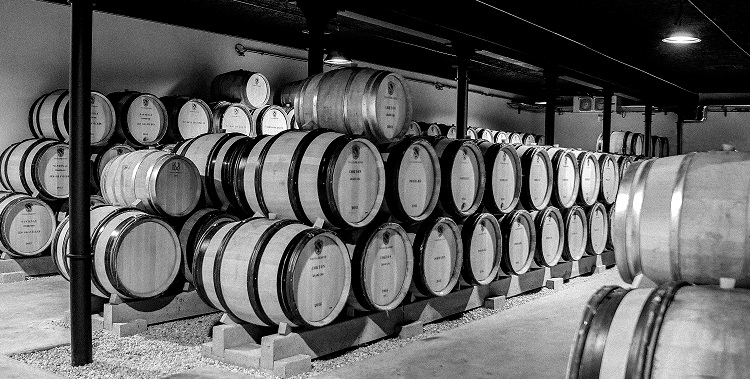 It's a project very close to Laurent's heart. He says: "My grandfather used to say that the House of Edouard Delaunay was 'the smallest of the great Houses'. My ambition has been to return it to its former glory and make Edouard Delaunay a leading Burgundian wine house once more."
Winemaker Christophe Briotet (
below
), formerly cellarmaster at the Domaine du Lycée Viticole de Beaune, has been employed to build a range of 25 wines, mainly from the Côte de Nuits and Côte de Beaune.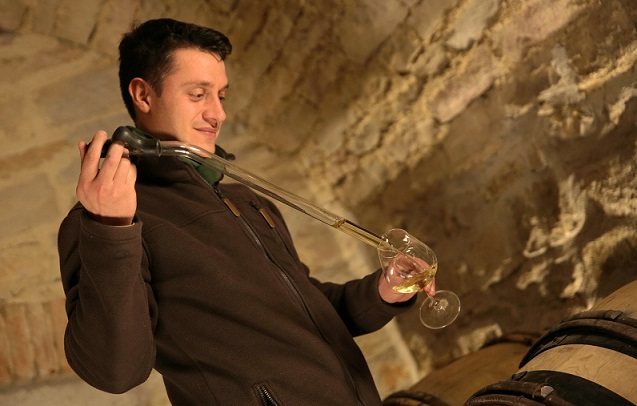 The grapes come from 140 different growers in village, premier and grand cru locations, with each parcel kept in separate tanks in the winery. "Small batches because we are in Burgundy with many appellations," Laurent points out.
"Thanks to many top estates that we are already working with via our company, DVP, we already have grapes in prestigious appellations like Corton-Charlemagne, Charmes-Chambertin and Clos-Vougeot. From our second vintage, we will have some rare wines such as Montrachet and a Griotte-Chambertin.
"We also have contemporary, accessible wines like those from the young appellation, Bourgogne Côte d'Or."
Edouard Delaunay will consider buying vineyards in the future "but opportunities are very limited and the cost is very high," Laurent states.
'We've paid a lot of attention to the packaging'
The initial range, launched at Wine Paris last month, comes in 'luxury' packaging. "We've paid a lot of attention to the packaging because in Burgundy the wines are very expensive and so it means that – worldwide and especially in Asia – people who can afford Burgundy wines are also people who purchase a lot of luxury goods and I think that in Burgundy, very often, we pay a lot of attention to the quality of the wine but all that is around the wine – the packaging and the service – is not of the same quality.
"We take our inspiration from Champagne or Cognac for the packaging, and for the servicing and marketing to the consumers."
Laurent, who is a member of the association to protect the Abbey of Saint-Vivant and the UNESCO World Heritage Climats, both at the heart of Burgundian viticulture, wants to offer amateur wine enthusiasts a complete immersion into Burgundy wine culture when they purchase Edouard Delaunay wines. A wine club will offer limited edition wines and events to help wine lovers 'discover' Burgundy.
Laurent explains: "We want to create a direct relationship with consumers who are interested in Burgundy wines and give them a real introduction into the region; its culture, philosophy, vineyards, art de vivre… the things which inspire wine enthusiasts, but which often remain out of reach because of Burgundy's exclusivity."