It looks as if time has stood still in the ancient stone hamlet of Fonterutoli, in the heart of Tuscany's Chianti Classico. The well-maintained houses, church and beautiful villa (built in the late 1500s from the ruins of the ancient castle) have changed little since the Mazzei family settled here in 1435. Even the view across the olive groves and vineyards towards Siena's Torre del Mangia (built in 1338-1348) and the 13th-century cathedral would still be recognisable to them.
Outside the hamlet, however, signs of modernity and progressiveness abound...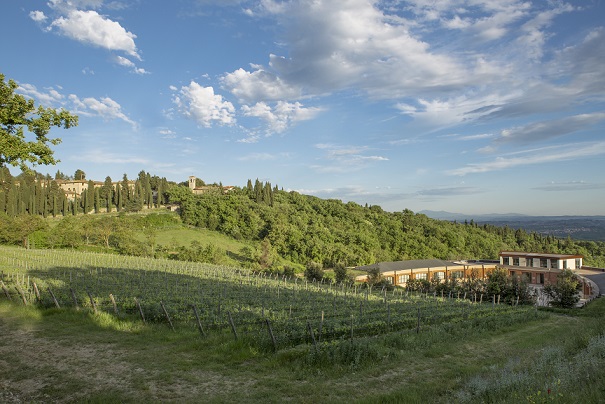 Just below the hamlet (
top left
) is the family's modern 10,000sq m winery. Finished in 2008, it covers three levels (reception, fermentation and ageing) – two of which are underground, so gravity can be used to move the must and wine "without stressing the raw materials".
Around the hamlet are some of Marchesi Mazzei's best vineyards. In total, the Castello di Fonterutoli estate covers 650ha, 117 of which are vineyards. At Fonterutoli, there are 21ha of mostly Sangiovese with a little Merlot, Malvasia Nera and Colorino growing at altitudes of between 420 and 550m.
Fonterutoli is one of five zones in the estate – which also includes Badiòla, Belvedere, Caggio and Siepi – but for vinification purposes the vineyards are divided into 120 parcels.
Maintaining the characteristics of each parcel throughout the process "is crucial to what we are doing", according to Francesco Mazzei, who runs the company with his brother, Filippo. They are the 24th generation of winegrowers here.
The grapes from these parcels are harvested by hand, fermented and matured separately – dropping by gravity from the destemmer to one of the fermenters (with capacities from 100hL down to 2 tonnes of grapes) to reach their resting place in French oak barrels.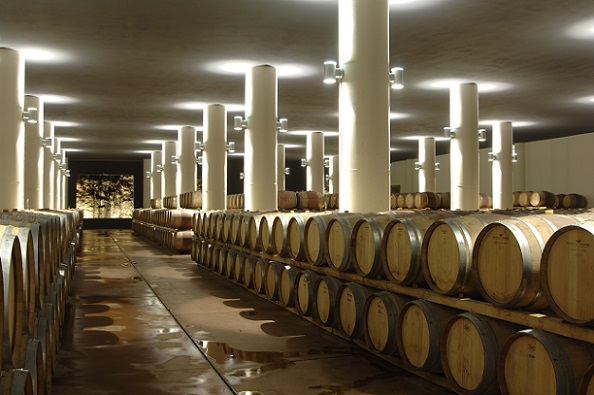 There are about 3,000 barrels in the vast cellar, 15 metres underground. Bordeaux-made barriques have been pushed out to make room for Burgundy-built 500L tonneaux.
Francesco commented: "We found that the 500L is the perfect thing for the Sangiovese. We started with a big amount of barriques then we've moved progressively to 500L."
Regarding the move from Bordeaux to Burgundy barrels, he said: "It's probably more precise for this kind of wine. It matches better, which makes sense. Sangiovese is not like Pinot Noir but it's definitely closer to Pinot Noir in terms of shape and profile than to a Cabernet Sauvignon or a Merlot."
They are, however, continuing to experiment with different coopers and levels of toasting. "It's such a huge world of nuances," he said.
'It's such a huge world of nuances'
Large windows open onto the rocky subsoil to maintain the cool temperature – which swings only by 7°C from winter to summer. The ideal humidity is maintained by opening or closing a cascade of spring water which rises from five sources further below ground.
After blending, the wines rest in cement tanks for several months until they are ready for bottling.
A glimpse into the future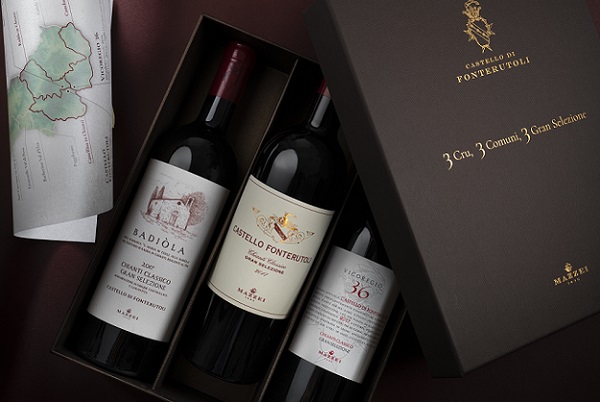 The latest releases from the company – a three-bottle gran selezione range – are a glimpse into the future. They are in preparation for new regulations within the Chianti Classico region, which could see a greater focus placed on premium wines from subregions.
Francesco told
Canopy
the new range would make it easier for consumers to understand the origin of each wine.
The new range of Sangioveses are made with grapes from three terroirs: the Fonterutoli vineyard in Castellina in Chianti; the Vicoregio vineyard in Castelnuovo Berardenga; and Badiòla in Radda, Chianti. The resulting wines are:
The Fonterutoli Gran Selezione 2017, from 11 of the estate's best Sangiovese plots;
The Vicoregio 36 2017 (formerly an IGT wine called Mix 36), which features 36 different biotypes of Sangiovese (18 clones and 18 massal selections) from what was an experimental vineyard;
And the Badiòla Gran Selezione 2017, which includes grapes from the estate's highest vineyards below the 12th-century church of La Badiòla.

The three organically-farmed (but not certified) vineyards are very close geographically but vary considerably in altitudes – Vicoregio is at 350m, Fonterutoli 470m, and Badiòla 570m – and are harvested up to a month apart, with the grapes at Vicoregio picked mid-to-late September and Badiòla in mid-October. The soils, exposures and mesoclimates are also different.
'It's a good way to lift up the reputation of Chianti Classico'
Francesco expects the Chianti Classico consorzio to ratify the move to "more geographic categories" within the coming months, but says it could take three years before the market sees subregion names on labels.
"We want to show the rest of the people there are new goals, new levels that can be reached. That's why we are releasing these three wines," Francesco said.
"We thought it was time to give a home to certain existing wines that were a bit above the Chianti Classico reserva category, positioned in the market at the higher price with the higher quality, very consistent and normally very well rated. That's why we thought it was time to move up with the new category like the gran selezione to keep hold of these wines and also to stimulate other producers to push up the quality of their wines."
He reckons the gran selezione category currently accounts for 6% of the region's output but 15% of the value.
"We don't think it will be huge but it's a good way to lift up the reputation of Chianti Classico," he said.
The winemaking
The winemaking is similar for all three wines:
Gentle handling of the grapes and must. For example, gravity rather than pumps; punchdowns rather than pump-overs – "because Sangiovese is quite delicate so the less stressful you are the best you get".
Fermentation in truncated conical steel vats of 2-8 tonnes capacity, at temperatures of 26-28°C;
Ageing for 18 months in 500L French oak tonneaux (30-50% new);
Finishing for 4-5 months in cement tanks after blending.
The differences
Vicoregio 36
Grapes vinified in groups of 2 or 3, as the ripening times for each clone are slightly different
Vinification:
In 500L French oak barrels
Maceration:
20 days
Malolactic and ageing:
18 months in 500L French oak barrels (50% new)
Finissage:
4 months in concrete tanks
Production:
6,500 bottles
Castello di Fonterutoli - Castellina in Chianti
Gran Selezione since 1995
From 11 different estate parcels of about 0.7ha each on average
Maceration:
15-16 days
Ageing:
18 months in 500L French oak barrels (50% new)
Finissage:
4 months in concrete tanks
Production:
40,000 bottles
Badiòla - Radda in Chianti
From vineyards that are among the highest in the Chianti Classico
Maceration:
17 days
Ageing:
16 months in 500L French oak barrels (30% new)
Finissage:
5 months in concrete tanks
Production:
3,000 bottles
'It becomes a conflict point'
Neither Francesco nor Filippo – the sons of Chianti Classico legend Lapo Mazzei, who died last year – studied oenology. Filippo worked in a bank before joining the business and Francesco, who has a degree in political science, worked for food company Barilla and motorcycle producer Piaggio before bringing his managerial expertise to the family business.
For a business of this size he thinks it's more important to have managerial skills than technical winemaking know-how. "It's easier to change the winemaker if you don't like the wines if he isn't a member of the family," Francesco said. "If it's your nephew, your brother, your cousin, it becomes a conflict point."
It was their sister, Agnese, who designed the winery and gave them the opportunity to vinify each parcel separately. Their mother, Carla, grows lavender at Fonterutoli, and uses it to create a line of cosmetic products under her name.
Filippo's son, Giovanni, is running the company's new "super-premium project", Ipsus, which is based in the medieval hamlet of Il Caggio. The Mazzei family bought the 150ha estate in 2006 for the 6.5ha of terraced Sangiovese at its heart. They believe the 320-350m altitude, 150-degree sun exposure and Mediterranean influence will create "a masterpiece".
The debut release of Il Caggio Ipsus, from the 2015 vintage, shows their ambition to create the best Chianti Classico gran selezione – and Mazzei's most expensive wine.
Nobody can accuse the 24th and 25th generations of taking life easy... or lacking ambition.
Mazzei's best wines so far in the International Wine Challenge.